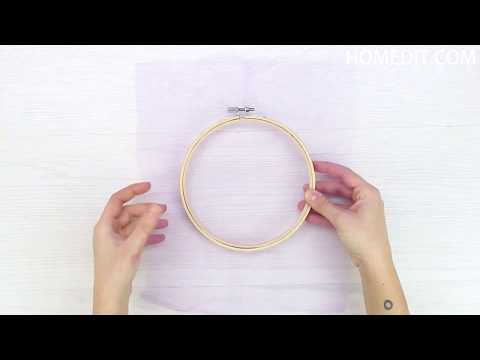 Tame your mass of long necklaces, stylishly organize your earrings and make an easy make up brush cleaner. Instead of digging through a pile of tangled necklaces in a jewelry box, easily transform a wooden hanger into a necklace organizer. Paint or decorate the hanger in any way you like. Next, screw in a series of small cup hooks along the bottom of the hanger. It's ready to go! Hang it on your wall or in your closet for easy organization.
You can also make a quick earring organizer will almost no tools. Place a piece of tulle fabric inside an embroidery hoop and pull the material tight as shown. Trim the excess from around the hoop and hang it up. It's ready to organize and display your earrings.
BONUS: How To Clean Makeup Brushes
Cleaning your make-up brushes can be a pain, so grab your glue gun and whip up this makeup brush cleaner to make the job easier.  Simply use the glue gun to create the pattern shown on a plastic clipboard. Once the glue is dry, you can use it as a washboard to help remove the makeup coating your brush.