15 Amazing Easy Yarn Halloween Crafts That Are Absolutely Adorable
It's Halloween crafting time and we're very excited to show you all the cool ideas we've gathered since last year. A lot of them have to do with yarn. There's a lot you can do with just a bit of string so that's what we're going to focus on today. Below you can find our favorite easy yarn crafts for Halloween which, as you'll see for yourself, are not just easy to also very fun to make.
15 Inspirational yarn crafts for this Fall
Spider web
First let's get the obvious out of the way: yarn is perfect for creating spooky spider web decorations. All you need for that is yarn and some tape. It's a great idea for the home or the office. You can use black yarn on white walls for a strong contrast although that's merely one of the many options.
Faux Knit Pumpkins
If you know how to use a crochet you shouldn't have any trouble acing this project shared by yarnsociety. These pumpkins are adorable and you can display them as standalone decorations throughout the house or you can include them in your centerpieces. They also look lovely in groups.
Ghost Garland
Tassels and pom-poms, two things that you should already know how to make, can look absolutely adorable when you put them together in a Halloween garland. The idea comes from blissmakes and we absolutely love it. The pom-poms look like tiny pumpkins and the tassels and cute little ghosts.
Chunky Quick Pumpkin
We also love these chunky crocheted pumpkins featured on mamainastitch. They're made using a large hook and super bulky yarn. They have a lovely rustic look and they're actually easy to craft, even for a beginner. You can make them in different colors and sizes and display them around your house throughout the fall season.
Colorful pom pom
You can still make lovely yarn pumpkins even if you don't know/ want to knit them. In case you're wondering how, the answer is very simple and the idea comes from akailochiclife: giant pom-pom pumpkins. You need plenty of yarn for this project so go ahead and pick your favorite colors.
Eyeball pumpkins
These Halloween pumpkins featured on girllovesglam are both cute and spooky and we really love that about them. Surprise surprise… they're made with yarn. First you spray paint your faux pumpkins black, then you glue a bunch of googly eyes on them and then you wrap yarn around them in a random pattern.
Sisal
The sisal pumpkins featured on thenavagepatch are pretty cute too but in a more… simple way. To make them you need sisal twine, thin craft wire, pipe insulator or foam tubing, a hot glue gun, small twigs and scissors. You can paint them if you want to or you can use colored string to give them more character.
String art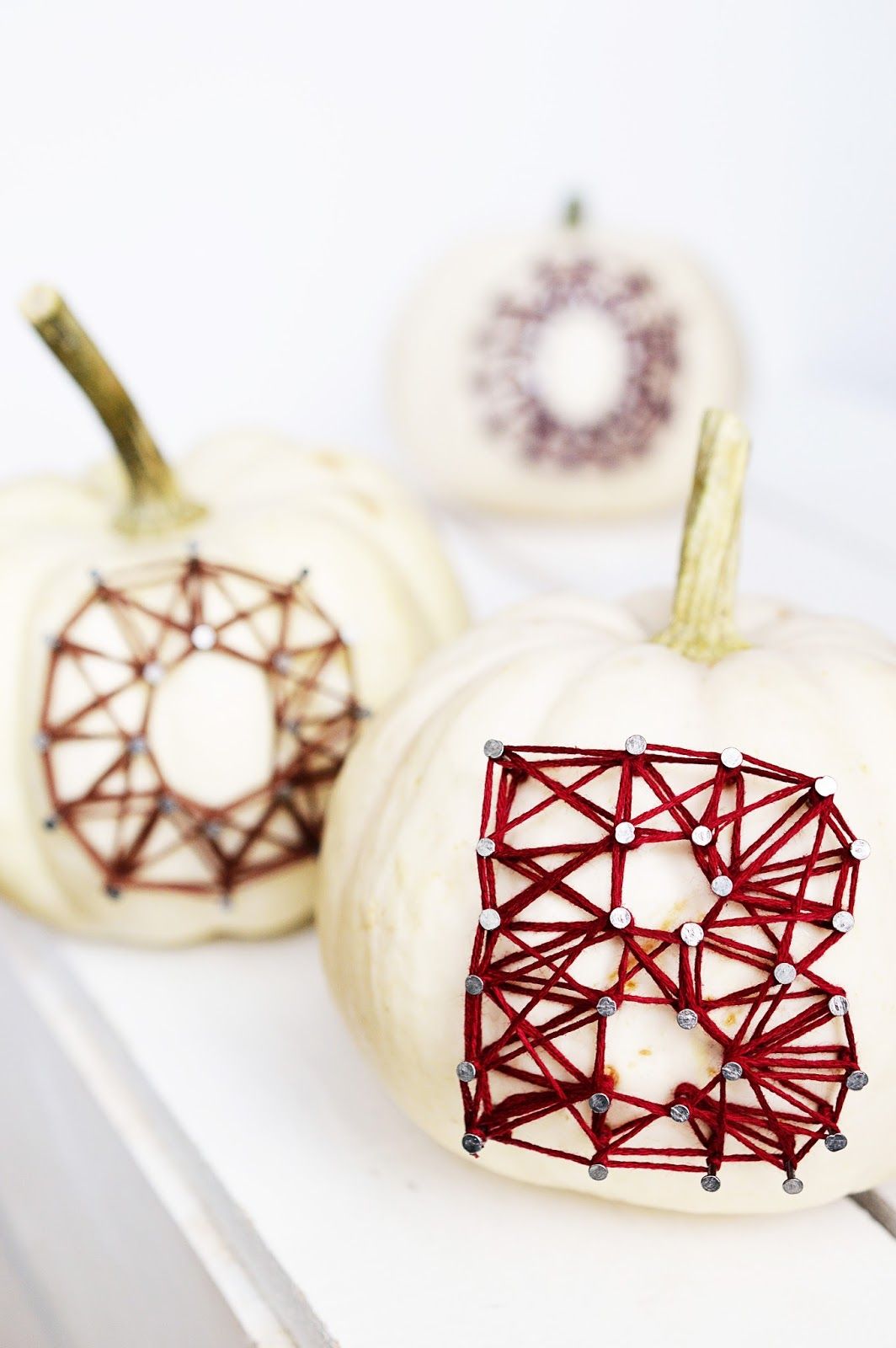 Do you know what else might look cool? String art on pumpkins. You use real pumpkins or the faux kind, whatever you prefer as long as you're happy with the result. In addition to that you also need a bunch of small nails, embroidery floss and some paper and tape so you can draw the pattern first. Check out mottesblog for more details.
Yarn covered
You can probably guess what's going on here just by looking at these beautiful pumpkins. They're covered in yarn and they look lovely. If you want to try this for yourself, all you need is a bunch of yarn in various different colors, a hot glue gun, scissors and some faux pumpkins. All the details can be found on freutcake.
Tablescape
For this particular project, you need to be comfortable using crochet and have some experience because what you need to do is crochet covers for your pumpkins. It's definitely not a very fast or easy project and you won't be able to reuse these pumpkin covers since they're made to fit each individual pumpkin. Check out flaxandtwine for details.
For Thanksgiving
This is a lovely Thanksgiving garland that was featured on frugalmomeh. It has these cute little pumpkins and turkeys made out of yarn and you can actually choose to only use one of the other if you prefer a simpler design. If you choose the pumpkins this can make a nice Halloween decoration.
Yarn garland
Speaking of pumpkin-only garlands, this tutorial from designimprovised shows you exactly how to make one. It's actually surprisingly simple. All you need is orange yarn, green pipe cleaners, some twine and scissors.
Gourds yarn
It's not just pumpkins that look cute. Gourds are actually quite adorable. You can cover them all in yarn and make them look even cuter. Start from the bottom. Add a dab of glue and start wrapping yarn creating a spiral, then continue wrapping yarn around the gourd until it's covered up completely. Check out linesacross for more details.
A basket filled with yarn covered pumpkins
Orange yarn balls kind of look like pumpkins already so it would be very easy to use that in your favor. Go ahead and stuff a pinecone into the top of a yarn ball and that's pretty much all you need to do. Winding the yarn into a ball (if it's not done already) is the most time-consuming part of this project. This cool idea comes from diyshowoff.
Scrap Yarn Pumpkin Knitting Pattern
This last Halloween yarn craft idea is a knitting project and comes from gina-michele. The tutorial explains how you can knit these lovely pumpkins and stuff them, turning them into soft little decorations that everyone loves.