20 Beautiful Fall Craft Ideas That You Can Do With Fresh Apples
With the hot summer days behind us, fall and all its beautiful and bountiful wonders is starting to take over the land. This is a perfect time to start using some of the autumn-specific resources in our projects and to make beautiful things to decorate our homes with.
Today we're focusing on fall crafts with apples and all the cool things that can be done with them.
20 Easy Fall Craft Ideas You Can Do With Apples
1. A Unique Apple Place Card
The humble apple is a perfect resource for various DIY projects. Apples are inexpensive, easy to come by and plentiful this time of the year. Here's how you can use a bunch of them to make lovely place cards for a special dinner table.
You'll only need one apple per person so you can focus on selecting only the best-looking ones. You'll also need adhesive labels, a paint pen with an extra-fine tip, a few dried flowers, berries and assorted leaves and a hot glue gun. The end result is a beautiful apple-themed place card just like the one featured on Amy Latta Creations.
2. An Apple Inspired Fall Centerpiece
On a similar note, you can also use apples to make a fall-themed centerpiece for the dinner table. For the one featured on Amy Latta Creations three good-looking apples are enough.
The design also makes use of a small tray (this one is made of beautiful acacia wood), a few pine cones, cinnamon sticks for a nice spicy scent, berries and a bit of greenery like eucalyptus leaves for instance. Arrange everything on the tray to create a nice and simple display.
3. Apple Accent Piece
Here's another lovely way to incorporate apples into beautiful table decor. This time the apples have a deep red color which helps them stand out more and contrast with the white of the candle and the green of the rosemary. They're simply casually placed around the 1 and if you want to you can also use a tray of some sort.
It's a very simple thing to do which requires very few resources. Moreover, the rosemary will add a lovely scent to the room. Check out this project on LilyArdor for more details.
4. Use Apples to Warm a Hearth
Using fresh seasonal apples to decorate the fireplace mantle can also look amazing. You can display a bunch of apples in a few different ways. For example, you could use some to fill up a small basket and you could have a few scattered around on the other side of the mantel.
You can also take a few apples and carve out little hearts into them and then position them at the center of your mantel display. All of this can be accompanied by other ornaments like flowers, greenery, candles and so on. Check out Haute and Healthy Living for more inspiration.
5. A Stylish Apple Bouquet
What great about apples is that they come in so many different sizes, colors and even different shapes. There's a really nice variety of apples that you can use in your projects. In that sense, they're quite similar to flowers which brings to a beautiful centerpiece that we saw on Design Improvised.
It reminded us a lovely bouquet of flowers. Big, small and medium-sized apples were used to fill up this pedestal bowl and then a few eucalyptus leaves were added into the empty spots between them.
6. Simple Fall Apple Candles
Apples can even be turned into candles. It's a surprisingly easy thing to do and you can even complete this project with a few basic things that you have around the house. For instance, you can use a few wax crayons that the kids no longer use.
You'll also need to carefully select a few apples that stand up straight and you'll also need some paraffin wax with wicks, an empty can, a serrated knife or a grapefruit spoon and some apple spice or apple cider mix just to add a lovely autumn scent to the candles. You can find the instructions on Say Yes if you're interested in the details.
7. An Apple and Pear Inspired Fall Centerpiece
Another super easy fall craft to do is fill a tray with apples and pears and create a fall centerpiece for the table. You can add a few more varieties of fruit if you want to but it would be nice to only use seasonal ones from your own region, otherwise, the centerpiece could end up looking exotic more than anything else.
Add eucalyptus leaves and branches to make a nice green bed for all the fruit to rest on. This is an idea featured on Julie Blanner and we find it very inspiring.
8. A Topiary Bouquet of Apples
How about a topiary centerpiece made with beautiful fresh apples? It would look like a bouquet with apples instead of flowers and you could have several of them on a large table. For the base you can use a bowl, vase, planter or any container that fits the design and you can fill the empty spaces between the apples with some greenery, whatever you can find in your area.
This design can also be made with various other seasonal fruit so feel free to experiment. Check out The Dodge Voice for more inspiring ideas like this one.
9. An Elegant Fall Apple Wreath
Here's one more thing that you can make with apples: a wreath. Faux apples would be better suited for this project since they'll need to be glued onto the wreath, plus they'll last longer. Get yourself a bunch of apples, a styrofoam wreath form, some burlap cut into strips, a bit of moss and a hot glue gun and get to work.
Wrap the burlap around the wreath, then glue the apples on it one by one. At the end, fill in the gaps with moss. Additional details and instructions about this project can be found on The Wood Grain Cottage.
10. A Twig and Apple Fall Style Wreath
Of course, you don't necessarily need to cover up the entire wreath with apples. If you're using a grapevine wreath you can use only a few apples as decorations which you can add at the bottom, in a pocket made of twigs. There's no need to glue the apples onto the wreath in this case which means you can easily swap them out with fresh ones when needed.
You can also add a few colorful leaves and even some seasonal flowers to make your apple wreath look extra pretty. Check out Stow and Tell U for more lovely ideas.
11. A Versatile Dried Fruit Apple Garland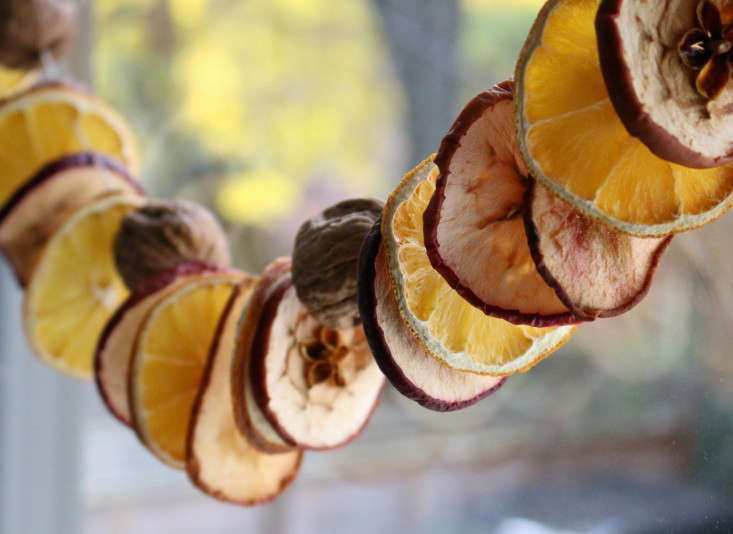 Making your own apple garland is an easy, versatile project that you can enjoy for the entire fall season. All you need is some dried apple slices, yarn or twine, and an upholstery needle to have a beautiful apple display piece that you can use in any room of your home.
Once you have the apples down, feel free to add in other dried fruits to give your creation even more style. For a more in-depth look at the process, check out this how-to at Gardenista.
12. Homemade Apple Topiary Tree
Over at The Beehive Connection we see another stylish apple topiary idea. You can create a beautiful faux apple tree using skewers, or sturdy branches for a more realistic look, a small container, styrofoam, and a few apples. Just place your sticks into the styrofoam, then put it all into the container, and using some string or twine, tie your apples to the sticks.
Mix in some artificial leaves and grass to complete the look. Tie the apples loosely to the tree, and your family will be able to "pick" a healthy snack whenever they want!
13. Fall Drink Bar With Apple Water Dispenser
Water is refreshing and, well, boring. Make water breaks fun with a fresh apple punch dispenser like the one we saw at Stone Gable Blog.
All you need is a clear water dispenser, a mix of freshly cut and whole apples, for extra style, and you have a delicious treat available all season long. Be sure to switch apple varieties from time to time to keep the experience new and fresh!
14. Homemade Apple Potpourri
Few things in life smell as wonderful as the scent of fresh apples. Julie Blanner shows us how to freshen up any room in our homes with a bit of DIY apple potpourri. Feel free to add cinnamon, oranges, or any other naturally fresh scent you want. Experiment and find the perfect fragrance for your home!
15. Mason Jar and Green Apples Fall Centerpiece
With a little water, a few mason jars, and some fresh green apples, you can create a beautiful piece of decor that will enhance any room of your home. The Stone Gable Blog highlights how simple and beautiful clear mason jars and green apples can be. Feel free to experiment with your layouts and sizes, creating gorgeous centerpieces for the dining room table, fireplace mantel, or end table.
16. Crafty Apple Carvings
Let your creativity shine through with some magnificently, or your best go at it, carved apple figures. Over at Make Sushi they walk us through a gorgeous swan apple carving, but if that seems a bit extravagant for your skill, feel free to try something simpler. Get the family involved and see who can come up with the most creative design!
17. Hanging Tub of Apples
Simple, elegant, and screaming fall, a simple metal tube field with apples, like this one at Shelterness, is an easy way to add a little style and apple deliciousness to any outdoor or indoor space. Add in a fall-inspired napkin with mixed and matched apple varieties, and you have a piece you can keep unique and fresh all season long. The tubs look great either hanging or placed decoratively around walkways.
18. Decorative Apple Snacks
It will be hard to walk into the kitchen and walk out with anything other than a delicious, healthy apple! Not only will it make for a beautiful addition to your kitchen counter, but a clear container filled with fresh apples makes for a quick, handy snack. Add in a splash of shabby chic decor, as they did over at Shelterness, to really make this apple snack station visually and palate-pleasing.
19. Floating Apple Candles
Apple candles are a creative and beautiful fall craft, but Sincerely Marie Designs shows us how to take apple candles to the next level! A stylish metal tub filled with water and a few bobbing homemade apple candles creates the perfect fall ambiance. Depending on the size of your tub, you can make this stylish apple decor work inside or outside your home.
20. Creative Visual Berry Vine and Apple Design
Not limited to the designs shown at Shelterness, you can create any number of geometrically unique pieces to accent any room. Mixing decorative berries, vines, and other elements with your fall apples allows you to stretch your creative muscles and design a stylish piece of fall wall decor to complement the rest of your home. It's another fresh apple project that is simple enough to get the whole family involved.
With this list of easy fall apple craft projects, you'll be able to find some great ways for you and the entire family to get together and create something you can enjoy for months. Watch your family's creativity come to life as everyone puts their own unique spin on each apple craft project. So have fun being together and enjoying the fall season!