Our Top Favorite Pumpkin Crafts For This Fall
It's pumpkin season once again and that means it's time to get creative. Don't worry, we did some research so you don't have to and we're ready to show you the results. We've selected a bunch of pumpkin crafts that we think you'll enjoy. Some require real pumpkins, others make use of the faux kind and there are also a bunch of projects that are actually inspired by pumpkins without physically requiring them in any way. Let's now check out these cool pumpkin designs and see what makes each one special.
The first of the many pumpkin decorating ideas that we've prepared for you today brings the aroma of fall into your home. These lovely cinnamon pumpkin candles will make your home smell great and they'll also double as seasonal decorations. To make them your obviously need pumpkins and cinnamon sticks (actually just candle scent if you want to simplify things). Get some soy candle wax flakes, some wicks and a few bamboo skewers as well.
What do you say? Do these look like pumpkins? The resemblance is abstract but that's actually the whole point of the design. You can use these rustic wooden pumpkins in a variety of settings. They can be displayed on the fireplace mantel, on a shelf or on a table and they can even double as seasonal bookends. You're probably curious how they were made so let's get to it. Here's what you need to make your own wooden pumpkins: unfinished wood blocks, wood spools, glue, orange and white craft paint, sisal wire and burlap.
This wood pumpkin basket is another lovely craft you can occupy your time with this fall. Although it may seem like a complicated project, it's actually pretty simple. It starts with an unfinished wood box or planter and a pumpkin cut-out. these two come together and you can attach them with glue. then you paint the whole thing orange. You can use the box in many different ways. Put some plants in it, use it for your tools or as a storage container for the kitchen.
As it turns out, pumpkins make great vases. You should use a faux pumpkin for this craft to avoid making a mess but also so it lasts longer. Cut out a section at the top and put some floral foam inside so you can better stick your flower stems in. Make a bouquet of seasonal flowers (real or faux) combined with leaves, pine cones, branches and anything else you see fit. This is just one of the many ways in which you can use pumpkins in your centerpiece crafts.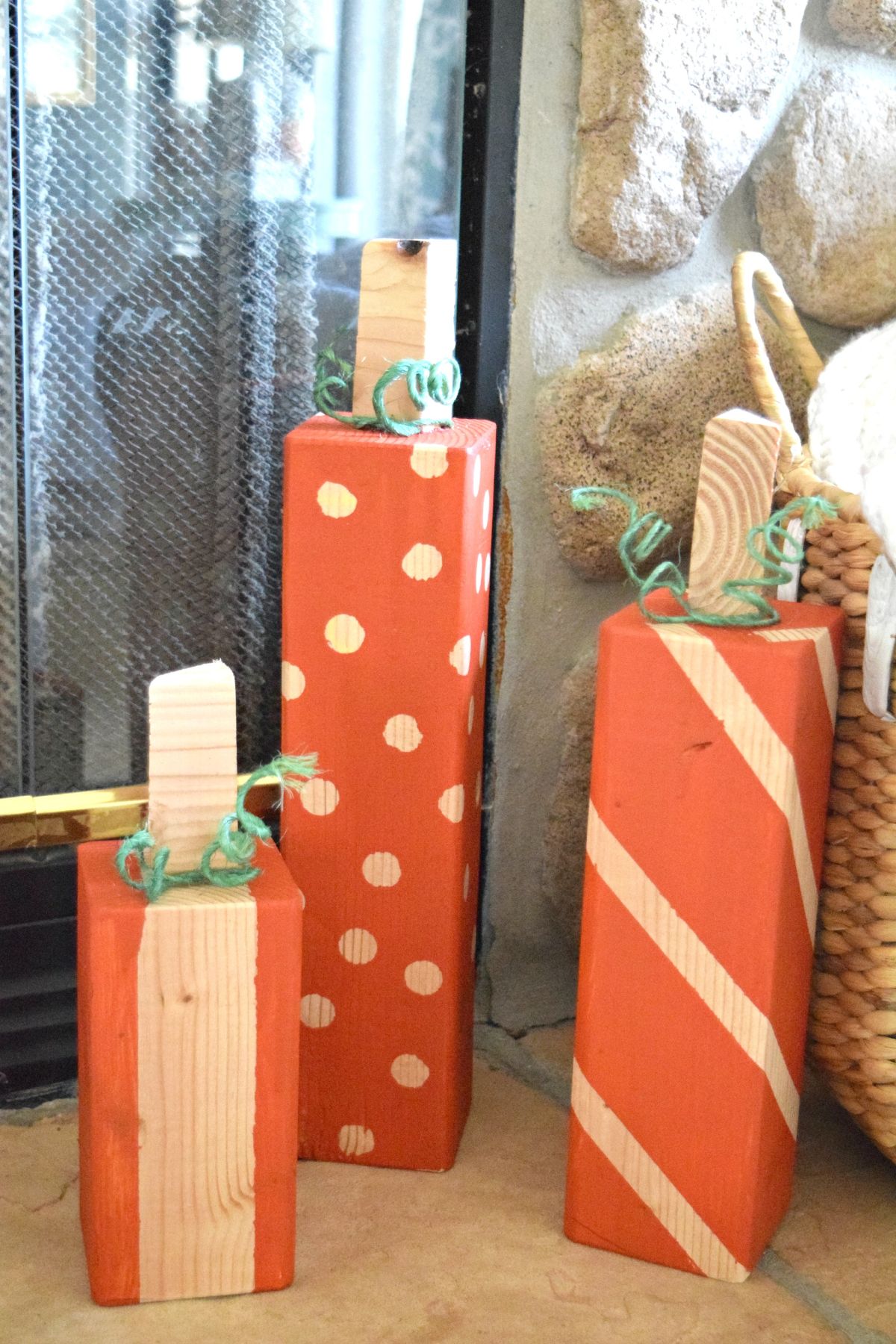 Ever seen square pumpkins? Probably not so let us show you a secret. You can make easy fall decorations inspired by pumpkins using blocks of wood. It's very simple. Take a 4×4, cut it straight and sand down its edges to get slightly rounded corners and then apply tape or stickers so you can then paint the block orange and obtain a pattern. When the paint is dry, take a scarp piece of wood and glue it at the top, then tie some twine around it. This will be the stem of your square pumpkin.
Doesn't this sweater pumpkin look adorable? We love how cozy it looks and we want to share with you the details of how it's made. First, the necessary supplies: an old sweater, fabric scissors, embroidery thread, a needle, a thick stick, pillow stuffing and something to cut the stick with (like a saw). Cut the stick down into smaller pieces to use as stems and then cut out a circle out of the sweater. Gather some pillow stuffing into a ball and put at the center of the circle, then use a needle and thread to wrap the fabric around the stuffing and to make a ball. Don't forget to insert the stick at the top. At the end, shape the pumpkin using matching thread or leave it as it is.
There are plenty of occasions to throw a fall party or dinner gathering so how about some themed place cards? We have just the thing for you: a tutorial showing you how to make pumpkin pie slice place cards. For this you require a template, scrapbooking paper is several colors (brown, orange, white and yellow), clothespins, a hot glue gun and stamp letters. A sticker maker would help too.
If you worked with plaster or air-dry clay before then you know just how versatile it is and how many cool things you can do with it, including these cute leaf and pumpkin wall hooks. These were made using plaster, orange powdered dye, silicone molds and wall hooks with screws. Of course, you can come up with your own version and even pick a different theme for the designs.
Put your pumpkins on a pedestal and make them the centerpiece of that room's decor. In case you need some inspiration for that, check out this stacked pumpkin centerpiece. It features two faux pumpkins painted in metallic colors and stacked on a large candleholder. You can add a few faux leaves as well.
How about something in the spirit of Halloween? These pumpkin air plan holders should do the trick, although they're actually too cute to be scary. In any case, you can have a lot of fun decorating them. The hard part, however, is actually crafting the pumpkins and for that you need a silicone mold, plaster mix, water, a sculpey and orange paint. Be sure to make the pumpkins with a small hole at the top to fit the air plants in there.
Pumpkin carving and decorating can be a lot of fun but it also gets messy if you use real pumpkins. You can avoid all that by opting for the faux kind instead. For the ideas that we have in mind, there's no carving involved. The pumpkins are decorated with washi tape. It's all very simple and you hardly need any instructions. Just take your faux pumpkin, paint it if you want and then stick some pieces of washi tape on it. You can combine different colors, patterns and geometric shapes.
Pumpkins make great decorations not just for Halloween but for fall in general. We have a project that can prove it. Check out these jewel tone pumpkin votives. They're not festive in any way and they're not even orange which actually makes them a lot more versatile. If you'd like to make your own votives, you'll need mini pumpkins, a paring knife, a spoon, votive candles and spray paint. You can choose any color of paint you want. we like this blue because it looks precious.
We find it interesting to take a classic or traditional idea and to give it an update. We'd like to illustrate this concept with an updated pumpkin project perfect for fall. It"s based on the idea of using small pumpkins to decorate the fireplace mantel. In this version, the pumpkins are artificial and ivory-colored and each has one or more antique keys glued onto them. Together they spell out "fall" in a stylish and bohemian way.
We'll end this list on a fun and somewhat spooky note by showing you how to use glass bowls to make jack-o-lanterns and cauldron candle holders. It's all very simple actually. To make the pumpkin jack-o-lantern you have to put stickers on the bowl to mark the eyes, nose and mouth and then to paint the bowl orange. When you remove the stickers, you have your lantern. The cauldron is a bowl painted black, with a handle glued onto it on two points.