Good Planning Makes an Outdoor Design Perfect for Your Family
Outdoor living space has become essential in these times so it's important to create a comfortable, functional outdoor design where you love spending time – in more than one season!
It doesn't matter if you have a small back garden or a sprawling lawn that needs some upgraded spaces and definition, there are ways to make the most of what you have. We're fans of the "no rules" rule, but there are guidelines and tips for an outdoor design that will help you put together a personal haven.
Know your Outdoor Environment
Before you start making all sorts of changes to the landscape, know what you have to work with. Spend some time sitting in the yard at different times of day and take notice of the light, the views and the existing elements. This will help guide everything from your furniture arrangements to your plantings. these are just some of the things to consider?
Is the property sun-filled or quite shady?
Does the yard slope precipitously or is it level?
Which direction does the yard face?
Is the soil sandy or heavy with clay, either of which can affect drainage?
Do you have a lot of trees that drop various pods, seeds, blooms or fruits, which will make the upkeep of any water feature more labor-intensive?
Is the land so rocky that digging anything deeper than a hole for an annual plant is next to impossible?
Do you have a view that you want to showcase?
Outdoor Living Space is an Extension of the House
By this, we don't mean that the colors and style of your outdoor space have to mimic what's inside. Instead, this means that because the house is the largest building, your outdoor patio design should start from the house and flow outward, blending with the landscape.
What's the Purpose of Your Outdoor Design?
This may be the most important question that you have to answer. If you have children, then an entire garden of plantings and water features is not the best choice. If you like to entertain or cook outdoors, your outdoor design has to accommodate those functions. There is no right or wrong answer – you just have to define what you want from your outdoor space — honestly. Consider:
How do you like to spend your outdoor time?
Do you entertain outdoors or would you rather have a comfy place for relaxing with a book?
Do you need to set up an outdoor kitchen?
If you like to play outdoor games, you'll need more open lawn space.
Consider the Outdoor Layout
Just as with an indoor space, any outdoor patio design has to be comfortably arranged and have enough space for foot traffic around all the furniture and features. Work with the space that you have, whether it's small or expansive. If it's large, you have the opportunity to create defined spaces for seating, dining, cooking or other pursuits.
Define garden beds with edging, walls or plant borders.
Create paths through your outdoor design and remember that gentle curves and lines that meaner are more organic feeling than rigid, straight lines.
Wider walkways will make a small garden feel more spacious.
Be sure to plan your gardens to make sure you have the right mix of flowers, shrubs and other elements.
Be sure the garden or yard has visual boundaries, whether those are beds, fences or shrubs.
Pick Your Garden Plants With Care
Even if you love to garden, do you want to send all your time caring for the plants instead of relaxing with family and friends? Of course not. This is why you want to be careful when choosing the plantings for your outdoor design.
If you don't really have a green thumb or prefer not to devote much time to maintenance, pick plants and shrubs that are native to your area and that need minimal upkeep.
If you're into gardening, choose a mix of your favorites flowers and shrubs along with a selection of low-care plants so that you can sit back and enjoy your outdoor space.
Consider an edible garden or one that includes herbs.
Make the section of your garden that requires the most upkeep your focal point, such as a rose bed or topiary collection.
If your outdoor design is a DIY project, don't try to do it all at once. Take your time and create one bed, section or element at a time.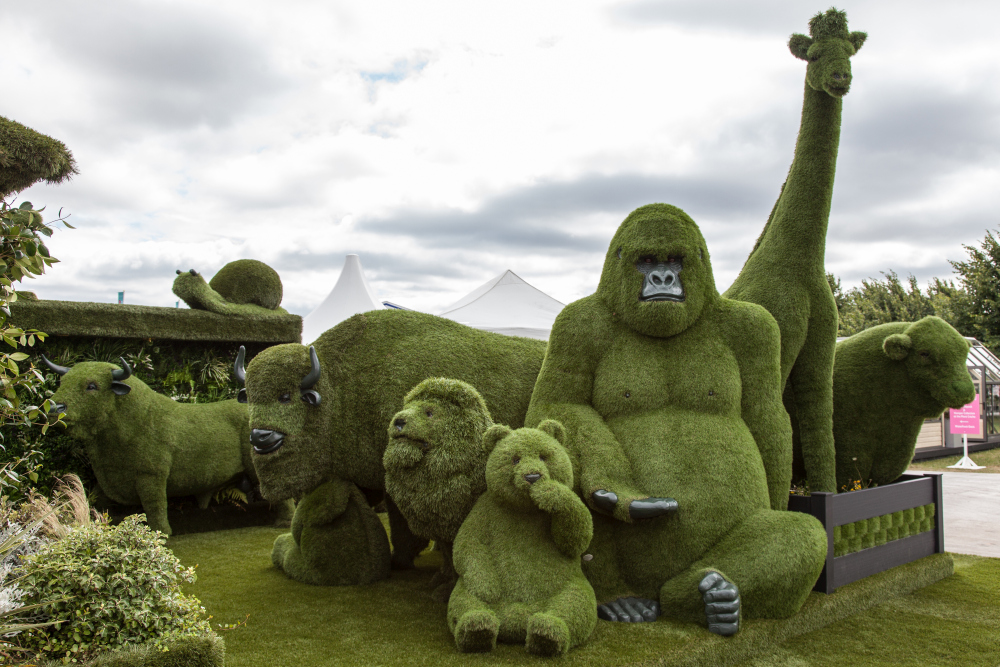 Add Some Water
A water feature is a great addition to any outdoor design, whether it's a small portable fountain or a larger built-in pond. There are many reasons to add water to your outdoor patio design, says Three Season Landscaping:
Running water is a soothing sound and helps relax you. There's a reason that spas and sleep apps use the sound of water: It helps reduce your stress. Lounging in the backyard will take on new meaning when you add this beneficial feature to your outdoor design.
A water feature attracts birds, frogs and wildlife to your property. Not only will this be fun to watch but it's good for your yard and nature at large.
It's a fabulous decor element and can easily be the focal point of your outdoor space. Whether it's set in a garden bed or next to the patio, it'll be a draw for you as well as your guests.
Think in Tiers
If your property has a serious slope, you have no choice but to think in tiers in order to make the most of the yard. Even if it only has a slight slope or has varied terrain, creating levels in your outdoor patio design can make a yard far more interesting.
If you need to add steps, think creatively. One regular-rise step might do the job but layers of thinner steps are visually more interesting and can feel more organic.
Positioning a seating area or focal element on a riser of some type can draw attention upward and add dimension to a flat space or function to a hilly yard.
Try digging downward. A steep slope can be a great opportunity to nestle a seating space into a hill or create a firepit area.
Add Something Sculptural
Just as art embellishes your indoor space and can serve as an instant focal point and conversation piece, the same thing is true for outdoor art. Most of the time, art for outdoor designs takes the form of sculpture and this should be viewed as a key garden element, not something frivolous. According to Garden Fundamentals, adding an art piece that you love can do wonders for an outdoor space:
A sculptural piece of art is an instant focal point for the property.
They add texture, shape and even color to a garden. The different materials used will be a contrast to all the greenery on the property.
Geometric shapes stand out the best and anything that depicts a plant or flower will blend in.
Sculpture adds interest in the winter season or during the period when fewer plants are at their peak.
Functional pieces can be sculptural too. Why choose a plain bench when something unusual and artsy will make a bigger impact?
Artful additions don't have to be large. Smaller distinctive sculptures also add interest/.
Define Different Spaces
Unlike within the interior of the home, it's possible to get really creative about defining different areas of the backyard. The easiest spaces to create are those for seating, followed by sections of the outdoor design devoted to an activity, like cooking or a firepit. As you survey your yard, keep these tips in mind:
Without defining the space, your seating elements will look like you just plopped them down in the grass.
Hardscaping is a permanent and excellent option for an outdoor patio design, but keep in mind that too much can make an outdoor space feel a bit cold and sterile.
If there is no natural feature to help define the space, make one. This can be done using sand, gravel, edging or a groundcover. Think creatively!
Build a seating structure, such as a gazebo or arbor, to create a specific space.
Don't forget that you can use lighting to help define an outdoor space too.
Include elements to make it look inviting, such as flanking the entrance to a gazebo with planters.
Be a Little Whimsical
The purpose of an outdoor design is to create a space that fun and relaxing — and not too serious. No matter what type of backyard style you have, it's important to add an unexpected, fun element. This can be anything from artful edging for a garden bed, a mural on the garden shed, statuary, or upcycled art. Even an unusual bench, chair or other seating element can add some fun to a space.
Related: Inspiring Design Ideas For Beautiful Backyard Deck Setups
Create a Primary Seating Area
When creating your outdoor patio design, skip the prearranged patio sets that 9 percent of consumers buy. Sure it's easy, but it also ends up looking predictable. Instead, opt for a mix of furniture or something that is out of the ordinary. You want to create a comfortable and functional space that's also stylish.
Comfort is tops for outdoor furniture. Pillows and comfy cushions are a must
Banish the boring. Add a focal point to your outdoor patio design, like a water feature, fire pit or sculptural element.
If possible, create a covered setting are that can be enjoyed even if a little rain is falling or the sun is blazing.
Surround your outdoor patio design with plants, whether they are in permanent beds or collections of containers.
Incorporate Stylish Storage Space
Unless you have a huge garage or basement, you're going to need storage space for all your outdoor tools as well as a place to stash things during the off-season. Certainly, a garden shed can do the job, but it does not have to be the ordinary type.
This charming blue and white building evokes the changing rooms of yore somewhere on a European coast. They might be actually be changing rooms for a nearby pool or hot tub, but they might also be plain garden storage space. It doesn't really matter because the setting is lovely for seating either way.
A Little Camouflage Goes a Long Way
No matter how soothing a hot tub is, it is not the most attractive element plopped into an outdoor design. Even more, every yard has some unsightly elements that benefit from a little camouflage — whether that's a mundane garden shed, an air conditioning unit, or pool-related plumbing. The garden and outdoor experts recommends some other useful tactics:
Use a trellis, fencing or lattice to hide it. This is an easy fix and dressing it up is simple too — just plant vines or plants to make it look nicer.
Build a box to go over or around your AC unit or generator. It can be made out of lattice or wood and can be open on one side or hinged for easy acccess.
Surround it with big pots of plants.
Surround the eyesore with shrubbery and plantings. This is a natural way to hide it that adds to the greenery on your property.
Create a gravel garden around it. Border it with low-maintenance plantings and it'll look far less offensive.
In the end, the outdoor design for your backyard has to fit the kind of outdoor lifestyle you prefer to lead. No matter how cool it looks, if it doesn't accommodate the way you like to relax, it won't work for you and your family. With some good planning and a dose of creativity, you can have an exceptional-looking outdoor design that is fun and functional.
FAQ
What kind of yard do you have?
Before you. do anything, determine all the features that your property has, from the type of soil and amount of sun to the slope and any natural features. Knowing what you have to work with can help drive the overall plan for what you do with the space.
What do you want from your outdoor design?
Determine what you want from your outdoor space, whether that is a space for grilling and entertaining, a couple of seating areas, or a wide-open space for kids to play. This can guide your overall plan for the backyard, no matter how large or small.
What will the layout be?
Any outdoor design needs to have an overall layout so that you can plan where to place the flower beds, seating areas and other elements. It's also important to consider the flow between these areas and what kind of walkways or other transitions will bridge the elements.
What kind of plants can I use?
Quite literally any plants appropriate for your climate can be used in your outdoor design. The main consideration is how much care and maintenance you want to devote to your gardens and beds. Those who would rather spend time enjoying the property instead of caring for it will want to choose most all low-maintenance plantings.
Do I need different spaces?
Any outdoor design or outdoor patio design needs to have defined spaces for seating, play, dining or other pursuits. If the design does not have elements that define the different functional areas, it will likely look like the furniture and other things were just plopped down into the yard.
How do I make my outdoor design look distinctive?
Many things can make your space look special and incorporating these elements into your outdoor. design is key. Consider adding. water feature, a fire pit or a piece of outdoor sculpture to really spice up the space. This not only adds a focal point but can add interest throughout the seasons. You can also add something whimsical to make it a little more fun.
What if I have unsightly elements in my yard?
Use strategic plantings, fences and other features to camouflage or mask necessary elements in the backyard that might not be the most attractive. Potential eyesores can include utility boxes, pool mechanics or air-conditioning units. Be creative and either blend them into the landscape or use them to create a more attractive element.