Hillside Landscaping: Great Ideas That Will Transform Your Front Yard
With the right hillside landscaping ideas, you can transform your front yard or property into a landmark destination. Many homeowners prefer a woodland garden arrangement filled with shrubs and flowers for their landscape. Meanwhile, others prefer a classic landscape design that includes rocks and gravel.
Your taste for ornamental grasses or capacity for lawn maintenance shouldn't be an issue with hillside landscaping as it's a year round outdoor DIY project.
The front yard space of your home is a green canvas, a clean landscape for you to explore your creative green thumb skills while adding value to your property. If you're serious about your DIY skills, it would be a waste of money to hire a landscaping company.
Also, when you perform lawn maintenance instead of using the services of a landscaping company, you save money and develop a deeper bond with your outdoor property. However, there are many who do not like lawn maintenance, and if you fall into this category, the make sure you choose the best landscaping company in your area.
What Is Hillside Landscaping?
Hillside landscaping is lawn maintenance applied to terrain that has a slope or angle, like a front yard to a house that sits on a hill. Not to be confused with hilltop landscaping, which focuses on hilltop locations, rather than inclined surfaces.
Hillside landscape design is challenging because sloped terrain is harder to manage than flat surfaces. For example, a rock garden on a hill would be more difficult to build than if you wanted to create one on flat terrain, but it wouldn't require as much lawn maintenance afterward. However, there are hillside landscaping methods you can take advantage of that can make things easier.
Hillside Landscaping Ideas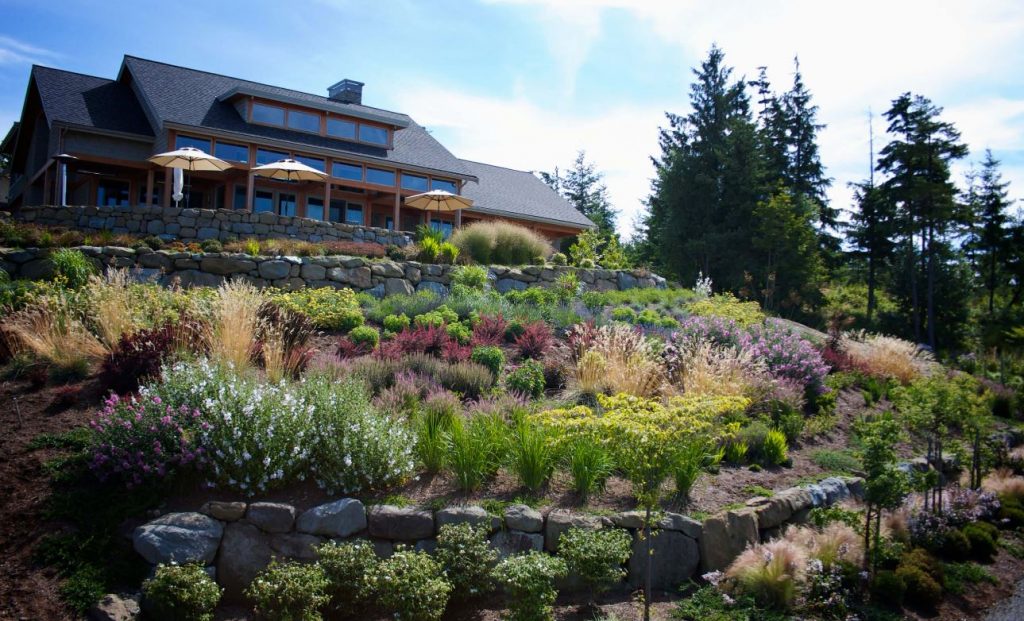 If your front yard or backyard has a steep slope, with the right approach and budget, you can create the landscape design you desire. The following ideas don't rely on budgets or professional services that specialize in hillside landscaping. Instead, what you'll find here are helpful tips you can apply to hillside landscaping and lawn maintenance.
Retaining Walls
Retaining walls are one of the best ways to level your front yard and make it look natural. You can create one at the edge of your property to align with your flowers and plants. Also, you could create a series of retaining walls that would also function as stair steps.
The walls can be one-foot or three-feet high. However, a retaining wall shouldn't be taller than a few feet as it would be hazardous to those walking by and small children.
Natural Stone Border Landscape
Stone or gravel are necessities for hillside landscaping. You can cover an entire hill with gravel, or use natural stone to make borders. But no matter what, hillside gravel should have a border.
For example, when you create a patio out of pea gravel, you need a border that will maintain the gravel on a hillside and keep it from falling.
Landscape Design Greenery
This is an important element and often overlooked. Installing plants that are green only a few months each year can hurt your outdoor appearance and ruin the effects of hillside landscaping. With trees, gardens, and flowers, you'll need to find those which thrive in your geographical region.
Select a variety of plants and trees that bloom throughout the year and will provide your open hillside landscaping with the right touch of green. For example, evergreens would be good in cold climates, while mild climates give you more options to choose from.
Natural Stone Landscape
Lawn maintenance isn't always about ornamental grasses. You can make a path with gravel or stones that will bring your hillside landscape together. After you create a pathway, people will have something they can walk on when they want to explore your hillside landscaping.
Gravel is cheaper than stone, but other alternatives exist. A simple dirt path clear of greenery can do the trick and so can a wooden pathway, which is more expensive, but makes a big impact.
Staircase Landscape Design
In hillside landscaping, most people prefer stairs over footpaths. Stairs are more stable and prevent accidents, unlike stone paths. Stairs are more expensive, but they also last longer than other walkway options.
Hillside Landscaping On A Budget
Working with a limited budget almost defeats the purpose of landscape design, but there are workarounds and it will depend on your style and preference for lawn maintenance. Not everyone can afford to hire a team that provides various outdoor services. What you should realize is that at the end of the day, hillside landscaping is about aesthetics more than anything else.
Hillside Landscaping With Ornamental Grasses
There's nothing more natural than grass. Grass seed is the cheapest option, or you use turf, which will be more expensive but offers faster results. Remember to check the package to see if you need to till the land before adding the seed or if it is better to leave the ground natural and packed.
Hillside Landscaping With Reclaimed Pieces
Finding reclaimed pieces can be the best move you make for your hillside landscape. You can ask friends, visit flea markets, and check out online thrift stores for pieces that will provide the right touch for your hillside landscape.
For example, the pieces can be outdoor furniture, old logs, or water fountains. After you transform or repair the pieces, your neighbors will be impressed.
Hillside Landscape With Focal Points
Focal points will ensure attention is drawn to your landscape with items like boulders, for example. This can be a good thing for those working with a tight budget. Trees make great focal points and can complement any landscape. When planting trees, you'll need to hire a professional. Gardens are another option if you want unique flair.
You could include a statue or a small fast-growing tree in your landscape design. Such items will grab attention. Also, the nicer your landscape looks, the easier it will be for your neighbors to sell their homes and property.
Hillside Landscaping Lawn Maintenance
If you have the budget, you hire a team of professional landscapers who specialize in hillside landscaping. Planting shrubs along your driveway or entryway might be harder than you think and depending on the terrain. You want to take pride in your front yard, so create something right the first time and future maintenance won't be a burden.
Weed Barriers
Weed barriers will ensure that you'll never have to perform weeding tasks ever again. This will save time as lawn maintenance is time consuming enough as it is. You'll need to install barriers underneath the plants and gravel so your front yard will look fresh and clean.
Weed barriers aren't expensive, but if you have to redo your front yard hillside landscape or enlist professional landscaping services, it can add up.
Landscape Terrace
If you want to cover your hillside landscape, then add a terrace and forget about everything else. This is not a cheap way to do things but it is effective and very low maintenance.
All that will need to be done is weeding, which will be minimal. This is for safety issues and because the terrace area can look messy.
Dry Creek Bed Landscape Design
A dry creek bed project is a great way to keep your outdoor area drained and requires less maintenance. It also looks great and has a natural effect that most people want in their landscaping endeavors. You can make it any size you want as well.
An alternate dry creek bed draining system is a French drain. This is an old way to drain your yard that looks amazing. However, it isn't easy to install, but it is easy to maintain.
Rock Garden Landscape Design
A rock garden project is those who dislike lawn maintenance. Your neighbors might not like it if your front lawn consists only of rocks, but if you like it, then let it be their problem. You could plant flowers or shrubs around your rocks to accent them with specific colors. Most people like rocks because they don't need maintenance, unlike grass.
Find different shapes and types of rocks to create a diverse garden without any green at all. Or, you can use plants from desert landscaping ideas to blend in with the rocks and stay low maintenance.
Professional Landscaping Services
The easiest way to ensure that you stay within your budget would be to hire a professional. Not only will professional landscapers complete the job, but they'll also make sure you don't have to do any of it.
Frequently Asked Questions (FAQ)
FAQ
How Much Does Hillside Landscaping Cost? 
Landscaping prices vary greatly. For basics, you can expect to pay around $7 per square foot. But for something larger, you can pay up to $50 per square foot. This is to hire someone to do the work for you. 
How Do I Start A Hillside Landscaping Business?
Starting a landscaping business will take some work. This is primarily because starting any type of business is a lot of work. You need references, some type of site, rates, and many papers to become trusted and legal. 
How Do I Hillside Landscape My Front Yard?
Doing hillside landscaping in the back yard is easier than in the front yard. This is because hillside landscaping in the backyard gives you more room to work with and more freedom. So in the front yard, you simply work with pathways and downscale. 
How Do You Landscape A Steep Hill?
Steep hills can only be landscaped a few different ways. The most common is simply to add steps. There are many different types of steps including cement, stone, and railroad tie steps for your hillside. 
How Do You Make Railroad Tie Steps In A Landscape?
Railroad tie steps are one of the easiest to make but you do need the resources. You should start by digging out, creating a base, and then burying part of the steps. Learn how to make a railroad tie retaining wall while you're at it.  
Hillside Landscaping Conclusion
Hillside landscape design is can be a wonderful DIY experience. It doesn't require professional skills like dormer window installation, for example. With grass, all you need is soil, water, and fertilizer. When the grass grows, keep it trimmed and cut, and make sure it receives plenty of water.
After you've created a landscape design, determine what you can do by yourself. If you need professional landscaping services, before you contact anyone, ask a neighbor for a referral. If you don't do your research, you could wind up hiring the wrong landscaping company, and that's where your troubles would begin.
Lawn maintenance and hillside landscaping aren't hard tasks, but if you don't have a plan, then you will waste money and time. A hillside may not look like the ideal terrain for gardens, plants, and flowers, but where there's a will, there's always a way.
Planting shrubs along your driveway entrance or walkways is good DIY project that will make your house appear elegant. When you place boulders and large rocks throughout your front yard, your house will look more prominent. Remember, you're the owner of your property. It's your front yard and you're free to do whatever you want.
Landscaping is a double-edged sword, and it's this aspect that homeowners overlook. When you invest in beautiful hillside landscaping ideas, you increase the value of your property and your neighbors' property. With that notion in mind, landscaping is about respect. You should treat your front lawn the way you would want others to treat theirs.