Patio Decorating Ideas for Every Style of House
Patio decorating ideas are front and center when warm weather approaches. Even if you don't have a big backyard, a small patio or deck can be just as relaxing and enjoyable.
The question becomes how to style outdoor spaces so that they're functional and feel like a getaway.
Have a look at these great patio decorating ideas.
Multifunctional Patio
An enclosed, arbor-topped small patio makes a sublime outdoor dining space for summer. The wood-fired oven can also serve up cozy heat on chiller nights, creating a perfect place to gather.
Ian Barker Gardens of Australia designed this delightful al fresco retreat.
Indoor/Outdoor Living Marvel
Architect Nadine Englebrecht designed this magnificent space that can be used year-round. A stunning architectural glass wall automatically rises, opening the space to great outdoor living near Pretoria, South Africa. A minimalist concrete floor and rustic dining set are just the right additions.
Zen Space
A secluded back deck retreat surrounded by greenery exudes a real Zen vibe. The former artists' retreat is located in a botanical garden in the Sydney, Australia suburbs.
A Modern Minimalist Patio
Zona Architekci designed this modern deck to take advantage of the clean lines and architectural features of the house. This outdoor patio decor has modular furniture and two sliding screens and a wooden arbor structure make it feel cozier.
Tropical Haven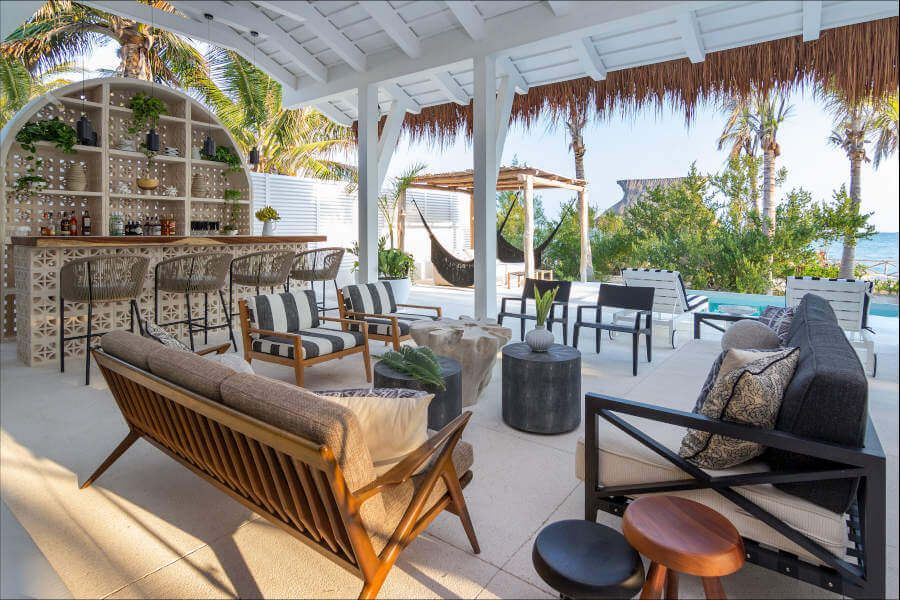 A chic beachside patio from Mexican designer Sofia Aspe is paradise. These patio decorating ideas have all the trappings for relaxation, from comfy casual furniture to a tropical outdoor bar and hammocks.
Poolside Relaxation
Klopf Architecture got everything right when they designed this poolside patio. Simple, casual furnishings and a fire pit make this San Mateo California patio a versatile entertaining space.
Sunny Southwestern Vibe
The weathered furniture in this space might have a New England feel, but the main aesthetic is southwestern. Mark Ashby designed this Austin, Texas patio as a comfortable lounging area that can be used in summer and beyond.
Desert Oasis
Part of the outdoor space but shaded from the blazing summer sun, this modern patio is an oasis in the desert. Sturdy natural furnishings are the ideal patio decorating idea for a sleek Paradise Valley, Arizona home.
Urban Sanctuary
Garden Life created this true urban outdoor oasis located smack in the middle of Sydney, Australia. Flanked by easy-care greenery, it has a bit of an exotic vibe and a fun herringbone brick floor design.
Related: The Best Swing Chairs for Patios, Gardens and Backyards
Outdoor Room With a View
A Brazilian home incorporates a covered patio that runs most of its length and is a natural extension of the house. The rustic landscaping and nearby pool set the stage for low-maintenance furniture and an outdoor fireplace.
Whitewashed and Natural
Endless summer vibes come from this whitewashed pool-side deck with natural accents. Spanish designer Virginia Nieto created the space to be shielded from the strong summer sun. Rattan patio furniture, natural outdoor rug and citrus accents play up the colors of the landscape.
Part of the Landscape
This rustic patio makes the most of its secluded location. Its connectedness to the low-care gardens encourages roaming the Portland, Oregon barn house property.
Private Terrace
Any enclosed space can be transformed into a stylish patio with the right plantings and outdoor furniture as in this home outside of Sydney Australia. Comfortable and functional pieces along with landscape elements that require very little care make it perfect.
Seaside Living Room Style
This Cape Town, South Africa home has a main room that fully opens to the outdoors. Stylish, modern-yet-natural patio furniture creates a symbiotic relationship with the sea view.
Totally Tiled
This small patio makes the most of easy-care tile by using it for the flooring, the tabletop as well as the walls. Kingston Lafferty Design of Dublin, Ireland, created an outdoor patio that can easily be hosed down — or wiped down after a rainstorm.
Rugged Lined Patio
This home in Snowmass, Colorado has a true roof-top haven. The jagged linear design incorporates a grand triangular firepit in the deck with room for extra seating. Closer to the house, an outdoor kitchen is ideal for entertaining and cooking in cooler weather.
Mid-Century
A patio design by Marmol Radziner in Beverly Hills, California features mid-century modern design. The sophisticated pale gray furnishings blend with the concrete tiled surface. bluish-green plantings.
Edgy and Artful
The whimsical vibe of the indoors is repeated outdoors with this design by Ken Fulk of California. The stone rectangles "mortared" with grass create a casual base for the outdoor living space.
Pavilion Options
A stand-alone pavilion situated on a bluff in Austin, Texas makes an amazing patio space for entertaining. It has everything a family could want, from an outdoor kitchen to a television and a huge covered stockpile of wood for the fireplace.
Provencal Style
A little French flair creates an utterly charming small patio space. The Mas de Bigot property in Saint Rémy de Provence has all the elements: Rustic gravel surface, stylish seating, pots of plants and dappled shade.
Narrow Space
Elevation Architects transformed a narrow alleyway between buildings in San Francisco into a long and very charming escape.
The California countryside flair comes from low-maintenance plantings and materials like wood and concrete.
Patio Retreat
Part of an entire backyard retreat, this open area sits next to a shed-like structure that is a retreat for reading.
The hot tub, firepit and garden plantings make it feel like a real getaway.
Container Home
Homes made from shipping containers are becoming increasingly popular and they too can have an outdoor living space like a deck. This one is made from wood decking.
Inner City Patio
Lorla designed this little slice of sunshine and greenery in an urban jungle of concrete in New York City.
Located in Chelsea, space is tight so it focuses on comfortable seating and room for potted plants.
Contemporary Patio
This Santa Barbara patio features a slatted wall and ceiling that provide a bit of shade.
NMA Architects designed it to be defined but still feel open.
Plant-Filled Patio
Chad McPhail designed a patio all about relaxation for this Art Deco house. It has a south-of-the-border feeling that the whitewashed walls emphasize.
Sleek Contemporary
This modern Denver patio by KH Webb capitalizes on the Colorado views and presents the essentials in great style.
A long firepit, compact outdoor kitchen and cushy armchairs make all the difference.
Architectural Patio
When the architecture of the house is the most important feature, the patio has to have the same vibe.
Neil Architecture of Melbourne designed this airy and green patio with a minimalist look that is still very earthy.
Transitional Patio
Somewhere between modern and contemporary style, this Dallas, Texas deck has comfort and beauty to enjoy all summer.
Randy Angell, designed the modern pool with a contemporary fountain and a long fire pit.
Rooftop Patio
In urban areas where land space is scarce rooftop patios create the ultimate getaway.
This one includes a high-end outdoor kitchen, designed to match the wooden exterior detail of the main building.
Old-Fashioned Porch
Older homes often have a porch that can serve as a patio.
This one by Thread Art and Design combines an old-fashioned feel with more contemporary pieces of furniture.
Bayside Patio
Small on space but big on charm and relaxation, this patio at 28 degrees Byron Bay in New South Wales makes the most of the usable space.
The plant-filled paradise has outdoor curtains and is perfect for enjoying both day and night.
Luxury Urban Patio
This inner-city rooftop patio is the epitome of city luxury.
Jeffrey Erb Design created it with an arbor-covered dining space and plenty of tree-filled pots. Slatted walls add some wood and privacy.
All-White Patio
Ascher Smith Design rescued a derelict outdoor space and turned it into this crisp, white patio.
Casual jungalow furnishings, outdoor rug and accessories are great patio decorating ideas.
Beach House Patio
This California beach house designed by Lukas Machnik includes a little cozy and modern private patio. Dark gray brick walls frame the stone patio that has a built-in fire pit.
Transitional Patio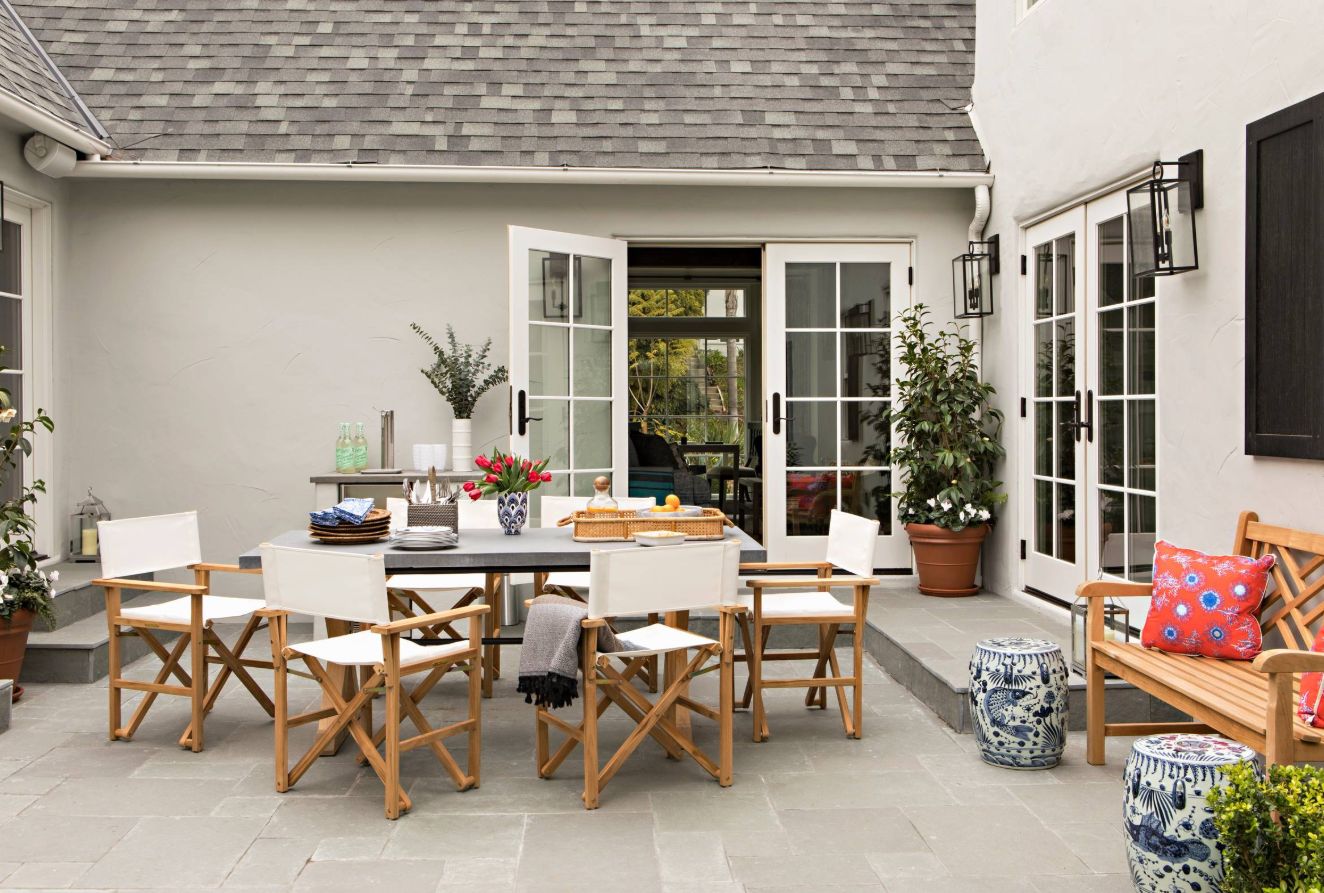 This transitional patio is part of a renovated California English Tudor home designed by Page Pierce.
It has the feel of a courtyard and eclectic traditional accessories spice up the area.
Mediterranean Patio
Done in a Mediterranean style that is popular in the American southwest, this Phoenix patio is called a cocktail courtyard.
Spiral Architects designed the enclosed space to feel quite open.
Garage-Plot Patio
A project to rebuild an old garage gave Shelterwerk the opportunity to design this amazing compact multilevel outdoor patio.
Transitional outdoor patio decor softens the modern edges and makes it a relaxing outdoor living space.
Detached Patio Structure
A backyard patio does not have to be attached to the house and this one from Houston Remodeling shows.
The custom-milled cypress wood is durable and weather-resistant. Under the tall roof is a stone fireplace and full outdoor kitchen with outdoor bar.
Beach Style Patio
Sage Design's beach-style backyard patio is an inviting spot for taking in the San Diego view.
The covered firepit doubles as a coffee table and natural flowers and grasses provide privacy and beauty.
Expansive Patio

When there's plenty of backyard, an expansive patio is fabulous. This broad design runs the length of the house and uses white flooring to set off the dark wood-paneled walls.
Grass and Brick Patio
Just outside a home in Peru, a casual patio has a base of brick and natural grass. It's the perfect base for eclectic furnishings used at the dining table and bistro tables.
Traditional Patio
Paradise Restored designed this traditional backyard patio oasis in Portland that has everything you could ever want.
It features a fireplace with covered seating and lighting, an outdoor dining table, and plenty of flower beds in the yard.
Florida Patio
Morrone Interiors created a Florida design that has all the comfort you want. Shaded by an arbor against the warm weather, the transitional patio furniture is super comfortable and right next to the house for maximum convenience to the yard.
Ultimate Mountain Patio
This luxe patio features gorgeous oversized porch swings. Designed by Jodi Wilkerson and captured by Thompson Photographic, the space is rustic but oh-so luxurious.
It has a big-screen television over the fireplace and the black and green color palette is a serene match to the landscape.
Frequently Asked Questions (FAQ)
FAQ
How can I make my patio look nice?
Working with the space you have, add things to make it comfortable and cozy. Besides furniture, you want to have lighting, a rug, accessories and curtains or a privacy wall of some type.
How can I decorate my patio cheaply?
recycling and repurposing can be key for decorating your patio cheaply. Use salvaged materials like crates for chairs and side table. Paint discarded chairs and add lots of pillows for seating. Painting the floor is a good option if a rug isn't in the budget. Plus, you can string up blankets for shade and use string lights for ambiance.
How do you accessorize a patio?
To accessorize an outdoor deck, add items that have a purpose: Pillows that you can sit on, lanterns that can provide mood lighting and a side table that can double as a stool are some examples.
How do you decorate a boring patio?
Add interest to a boring outdoor area by adding lighting, a water or fire feature and plenty of plants around the deck or patio You can also add a roof or something else to provide shade and bring out the portable speakers for music.
How do I turn my patio into a room?
Create an outdoor room with techniques from indoors, Create a defined space with curtains, privacy walls or green walls. Arrange the furniture around a coffee table and use a rug to delineate a seating area. Add lighting, accessories and you'll have an outdoor room!
How do I make my patio feel cozy?
Make your outdoor space cozy much the same way you do it in your living room. Add an outdoor rug, plush cushions, throws, string lights or add battery-operated candles. Potted plants on the patio also help add coziness.
Conclusion
While it's great to have an expansive backyard and a big budget, there are lots of ways to turn any space into a relaxing outdoor retreat. You can adapt great patio decorating ideas to your own home and DIY lots of things to make it feel like a cozy escape.