100 Inspiring Home Decorating Ideas for Any Style, Any Space
We all need a shot of inspiration from time to time when it comes to decorating ideas. Maybe you've moved and don't know quite where to start making your new house your home, or maybe your space is just feeling a little stale but you don't have any fresh ideas for decorating it the way you want. In this article, you can find 100 of the best on-trend decorating ideas to help you get started, whether you need just a fresh pop of something or an entire décor overhaul. Most of all, though, don't forget to embrace and enjoy the journey!
1. Lay some decorative tile.
Decorative tile, like this artistic malachite tile, is an eye-catching way to add pattern and color in spaces that traditionally didn't have either. There's a huge variety of decorative tile available, from the staunch geometric to the flowy trellised tile, and all of it is on-trend and chic in today's decorating world. You could go small, with a backsplash or even a tabletop, or use decorative tile on the floors or walls.
2. Bring on the metallics.
Metallic touches on everything, from lamps to furniture to hardware to artwork, are a popular decorating idea right now. Although mixed metals are perfectly fine to use, this isn't so much about dipping your place in chrome and silver as it is bringing in golden metallic hues such as brass, copper, and even rosy gold.
3. Layer your rugs.
It feels quintessentially luxe, regardless of the type of rug used, when you layer your rugs. A couple of methods that involve this decorating strategy include placing a larger, often natural, rug on the floor and centering a smaller, often patterned, rug on top. Or, you can lay rugs so that just edges and corners overlap in more of a haphazard, casual feel. Either way, it's a beautiful way to infuse your space with personality and style.
4. Use a cohesive color palette.
You might love color so much that you want color color color in all the rooms, all the time. But your décor will be best served if you determine your color palette for the space and keep the décor cohesive to that palette throughout. This isn't to say that you can only use three colors (or whatever) in your space, but more colors does not a better design make.
5. Flirt with feminine décor.
Those decorating components that have traditionally been more on the feminine side of the spectrum, such as florals and curves and pinks, are taking the stage as great decorating fodder for any style and any person. Add a pop of pink to a space for a fresh look and a nod to your softer side.
6. Create a gallery wall.
Gallery walls have been a popular decorating idea for some years now, probably for a variety of reasons. You can display a variety of pieces without having to choose just one; you can create flow and color and themes through your gallery walls; and they can be easier on the budget, with smaller pieces. Be sure to maintain some point of cohesion in your gallery wall – you could keep the frames the same style and color while varying the art content, for example, or vice versa.
7. Choose larger art.
An alternative to the gallery wall is the introduction of just one or two larger statement pieces of art, rather than many smaller pieces grouped together. Find large pieces that you love and free up the wall real estate by hanging less large artwork. Because larger artwork can be expensive, consider looking into some DIY options for large art at a fraction of the cost.
8. Consider a pop of green.
With a shift toward decorating with natural, organic, and earthy colors and pieces, green is just as at home in the décor sphere now as ever before. And you can project nearly any emotion or vibe you want with green, just choose your hue strategically. There are calming greens that are simultaneously retro and current – think avocado and olive – that would look well in any modern space.
9. Enter the circle of trust.
Structural geometric patterns are in vogue, especially those involving circles. Even without the geometric pattern of circles, the circular/spherical shape in and of itself is a major up-and-coming decorating trend. You can choose your level of commitment to the circle in your own design, with decorating ideas that include throw pillows, lighting fixtures, or wallpaper.
10. Hang a mirror.
Mirrors are an easy decorating tactic with multiple benefits – they bounce natural light around and visually double a space, which ultimately makes your room feel larger than it actually is. Mirrors are very versatile, and they come ready made in a variety of styles, shapes, and sizes…or you can DIY your own custom mirror to suit your needs perfectly.
11. Create unmatched pairings.
Mixed and matched pieces, such as dining chairs, armchairs, or even sofas/loveseats, make a space feel lived-in and comfortable, with a welcoming sort of come-as-you-are vibe. Not only that, but you can have multiple designs at once, which is beneficial when you have a hard time choosing just one type of, say, dining chair.
12. Install shelves in windows.
Whether you're looking for a space to grow herbs year-round or simply want to introduce greenery in a tiny home, mounting shelves within your window frames is an easy way to maximize shelving. Just be aware that, when you do this, you run the risk of (a) blocking natural light coming into your home, (b) cluttering your natural view, and (c) revealing more of your lifestyle to those outside the window, based upon what you choose to put on the shelves.
13. Don't overlook natural textures.
Whether your space is completely colorful or the barest of monochromatic neutrality…or somewhere in between, it will likely benefit from the addition of some natural textures. This is particularly popular in today's farmhouse/cottage styles, but even if those aren't your style, consider throwing in some wicker, rattan, jute, or even simple wood grain to help balance out your space.
14. Go dark with wood tones.
One of the predicted top modern interior design trends is the use of dark wood in decorating. Deep chocolate brown wood tones are warm and rich and gorgeous. Consider using dark wood not just on floors, however, but also on furniture, cabinetry, doors, and even walls.
15. Incorporate spa-like elements into your bathroom.
Spa bathrooms are becoming more and more desirable and common, and for good reason. Who doesn't like to feel pampered from time to time? Transform your bathroom, in small or large ways, to get that spa-like feel, with greenery, rocks, misters, and other nature-focused touches.
16. Upgrade your tabletop with tile.
You might have an old, fork-stabbed dining table in need of a facelift. Or maybe a side table has some water stains from the days of yester-plants. Whatever the reason, one relatively easy decorating idea with excellent results is to tile the top of a table. This not only covers up old blemishes and imperfections, but it also lets you completely change the look – color, pattern, and overall design – of your table.
17. Reupholster the furniture.
Reupholstering is not a one-trick pony, to be sure, and not all reupholstery projects are created equal. If you're a beginner, you could pretty easily spruce up your upholstered dining chair seats with fresh fabric or leather and create a dramatic change in the look of your space.
18. Look to lavender.
In addition to pink and other types of feminine décor, lavender has become the soft decorating color of choice. You can use lavender and even lilac to accentuate beautiful, softer tones within your larger color palette; lavender touches can serve as a sweet and neutralizing force to a moody, deeper palette.
19. Opt for stylish storage.
Almost everyone could use a little more storage space. The trick is squeezing it into your regular décor without having it stand out as "storage." Boring bookshelves can be swapped out for shelving with a designer flair, and a variety of decorative storage boxes help with both form and function in your chic spaces.
20. Include a bar for hot drinks.
Coffee, hot chocolate, and tea bars are growing in decorating popularity, meaning that your designating a specified hot drinks bar is not only functionally appreciated but also stylistically appreciated as well. Chalkboards and mug displays and all the fixings blend form and function beautifully.
21. Tile the bathroom floor.
In the vein of creating a spa bathroom, consider tiling your bathroom floor in the style that speaks to you. Decorative tiles, penny or hex tiles, even subway tiles – all these options can help to create that dream bathroom. And, because the bathroom tends to be one of the smaller rooms of the home, this project isn't as huge as it might be in another room.
22. Hang hooks by exterior doors.
It doesn't seem to matter what door you're coming/going into, it's always convenient to be able to hang a jacket or a bag or an umbrella up on a hook right as you step inside. With the huge variety of stylish hooks available today, you really can increase the usability of this transition (without taking away floor space) with just a few hooks.
23. Use low-profile furniture.
Furniture that is on the shorter side of things gives a home the illusion of spaciousness and breathability. The room is visually less busy. Particularly in an open floor plan, low-profile furniture helps to maintain open air space within the room(s) while providing plenty of cozy seating.
24. Pull furniture away from the walls.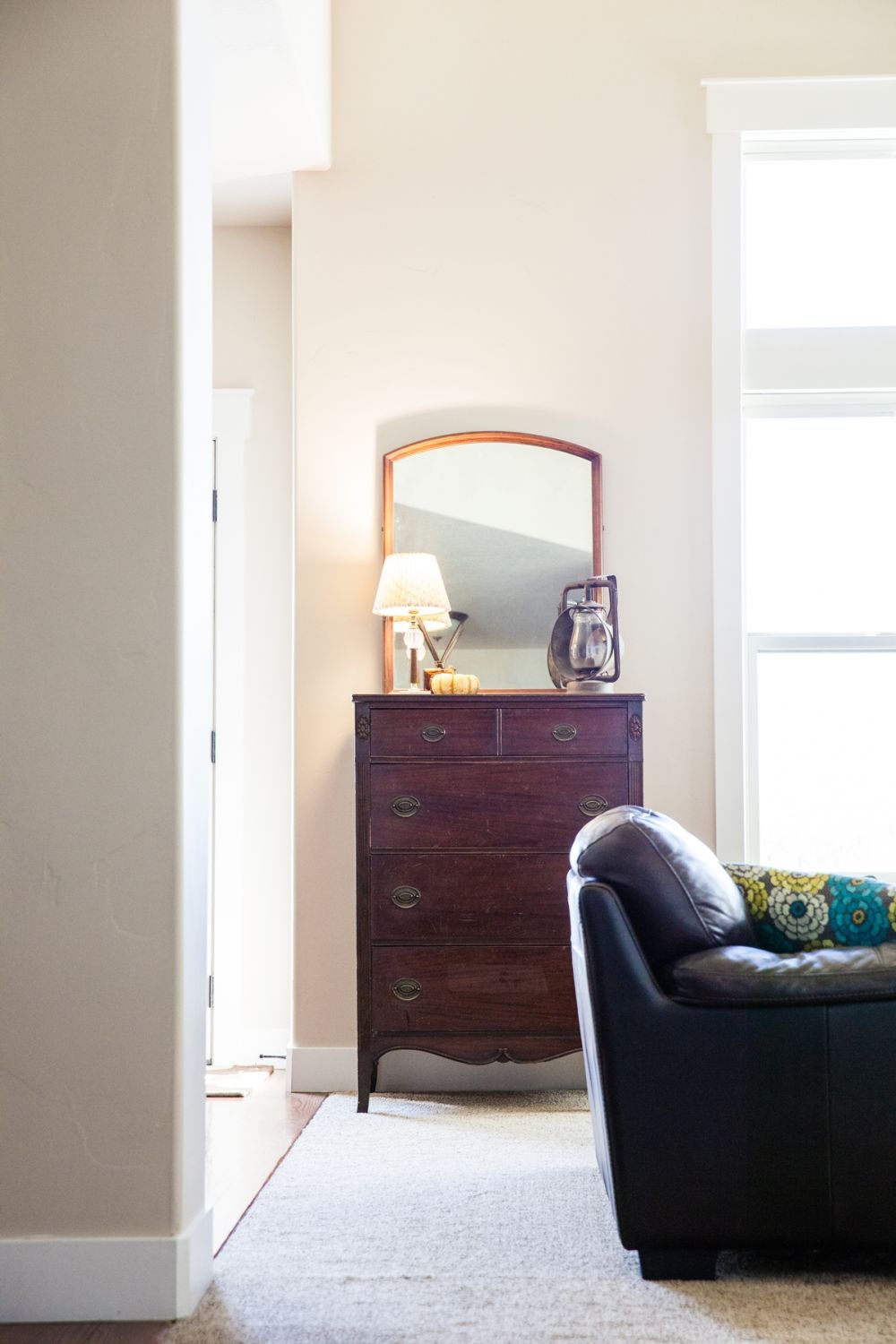 This might seem counter-intuitive, if you've never heard the idea before. But when your furniture "floats" within the room (as in, it's not grounded up against the walls), it feels much more intimate and conversational within the space. If your living room is tiny, even a couple of inches' worth of gap from the walls will visually make the space cozier.
25. Add additional horizontal surfaces.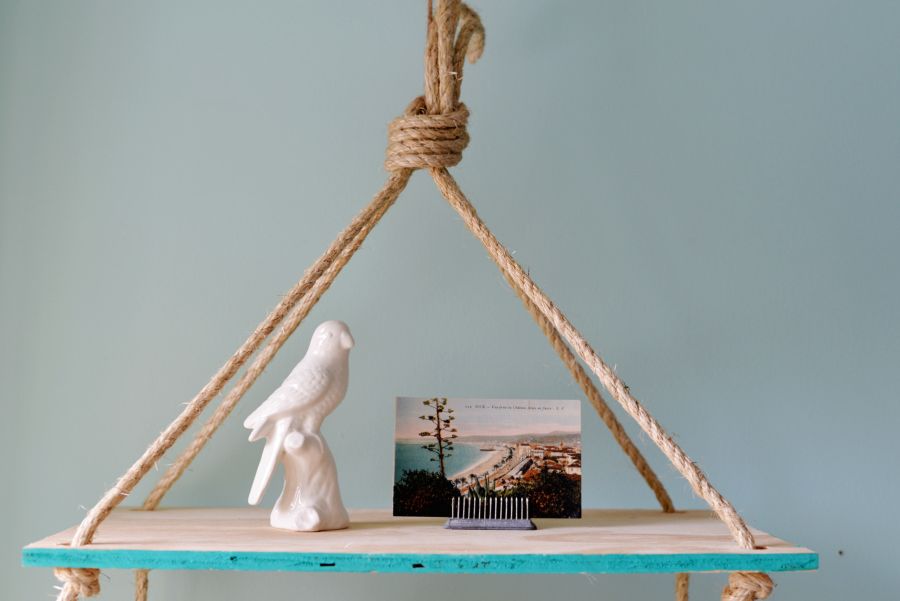 While you don't want your space to have horizontal surfaces to serve as catch-alls to the family clutter, it's also nice to have second "shelf"-type spaces at the ready for necessary items. Think two-tiered coffee tables, floating shelves, and even sofa tables – all plenty of ways to increase the horizontal functionality of your space without sacrificing style.
26. Mix metals.
Today's decorating trends lean much more heavily toward the individual, which means that all metals in one space needn't be the same. They're individuals! Don't worry about matching your hardware with your fixtures with your accessories. Instead, focus on introducing one or two new metals into your space this year, and sit back to enjoy the new shine.
27. Update a lighting fixture.
Light is inherently a visual draw, so it stands to reason that your lighting fixtures will immediately be noticed. A great piece of decorating advice is to then make your lighting fixtures noticeABLE! You can even DIY a variety of lights to fit your space, your style, and your needs.
28. Use earth tones.
After the years of white in home interiors, many are craving a bit more warmth and coziness in their spaces, which is in turn causing a trend toward natural, earthy hues within home décor. Some ideas for decorating with natural colors include opting for tans, browns, and warm greys in your walls, floors, and furnishings for an overall natural vibe that is also on-trend.
29. Make your ceiling a statement.
Far too often, we are guilty of overlooking the "5th wall" of our homes – the ceiling. But this is a prime place to really make a statement. Paint the ceiling a lighter tint of your wall color, or stencil in a geometric pattern to make things very interesting. Think of your ceiling as a blank canvas, because that's really what it is, and have fun with it.
30. Vie for velvet.
While it's a pretty timeless textile due to its luxurious look and feel, velvet is especially in all the things everywhere right now, and for good reason. Velvet is capable of holding its own with bold colors and a touch of elegance without seeming pompous or over the top. Ideas for decorating with velvet include on your sofa, your rugs, your pillows…you can go as large or small as your heart desires.
31. Showcase your storage.
While we all still want closet space to hide the non-decorative uglies that are part of most any home, the days of requiring closet storage for everything unused are not today. With the trend toward open concept living comes the decorating trend of displaying stored items in a sort of open-closet mentality. Hang hats on a public or shared wall and use hooks for jackets and wire boxes for shoes to expand convenience and style both.
32. Play with high-contrast colors.
If you really want to create a stir and get your space out of a design rut, consider the idea of decorating with high-contrast colors. Choose a deep, bold, saturated color and then contrast it with a compatible version of white. The white helps the color from feeling overwhelming, while the saturated color infuses the space with depth and vitality.
33. Repurpose, recycle, reuse.
Who knew that decorating could also be good for our planet? When you repurpose, recycle, and/or reuse everyday items and incorporate them into your decorating scheme, then décor is just that. You can also give those old items a facelift to make them as beautiful as they are reusable.
34. Incorporate subtle pattern in a monochromatic space.
Where color is relatively monotone, you're going to need to rely on subtle shifts in pattern – size, proportion, direction, etc. – and texture to create a well-balanced, warm, and welcoming space. This is important in giving depth and visual interest to monochromatic décor in any setting.
35. Use books and paper as décor.
Yes, the world is a technology-based place…which makes books and paper feel more vintage than current. This is perhaps why these items are taking their rightful place in the world of décor. Books on bookshelves, book-centered artwork, repurposed paper or book pages – all of these and more are great ideas for decorating with and keeping books alive and well in your sphere.
36. Remember matte is a sheen, too.
Matte finishes are sophisticated and unassuming. Consider opting for a matte sheen on your walls, your furniture, even your metals, for a modern and very cool vibe.
37. Create small, cozy nooks.
There's something about a smaller, more intimate space – even within a grander space – that makes us as human beings feel secure and safe. You can imitate this concept easily within your home with a small chair and a reading light in the corner, or smaller area rugs to designate certain spaces as their own sphere within the larger scheme of things.
38. Try 3-D on your walls.
Recent trends for decorating include an expansion of traditional two-dimensional walls, including the walls themselves, artwork, and décor, into the world of three-dimensional walls. This third dimension – adding depth to height and width – is distinct and unique and catapults your home into the cool-sphere of modern design. There are plenty of DIY options for 3-D artwork as well, which always adds a personal touch to your space.
39. Use area rugs to define spaces.
Whether you're marking out a small reading nook in the corner of a larger room or an entire living area within an even larger great room or open floor plan, area rugs are a great way to establish cues without walls.
40. Paint your floors.
If you happen to have old, tired, worn-out floors (that are not carpet), you might consider painting them for a budget-friendly change before replacing them altogether. This is a super simple way to inject positive energy and life into your space, literally from the ground up.
41. Find a cheery accent piece.
Even in the most coordinated and beautiful of spaces, sometimes what a room needs is a piece of cheerful color. A yellow throw in the arm of the sofa, or a red pillow on the armchair, even an orange soap dispenser on the bathroom counter – all of these little accents help to add cheer in a small, simple way.
42. Relish in the white space.
We don't mean white literally here, although it can certainly be white. We're talking about stepping back and embracing those areas that, for the good of your entire room, should remain untouched by décor. A small stretch of wall unadorned by color or art or trinkets or shelving can actually emphasize the other parts of your room that you love best, rather than competing against them.
43. Make space for organization.
A space can't be truly relaxing if it's not organized to some degree, and in order to be organized, you need to designate where things go. "A place for everything, and everything in its place," as the saying goes. This doesn't have to be overwhelming, massive storage units – even something as simple as a couple of trays or boxes on the desk will help with a space's organization.
44. Freshen up with throw pillows.
It's no surprise to probably anyone that throw pillows can start to look stagnant or tired. On the flip side, it should be no surprise that one of the easiest decorating ideas for sprucing up your space is through throw pillows! Sew your own pillow covers easily, or find some that you love for purchase. This is especially helpful in the decorating transition between seasons.
45. Give retro a chance.
While we've been incorporating mid-century modern pieces into our homes over the past bunch of years, retro pieces have been sneaking their way toward the forefront. Retro furniture adds great nostalgic vibes to a space. If there are pieces from your past that you have secretly always wanted in your home, now's the time to pull them out and showcase with pride.
46. Swap out your bedding at seasonal changes.
If you live in a place where there's any sort of variance in the seasons, you're going to want to exchange bedding seasonally for comfort alone. But there's a psychological advantage in doing this even if you don't need it physically. Fresh bedding represents a fresh outlook in a variety of life's activities.
47. Don't sacrifice style for functionality.
You CAN maintain your style even with kids, pets, or roommates. You just need to choose your decorative surroundings well. Opt for durable fabrics or leather for the sofa and other heavy-use pieces. Pick easily wipeable surfaces for tables or benches, such as plastic or lacquer. Keep your sense of style, just modify it for the crowd that frequents your space so that it can be accommodating as well as aesthetic.
48. Live with plant life.
Plants are natural air fresheners, which is an automatic bonus when it comes to decorating ideas. But, more than that, plants are pretty and are so varied that you can always find some sort of plant that enhances your room's style. They also add natural color. But even if you have the blackest thumb in the land, today's faux plant selection is broad enough that you'll be able to find some pretty lifelike plants that will do the trick, at least as far as décor goes. You'll have to look elsewhere for air freshening, though.
49. World-traveled accents.
A global perspective is something to be appreciated, and the home that reflects this outlook is refreshing. Wood floors and neutral walls provide a perfect foundation for the well-traveled world of design, where garden stools can mix with printed sofas and mixed throw pillows.
50. Use a tablecloth.
Even the most informal of us might enjoy keeping a tablecloth on the table for more than just dinnertime. Or, looking further outside the box, how about throwing a tablecloth on a side table for some fast and easy color/pattern infusion? This is such a quick way to change up the look and feel of a space – inside or outside – that includes a table.
51. Decorate the back "wall" of your bookshelf.
You can get a lot of mileage out of this simple decorating idea. Choose a vibrant color or a soft, muted tone, and paint the back side of your bookshelves. The very fact that the "wall" is tucked back away from the space makes it a prime candidate for an unexpected color or detail.
52. Experiment with dark walls.
Deep charcoal, navy, even black walls have the potential to increase the fresh, dramatic feel of your space while maintaining neutrality. Inky, moody, deep-dark walls punctuated with white trim or lighter furnishings can really pack an aesthetic punch in a super sophisticated way.
53. Use fur (or fur-like) finishes.
Not only do finishes such as sheepskin, cowhide, or faux fur textures provide a soft and distinct addition to the space, but they also provide a nice visual break from other smoother finishes. Plus, they're just so touchably enticing – this decorating idea is sure to get more people sitting on your fur piece, so make sure you choose the piece with care!
54. Paint walls white.
This has been a popular decorating trend for several years now, because white tends to feel light and airy and spacious. Who doesn't want a more spacious-feeling home? But before you jump in and paint everything white, take care to assess your space – does it have enough natural light, for example? If not, your white walls will feel more like an uninspired institutionalization than anything else.
55. Go big and bold.
Sometimes we might forget that decorating is FUN! Don't lose this sense of joy and carefree playfulness when you're decorating, if that's part of who you are and what you love. Choose a bold, bright, vibrant piece with unabashed confidence. Use art that is bright and colorful. Your genuine decorating will help others to feel at ease in your space as well.
56. Use tone on tone decorating tactics.
What use to be considered somewhat of a decorating faux pas is now a sought-after trend: tone on tone. This means that your walls and a furnishing or two might do well to be practically (but maybe not exactly) the same shade, for visual interest and mystery.
57. Mix furniture uses.
Just because a piece of furniture is labeled a "dining chair" or an "end table" doesn't mean that those are the only two uses for those furniture items. Think outside the box with your decorating, especially when it comes to saving on real estate in small spaces. A dining chair provides a comfortable seat in the living room, but it takes up much less space than a traditional club chair or recliner.
58. Use trays to contain clutter.
Ideally, none of us would ever have clutter. But realistically? That's a different story. Use trays to give small clutter items (think keys, wallet, sunglasses near the entryway, or shells, books, and other small collectibles in the living room) a space and some semblance of décor.
59. Maintain an open floor plan.
Even if your home isn't designed specifically with an open concept layout, you can still arrange furniture in such a way as to keep the floor plan open and with easily accessible walkways. Maintain plenty of space between, for example, seating pieces and tables. This added level of functionality, which means guests don't have to squeeze through anywhere, increases the aesthetics of your space as well.
60. Hang a single bit of wallpaper.
Wallpaper is a gorgeous decorating option, but it can feel overwhelming sometimes, perhaps, either visually or economically. If you absolutely would never wallpaper a room, consider using wallpaper on a smaller scale. Hang just a patch of it somewhere, in a strategic spot where it looks like art.
61. Do something with herringbone pattern.
Herringbone pattern is a classic, adding an element of historical flavor and stylistic aesthetic to any space. You could consider herringbone pattern on your wood floors, for example. But for smaller scale decorating ideas, try incorporating herringbone pattern via your artwork or backsplash or accessories.
62. Include more golden brass.
Brushed nickel has served the design world well for a number of years, but the movement is now toward the warmer and subtler golden brass in fixtures and hardware. Part of the fun of this decorating idea is that stainless steel, in many ways, has become everyday. But this softer brass metallic is chic, warm, AND unexpected.
63. Opt for lightweight window treatments.
Nothing kills natural light more than heavy, dark draperies. If you're looking for a way to spruce or freshen or lighten up your space, consider pampering the very parts of the room that will do that for you – the windows! Light, sheer, gauzy curtains allow for light to filter through but still maintain a sense of privacy. When the curtains reach the floor, that keeps the airiness grounded with a touch of sophistication as well.
64. Create custom string art.
String art is an artistic merging of several different worlds – rustic wood can serve as the foundation, industrial style is introduced with the nails, and farmhouse or cottage style is hinted at with cotton string. But when these elements combine to create a picture or word that is meaningful to you and complementary to your space and style, string art is a fantastic decorating idea.
65. Infuse something sage-colored into your space.
Sage (green) is an up-and-coming neutral in today's world of design. This beautiful hue combines both serenity and sophistication, keeping a toe-hold in the organic, earthy realm while being at home in the more silvery of spotlights. Mix it with wood pieces and some greenery, and you've got a match made in heaven.
66. Combine natural materials.
Regardless of your style, you can always find ways to incorporate a variety of natural materials and textures into your space. The possibilities are endless, really. Stone, brick, tile, leather, bamboo, rattan, jute, wicker, and wood in any form or on any surface will help your space feel welcoming, organic, and comfortable.
67. Paint your doors.
Nothing really changes the look of a home's exterior like a bold front door. While painting the exterior front door might be relatively easy to swallow, consider taking this concept a step further with this decorating idea: paint your interior doors as well. Maybe not all of them, but you could easily choose one or two doors strategically to infuse with color for a punchy, freshened up interior.
68. Repurpose old boxes.
Old boxes, particularly old wooden boxes or luggage, have a vintage charm that is hard, if not impossible, to replicate. They give any space a sense of history and presence…and if you play your cards right, they can double as valuable storage.
69. Light with natural light.
The best way to make your space feel larger and more spacious is with natural light. Large windows, glass doors, sheer window treatments, or no window treatments altogether are all ways to use natural light to your decorating advantage. But if windows aren't a possibility, good news! You've got options in natural light-mimicking LED bulbs in contemporary lighting fixtures.
70. Add color through textiles.
If you feel safer with typical neutral walls and large furniture pieces, you can still infuse your space with a lovely sense of color and vitality in other areas. Area rugs are a prime place to introduce color and pattern without detracting from an otherwise neutral-focused space. Throw pillows and blankets also add pops of color to boost the energy of peaceful neutrality.
71. Flaunt a bold pattern.
There's something intriguing and appealing about the unapologetic use of a bold pattern in home décor. This is especially true when the bold pattern is of something inherently softer, such as a floral theme. The contrast between the two is engaging and attractive. Consider reupholstering a part of your furniture in a bold pattern, or use the pattern on a throw pillow or area rug.
72. Decorate with clear materials.
A decidedly modern twist on decorating includes clear, or transparent, materials used on furniture and décor. Acrylic chairs, a glass-topped table, or even plexiglass shelving is a visually lightweight and contemporary way to bring a modern flair to your space.
73. Incorporate a piece with bone inlay.
Unique designs and patterns are part of bone inlay, and these pieces tend to give off a well-traveled, globally accountable vibe. Bone inlay certainly isn't the way of the minimalist decorator, as it is vibrant and detailed and almost flamboyant…but in the most chic and structured of ways.
74. Consider a black and white palette.
This decorating idea is as classic, probably, as the black and white color combination itself, but it should be stated. Today's décor embraces black and white palettes, generally with organic, natural accessories.
75. Incorporate some geometry.
Geometric patterns are attractive because they are visually interesting but structured, so they don't tend to overwhelm. Hang some geometric print wallpaper or DIY a geometric planter; whatever you choose, your space will feel freshened up right away.
76. Put convenient seating in functional spots.
Near any entryway in the home, and even in hallways if they're wide enough and outside doors, are prime spots for convenient seating that are often overlooked. This accommodation will make your home a more functional and comfortable place to be.
77. Experiment with a moody palette.
There's something both dramatic and soothing about rich, moody color palettes, and this is perhaps why more people are leaning toward moodier palettes for their own decorating. Especially when the moody palette is combined with different colored metals and glossy marble and something like velvet upholstery, the combination is luxurious and approachable both.
78. Display the unexpected.
Where a painting of the coast, or even of driftwood, might not seem extraordinary when framed and hung on the wall, the displaying of actual driftwood on the wall as 3-D art is rather unexpected…and therefore exciting. Frame a unique item with plenty of white space so as to increase its intentionality.
79. Integrate a dark accent piece.
In a sea of airy, light neutrals, it's beneficial to have a significant accent that is dark. It serves to provide visual interest, in opposing tonalities, and also helps to ground the space visually. This doesn't have to be a huge ebony armoire or anything; navy or deep burgundy or forest green, for example, are dark enough to provide a gradient opposite without overwhelming the space altogether.
80. Bring in a patterned plant.
While any type of plant life is encouraged in today's interiors, those plants with patterned or unusual foliage are especially desirable. With their unique leafage, these plants provide their own sense of art in any space.
81. Decorate with soft colors.
The world needs more softness, today more than ever, and color is one of the best ways to make that happen. Whether you're choosing a rug or a large piece of furniture or simply an accessory for the coffee table, consider gravitating toward something on the softer side of the color spectrum.
82. Give old pieces a fresh new look.
Whether this means painting the frame of an old chair or DIYing a piece of wall art or even sewing some trim onto a curtain or two, you can almost always find ways to reinvigorate those old, tired accessories. Whether it's chic matte black paint on an old lamp or a Greek key trim on the drawing edge of your curtain, simple details like this will go a long way to freshen your space.
83. Introduce a tribal pattern/design.
Given the shift toward a more global outlook, tribal patterns and designs are a great way to maintain an organic feel with a fresh, modern style. You can use tribal patterned pillows, curtains, or even baskets with tribal pattern to get that world traveler vibe.
84. Add pattern to your staircase.
This is much easier if your staircase is uncarpeted, of course, but there are ways to add style to your stairs so they're more than builder-grade-average. Paint the risers, stencil the treads, paint the whole thing two-tone, lay a carpet down the stairs…all of these and more are great options for making something stylistically special out of your standard staircase.
85. Lay down a runner rug.
Many of us feel like the hallway is simply a space to get from Point A to Point B, but this isn't the case. It can be a beautiful transition space, especially with the incorporation of visual and textural items like a runner rug. Choose from today's huge selection of rugs in those spaces that are often overlooked for a finishing touch.
86. Use baskets and/or woven pieces.
This type of artistry – handwoven baskets and other artisan accessories made completely of natural materials – give homes not only a warm, natural vibe, but they also bring in a sense of internationality. Use baskets as storage, or as artwork on walls, or in any way where a global feel and texture benefits the space.
87. Paint two-toned cabinetry.
Two-toned kitchen cabinets, where the uppers are one color and the lowers are another, have a fresh appeal. Plus, this is a relatively easy and cost-effective way to spruce up your entire kitchen, because the cabinets are such a huge visual aspect of the kitchen itself. Keep in mind, as you're choosing your colors, that the greater the contrast between the two colors, the busier and more dramatic your kitchen will instantly feel.
88. Have plenty of task lighting.
Whether you're sitting on a sofa reading a book or working at a desk, one important decorating idea that has far-reaching functionality is the strategy of placing task-oriented lighting options easily within reach. These can vary in size, color, complexity, mounting adaptations, and everything else to best suit your space's needs and design style.
89. Remember that less is more.
You might be surprised that, when you're trying to decorate a space with a smaller footprint, having fewer yet larger pieces will help the space feel more open than having many more smaller pieces. You'll still want to keep the larger pieces in proportion to the space overall, of course, but you don't have to completely shy away from incorporating a sofa just because your living room is small! Choose strategically those fewer pieces that will benefit your space most.
90. Bring back beige and brown.
Grey has certainly been the poster child for neutral colors over the past few years, and while there is still a large space in design for grey, the softer tones of beige and browns are back in style. So, if you've always loved these neutrals, don't hesitate to use them in your décor now! Paint your brown walls or hang your brown curtains with confidence.
91. Pop in something red or orange.
You may have been intimidated with the use of red and orange in your interior decorating in the past because, let's face it, those colors are bold and powerful. But consider going smaller scale with your use of orange or red. Keep it to one accessory, or one appliance, or a single piece of furniture, for the ultimate pop of color.
92. Use an eclectic approach.
You can definitely have a stylish, comfortable space that is full of eclectic charm – don't think for a minute that everything you use for decorating needs to be one given style or color or material. Mix it up! Use bright pieces with driftwood with crystal. Just be sure to maintain some sense of balance within the space – where shapes, color, and styles vary, for example, use symmetry in layout as the cohesive factor.
93. Mix and match patterns.
Perhaps you love plaid, and most of your accessories involve plaid in various scales and sizes and colors. That's all well and good, but think of the visual impact if you were to throw in one, say, floral pillow. Quite a fun contrast to liven things up. As with any mixing and matching, be sure to maintain some semblance of cohesion – either keep colors the same while switching up sizes, or maintain scale while drastically changing the patterns. This is such a fun decorating idea for any space.
94. Divide the wall horizontally.
Whether this means installing a chair rail or a backsplash or simply painting half the wall, dividing a wall horizontally is an unexpected and fresh method of creating height and visual appeal. Use color and/or tinting to your advantage here – a lighter color on the top section of wall will help the ceiling to feel higher and airier (especially if the wall color extends into the ceiling), while a darker color on the top half makes the space feel more intimate and cozy.
95. Position investment pieces prominently.
If you have gone through the trouble of acquiring an investment piece that you love and that really showcases your style, it should be positioned accordingly. Angle other furniture toward the investment piece, either intentionally or subtly. Give the piece plenty of "white space" or physical space around it, which can sometimes serve as a visual frame.
96. Use deep seating for tight spaces.
While the height of the sofa or chair can remain low, and the arms can be slender or slight, the depth of a seat can make or break its overall comfort and aesthetic appeal. A deeper chair isn't going to feel out of place in a smaller space, but it's going to provide big comfort.
97. Hang mirrors strategically.
Mirrors are an excellent way to add extra light and a feeling of spaciousness to your space, in general. One must be strategic, though, in hanging the mirrors to achieve this effect. Consider what the mirror is reflecting: is it a window with a beautiful view? Bring it on. A dark and dingy corner where there's awkwardly no furniture yet? Nope. You definitely don't want to double that sight via mirror.
98. Make sure seats have a convenient side table.
A luxury that we probably take for granted until it's not available is having a place to set one's drink or book or phone when we sit down. Of course, you can always amuse yourself by watching guests try that old trick of setting down their beverage next to the sofa leg so no one will knock it over, but let's be honest: every seat needs a shelf. No matter how small.
99. DIY some artwork.
While most of us will never produce any artistic masterpieces, that doesn't mean we can't add personality and style to a space with artwork of our own creation. Look beyond traditional paintings or photographs: mount fabric that you love over a canvas frame, print an oversized black and white photo, or get creative with some spray paint art.
100. Add plaid.
There are plaids for any season, any climate, any space. But if your room is lacking in structure, color, or variation in pattern, plaid is a classic and timeless way to add any of those. It can be large, such as plaid furniture, or small, such as a plaid throw pillow.