Figure Out The Right Desk Height For Optimal Working Conditions
It's important to sit properly when working, especially when sitting at a desk all day long. We all sit too much and we know that. So maybe it's time to do something to improve our work conditions and reduce the strain on the back. It's important to have a proper desk height and to also make sure the chair is nicely adjusted. So let's start from the beginning and we'll offer you some great tips. First you should decide what type of desk you want. Ideally you should get an adjustable height desk because that would offer you more freedom when setting up your workstation.
It's important to use the right type of desk for the right type of work. For example, you should use a writing desk if you're usually handwriting or doing similar tasks. There are a lot of stylish designs to take into consideration like the Mateodesk by Marc Berthier or the Ursuline desk by Pierre Paulin. Writing desks tend to be a little bit higher than computer desks so make sure your chair has the right height as well.
Another beautiful example is the Yves desk which has an elegant inlaid leather writing surface and a drawer storage area for all the common supplies and accessories. It combines a variety of finishes such as black walnut for the base, a lacquered surface for the drawer and aubergine for the leather top. You can use it in combination with a variety of different chairs.
Tom is also a really stylish writing desk. It was designed by U. Asnago and is made of ash wood and metal with a brushed bronze brass finish. It has a simple design and it offers lots of storage inside its drawers. The work surface is big and spacious and the desk as a whole has a classical and elegant look.
Compact wall-mounted desks like this lovely one called Gaston are really nice space-savers. They occupy zero floor space and they can be closed shut when not needed, freeing up even more space in the room.
In addition, what's also great about these types of desks in particular is the fact you can place them at any height you want. As a result you can perfectly adjust the height and your sitting position. Use it as a regular desk or as a standing one.
The Palette Desk is designed by Jaime Hayon and has a really refreshing design. Its simplicity is inspiring and we also really love how smooth and delicate the lines and shapes are. The desk has a small circular extension on the right side. You can use that as a side table or a place to put a planter, a vase or other decorative things.
Secretary desks are usually designed to be simple, practical and elegant. This one is called Victor and is a nice representation of this style. It was designed by Pierre Francois Dubois and it looks really stylish and timeless. The desk has two drawers cleverly positioned under the work surface  as well as an integrated cable outlet in case you want to use it for your laptop or tablet.
One you have your desk and chair in place, it's time to customize everything. You need to first adjust the chair and only then the desk. Your feet need to sit flat on the floor and the knees should be slightly lower than the hips. You might need to use a footrest in order to find the ideal position. Also, make sure you take into consideration your shoe height when adjusting your chair. If you're wearing high heels that matters a lot. You should also adjust your chair so that the lower back is supported. This way you'll reduce the strain on your back and you'll be more comfortable.
After the chair is all set up it's time to adjust the desk. The average desk height is somewhere between 28" and 30". However, that's rarely the optimal height so you need to adjust it for your unique body position. When you're sitting at your desk, the wrists and forearms should be straight and level with the floor. The elbows need to sit by the side of your body so your arm forms an L shape at the elbow joint. Take into consideration the type of work you do. If you're handwriting you might want a slightly higher desk and if you're using a keyboard then you might want the desk to sit slightly lower.
When organizing everything on your desk, make sure the monitor is placed directly in front of you. It should sit roughly an arm's length away. Looking at your screen, picture a dot at the center of the top two thirds of its surface and make sure your eyes are at a perpendicular line with this dot. You might need to use a monitor stand for that or to place a book under it to raise it a little bit. If you're using spectacles, make sure you can comfortably look at the screen without constantly lowering or raising your head.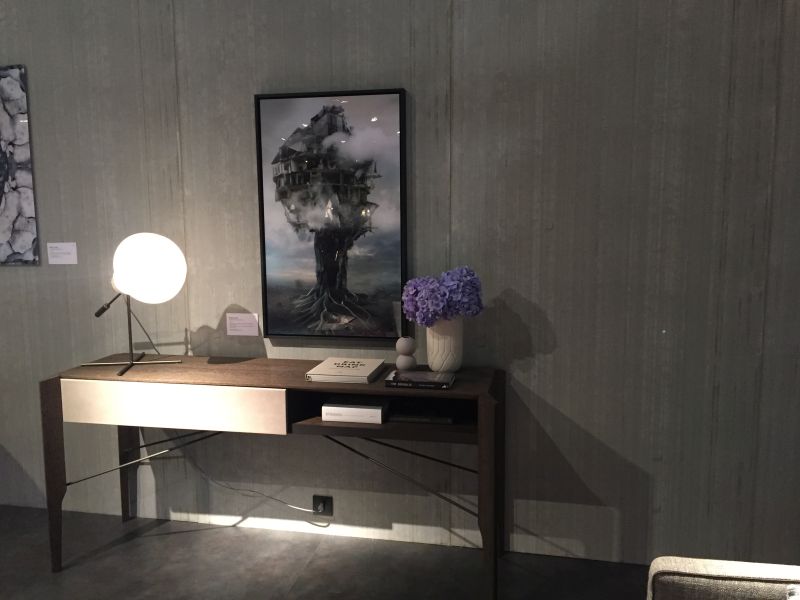 You should try to vary your posture throughout the day and to take regular breaks. So you might want to sit, recline or stand depending on your tasks and preferences. The standard desk height when standing is around 44". However, there's an easy way to figure out how tall your desk should be. Just stand up straight and measure the distance between the floor and the bottom of your elbow. That's where the desk should be. Also, if you're using a standing desk, you might also consider using a mat.