What are Neutral Colors and Why Should I Use Them?
You may hear the term, "neutral colors," and have a vague sort of misty idea of what that is. Neutral means greyish brownish blah, right?
Isn't that the thing you're supposed to use when you don't know what else to do? Or when you can't decide on a "real" color? NO. Wrong! If you feel that way about neutral colors, we need to go back to the basics. Neutrals are a critical component of great design.
Discover How You Can Use Neutrals Throughout Your Next Home Makeover
Let's delve a little deeper into the world of neutrality and see, first, what neutral colors are. Then we'll explore some benefits and challenges of decorating with neutral colors. Last, we'll look at neutral color trends and the use of specific neutral colors.
The New Neutrals
In addition to what we'll call the traditional neutrals, designers have expanded the range of colors that are considered to be good choices to go with just about everything to include a new range of colors. These new neutrals are as blendable and versatile as the ones already listed, but they branch out beyond the expected and increase the range of options for your neutral décor.
1. Muted Blue
With undertones of gray, muted blue works well with a wide range of neutrals as well as accent colors. Above all, neutrals are calming and blue has always been associated with serenity. Blue is said to convey a sense of dependability, sincerity among other emotions.
Plus, it's the most popular favorite color in almost all surveys. This Mridul bedding arrangement uses the neutral blue pillow as an accent, however, it's just as serene as the rest of the items are.
2. Navy
Its navy blue is not already in your toolbox of neutral colors, it should be. It's as classic as a little black dress but with a less somber personality. It's a perfect neutral for furniture because it anchors a room and still leaves plenty of leeway for adding almost any color as an accent.
It's also a great addition to a room that is perhaps on the verge of slipping into boring territory by virtue of being too safe. A chic velvet sofa like this one from Quality & Co. is the perfect example because it's a piece that you can easily build a room around.
3. Sage Green
Another hue that may not immediately come to mind when considering neutrals is sage green. You might be surprised to find that you can mix this gentle color into nearly every space, from the subdued to the more vibrant, such as this bold room by Eunoia Modern. Sage green is available in a wide range of tones to complement any décor scheme and is actually trending because of its air of serenity.
4. Light Mauve
Today's swing back to the 80s for retro décor includes the color mauve, but with a few updates. This soft shade is actually a pale purple that has pink or blue undertones but the current trend veers more toward the ones that could almost be classified as gray.
Whereas in the 80s, the color was brighter and overused, now mauve falls into the realm of neutrals, as this chair by Phase demonstrates. According to Color Psychology, the name actually comes from a common flowering plant that produced blossoms with light purple petals called malva in Latin. This evolved in mauve in French, also known in English as the mallow plant.
5. Earthy Red
Red as a neutral definitely does not include what you think of as lipstick red or Christmas red. Instead, this earthy color often has undertones of brown. Think Tuscan burnt umber, cordovan, burgundy, or russet. While these shades are often classified as earthy colors, they have also been considered neutrals because they will blend with most other colors.
Just as we noted about using navy blue as a neutral, adding one of these earthy reds is also a way to add dimension to a space that is looking a bit uninspired with a safe neutral palette. A dramatic patio chair by Kenneth Cobanpue is an example of the perfect earthy red hue.
6. Lilac
With its gray undertones, lilac is the perfect neutral for pairing with black, dark gray or navy. On its own, it might feel a bit frilly or feminine, but combined with bolder hues, it shows its blendable nature.
Depending on the light in your space, shades of lilac can actually look gray, taupe, or mauve. In general, lilac can add a softer edge to a darker space and, used judiciously in a lighter palette, add dimension without becoming feminine.
7. Charcoal
As versatile as a men's charcoal suit, this shade is a staple when it comes to neutrals for décor. Not as bold or oppressive as black can be, charcoal provide the same accent impact with a lighter hand.
This accent table from Ginger Brown will work with any color scheme without the sometimes jarring visual that a jet black piece provides. Shiny or matte, charcoal can also exhibit undertones of other colors, such as browns or greens, so try out various shades to find the one that best complements a specific room.
8. Pink
You might have already had your fill of millennial pink but there's a reason that pink is here to stay: It's nearly the perfect neutral. Pale, rosy shades blend with everything from earthy colors to bold jewel tones. Neutral pinks come with a range of undertones from brown to blue.
In fact, many shades of cream have definite pink undertones too. These blush colors are super versatile and will go with just about anything that you have. This setting from Langdon Ltd. uses a number of pink shades and the undertones of the wall covering push it into an earthy blush range.
9. Pale Yellow
Yellow is another popular new neutral color that is ideal for adding to your nursery, children's bedrooms, or living room. Pale shades of yellow are often so light that they are closer to cream or white in color, but that makes them easy to use in almost any space in your home. The thing we love about using yellow is that it can be layered on to create a room that reminds you of sunshine every time you step into it.
In fact, if you fancy something a little bolder, bright yellow can still look reasonably neutral when it has a terracotta undertone. You'll find that by adding bright yellow walls to your bedroom, you can then pair this with almost any other color to create a bright and cheery room that will keep you feeling great during every month of the year.
10. Silver
While gray is a classic neutral color, silver takes this shade up a notch and adds a little more sparkle into any room in your home. Silver can easily be incorporated into any space, whether that's by painting your walls in this color or adding accessories around the room.
You'll have no trouble finding silver accessories in stores nowadays, and they work with almost any color of the room. Silver matches well with blue, pink, or purple, and it is a more modern option than gold or bronze decorations. This silver and white bedroom makeover shows you just how modern yet sophisticated this color scheme could look in any room.
DEFINITION OF NEUTRAL COLORS
Neutral, in this instance, means lacking or being without color. Or, in other words, unsaturated with color. But neutral colors are still colors, so a better description would be something like "a hue that appears to be without color." That technicality is incredibly important in distinguishing what makes a neutral color, well, neutral.
Informally, some people like to think of neutral colors as any hue that doesn't compete with other colors, although that is a subjective definition. Surely, however, some hues are more neutral than others in any single color's spectrum. But for the purposes of this article, we'll stick with the basic neutrals: white, beige, brown, grey, and black (and a few more discussed later in this article).
The reason why neutral colors are so popular is that they work in almost any space in your home. Regardless of your current color scheme, you'll have no issue painting your walls in a neutral shade. This then makes adding furniture and accessories easier than ever, as you'll be able to put almost any color up against a neutral background. Neutrals are often quite a budget-friendly solution when redecorating your home. If you get bored of the current color scheme, you can just add a few new accessories to your neutral room and completely change the look and feel of the space without breaking the bank.
Neutral colors are very easy to layer, which is why they are good for anyone who is new to DIY. You'll find that you can start off with the more muted tones of one color, before adding bolder and brighter splashes of color. Brown or gray are excellent colors to layer, and you'll find paint and products in every shade you could ever imagine when you start shopping for your home makeover. To help you learn more about decorating with neutral colors, let's take a look at some of the key benefits of using neutral colors in your next home makeover.
BENEFITS OF DECORATING WITH NEUTRAL COLORS
Benefit 1: Neutrals are visually restful.
Neutral colors are by definition unsaturated (or, at least, they should have very little saturation), allowing them to serve as the relaxing background to a space. Your eye will flow from one point to the next in a neutral-flavored space without the distraction of a singular color.
Something to remember about neutrals: nature-based elements (e.g., this gorgeous Cartwright wood table) tend to be inherently neutral themselves and thus provide a lovely, restful complement to a neutral space's décor.
Benefit 2: Neutrals do not hamper decorating taste.
No matter your design style or preferences, there is a place for neutral colors in your décor. This is because neutrals provide an ideal decorating foundation or background, which lets you add in layers and/or pops of color to create depth in your space. Bonus: colors pop more when placed amid neutrals.
Benefit 3: Neutrals let you incorporate pattern and texture without the busy-ness.
Because of their neutrality, neutral colors benefit a space by encouraging the use of patterns and textures without becoming an eyesore or a visual headache. One thing to keep in mind: the greater the contrast between your neutrals, the busier a space will read. So white-and-black patterns will have more energy than, say, beige-and-tan patterns.
Benefit 4: Neutrals work well with any decorating style.
If you love modern minimalism, intricate traditionalism, simple Scandinavian, rustic southwestern, or French country décor (or anything else), neutrals will likely play an important role in your successful décor. Vary the neutrals' use in geometrics for a simultaneously classic and relevant appeal.
Benefit 5: Neutrals mesh with any color palette.
Neutral colors used in a home can have warm or cool tones. This versatility increases the usability of neutrals as a whole – simply identify the warmth or coolness that your space needs and choose loved neutral colors accordingly. Mix up the sheen and tone (gold is neutral!), and your space will sing with aesthetic sensuality.
Benefit 6: Neutrals create an excellent decorating foundation.
Your space's design possibilities and potential will actually expand with the use of neutrals because you won't be limited to one specific color or scheme. Instead, neutrals will open up vast opportunities and possibilities in every color direction.
Bonus: neutrals are timeless, never going completely out of style, which means they'll provide an excellent decorating foundation throughout the years.
Benefit 7: Neutrals typically increase resale value potential.
Maybe you love the avocado bathroom fixtures and tiles of your 50s rambler, but that doesn't mean everyone does. Opting for neutral tones in your interior design will attract more potential buyers, should you decide to sell, then bright, specific colors will.
Neutral colors also increase the flow from room to room in a home, which is something that homeowners want, even if subconsciously. In other words, neutrals have a mass appeal across style, taste, preferences.
Benefit 8: Neutrals allow for easy decorating alterations, even larger scale ones.
When your space has a neutral foundation, you will more easily be able to change up the décor and furnishings without having to scrap everything and start over. In other words, decorating with neutrals as a foundation is both time and cost-effective.
Benefit 9: Neutrals are ideal for decorating children's bedrooms.
One area of your home where we highly recommend using neutrals is in your children's bedrooms. As your children grow, they'll no doubt want to redecorate their room year after year as their tastes change. The good news is that with neutral colors, you can just add new accessories or bed covers to the room, instead of spending a fortune on painting the walls each time.
Continually updating a room can set you back a huge amount of money, and this is something to think about in any space in your home. If you enjoy keeping up with current home décor trends, consider painting the walls white or cream and then just adding accessories or upgrading your furniture when needed. Neutrals never go out of style, so are perfect to use as a base in any room in your home.
Benefit 10: You can layer up neutrals in your rooms.
When decorating a room, we always recommend taking a slow and steady approach. Adding layers of color to your room can help you to upgrade your room without putting too many dark or bold colors in too early on in the process.
Neutral colors can easily be layered, and by opting for a brown or gray theme in your room, you can then make the shades progressively darker as you start feeling more adventurous. You'll find that neutrals range from pale to very dark in shade, allowing you to start with pale walls before adding very dark accessories and furniture to your home.
This is ideal for anyone who is a bit nervous about updating their home décor, as you can take things nice and slowly when updating each room. Paint the walls first and then think about the largest pieces of furniture before adding extra accents to the room. Here is where you can add pops of color if you fancy or change around your decorations to fit each season.
CHALLENGES OF DECORATING WITH NEUTRAL COLORS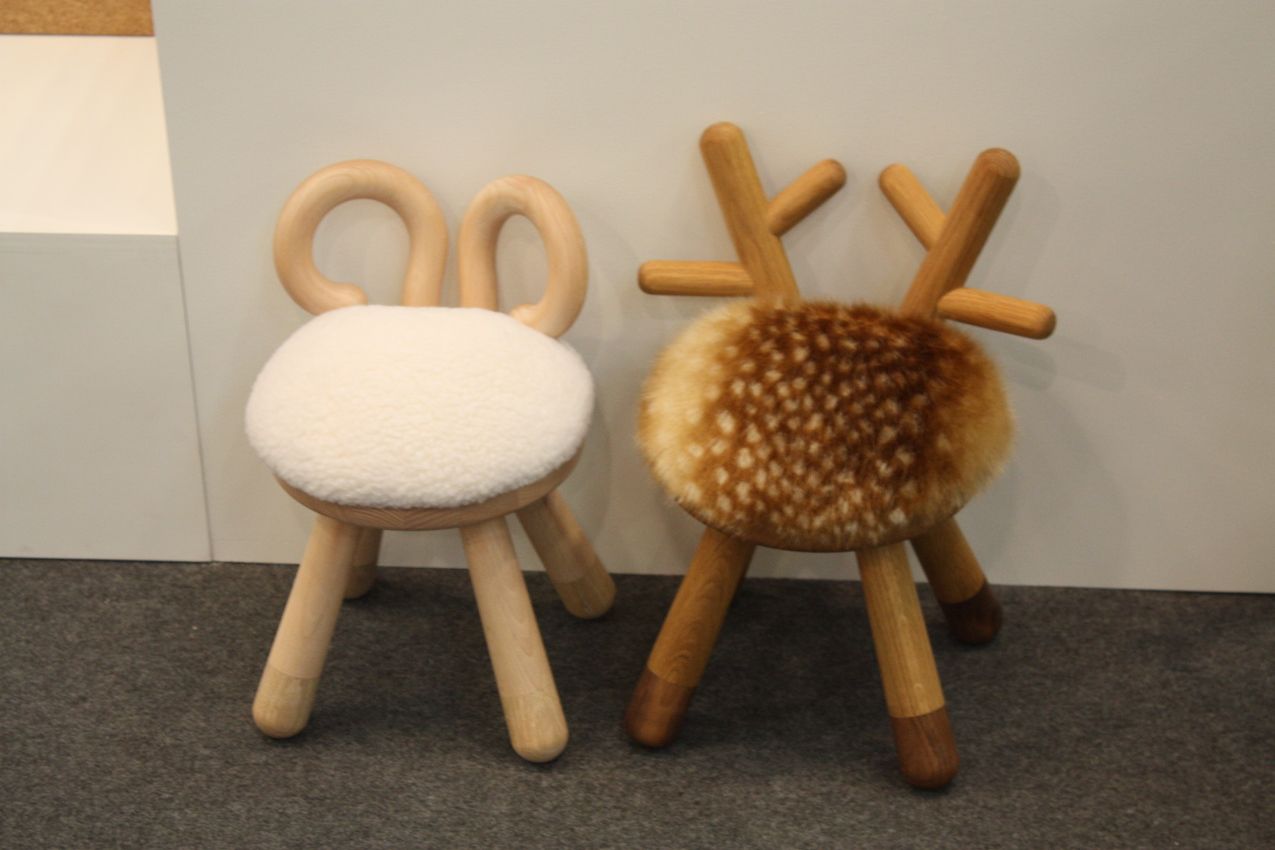 Challenge 1: Neutrals are safe…and therefore potentially yawn-worthy.
Part of the reason that neutral colors have gotten such a bland reputation is the fact that they are "safe" to use, which leads many people to stick to neutrality and nothing else. To overcome this challenge, look outside of neutral colors when choosing accent pieces, rugs, and wall colors. Use uniqueness and texture to your advantage to bring personality into neutral colors, like these kinder modern stools, and to break up visual monotony.
Challenge 2: Neutrals are still colors and must be used thoughtfully.
Neutrals still have shades and tints and tones. Being aware of these underlying tones is important while matching or coordinating colors or picking paint. Beige might have pink or golden undertones, while white undertones can vary from ivory, blue, or even peach. These niche modern pendants, for example, are indeed varied neutral shades but work together beautifully based upon their soft, warm undertones.
Challenge 3: Neutrals require a strategy to get the "right" ones right.
As we've already discussed, every neutral color has many (infinite?) shades, tints, and tones within it. Take the mother of all neutral colors: beige, for example. There are warm beiges, with yellow, orange, or red added; there are cool beiges, with violet, blue, or green added.
All of these are considered "beige," but you need to be aware of which ones will work best with your space, in your lighting, with your other design elements and furnishings. Keep the spectrum of undertones consistent throughout your neutral and color palette.
Challenge 4: Neutrals can be bland if overdone or used wrong.
We've all walked into a spec home and been assaulted with tan moldings upon tan walls upon tan carpets upon tan tiles, haven't we? Avoid matching drab walls with drab carpets (actually, avoid anything "drab" altogether!). Stay away from boring monotony by first using neutrals with confidence and, second, dressing them up! Introduce brighter colors, interesting shapes, and/or luxurious patterns and prints.
Challenge 5: Neutrals can be challenging to add to some rooms in your home.
Neutrals can be more challenging to add to some rooms in your home in comparison to others. For example, the kitchen is often a place where you'll need to use darker neutral colors, as white or cream walls are sometimes harder to maintain in a room where so much cooking takes place.
When it comes to decorating younger children's bedrooms, opt for a light shade that will still cover any dirt on the walls. Take the time to think about the shape and size of the rooms you are redecorating, and then use this to create a stunning room that features your favorite neutrals.
EFFECTIVE USE OF SPECIFIC NEUTRAL COLORS
1. Beige
Many people gravitate toward white in the kitchen these days, but beige can be a gorgeous, creamy alternative that keeps the kitchen feeling warm, welcoming, and still fresh and light.
2. Ivory
A pale, velvety alternative to beige and rich, deep alternative to white, ivory provides all sorts of chic neutrality. Particularly in spaces where natural light abounds, ivory takes that light and transforms it into a softer, albeit vibrant version of itself.
3. Taupe
Taupe tends to have purple undertones and thus pairs seamlessly with elements of warm purple as accents, such as are present in this gorgeous Pieper Glass lamp.
4. Black
Black is the most striking of the neutrals, as the darkest and color-absorptive hue, there is. Using it adds unqualified sophistication to a space. A good way to use black in a non-overbearing way is to opt for more delicate, detail-oriented black pieces such as these Hubbardton drop pendants, where the black silhouette shines.
5. Brown
A sunburst-topped side table or pair of nesting tables, such as these Kanin displays, look wonderfully natural in their two-toned brownness. Remember that the darker the brown, the more of a grounding effect the tone will have in the space.
6. Grey
As a more saturated alternative to the all-white modern kitchen, grey works wonderfully. Consider warming up this popular neutral shade with a piece of wood or other nature-based detail, as grey can read as stark and uninviting if overdone. Incorporating chrome touches in a space such as a kitchen provide a shinier element while still in keeping with grey neutrality.
7. White
White is a dreamy, airy color with which to decorate (particularly a favorite among monochromatic spaces). It appears best when thoughtfully styled with various shades of similar undertones, which will create depth and a visually interesting and restful space. White is also a lovely neutral in two-tone décor and furnishings, as is evidenced by this Ruby Lux chair.
8. Gold
While the debate might rage as to the pure neutrality of the color gold, we're calling it a neutral based upon the fact that it really goes with everything. When using gold, consider carefully the sheen: too much shine and the neutral element is decreased. Not enough shine and you've merely got yourself a glorified yellowy-tan.
What is your favorite way to incorporate neutrals into your space?
With the many benefits of adding neutrals to your home, it's no surprise that they form the basis of most home makeover projects. Almost any room in your home will look fantastic with neutral colors, and there are many different options to choose from to suit any style of home. When you are next considering repainting a room in your home or adding some new decorations, we always encourage you to think about using neutral colors first before adding in splashes of color. By keeping in mind the challenges of decorating with neutrals that we listed above, you'll have no issues adding neutrals to your home to create a classy and stylish first impression for anyone who visits.