50 Amazing Reading Corners Design Inspiration
It's a well-known fact that reading helps you relax and get rid of the stress you have accumulated. Lots of people like to read in bed before they go to sleep and this helps them fall asleep faster. Other people prefer to read somewhere in a quiet, cozy and tranquil space that was designed just for that. Most libraries have such spaces but it's not exactly the cozy place you had in mind when we described it.
Reading corners are very popular. Lots of people choose to have such a space because they enjoy having a comfortable and cozy space where they can sit, read a good book, maybe even listen to some soothing music and forget about all the problems and all the stress. When creating and designing a reading corner there are several aspects to take into consideration.The following examples should help you figure out which elements you like best and would want to incorporate into your own reading corner's design.
One of the most important aspects you need to consider when designing a reading corner is the lighting. Preferably, there should be plenty of natural light so try to find a spot near a window. Perhaps you can even create a cozy window nook by adding a bench and some built-in shelves underneath. But you should incorporate a lamp or task lighting of any other sort.
A reading corner needs to be comfortable. So figure out what's best type of seating for this area. You can opt for a small sofa or couch, for a comfy lounge chair, a beanbag or even for a rocking chair. The whole point is for the space to be soothing, calming and relaxing.
To increase comfort, add cushions. They're great if you want to adopt different positions or if you simply want to feel more comfy. You should add have a blanket there just in case. Maybe you'll get sleepy and want to take a quick nap.
It's also important to have enough space for your books and magazines. Some chairs or benches allow you to add built-in storage in the form of shelves. But you can also opt for a vertical bookcase, wall-mounted shelves or some other type of storage.
If you enjoy your privacy then you can add drapes or a space divider that separates the reading corner from the rest of the space. You can take advantage of this and get a room divider that doubles as a bookcase.
Make sure the reading corner is away from all the noise and distraction. So don't put it in front of the TV or in the living room where there's always someone talking or simply distracting you.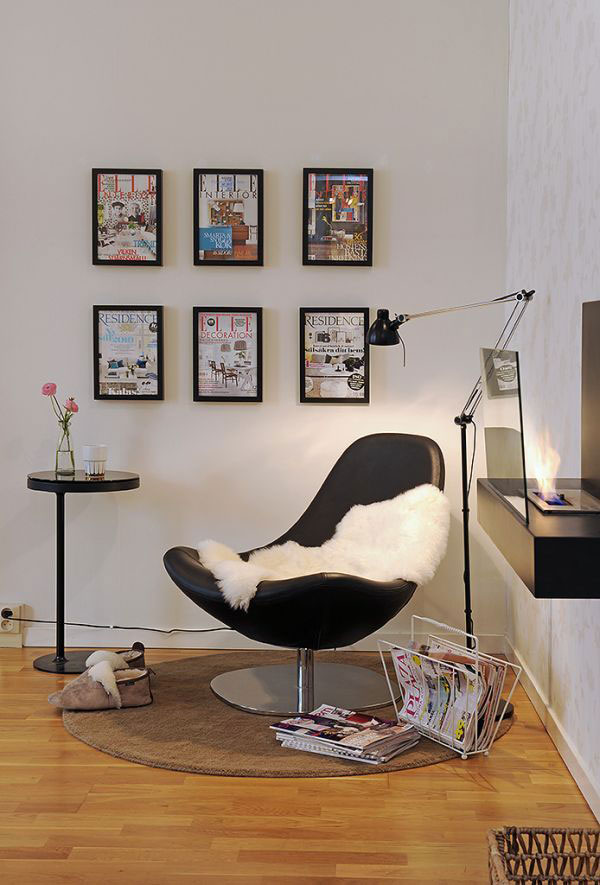 Of course, don't forget to personalize the nook. You can hang pictures, artwork, decorate the walls with decals or murals and find simple ways to make this area feel comfortable, welcoming and relaxing.
For example, light is very important. Natural light is the best to if you can place this space near a window it would be perfect. The light needs to be strong so that you don't have to put too much effort into reading and so that your eyes can rest but it also has to be delicate and pleasant. As for the furniture involved and the style or the décor, it all depends on each person's preferences and needs.