Contemporary Lighting Ideas With Cool And Inspiring Designs
It doesn't really matter how old or new or rustic or modern a space is…the lighting is always important. Contemporary lighting fixtures, however, stand out in a particularly eye-catching way. Each type of fixture has its own way of looking special. Table lamps are often cute while floor lighting is cozy and great at making spaces feel warm and welcoming. The most impressive, however, are the pendant lamps and chandeliers. We have a bunch of cool designs to show you.
This is a stylish floor lamp called Stick. It's designed by P. Salvadè and it has a circular base and a rod made of canaletta walnut. The lamp is perfect for room corners as its shade is elegantly attached to one side of the rod/ stick, being centered above the base. Consider this lamp for reading corners but also for offices, bedrooms and pretty much any space that needs ambient lighting. 
Pileo is one of the most elegant tripod lamps out there. Its base is available in two options: solid canaletta walnut or ash and the lampshade is tin-plated and available in different color tones. We like the casualness and cuteness of the shade and the way it complements the base which has a rustic allure while also being very elegant and even a bit formal-looking.
Speaking of cute and casual, there's a pendant lamp which fits this description quite nicely. Its name is Sweet 91. It's part of the Sweet lamp series designed by Paola Navone. The lampshade of this lovely suspension lamp is woven and comes in two basic colors: black and white. The design is very versatile and that makes this pendant a suitable fixture for pretty much any type of space.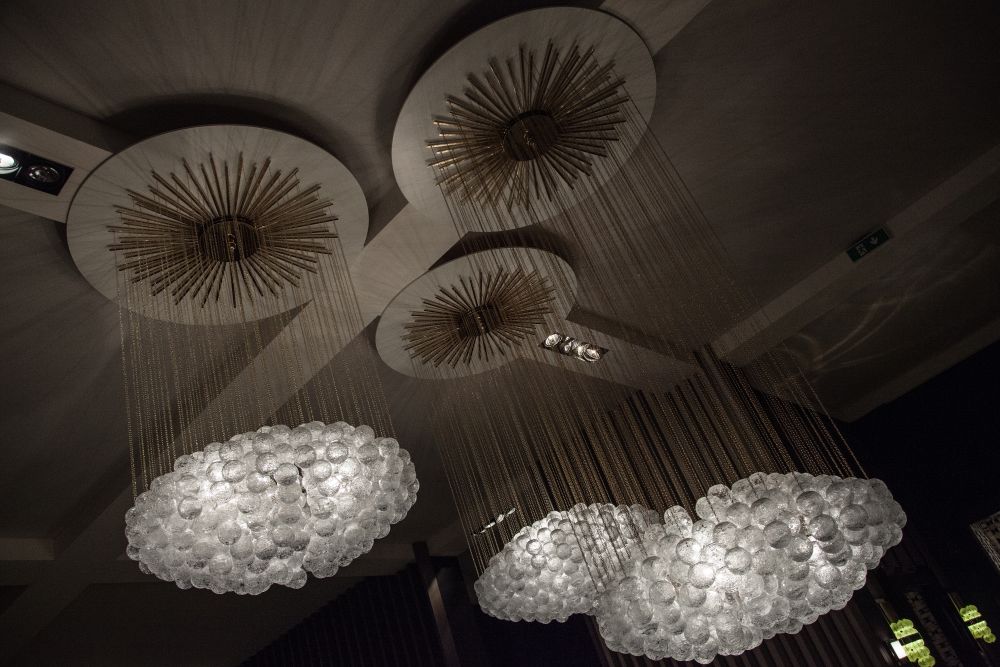 Light up your living room with chandeliers that look like clouds. We're talking about the Lyssa chandeliers designed by Emanuel Ungaro which have canopies made up of a multitude of glass bubbles suspended on brass chains that hang from a circular plate with a sunburst design. A chandelier like this one is a wonderful statement piece for living rooms, dining areas or hallways, featuring a design that's elegant and at the same time glamorous without becoming opulent.
The design of the Laos floor lamp and that of the matching table lamp from the same series is elegant is a rather exotic way. The frame is sleek and available in the following options: stainless steel, black nickel, brass, copper-plated and gold-plated. the lampshade is cylindrical and made of fabric (satin, silk or organza). The combination is refined and stylish and the tassel ties everything together in the most suitable way. The Camberra table lamp is pretty similar in that sense.
The pendant lamps in the Flow[T] series from wonderglass are defined by a unique duality which reflects the close relationship between fantasy and reality. These contemporary lighting fixtures are inspired by the colors of the Venetian lagoon and have sculptural and stylish designs that stand out in subtle and harmonious ways.
Sculptural and artistic designs were Zaha Hadid's specialty and this edition of the Luma pendant lamps keeps that spirit alive. It's easy to see why this light fixture is so beautiful. Everything has to do with the shape which is delicate and exquisite. Each individual tubular segment is hand-blown and together they form a transparent and sculptural form which diffuses the light and pleases the eye.
The type of pendant lamps showed here is pretty common. Both the Luna Rossa and the Brass Bell pendants have pretty straight-forward designs which don't necessarily stand out. Their simplicity, however, makes them beautiful in a very special way. It's all about harmony, about the relationship between the materials used, the overall shape, the finish and the color. This type of design is often a blend of modern and industrial lighting influences.
A large pendant lamp (or any light fixture for that matter) can be overwhelming, especially in a small room or in a space with a low ceiling. Some designs, however, make such space feel extra cozy and welcoming. This Lamp is a great example. Its shape is handwoven of extra fine merino wool thread, alternating black and white lines around a structure made of varnished steel.
A well-placed ambient light can positively influence a room's decor and ambiance. In order for everything to be perfect, there has to be a balance between the lamp's form, size, finish, color and the intensity of the light it offers. Bolla meets all the requirements. This cute and charming table lamp is designed by O. Favaretto and has a base made of solid ash combined with a glass shade. The two elements combine seamlessly. 
Can you believe something this delicate can be made of brass? Well, it's true. The Brass series by Paola Navone puts the spotlight on this material quite literally. The suspension lamps in this collection stand out both through their simplicity and their unconventionality.
The Kabuki floor lamp is unlike anything we encountered so far. It's created using the injection moulding technique and has this woven pattern which makes it look almost as if it's made of lace. The light is filtered through the perforated spaces. The lamp is pretty tall and has a rather robust form which contrasts with the delicacy of the woven pattern.