DIY Hand-Painted Flower Vase – a Fast and Easy Project
Some DIY tutorials are more about the overall idea itself than about the process; this tutorial is one of them. A black-and-white striped vase is nothing groundbreaking, frankly. But the beautiful thing about this particular project is its pure and utter uniqueness – even though black and white stripes are classic and have been around forever, your particular striped vase will be entirely unique because you created it with your own hands and your own aesthetic and style in mind.
Here's how I went about creating this one; feel free to change it as you like.
DIY Level: Easy
Materials Needed:
One (1) vase of your choice (example uses an old ceramic jug/pitcher)
Spray paint in the base color of your choice (example uses white paint + primer in one)
Latex paint in the stripe color of your choice (example uses Glidden's Evening Hush)
Short-bristled brush in the width/thickness of your choice for stripes
Ensure your vase is completely clean and dry. Set it on a paint protective surface, such as an old sheet. Tip: When spray painting an object all the way to the bottom, elevate it with an object placed under the paint sheet. Example shows a roll of painter's tape under the sheet, which is then under the pitcher. Spray paint can is set there for elevation reference. This just makes it easier to see all parts and sides of the object to be painted, maximizing the chances for complete painting coverage.
Shake up your can of spray paint according to directions, about a minute. Hold can upright about a foot away, and begin spraying.
You may have heard this before, but it bears repeating because it is CRITICAL to a successful, even, professional-looking spray paint job: Use light strokes in multiple coats, with several minutes of drying time between each coat. Don't try to cover the whole thing on the first coat; it'll only end up runny and drippy and blotchy, even (especially) with spray paint.
This is the second coat of paint; I am going for light strokes for each coat rather than a comprehensive coating in one pass. You'll notice that there is still a bit of blotchiness in the white paint, particularly near the bottom of the vase. This is fine! Necessary, even. Just let it be for a few minutes, then hit it again with your third coat.
It took until my third coat of spray paint was complete to really end up with a nice, smooth, even, and consistent coat of paint. It might only take you two. Or it might take you four. Or eight. My point is that, with spray painting, it really doesn't matter how many coats it takes you to get that even look you're after, as long as each coat is sprayed lightly, it'll get there. And it'll be smooth.
When your vase is completely dry with its base coat, it's time to add the stripes. This is the fun, almost therapeutic part of this DIY project. It will take a little while, though, so make yourself comfortable, turn on some tunes, and channel your inner artiste. Also, grab your short-bristled paint brush.
Dip just the tip of the paint brush into your paint. Tip: Pour a little paint into a disposable plastic lid or something similar, so your paint source is quite shallow. This makes it easier and more efficient to dip just the tip of your bristles into the paint each time. You will likely need to re-dip often.
Start at the top of your vase, simply because you're going to want to steady your hand against the vase itself as you're painting these stripes, and you can't do this when you paint from the bottom up. Also, paint each stripe in its entirety (around the vase) before moving onto the next.
The shape of the vase you chose might be quite simple to maintain a horizontal stripe on, or it might be a little more challenging. Whatever its shape, try to maintain a flat/level horizontal line across the vase itself no matter the topography.
Maintaining a horizontal stripe was a challenge with the spout and handle of this jug, but it was quite helpful to keep my eyeline level while painting and refer to the starting level of the line often.
Be aware that, as you're making this first pass at all the stripes, they're not going to be perfect. The stripes will likely vary a little too much in thickness and in coverage. That's okay. Just roll with it at this point. If you start messing around, trying to make each stripe perfect without looking at all the stripes as a whole unit, things are likely to go downhill rather fast.
Instead of perfection of the stripes themselves, focus for the first coat of stripe paint on placement and position – your priority here is keeping them level and evenly spaced.
After the first coat of paint dries (which is does quickly), it's time to go back and make some touchups. With all the stripes marked, you can now determine just how thick you want the stripes to be, and just how much imperfection in their edges you want. I happen to be comfortable with (prefer, even) a lot of "wiggle" in my stripes, so I didn't try to doctor their shape up too much.
Instead, I focused on filling them in to be pretty consistent with each other. And if there were glaring bumps on the edges/sides of the stripes, I used this second pass with the stripe paint to even those out as well. Again, work from top to bottom on this.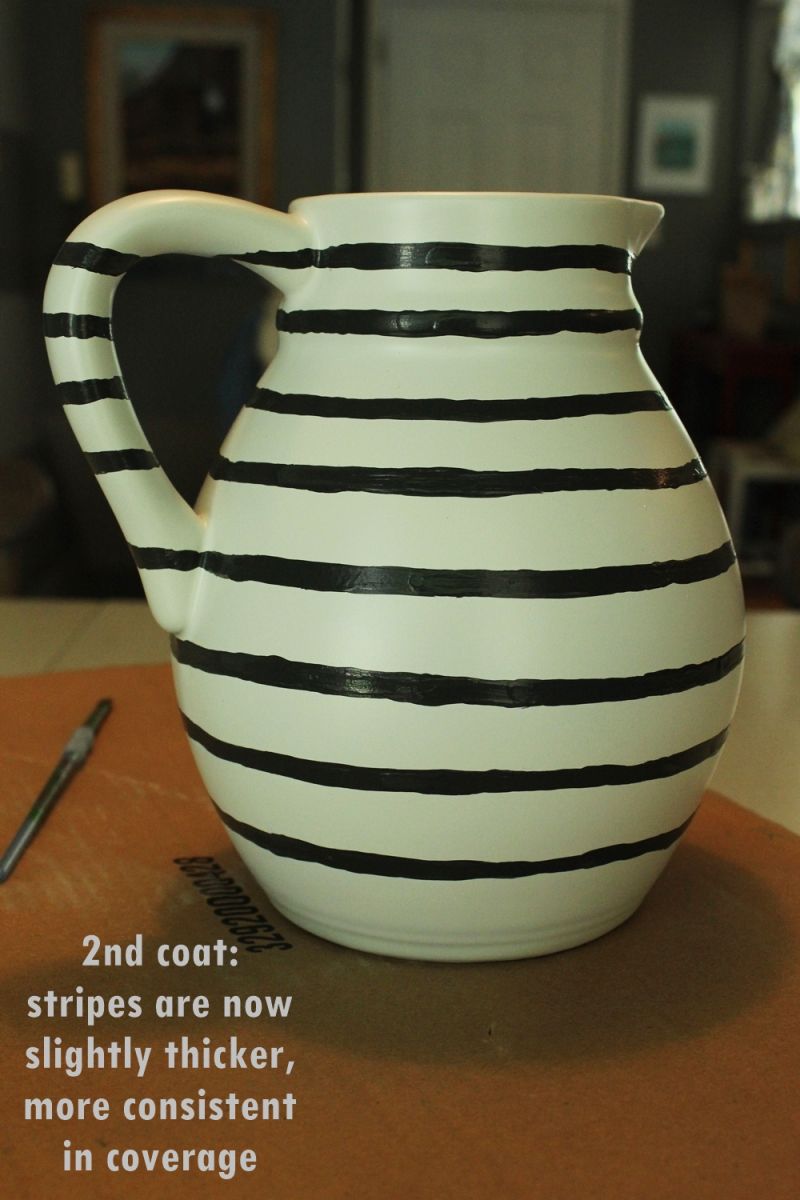 As you may be able to tell, my stripes ended up a bit thicker and with consistent fill after the second coat. When the stripes are in place with the first coat, they serve as kind of a "road map" of sorts to allow your preferred aesthetic to come through with the second coat. When you don't have to worry about the stripes' placement and positioning, you can really get the stripe look you love.
Let it all dry. Congrats! You're done! Determine where in your house you want the vase to be shown off, now that you're an up-and-coming artist. Kind of.
Maybe you love the look of your vase just as it is. Display it solo or in a vignette, and you're sure to feel proud when it's noticed and complimented.
But, in general, I happen to fall into the school of thought of: what's a vase without flowers? Fill it up, quick, that's what I say. A few floppy petunias from the garden look cheery and match the don't-take-yourself-too-seriously vibe of the hand-painted vase, anyway.
One of the beauties of hand-painted anything is its perfect imperfection. Of course, we could've taped this entire thing off to create perfectly even, straight stripes. But that wasn't the point here.
You could definitely change up the aesthetic of this project in a variety of ways. White stripes on black, for example. Or thicker stripes, wider spaces, thinner stripes, narrower spaces, uneven spacing, thicker stripes down low becoming thinner up top…the possibilities are exciting, aren't they?
Ultimately, we just hope that you've been able to create a piece that you absolutely love and that suits your space.