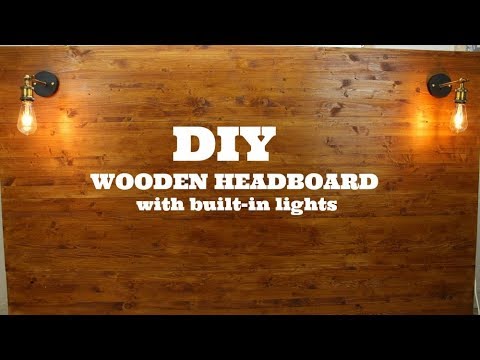 Some of the most stylish headboards have built-in reading lights that eliminate the need for bedside lamps. They can also be some of the priciest! However, it's not difficult to make your own for a fraction of the cost. Start with four pine planks that are 30 centimeters wide and approximately 100 centimeters long. (The length should be cut according to the width of your bed.) You will also need two planks that are 30 centimeters by 100 centimeters to serve as the cross-supports on the back.
Stain the fronts and sides of the four boards your desired color and let them dry. Flip the boards over and align them snugly and evenly. Place the two support boards across the back vertically and screw them into place evenly, making sure to screw into each of the four main stained planks. Turn the joined boards over.
Mark two locations for the light fixtures, one at each upper corner of the headboard. Attach the mounting hardware and screw a hole in the center for the wires, as shown. Prepare the fixture, pulling the wires to the back through the hole in the headboard. Attach the base of the fixture per the instructions. Join and cap the wires on the back. Your new headboard is ready to install – just add lightbulbs!