Easy and Cheap Dollar Tree Crafts You Can Do Over The Weekend
In the mood for some Dollar tree crafts and fun DIY projects? So are we but we don't want to spend a fortune on materials and supplies so today we're focusing on a bunch of super simple and budget-friendly ideas that can be done with everyday items and Dollar Tree store finds and we hope you'll have a ton of fun exploring them. With so many ideas to choose from, you'll definitely find something that suits your style.
Candles are a nice and simple way to add some fragrance and style to a room and this right here is a super easy and cheap way of decorating them. All you need to do is get a pack of thumbtacks in any color or finish you prefer (gold sure looks very chic here) and push them into the candle one by one creating a pattern. You can use tape as a guide to make sure your lines look straight. Check out theblissfulbee.porch if you want more details.
Doesn't this wall art feature on ahhhmom look super chic and stylish? Nobody would ever suspect that this is basically just a bunch of empty cardboard boxes from granola bars wrapped in contact paper. It's an absolutely awesome idea and so easy to implement. Get some contact paper from the Dollar Tree store and check your pantry for some boxes you can empty. You could have this displayed on your wall today.
Another really cool idea comes from iammommahearmeroar and involves a bunch of small mirrors from the Dollar Tree store and a 1/2" cheap piece of plywood. Get your plywood and add a trim around the edges to turn it into a frame, then go ahead and glue all the mirrors on in any pattern that you like. This simple grip design looks rather dashing. There's plenty more you can do to customize your framed mirrors if you want to such as stain or paint the plywood for example.
Using plates as decorations can seem a little bit odd and outdated but you can definitely do something cool with this idea. Take a plate that has a size and shape that you're happy with, cover it in a coat of mod podge, then take a poster and press down in the middle and continue towards the sides removing the wrinkles and air bubbles as you go. Then turn the plate upside down and use a craft knife to trim the excess poster. You now have a cool plate that you can display on a shelf or on a wall. Check out madincrafts for a complete tutorial.
This lovely silver pedestal didn't come like that from a store. It was actually made out of three elements: a plate, a candlestick and a bird ornament. These were glued together along with a few tiny plastic flowers around the bird and then the entire thing was primed after which a layer of white spray paint was added. The final step was to use Krylon metallic paint to cover the entire project. You can find more details about it on morenascorner.
Apothecary jars are beautiful and stylish accessories but they can cost quite a lot. Luckily, you can make your own using glass candlesticks and jars which you can most likely find at the Dollar Tree store or other local shops. Get a few of each kind and then combine them to make various designs. Glue a candlestick and a jar together and that's pretty much it. Check out this project on thejoyofdecorating if you want more details about it.
You can also make a chic little vase out of a plain glass bowl just by decorating it with a paint pen. You can paint a bunch of little polka dots on it and create a lovely pattern and you won't even need a stencil. Just use a chapstick lid as a guide to make all the dots the same size and shape. Check out how beautiful this vase looks on vintageromancestyle and use this setup as inspiration for your own project.
Speaking of vases, we have another really cool idea to share with you. It comes from sugarandcharm and it involves plain glass vases and dishwasher-safe paint and surface conditioner in any colors you prefer. Take your Dollar Tree store vases and remove the labels while also cleaning them with soapy water and let them dry. Then pour some surface conditioner in and cover the inside surface of each vase using a paint brush. Pour out the excess and place the vases upside down on a paper towel. Turn it back over and touch up the top, then let the paint dry overnight.
Another strategy is to paint the exterior of the vase and to leave the interior plain. You can start with a clear glass vase and apply layers of paint starting with a white one at the top. Then start adding color gradually as you paint more layers to create an ombre design. Check out this tutorial on livingwellspendingless to see how it's done. All you need for this is a cheap vase, acrylic paint in white and another color and a paintbrush.
Instead of painting the entire vase either using a single color or several, another option is to create a pattern. You can use painter's tape to cover up the areas of the vase that you don't want painted and this way you can make stripes and other patterns. In the tutorial featured on thecreativityexchange this gold leaf design is created using enamel paint.
Laundry baskets don't typically look very stylish and those that do are expensive but there's a way around that. You can give a plain and cheap laundry a makeover and make it chic and pretty. One idea is to cover the interior and exterior of the basket in felt or some other fabric and then to wrap rope all around the outside, covering it from top to bottom. Use a hot glue fun to secure all the rope layers and cut off the outer rim around the top of the basket if needed. You can find more details about this transformation on lydioutloud.
You know those cute storage baskets you often see in various stores? They look nice and stylish but they sure seem overpriced. Luckily, you don't have to spend your money on them when you can craft your own cute baskets from scratch. cardboard boxes are excellent for that. Find a box that has a size and shape that you're happy with, cut off the flaps at the top and then wrap jute twine or rope all around the exterior, using a hot glue gun to secure the layers in place. Then add a liner inside which you can make out of inexpensive fabric and you're done. This cool idea comes from elizabethjoandesigns.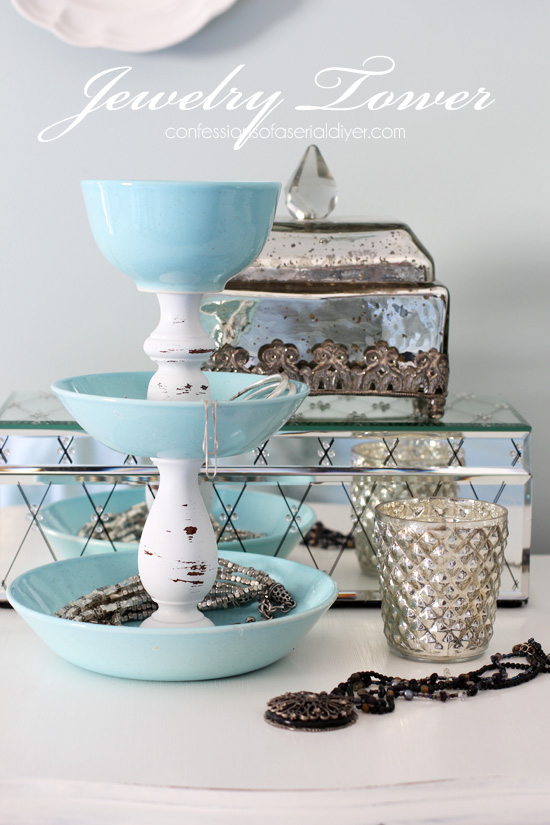 This jewelry tower featured on confessionsofaserialdiyer is made out of candlesticks and dishes and has a lovely retro look. It's a stylish accessory that's super practical as well, another one of those overpriced things that's not worth throwing money at when you can just as easily craft your own version for just a fraction of the price.
Here's a beautiful organizer that you can make for your bathroom using just a few basic materials. For the back panel you can use a wooden board out of a pallet. Simply glue 3 Dollar Tree Jars onto the wood and space them out evenly. Add a little hanger on the back so you can display this on a wall and feel free to customize the jars with labels if you want to. Head over to savedbylovecreations for more details and ideas.
You might be familiar with these plastic storage drawers that you can find at the Dollar Tree store. They're practical and we can thick of a lot of uses for them but they're not the prettiest of the bunch. However, that can be changed with a simple makeover. You can turn a couple of these drawers into a farmhouse-inspired storage cabinet or tower by adding wood panels to the sides of the plastic frame and decorating the drawers with cute knobs or handles. More inspiration can be found on littlehouseoffour.
A combination of ceramic bowls with cute and interesting shapes and clear glasses can be used to make a beautiful tower that you can fill with succulents, pebbles and all sorts of other things. All you need to do is glue and bowls and glasses together to make tiered platforms for the succulents to go into. You can find out all the details of this project on craftberrybush if you're interested.
You can also find something interesting and pretty to make with sticks and various things from your garden or backyard. This can be a nice little summertime project. Use four sticks to make a crude frame, then make a twine grid. Insert leaves, flowers, moss and whatever else looks pretty between the twine layers and enjoy your unique decoration while it lasts. Check out the tutorial for this on hearthandvine.
Have you ever made a wreath out of dries orange slices? It's a super simple project and a perfect one for fall or winter. The dried oranges have a beautiful smell and you can add a few other fragrant things like cinnamon or vanilla sticks or star anises to make your wreath smell amazing. As the tutorial on elsarblog explains, for this project you'll need around 14 dried oranges, a piece of cardboard, a glue gun, bowls or plates to use as stencils, a pen, scissors and rope.
If you want to bring a little piece of nature into your home, a nice dollar store craft idea can be to make a mini succulent garden. Get yourself three cheap picture frames, take out the glass and glue the sides together to make a triangle. Cut out a piece of foam board and add a bottom to your shadow box planter, then fill it with moss, succulents and other greens. Check out the details on hatchandhaven.
These faux bois candle sticks have a simple, modern and stylish look and they look like something you'd have to pay plenty for in a store. That however is not the case. You can make as many of these as you want for close to nothing. All you need is a wood board or a few already cut bits of wood, a drill with a 3/4" bit, sandpaper and some liquid gilding paint. You'll also need a saw if you decide to cut the wood yourself.
Dustpans are not exactly pretty to look at but they can be if you decide to dedicate a few minutes to decorating them. Put a pretty face on your dustpan using adhesive vinyl. You can print out templates for cute and funny mustaches, lips, eyes and so on, cut them out and then stick them onto the dustpan. It will totally change the way you look at it and it's such as easy and funny project.
Ever wondered how those retro-looking vases and planters are made to look old even though they're brand new? It's actually not difficult at all to get that kind of finish. Try it on your own terracotta vase or pot. You'll need white paint, tissue paper, spray glaze and sandpaper. You can get that peeling paint effect in no time without having to pay a ton for it.
Clay is a really cool resource for all sorts of interesting and creative DIY projects. One of the easiest things to do out of clay is custom coasters. Take a piece of clay, form it into a ball, then flatten it out with a rolling pin or a bottle. Press it onto a textured surface (like an exterior wall for example) and then use a bowl or a cup to cut the clay into a circle and let it dry. Paint it and apply little pieces of gold leaf onto it and there you have it, shiny party coasters made from scratch.
Paper is really amazing as well and you can craft all sorts of things with it, like these paper pinwheels that are really cool for parties and festive decors but also nice as more permanent wall ornaments too. You can make them in different colors and sizes and use cardstock to give them a bit more rigidity so they retain their shape better.
Using a few different dishes and bowls it's possible to craft unique serving plates that look cool and are practical too. This can be an opportunity to do something with all those cute plates and bowls that you didn't have a specific use for before. Combine the two by two or however else you think is best and glue them together using the appropriate adhesive based on the material that they're made of.
A very simple and basic box or a crate can be easily transformed into a display shelf which you can either put up on a wall or place on a shelf or a counter. Either way, the transformation should only take a few minutes, about as long as it takes you to cut out a piece of colored and glue it onto the bottom of the crate to create a quirky design for it.
If you have a wooden plank and some basic tools like a saw for example making cute little crafts and decorations for your home becomes quite easy. Let's say you want to make this wooden photo holder for example. Just cut out a piece of wood into a triangle, sand down the edges and the corners and make a cut at the top. You can also get a bit of paint from the dollar store and customize your photo holder a bit more.
Tree trunks are not exactly easy to come by but if you can get your hands one you'll be able to make some really cool things out of it, like a little side table or a nightstand for example. When you style your tree trunk you can either remove the bark or leave it on. If you leave it on that will give your table a rustic look whereas if you remove it the trunk will look a bit more modern and you'll have more options when finishing it.
Here's how you can turn a few cheap small jars into stylish candle holders: clean the jars and remove the labels and all the glue from them so you have a smooth surface to work with. Then take some double-sided tape and wrap it around the outside of the jars. You could also use a hot glue gun or some other type of adhesive if you want to. After that, take some wool or string or twine and wrap it around the jar.
Isn't it frustrating that things that seem so simple and easy to make seem to cost a lot these days? Take a door stop for instance. We have all these fancy designs to choose from, one more expensive than the other when in fact a little piece of wood and some paint enough to make a doorstop that's both functional and nice to look at.
This black feather chandelier is not exactly the type of permanent accent piece you'd want in your home but it sure is perfect for Halloween. It's made using just a few simple Dollar Tree Store supplies like a chandelier base, some string, black feathers, black spray paint and black washi tape. Of course, you can improvise and come up with your own unique design based on this example.
Speaking of Halloween decorations and washi tape, not everything has to be made from scratch specifically for this occasion. You can use black washi tape to give basic items in your a quick and spooky makeover. For example, you can decorate your cutlery, flower pots, candles, picture frames and whatever else you want to draw attention to. It's easy, fun and affordable.
For some reason collecting leaves if a very fun and enjoyable activity, both as a kid and as an adult. Fall is the perfect season for that because you have all the different colors to choose from. Take them all home and make some beautiful pressed leaf art out of them. All you need is a picture frame, poster board and some double-sided tape. Make sure to let the leaves dry between the pages of an old book or a magazine for about a week before you use them.
Making a vase can be a nice use of your free time, especially if you have something special in mind. Perhaps you'd like to try making a mercury glass vase like the one you can find on firstdayofhome. For this technique, you will need a few specific items such as mirror effect spray paint, some vinegar, water, painter's tape, a spray bottle and a glass vase. It's a simple project best done outside.
Everybody loves terrariums and we're talking about the decorative kind which you can actually craft at home and fill with various things like moss, twigs, pebbles, plants and even some less common items like antique books. You can make a retro-looking terrarium from scratch using cheap picture frames. Check out acultivatednest to find out how.
Wouldn't it be cool to have an olive tree in your house? Growing an actual tree may however be too difficult so how about a topiary instead? You can make one out of some olive stems and you can put it in a distressed clay pot to give it a bit more character. Other supplies that you're going to need include a green styrofoam block, some brown floral tape, moss and wood floral stakes. Everything is described in detail on beautyforasheshome.
Small and simple projects can be very rewarding. Take for example this candle holder. It's not the most detailed decoration you could make but it's something that will add style and character to your home, something that you can be proud of for making. The whole trick here is painting the candle holder and giving it a distressed and antique sort of look. Head over to craftsbycourtney to find out how to do it.
We love using flowers in interior design. Their delicate nature adds a lot of charm to the space around them and they can be incorporated into a lot of beautiful and simple projects. One idea is to make a wreath. We really love the magnolia wreath featured on tatertotsandjello for its simplicity and bohemian vibes.
A lot of the things you find at the Dollar Store are not really bursting with quality or style but if you can see the potential in them you can do something projects on a very small budget. For example, some of those plain and common Christmas ornaments could be used to make some really cute things, like this adorable top hat decoration or the lovely Mason jar snow globes featured on foxhollowcottage.
Plain candles can definitely look nice on their own but if you feel the need to add a bit of color and to make them special, we suggest using patterned paper to give the candles a quick and stylish makeover. You can print out some nice patterns (you can find a few on todayscreativelife) or if you prefer it you can paint or draw something yourself.
One of the most versatile and also cheapest things you can buy is twine which you can use in all sorts of cool ways such as for making gift tags, wrapping presents or making cute custom planters and vases. That's done by wrapping the twine around something like a tin can, a glass or just a regular vase and securing it in place with hot glue. Check out passionatepennypincher for more details.
Wine corks are also nice to have around for various DIY projects. You can use them to make all sorts of cute decorations, like these pumpkins which you can display around Thanksgiving, Halloween or fall in general. The ones featured on lifefamilyfun are made using 20 corks (for the big ones) and respectivelly 13 corks (the small ones) each.
The rope is also a really great and versatile resource for DIY projects and crafts. Among other things, you can use it to make this stylish vase which we found on re-fabbed. It's super simple actually. Just take a plain glass vase, grab your rope and add a dab of glue onto the very end and then place it on the vase and start wrapping the rest of the rope around it until you're happy with the area covered. Then cut the rope and secure the other end with a bit more hot glue.
A great way to make a place feel more like home is by adding decorations and features that look old or have a retro vibe. Making such decorations by hand gives them even more character and uniqueness. A nice little project in this sense is this farmhouse candle holder from oursouthernhomesc.
A picture is worth a thousand words and it's easy to forget that today when taking photos is so easy and common. Printed pictures however are not as common anymore which makes them really special in a way. You can use a few to make some cute luminaries which you can display around the house, like on your nightstand or desk for instance. The instructions can be found on thatswhatchesaid.
Mirrors are great for what they are and they're a must in every home. But there are a lot of clever and creative ways in which you can use, such as to make stylish boxes that you can store things in. You can also use the boxes to make beautiful centerpieces for the dinner table or you can use them as planters. Making mirror boxes is super easy and all you need is square mirrors and a hot glue gun. Check out the tutorial on hisugarplum for more details.
It's hard to resist wanting to collect a bunch of succulents when there's such a wide diversity of them and they're so cute. Sure, you might not want your succulents to grow or you might be able to care for them properly but that doesn't mean you have to give them up altogether. Faux succulents are easy to come around and they're pretty cheap too. You can have a few displayed in adorable little planters made out of jars. Give the planters a chic vintage look by using chalk paint and sandpaper, as explained on littlehouseoffour.