Amp Up Your Home Decor with Creative Wall Art Ideas
While tens of thousands of people descend on Miami every December for Art Basel, it is hardly the only art show in town. Art Week 2016 featured more than a dozen satellite fairs that offer plenty of creative ideas for ways to incorporate art into your home design. Some of Homedit's favorite pieces are collage works that feature a variety of media or repetition of media, texture or color to achieve the final product.
This textured, ruffly work with wonderful color gradation was presented by Alida Anderson Art Projects. It adds not just color, but a big dose of texture and dimension to the wall.
Glass sculptor Amber Cowan is currently working with up cycled American pressed glass produced from the 1940's to the 1980's. Cowan frameworks, blows, and hot-sculpts the material into these spectacular monochromatic wall collages. This is her Creamer and Sugar, Swans in Sky.
Colombian artist Hugo Carillo created "Interior Garden." The mixed media pieces which is part of his series, The Threads Cover it All. Carillons work implies that time is a "determining factor" in the piece's development. He writes that "the action of working on something for months gives space for this reflection on what it does and undo and what it is possible to do." The artist also used pieces of cloth from people he knows to create a personal meaning in his "imaginary bedspread of memories that the yarns unite, blend and cover until creating a new way of perceiving."
Simple folded comic book pages become textural art in the hands of talented artists. This dimensional wall art featured undulating strips of colored pages from comic books and graphic novels.
Florencia Martinez was born in Argentina and now lives and works in Milan, Italy. Her textile art ranges from humanistic figures to wall collages like this spiral make of charming bound poufs.
Ocean detritus and trash is transformed into works of art by French artist Gilles Cenazandotti. Best known for his three-dimensional sculptures, Cenazandotti also created the triptych, Briquets Triptych, fashioned from disposable lighters salvaged from the ocean.
IK-Joong Kang is known around the world for his major public art works that feature 3 x 3 inch canvases. His pieces focus on the plight of people and societies around the world. The Korean-born Kang lives and works in New York and is continually planning large-scale public projects.
American artist Jacob Hashimoto uses traditional Japanese methods to make large-scale collages — which he calls "tapestries" — from a multitude of hand-made paper and wood kites. This is The Meteoric Dust Trail of Comets, crafted from paper, wood, acrylic and Dacron.
Joseph Hasch-Muche creates her multidimensional pieces from very thin glass shreds and and paper. Using a chaotic melange of materials, the artist manipulates lightning to create a structure that suggests movement, shadow and purpose. The German-born Hasch-Muche's works take on different characteristics, depending upon whether you view them from a distance or closer from various angles.
Paper artist Michael Buscemi creates intricate reliefs using layers of thick white paper that are collaged into complex patterns and works that are part sculpture and part drawing. Heart of the Sun, shown below, is constructed from hand-cut archival paper.
Dimensional art can also make a political statement like this piece from San Francisco artist Michele Pred, who is known for using unusual materials and featuring culture and politics in her art. Her Red White and Black, is composed of bullets, enamel, wood.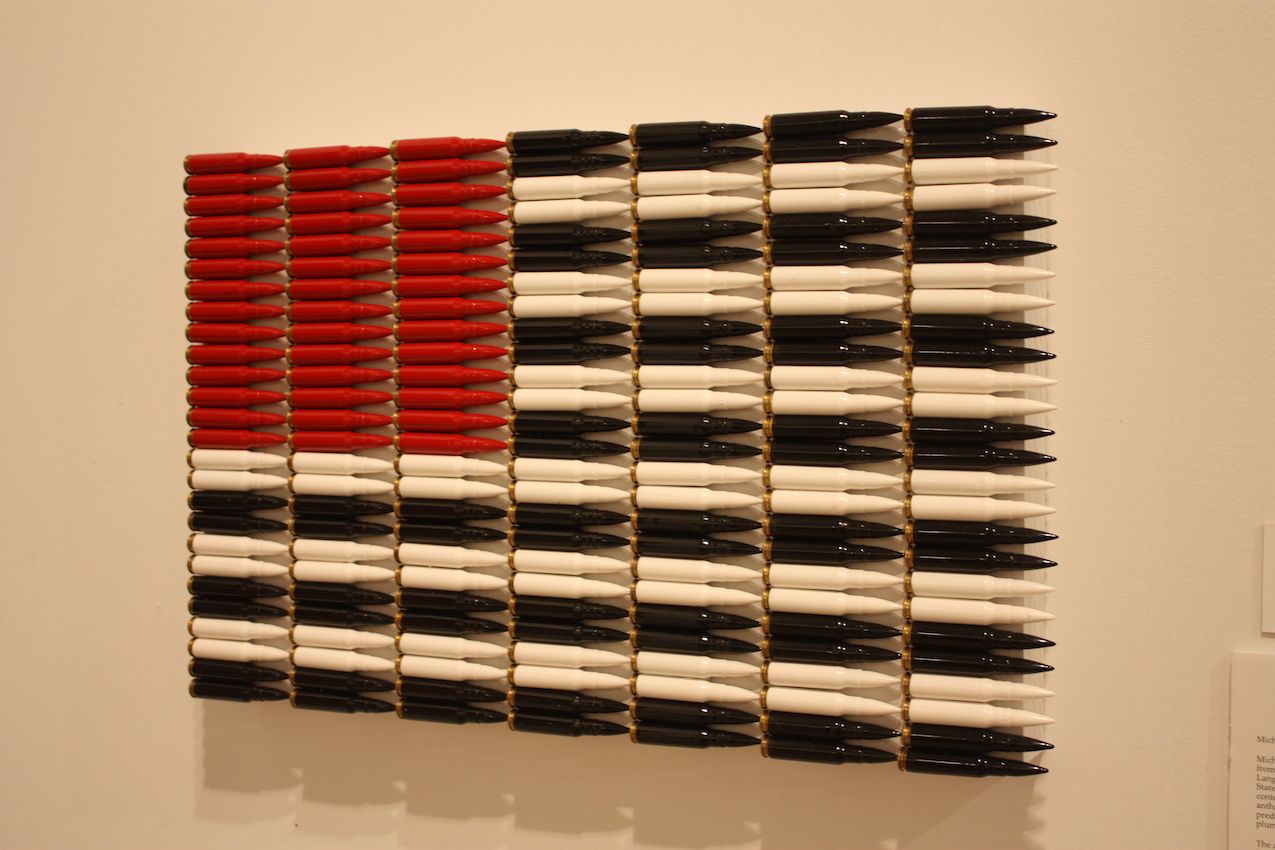 Blue and Joy are the Berlin-based Italian art duo who shot to fame in 2014 when Fendi selected their aluminum paper planes for installations in 28 of the companies biggest stores. Below is Planes, presented by Galleria Ca' d'Oro.