Choose Modern Chairs To Infuse Elegance Into Your Dining Decor
Modern chairs can really enhance the feel of a gracious living-dining space. Small details, unique shapes and special materials can make furniture feel really special. Fortunately, designers have created all kinds of new, modern, elegant, cool chairs that may be perfect for your home.
Swapping out your dated dining chairs is an instant refresh for any dining space and is one of the fastest ways to make a big change. In fact, new modern dining chairs that have a distinctive look can draw attention away from a basic or mundane table, giving it a new lease on life. The range of styles available is amazing so it's easy to find one that fits your space and personal tastes. Check out these different chairs and you'll get a taste of what's out there:
For something truly artful, these "Leaves of Gold" chairs by Joy de Rohan Chabot will truly make your dining room stand out from the ordinary. Each chair from Galerie Chastel-Maréchal is hand-painted with a unique design, so no two are alike. They also have a tripod base instead of the standard four legs. The entire piece is gilded in bronze.
Plush, unique and colorful, these modern dining chairs from Green Apple are the pop of color that your dining room needs. Any neutral dining space will instantly perk up when you add a bright, acidic tone like this acidy yellow. The sumptuous upholstery is a perfect match for the sinuous lines of the design too.
At first glance – likely from the back – these chairs by Materia might look ordinary but they certainly are not! The unexpected asymmetric features are very distinctive, with one arm curved and the other straight and capped off with a brass end piece. Also, the lines of the chair can suit your angular preferences: One has a squared off arm in a 90-degree angle and the other swoops up in a rounded curve.
Kartell's dining chair starts with the minimalist lines of a basic chair shape but has funky arms that are actually extensions of the mid-back support piece. The slight design is great for a smaller space but does not skimp on style, or comfort, for that matter: The rounded pieces against which your back rests are smoothed and flattened for ease when seated.
In a fresh take on classic lines, the 20 chair from TON combines a traditional bistro chair shape and an oval caned backrest which also serves as an accent. All bent by hand, the chair elements come together and create a very refined addition to any dining area. For a slightly more versatile look, the chair is available in a range of natural wood tones as well.
You can never go wrong with a great vintage design like these chairs from the Modernity Gallery. The four chairs are a timeless modern design, crafted in 1928 in Sweden by Axel Einar Hjorth for Nordiska Kompaniet. Called "Futurum," the set is made from black lacquered wood with woven leather seats and have profile that will elevate any dining area.
What good is an entertaining space without a little fun? These modern dining chairs are funky and colorful, enlivening any table. Although they are used at a game table in this space, they would also be ideal for a lighthearted, bold dining room design. The graduated up[holstered circles along the back of the chair are particularly eye-catching and whimsical.
Discover more cool design chairs
Artmax, led by Richard Chan, offers distinctive furnishings that can be used to create a sophisticated look. The company's unique pieces are elegant but not excessively formal. This armchair has a modern, rounded shape, outer frame with a metallic sheen, and beautiful detailed carving. The velvet upholstery on the seating side is comfortable and refined.
This similarly shaped chair has a much more modern edge thanks to the full-on metallic finished and light-colored upholstery. The edge of this cool chair, which extends into decorative arts at the front, also flows into the shape of the from feet. The clever design makes it suitable for a contemporary or modern dining space
Artmax also has plenty of trendy and cool chairs in a square shape. This version has a hefty top edge, which crowns a textured base that has a woven look. Even though the piece is metallic and the upholstery adds to the elegant feel, the dark wood feet make it more versatile and workable for various styles of spaces.
These upholstered dining chairs are a great example of how a modern piece can be elegant without being stuffy. The unusual construction of the chair backs is edgy, but the overall feel is still luxurious and sophisticated. These cool chairs would works with many styles of dining table, from glass to stone, to solid wood.
Artmax also injects some fun into the fashionable with this pretzels twist of a chair. Shown here as a desk chair, it could also be used as a dining chair. The joining of the bottom base to the upholstered back is different and the low-cut leg posts are interesting.
Any elegant living room could use a throne-like chair. Besides being a spectacular piece to look at, this style of chair is a lot of fun to sit in. The chair below, also from artMax, is accented with a deeply upholstered back and sides and out-of-the-ordinary curlicued arms. A metallic finish and plush upholstery add to its modern, regal feel.
A slim strip of upholstery brings the Aria Side Chair a touch of modern elegance. AVE Home says that the cool chair is a modern take on the classic kilsmos style. Its white wash finish, carved frame, sabre legs, and light upholstery add a touch of formality to the piece.
Bella Rustica has an eclectic and wide-ranging collection, including this elegant cool chair. It's also a good example of the elements that make up an elegant chair: Neutral, textured upholstery, a distinctive shape and special finishes. Here, the metallic legs add some shine and the nailhead detailing keeps it from being too modern.
A few nailheads was an accent also add elegance to a cool chair. This is the Wave Away chair from Cyan Design. The shape is modern and low, but the upholstery understated. It would be a great upgrade to a contemporary or modern living room or bedroom.
Nailheads are also the perfect accent on these dining chairs. The dignified rollback at the top of the chair is highlighted by tufting on the seating side. The back of this cool dining chair has added interest because of the ring detail. The choice of neutral upholstery gives them an elegant but somewhat casual vibe.
In contrast, this studded chair definitely has a more formal feeling thanks to the grey upholstery and the curvy shape of the back. Traditionally shaped wooden legs keep the feeling more serious.
A combination of nailhead stud detailing, trendier upholstery and a traditional frame shape come together in the Hannah Chair from Oly Studio. The stately piece has a hand-carved wood frame.
This upholstered chair from Noir has an interesting shape and nailhead detail, but it's less prominent because it is only along the base of the seat. This conveys a more understated feeling of elegance.
Of course, an interesting shape does not need nailhead detailing to be eye-catching. This upholstered chair, also from Noir, has a more complex back design. Covered in a sedate fabric, it is elegant without being over the top.
The Collins Chair by Joybird is both modern and elegant. The smooth wood frame and elegant darker gray upholstery are a good combination for conveying an elegant and sophisticated feel.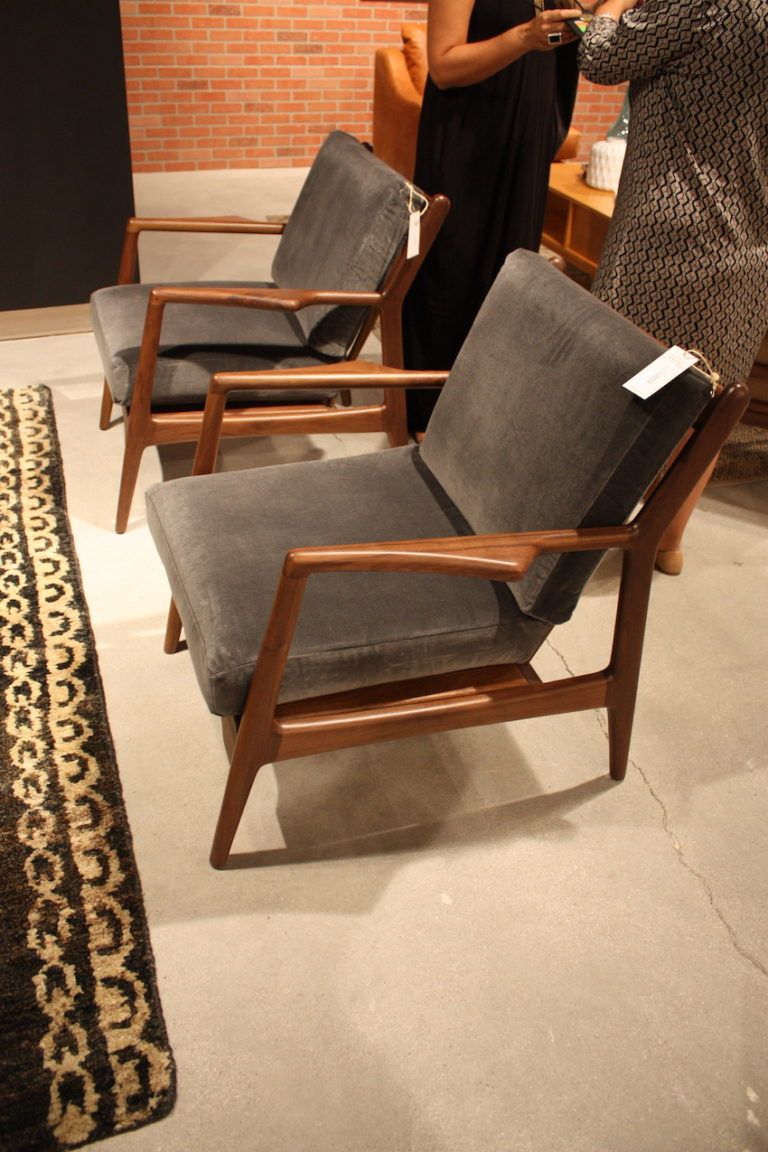 A similar design is the Frisco Armchair from Sunpan. It has a larger, higher-backed upholstered seat, and polished, stainless steel feet.
Elegance doesn't always have to come with a muted color palette. This gorgeous red chair from Moe's Home Collection has a channel-tufted back and a finely shaped seat. It's the perfect occasional chair for a pop of color.
Seductive dining chairs can also be bold. These Annabelle BRO chairs from Worlds Away are bright and chic, accented with a shine metal frame.
Orange is trending in home decor and these square chairs with a modern, graphic upholstery are very current. Adding these cool chairs to your living room provides a good dose of elegant but casual style.
Selamat's Sydney Mod Steps Lounge Chair is a most elegant sunroom or covered patio piece. The rattan is "hand bent and stacked into rectangles to create the iconic Florence Broadhurst design 'Steps.'" The deep cushions are eminently comfortable.
TOV Furniture has the splendid Avery Armchair, shown here upholstered in a fabric with a bit of a metallic sheen. The shape is modern and elegant, highlighted by the upholstery choice.
Similarly, Urbia's Lancaster Side Chair has clean lines, with its elegance enhanced by the unusual metallic fabric choice.
Creating an elegant space is easy when you have so many choices for furnishings. Even a basic space can be upgraded by adding sophisticated chairs. The variety of elegant chairs available let you create space that's casual or forma, but above all, genteel.