10 Best Reading Chair Ideas For Your Cozy Nook
A perfect reading chair is one you can sit in for hours and you can't know that until you actually use it for some time. However, there are still some key elements to look for when searching for the ultimate reading chair.
For example, look for an upholstered chair that provides good support for your neck, back and arms. It needs to be comfortable but it shouldn't make you want to fall asleep. Another detail to focus on in the type of fabric that the chair is covered in.
How to Choose a Reading Chair
Believe it or not, a reading chair is believed to be more comfortable compared to a regular dining chair, even if it lacks the ergonomics of an office desk chair. Below is a list of the features to look out for if you want to create a reading nook in the comfort of your own home.
Size
The majority of reading chairs share one characteristic: they are extremely wide. A large reading chair can provide you with a great deal of comfort.
Oversized chairs enable you to sit in a variety of different positions. If you're sitting in this chair for an extended period of time, whether reading or enjoying your favorite TV show, you're likely to move around and transfer your weight in different directions.
A large reading chair enables individuals to move about while remaining comfortable. Additionally, it allows for the usage of individuals of various sizes and heights.
Seating
Deep seats are ideal for a chair that will be used by a large number of individuals, as well as for anyone who enjoys changing positions while seated. It is suitable for reclining or curling up. However, if you prefer having your feet on the floor, this may not be an option for you.
Body type
Choose the chair that is most suited to your body type. Certain types of seats will fit you better than others. Without a doubt, a smaller person might be more or less comfortable on a specific reading chair compared to a larger individual. Height also makes a significant effect. Examine several various types of chairs and choose the one that is most comfortable for your body type.
Placement
Determine the location of the chair. Consider the amount of space available and how it will affect the overall composition of the room. After you've restricted your choices, visualize each one in the space you've allotted for it.
Materials
Reading chairs have bases which are often made of wood, however the quality varies. Steel-framed chairs are more affordable and robust. Additionally, the type of upholstery you opt for is critical in the overall quality of the product.
While a leather reading chair is elegant and pleasant, ensure that the leather is substantial and sturdy. Varied textiles require different levels of maintenance and have varying susceptibility to staining. Whatever the case, your upholstery should be supportive, substantial, and durable.
Decor
Your reading chair should complement the general décor of the room. It should be in keeping with the rest of the room, both in terms of style and color. There are numerous comfy reading chairs available in a variety of various furniture styles, so don't limit yourself to a single style.
As far as sizing is concerned, you don't want a reading chair that overwhelms the sofa, meaning that you should opt for chairs with similar height.
Construction
Ascertain that the chair you select provides enough lumbar support. This will ensure that it is comfortable to sit for extended amounts of time and will also benefit your back over time, avoiding you from acquiring muscle or spine problems as a result of chair use.
The ideal solution is a tall-backed reading chair. It provides excellent neck support whether reading or just lounging in the chair at the end of the day. This will help alleviate neck strain and eliminate potential discomfort, especially if you want to use the chair for an extended period of time.
Arms should be included on even the smallest reading chair. A comfortable reading chair with broad cushioned armrests is ideal. Not only does it provide a comfortable place to rest your arms, but it also provides support for anyone wishing to sit in an odd position.
Types of Reading Chairs
There is an overwhelming number of chairs that you can choose from when you're looking for a cool and comfortable spot to read in, so here is a list with all the most common chairs that could serve people passionate about the written art.
Chaise
The chaise lounge chair provides ample comfort and style, regardless of the room it's placed in. It provides ample room for stretching out and is an excellent chair for one person to unwind while reading. It resembles a couch with a backrest at one end, providing ample comfort.
Lounge
The lounger is a comfortable chair with ample cushioning that provides a pleasant spot to unwind and read a good book. Certain lounge chairs are sold in matching sets and usually come with an ottoman, allowing you to relax comfortably while yet putting your feet up to read.
Barrel
The barrel chair is shaped like a nail barrel with a characteristic curving back that occasionally has a part missing. It is a style of armchair that is reminiscent of mid-century modernism.
Rocking
A rocking chair is an excellent reading chair. It is designed on top of two curved bands, with the rockers coming in contact with the floor in two points that will allow you to swing the chair back and forth. However, the movement might not make reading as comfortable for some people.
Recliner
Reclining chairs are designed with a mechanism that lowers and raises the chair's back. It features a tilt-back backrest and, in certain cases, an extendable footrest that may be extended either automatically or manually.
Eames
Charles and Ray Eames designed the Eames Lounge Chair and ottoman for the Herman Miller furniture company in 1956. Constructed using plywood and leather, this chair is ideal for reading your favorite book.
Slipper
No, this is not an actual slipper, but it does have to do with shoes. Back in the day, this chair was often used by women whenever they wanted to put on their shoes or slippers. It is an accent chair that doesn't have any arms, meaning you are not confined to specific seating positions and can sit however you want.
Best Materials for Reading Chairs
When choosing a reading chair, comfort is critical. A rounded or high back provides ample support and creates a comfortable spot for you and your books.
Additionally, you'll want to take into account the upholstery material and size in relation to the actual seat and overall measurements, so let's take a look at the best materials for reading chairs.
Cotton
Cotton is a soft and sturdy fabric, although it is prone to wrinkle and is readily dirty. It's a popular choice for slipcovers, as the majority of cotton is machine washable. You're unlikely to find upholstery fabric made entirely of cotton — it's more likely to be a combination. Cotton mixes of the highest quality will often contain between 45 and 60 percent cotton.
Linen
Linen is a natural textile made from flax. It's silky smooth, luxuriously soft, and naturally shiny. While linen is naturally resistant to soiling and pilling, it is prone to wrinkling, making it more suitable to casual than formal settings. It is frequently blended with cotton to increase its flexibility.
Leather
Leather is a durable and easy-to-clean material made from animal hide. However, leather comes in a variety of grades, so search for top grain or full grain leather to assure you're getting the best.
Wool
Wool is a natural textile derived from animal hair that makes an excellent upholstery fabric. However, wool is known for being a scratchy material and pretty tough to clean if not used in a blend. As a result, you will mostly find chairs and other upholstered furniture that use a wool blend in the construction.
Polyester
Polyester is a man-made fabric that is rarely used on its own. It is frequently used in conjunction with natural fibers like wool or cotton. Polyester mixes offer durability, ease maintenance, and resistance to fading, creasing, and abrasion.
Velvet
Velvet fits into multiple categories, since it can be made from polyester, silk, or cotton. Polyester velvets are known for their increased durability, at least when compared with their natural equivalents. While velvet is very difficult to clean, it is notable for its softness, texture, and vibrant color possibilities.
Rayon
Rayon is a cellulose-based textile that was created as a substitute for cotton, linen, and silk. Although it is resilient, it is prone to wrinkles. It is frequently combined with other thread types to make a composite material suitable for upholstery.
Look for something soft and pleasant to the touch that's also durable and easy to care for. Make a choice based on any special factors that might influence this decision such as any pets you might have for example.
A great reading chair should also have comfortable armrests. These provide support for your book while you're reading so make sure the height and overall proportions are right for you. Then there's also the overall appearance of the chair to think about.
Things like the overall style, shape, color, the height of the legs and the backrest and other such details all shape the overall appearance of the chair and the way in which we perceive it. It's important to make an informed decision, one that you'll be happy with for a long time. With that in mind, we're hoping you can find your favorite reading chair among the ones described below.
Our Top 10 Reading Chairs Available on The Market
This is more or less the type of design we're picturing when first thinking about reading chairs. It's simple and has a classic vibe but at the same time it's super easy to picture this chair in a variety of different settings. The exposed wood base gives it a solid and somewhat formal appearance while the cushions make it seem super soft and comfortable.
smart-looking chair
Not a big fan of classic armchairs? Maybe a chaise would be a better fit for you. The Dillestone chaise invites you to relax and lie down with a good book and keeps you alert yet very comfortable. It has two support pillows and soft leather upholstery and it has a laid-back look without seeming too casual.
Dark brown
This is another example of a chaise lounge that could potentially serve as a reading chair. It has an aristocratic appearance and is defined by soft curves and rounded edges. It has fabric upholstery available in beige, teal, gray, red and ivory. The button-tufted seat seamlessly merges into the curved backrest, following the flowing line of the frame, supported by elegant birch legs.
textile
A comfortable chair such as this one needs to be paired with an ottoman in order for the setup to be complete. Only then can you really call this a reading chair. Both the chair and the ottoman have sleek metal frames which create a lightweight and delicate appearance. The chair is also built around a curvature true fiberglass shell covered in premium high density foam which allows it to retain its shape and to be comfortable for a very long time. The entire set is hand stitched.
Cashmere Wool Blend
The Alfred club chair retains a simple and classic appearance while at the same time being quite outstanding. The tufted diamond pattern on the backrest gives it an elegant and sophisticated look complemented by the studded trim. Together with the matching ottoman it becomes the perfect reading chair for spaces like the living room, office or bedroom.
tufted
The Burrow armchair and ottoman set also offer outstanding comfort which is very important for a reading chair but this time in a more imposing form. What's really cool about this furniture pieces, besides the design, is the built-in USB charging port which comes in handy especially if you're using your tablet or Kindle for reading.
leather
If you prefer fabric and a more modern design, perhaps this is the reading chair for you. It has rubber wood legs and an exposed bottom frame which contrasts beautifully with the brightly-colored upholstery. This comes as a set together with the matching ottoman. The seat is wide and curved, offering ample room for you and your favorite books. The armrests are also set at just the right height.
bold color
This armchair is higher and also more slender compared to everything else we described so far. It has a high backrest that's slightly wider towards the top and which gently transitions into two built-in armrests and a comfortable seat. The chair is designed to mold around the user's body like a warm embrace. It comes in six exciting colors.
mid century
Now this is a classic armchair is we ever saw one. It would fit nicely in a traditional living room or a rustic lounge area. It has leather upholstery and a robust construction which gives it a solid look. You can pair it with a footstool or an ottoman for added comfort if you want to use it as a reading chair.
Classic
A recliner chair could also work and this one has some pretty cool features. It has a powered lift system which uses a silent electric motor to push up the entire chair, making it easier to stand up. It also reclines to 140 degrees allowing you to stretch and relax. The built-in footrest extends, providing extra support. The power lift and reclining mechanisms can be easily operated via a very simple remote control with only two buttons.
Solid Wood Frame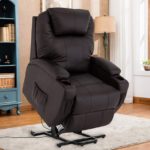 Lift Recliner Chair
There's also a built-in cup holder, a side pocket and front pouches so you can store your book and other things.
View Deal
FAQ
What is a good chair for reading?
A good chair for reading needs to be comfortable and offer cushioning for longer sitting hours, should have lumbar support to keep your spine in a natural position, and even large enough to allow you to switch between different positions to avoid strain.
Are club chairs comfortable?
The club chair is one piece of furniture that epitomizes comfort. Depending on the color and design, a club chair can be a substantial addition to any room.
Is Eames lounge chair good for reading?
Initially designed to provide comfort for console gamers, the design and ergonomics of the Eames chair also makes it a good option for reading.