How to Decorate a Living Room: A Top 50 Ideas Guide
The living room is a key space for many homes, simply because it's a place where multiple people tend to gather and, well, live. The living room may double as a party room, a study room, a music room, a reading room, a visiting room, an eat-in room, or it could be something else altogether. For these reasons, it's important that the living room is an engaging, inviting space that reflects your sense of style while still providing functionality in the areas your household needs it most.
Here are 50 ideas for how to just spruce up or completely decorate a living room. Enjoy!
Modern floral
Historically, floral print has gotten a bad "granny" rap, but it has come to the forefront of chic décor in recent years. It's the perfect time to incorporate floral into your living room décor, whether in small doses (e.g., a simple bloom in a vase, a throw pillow) or large (e.g., rug, upholstery, window treatments). Feel free to mix patterns with the floral to bring out a contemporary vibe.
Nature au natural.
Sure, you can use a standard wooden coffee table to introduce natural elements into your living room. You can also go a step (or three) beyond and completely infuse the space with nature – a coffee table made from the cross-grain cut of a tree trunk on top of a jute or other natural fiber rug, surrounded by linen upholstery.
Gallery collection.
Whether your choice of display is picture frames, shadow boxes, under-glass mounts, or anything else, a gallery wall is a spectacular way to display a collection in the living room. There's something about the structure of having identical frames (one method, anyway) for similar but slightly mismatched objects that is really appealing visually.
Humor in the details.
Whimsy, quirk, or even eccentricity…these are all perfectly valid descriptions of great living room décor. The trick is to balance the humor with maturity. One or two funny details amid an otherwise grownup space is enough to get your point across.
Punchy lighting.
Bring out your inner Lite-Brite artiste by incorporating some cut-out lighting into your living room. The light itself provides fantastic design, and a bonus is the interesting shadows such lighting provides.
A single focal feature.
While a great living room will contain many noteworthy design elements, you might want to design your space with a singular focal feature. This could be the fireplace, a piece of furniture, a window, or a piece of art. Play off of that feature, and let the rest of your space follow suit design-wise.
Houndstooth for dog-lovers.
If you love your canine(s), let it show! Pull off a little play on words (and style) by incorporating houndstooth pattern on an object featuring your favorite pet. A Victorian style armchair provides great balance to the throw pillows.
Interesting mirror.
Mirrors are fantastic design components for bouncing light around a room. But don't be afraid to make the mirror itself stand out, above and beyond its light-enhancing characteristics. A unique shape, a gorgeous frame, or both can make the piece an absolute show-stopper.
Alternative taxidermy mounts.
Mounted animal heads have been trendy interior décor for a while now, although the look of these mounts has changed over the years. No longer is the actual head of an animal needed; opt instead for another (humane) version, out of wood, cardboard, or anything else in a huge variety of animal silhouettes.
Non-traditional wall clock
It's not your grandfather's clock, that's for sure. Wall clocks for the living room can be as delightfully airy as a grandfather clock is studily grounding. Consider installing a seamless clock directly onto the wall, with hour markers in figurines you love.
Nautical touches.
Rope, navy, and porthole-type windows or mirrors are all ways to give your living room a rustic and/or preppy (aka nautical) flair. Lamps in particular are a prime rope-friendly accessory.
Fantastic fringe.
Fringe is a hot trend right now. From booties to jackets to purses, fringe is everywhere. Why not incorporate it into your living room, too? A tiered, fringed ottoman is a showstopper and a simple way to fling style to the forefront of your living room space.
Abstract with traditional.
Whatever your style or design tendencies may be, they can almost always be enhanced with a tasteful inclusion of elements of an opposing style's. A stately tufted linen chair back, for example, is set off strikingly by a black wall…and a modern abstract lighting fixture directly above it. Have fun with this concept!
Oversized art.
There's art, and then there's wall-sized art. The latter certainly tends to be higher on the eye-catching factor. You can use color in huge artwork to amp up the visual focus, or grayscale to tone it down.
Accent wall.
Sure, we've seen and heard of this for a decade or more, but it's time to step up the accent wall. Bold patterned wallpaper takes center stage as an accent wall in the living room, but be sure to take advantage of the opportunity for depth in layering in front of the wall, like this Jonathan Adler setup.
A ray of sunshine.
Regardless of the actual weather surrounding your home, a bit of cheery yellow in the living room generally works like a charm to up the friendliness and energy of the space. (Add a flower power area rug, and you're really getting somewhere.)
Trays for days
Trays will never be a bad thing in the living room. They add instant order and organization within their short-walled confinement, even if they contain a somewhat haphazard collection. Throw in a punchy color or cool texture for ultimate appeal.
Sheepskin glam.
Sheepskin and/or other faux fur textiles are not hard to come by these days, and for good reason. They add a touch of glamour to the living room without going over-the-top. You can buy pieces already done for you, or this is an easy design idea to DIY on furniture, pillows, throws, or whatever else.
Patterned furniture
This the season for patterns, and your furniture is not exempt from such a design choice. The great thing, well, ONE of the great things about geometric patterns in particular is that they can read as neutral, due to their repetition and structure. Just stick with a neutral color palette, and you're good to go.
Colorful for the kids.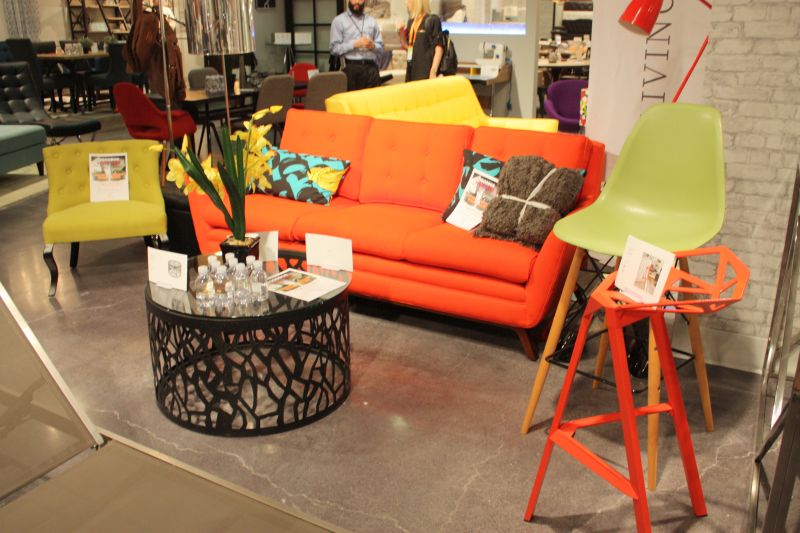 The living room may be an adults-only space…but it's just as likely to be a room that kids share as well. Incorporate vivid, colorful décor that all generations can appreciate. This includes a variety of seating options in a variety of colors.
Outdoor furniture.
Can't get enough of patio living? Recreate the relaxed summer vibe all year long by bringing the outdoor furniture into your living room. The look is casual and welcoming and carries a breath of fresh air no matter the season.
Tiny table.
Create a cozy conversation nook with a tiny table and a pair of comfortable chairs in the corner of your living room. But more than that, the table allows for more than just conversation. Think: card games, late-night shared snacks, drawing, team Sudoku, you name it. The perfect living room getaway space.
Lucite.
Also known as acrylic or clear plastic, lucite is the epitome of design glamour. It is both stunning and visually lightweight, a focal feature and invisible. Such juxtaposition is key to its sophistication. Use it on furniture, such as a coffee table or side chair, or on smaller accent pieces throughout the living room.
Positive negatives.
A "negative" in the design sense is two patterns that appear opposite each other in color while remaining similar on all other fronts (for example: white with a hint of black vs. black with a hint of white). The comparison of negative images is quite striking, and you can definitely use this to your advantage in creating a bold and memorable living room.
Glass coffee table.
Surrounded by the largest furniture in your home aside from the beds, a coffee table can either be designed to hold its own visually or to blend in and let the sofa and sides be the focus. A glass coffee table is a lovely way to achieve the latter effect. The "invisible" table still allows for plenty of personality, though, such as funky table legs or other tabletop décor.
Monochromatic palette.
Choose one color (generally a neutral hue), and use that as the foundation for your monochromatic color scheme for a soothing, inviting living room. Use texture, shape, and height variance within the palette to create visual depth and interest. (Check out other tips for designing a monochromatic space here.)
Cross-decade décor.
Combine great design from multiple style decades, and you'll create a visual feast for all who enter your living room. Colors from the 70s, shine from the 80s, and a mid-century twist on all of it for a fabulous room to entertain and live in.
Sky blue.
Coastal, beachy, and Cape Cod are all knee-jerk reactions to a space that involvesa sky blue element or two. The tint is serene, relaxing, andfriendly – everything you need for a comfortable living room for the people you love most to want to gather.
Sunburst décor.
We've all seen an increase in the presence of sunburst mirrors over the past decade or so; many of us might have one or more in our homes right now. But if you love the sunburst vibe and want to avoid being trendy, you have plenty of options. Consider the sunburst cut in a coffee table, for example, or a sculpture or painting for your living room for a more unique twist on the popular silhouette.
Luxurious velvet.
Regardless of your style, velvet can almost always be interwoven into your scheme to bring a touch of luxury to the space. Really make it pop on a unique silhouette, and punch it out with some nailhead trim for ultimate glamour.
Pair of chairs.
Positioning matching pairs of club chairs, arm chairs, or even dining chairs in the living room is an excellent way to incorporate intentional seating and design at the same time. While a red sofa might overwhelm your space and your senses, a matching set of red chairs introduces the same color but in a more versatile (and smaller-scale) way. Chairs are generally less expensive than larger furniture pieces, so you can be a little more bold with their upholstery as well if you want.
Unique sunburst.
If you love a sunburst mirror but love your individuality even more, consider alternative ways to showcase or create a sunburst effect. Painted metal or wooden branches, for example, spreading outward from a round mirror look gorgeous and produce a one-of-a-kind spin on the sunburst mirror concept.
Bench seating
Sure, a bench is not the same as a sofa. But in the tiny space that might be your living room, seating options become quite limited. If you want or need to squeeze in more seating without overcrowding the space (either physically or aesthetically), a great padded bench might be the perfect solution.
Library-ish.
Wall-to-wall bookshelves aren't a preference or possibility for many living rooms, but this doesn't mean a living room must be devoid of books altogether. Consider small-scale bookshelves, or ones with a cool architectural design, to provide functional book storage as well as artsy appeal.
Flat surface ottoman option.
How many times have you wanted to set a drink down but haven't been able to find a convenient flat surface in the living room? If you love a soft ottoman but want the functionality of a hard, flat surface as well, consider building custom "table-tops" to fit snugly over your ottoman. These can be used every day or pulled out for special occasions, whatever you prefer.
Industrial.
I don't know that that's an actual thing, but it should be. Amp up the energy and light-reflective surfaces in your living room with some metallic pieces. It could be an entire side table covered in stainless steel tiles or something as simple as a brass lamp, but shiny metallic pieces are a great addition to many living rooms.
Deconstructed art.
This would be a simple DIY, and the effect is perfectly imperfect. Pair a deconstructed piece of wall art with some mixed patterns throughout the living room for a totally effortless sense of quality style.
Floor lamp.
Floor lamps, with their larger frames and greater presence, make an excellent lighting option for the living room. They provide great task lighting near the comfortable seating and can be easily moved around (unlike most wall sconces) if you're a chronic rearranger. What a fun way to introduce a statement piece!
Cowhide.
It's not just for rustic décor anymore. Cowhide prints or faux hides themselves are a neutral and amazing textile to incorporate into your living room in a variety of ways. Rugs, pillows, or the furniture itself look great as cowhide. The versatile stuff pulls off a look of chic, rustic, industrial, traditional, contemporary, eclectic, farmhouse, and so much more.
"Elbow" patches.
Wait, what? Elbow patches in the living room? Yes! If you can swing it, incorporate the idea of elbow patches onto your furniture arms or even legs. Add them into artwork or sculptural pieces. What a funky, scholarly twist of design!
Tresuseful trays.
Whether you're after a device that contains the clutter or a subtle spotlight on a beloved piece, trays just might be your living room's new BFF. Use multiple trays stacked together to create a self-contained vignette (at the ready to be useful, too!), or spread them out to form a horizontal gallery of sorts. Or just use one tray that does the job you need it to do.
Whispers of red.
While red is an energizing color, a little bit of the hue goes a long way. To enhance the aesthetic vitality of your living room without approaching visual assault, use a whisper or two of red somewhere. Just a touch in a piece of art or on the back of a chair, for example, is all you need to add the pop.
Mismatched sectional.
Turn those hand-me-down sectional sections into a chic, contemporary piece by decorating the space around them. Use a cool color (e.g., the lavender walls and tables here) and funky accents (e.g., the throw pillows and wall graffiti) to make the unexpected something appreciated and enjoyed.
Tropical treasures.
Palm fronds, flamingos, hibiscus, you name it. Add a touch or two of tropical print to turn your living room into a perfect getaway (without the jet lag).
Tall ceilings.
Fewer architectural decisions expand a space visually than a heightened ceiling, and in the living room this strategy is particularly effective. What's more, a higher ceiling often means more opportunities for gorgeous pendant lighting. That's a design win-win.
Farmhouse chic.
While farmhouse, French country, and rustic styles can use similar decorating materials and tactics, they aren't all the same thing. Throw in a weathered metal magazine stand next to your tufted velvet sofa for delightful juxtaposition and styling. The casual atmosphere is still approachably luxurious.
(Fake) window boxes.
What better way to add living greenery to the living room than with window boxes…mounted onto the living room walls! Be sure to opt for low-light indoor plants if you choose to do this, such as philodendrons, ferns, or others with great leafing potential.
Dark, moody wall.
This brings a touch of the dramatic to a more contemporary space. Or it brings a modern edge into a more rustic or retro one. Either way, a dark wall in the living room is chic and unique, and it brings with it tons of decorating and layering options. We'd recommend limiting it to just one wall, unless your space is filled with tons of natural light.
Lightweight wall divider.
For the open floor plan, where the living room flows seamlessly into all the other spaces, you might desire a little separation. An open-backed shelving unit, floating as a wall divider, provides an excellent intuitive barrier without disrupting the flow. Frankly, the flow is one of the key appeals to an open floor plan, so it's a good idea keep that going strong.
Black and white.
Eternally classic, it really is hard (perhaps impossible) to go wrong with the black-and-white color palette. That being said, it's also important to temper the starkness of the contrast, particularly in a living room, with some other rich, warm tone. In this case, the deep plum carpeting works wonders and lets the color scheme pop without being harsh.