New Designs and Hand-Crafted Pieces Featured at NY NOW
Hand-crafted furnishings by small artisans and furniture and accessories from major brands were both part of the mix at NY NOW, a design show for home, lifestyle and gifts. Homedit.com check out the offerings and found a variety of new and stylish pieces to show you.
We showed you some works from designer Anna Karlin that she exhibited at ICFF2016, and we were excited to see her again at NY NOW. We love her Element wall hangers, which come in three shapes of brass rings hung from leather straps. Used individually or in a set, the versatile pieces can be used as towel holders to display textiles.
Like a slice of geologic history, these crystal slab tables with druzy accents are one-of-kind. The pieces drew a large crowd, with everyone clamoring to touch and examine the sparkling pieces. Created by Anna Rablabs, the tables have a modern base that makes the ancient tables current. Her line also includes sparkling gemstone accessories and occasional tables.
Amid all the new pieces, Homedit was drawn into the Authentic Models booth, where vintage looking lamps, tables and accessories beckoned. From repurposed ship's lamp to vintage airplanes, the offerings include all kinds of luxury pieces evocative of a bygone era. Any family room would be a great spot for this fabulous game table that contains game board options in cherry wood or classic leather.
The lucite trays and accessories from Alexandra Von Furstenberg have always been a draw and we were very excited to see the latest additions to her line, which include this lidded ice bucket. Here, the lid is turned up, where it can be used to hold sugar or salt for rimming a cocktail glass. Seeming to glow as if lit from within, the pieces are actually just accented with neon color and the nature of the lucite provides the ethereal look.
Small maker Camino of San Francisco presented a new design collection by the Danish design team Hans Thyge & Co. This chair has a very interesting structure, balanced on three legs and a winged, oval wooden seat.
Happy and colorful, Canopy Designs' mod chandelier is pure retro fun. The company produces stunning light fixtures of various styles. It describes its design as "often steeped in an antique French and Italian sensibility" accented with unexpected materials. Most all its products are produced in a New York factory just outside Manhattan Hotel.
Simple yet amazingly useful, this vessel by Chen Chen & Kai Williams is called the Third Eye Vessel. Fashioned from onyx, it is designed for your desk or a table, to be used for books, magazines, or small items. The New York-based company creates furniture, home products products, interiors and materials.
These stunning brass pendants are from Dounia Home, which aims to bring Moroccan design to the world. Founder Dounia Tamri-Loeper was born and raised in Morocco. The company's goal is to empower the artists who produce their pieces. Dounia works directly with artisans in order to pay them higher wages. The fixtures have a lovely shape and the perforated metal emits a beautiful patterned light.
Big, beautiful tinted bottles form the basis for these pendant light from Europe 2 You. The company, which transforms utilitarian objects into treasured pieces for today's modern home, was founded by Joseph and Stacy Borocz. The couple's passion for European history and design drives their collection of iconic originals and vintage inspired re-creations.
The Galaxy Cocktail Table from Interiors by Royale is a stunning work that features textures and color in acrylic. The company produces a wide range of acrylic styles in all-clear styles, partially upholstered, or colored acrylic.
Leather sling chairs are a common item but this one from Jan Barboglia has extra style thanks to the shape and the stitching. The Silla Trenzada Saddle Chair comes in different colors and has a hand forged iron base. The seat and ottoman are made from English Brindle saddle leather. Founder Barboglia began her career as a clothing designer before sculpting accessories and furniture for her own home. One thing led to another and now her designs are widely recognized.
There's nothing like a daybed to convey elegance and this one from Jonathan Adler is extra fun thanks to the whimsical pillows that ornament the elegant piece. The gold frame and gracious legs of the bed add a touch of bling. Adler's designs never disappoint.
Kathryn McCoy's unusual gem stone lamps are one of the more different collections we have seen lately. The designer uses the finest stones sourced from around the world. This is her Kenai lamp created with chunks of selenite. McCoy also creates home accessories from these fantastical stones.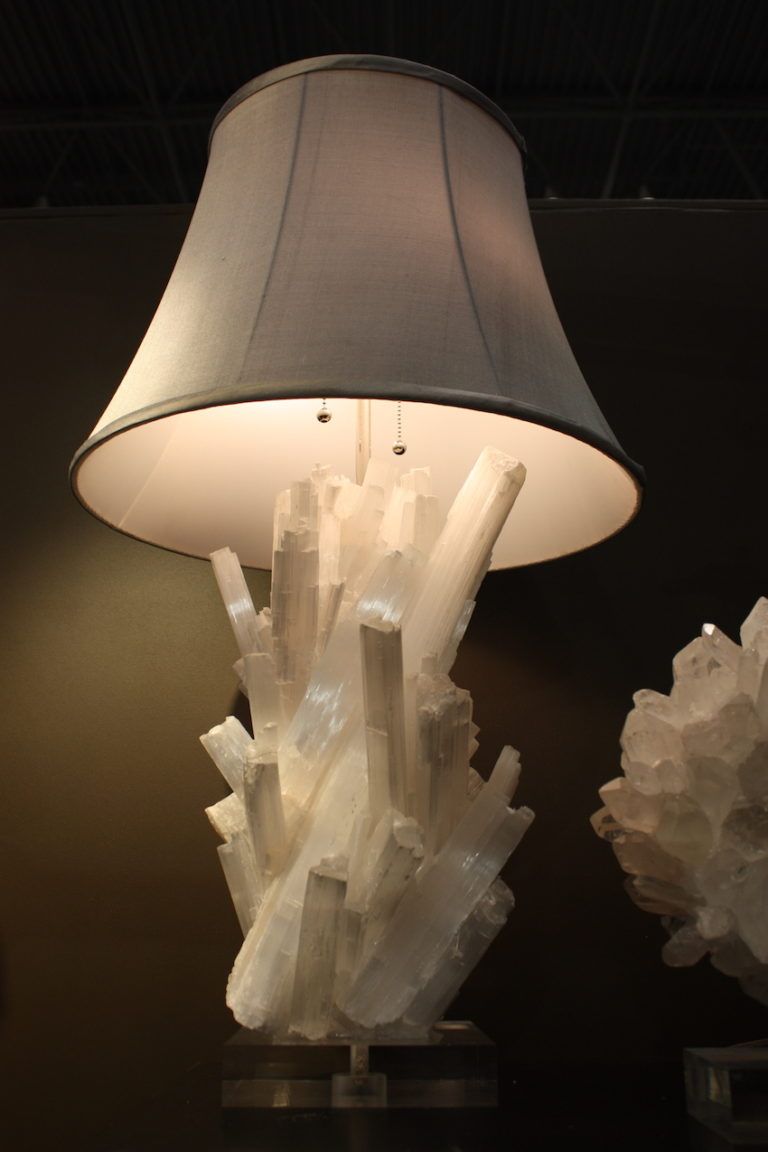 Kifu Paris creates unique objects that form a lifestyle, such as this occasional table or stool. The unique three part construction gives the feeling of a living, fowling object. The design house is know for using exotic or unusual materials, and combining them in new ways.
This rustic chair by Made Goods is made from mangled wood is a really interesting piece. The rustic legs and rough edges contrast with the smooth seat and chair back. Either as an occasional chair or as a dining chair, it would be a great addition to any room.
Among the purveys of African goods, Mbare stood out not just for its products, but also for its support of native artisans. The company imports African art made from natural and recycled materials by makers in Zimbabwe,  South Africa, Swaziland, Niger and Senegal. The name comes from the Shona People of Zimbabwe and means "a gathering of things." This setting includes unique and stylish furnishing, accessories and art works.
Michael Aram creates handcrafted pieces and no two are ever alike. His Skeleton Chair is part of the Flights of Fancy Collection, inspired by imagery from classic storytelling. The cast chair is done in in polished aluminum and will be a conversation starter no matter what room you put it in.
When you think of leather home furnishings and accessories, lighting doesn't immediately come to mind — especially chandeliers. This stunning fixture from Ngala Trading Company is made from leather by African artisans. Launched in 2013, the interior design and home furnishing business in Johannesburg, South Africa gained popularity for American designs with an African twist. 

We've seen lots of pendants lately, but were taken by these from Pigeon Toe Ceramics. The colored ceramic elements in combination with the brass sections make for a handsome lighting fixture with a bit of a masculine feel.
NY NOW presented lots of home accessories and this tray from Provence Platters stood out as different and special. Fashioned from disassembled steam-bowed oak ribs and cambered end pieces from wine barrels, the platters are enhanced by their aged appearance and the markings from the barrels. the food-safe pieces have wrought iron hand-forged hardware
Roll and Hill's Bounce table lamp is quirky and modern, with its folded aluminum shade. The inside of the shade is white to help reflect the light, and the outer side has a decorative wood veneer. The company, founded in 2010 by Jason Miller, features the talents of independent designers.
We just loved this display from Roost Lightology that combines artfully draped glass balls and gilded pendant lights. The company is know for its modern home furnishings, lighting, and accessories produced in a "small craft production environment."
Spectacular side tables like these are a modern and elegant accent for any space. From RY Augousti, they feature stone that seems to float inside the metal table frame. Ria and Yiouri Augousti launched their label at a show in Paris in 1990.  they opened their first store in Paris' 6th Arrondissement in 1994. All of their pieces art sophisticated and artful.
Another accessory that caught our attention is Serving Slabs. By upcycling the small pieces of granite and marble that home builders typically discard, the company gives new life to the stone through trays, candle holders and other service accessories. Creator Derrick Neikam started making the slabs as gifts for friends and family and from there the business grew. The company estimates that on average, it diverts 15,000 pounds of granite each month.

Tommy Mitchell's stunning light fixtures feature a collection of metal butterflies, all contained in an acrylic box. The gorgeous pieces are available in different metal finishes. If you don't care for butterflies, you can choose, ginko leaves, medallions and clover clusters. This design is also available as a table. In either form, they're gorgeous.
These wall hangings from Victoria Lekach are actually placemats. Lekach's company focuses on elevating the dining experience for family and guests. Her creative and elegant designs made from acrylic, PVC and mirrors are perfect as modern, graphic wall pieces as well. Miami-based Lekach says all of her designs have a unique story behind them, adding to their special nature.
These lights are what propelled Zenza Home Accessories to fame. The gorgeous, ethereal, perforated shapes are made from nickel plates brass. From one small table lamp to a whole arrangement of pendants, the metal fixtures will add a touch of the exotic to your living space.
NY NOW has a great collection of accessories and furnishings, both from large companies and small hand crafters. There was no lack of exciting new designs to choose from.