Las Vegas Market Showcases Cool Lighting of All Styles
We just love great new lighting designs and Homedit saw plenty at the 2016 Las Vegas Furniture Market this month. From modern and glitzy to rustic and casual, there were plans unique pieces as well as variations on many lighting themes. Here are some of the highlights.
Currey & Company had countless stunning chandeliers, and we really like this Ringmaster Chandelier. It's not among their newest pieces but it is bestseller for the company. The fixture is is cold-forged with gold leaf is covering the elegant curves of wrought iron.
Los Angeles-based Artecnica collaborates with established and emerging international designers to create inspiring decorative objects for the living environment. The company also has a Design with Conscience program works with artisan communities in developing countries to produce unique handcrafted objects that reflect indigenous skills, says the company's Facebook page. The white pendants below are crafted from Tyvek, which is light, pliable and much more durable than paper.
In the category of unique pieces, Artmax had its "Lady with the Hat" sculptural floor lamp. the company's take line is "High Fashion of Home Furnishings." Richard & Maria Chan, co-founders, of the company provide quality products and original designs. This handmade floor lamp is antiqued gold with copper and metallic brush and a resin shade.
One of the trends was a fixture within a fixture. Chandeliers in cages, pendants in mesh, and pieces like this, with an industrial pendant inside another construction. This is the Gas Station Polyhedron Pendant from Bobo Intriguing Objects.  

Here's another example of the double fixture — a caged chandelier from HTD Direct. This one is more formal that the previous one, yet the birdcage keeps it whimsical and diminishes the level of formality.
The Mundo Chandelier from The Phillips Collection is same double fixture format in a glitzier style.  The modern filigree cage encloses a spectacular column of hanging crystals that provides a big does of subdued sparkle.  Perfect for adding elegance to any room in your home, from the bedroom to the living room.
Leather and hair on hides were common, including on lamps. This is the Laramie Lamp from Bungalow 5. The traditional metal desk lamp gets a modern twist with the unexpected use of leather in a lovely shade of gray blue. Details like the contrast-stitching are a nice touch.
Bobo Intriguing Objects also featured a leather fixture — the Leather Cone Pendant. It is made of aluminum and leather, also with sticking detail, and hangs from a chain.
These uniquely shaped, slightly industrial pendants are the Steampunk Pendant, also from Bobo. They would add just the right amount of edginess to any room.
The company's Seaside Rope Chandeliers are also indicative of the rustic trend. The iron frame has a natural rope drape instead of chains or the usual bling.
A mass of oak pendants from Bobo included the Stacked Oak Pendant, Tiered Oak pendant and the Asher Pendant, reminiscent of a landing flashlight.
Rustic or "farmhouse chic" was plentiful. This is the Farmhouse Chandelier by the The Bramble Company, which manufacture all of its products by hand in our own factory in Indonesia from start to finish.
We love ourselves a great trug, and it's even better when it's turned upside down into a light fixture. This rustic one from Go Home Ltd.  is perfect to go over a table in a country-style kitchen or dining room.
Farmhouse chic with a feminine touch!  A scalloped edge on this rustic pail-turned-pendant from the Park Hill Collection adds an unexpected soft touch. The company's ware are said to be "a gathering of objects selected to bring to mind happy memories of childhood."  Indeed, their collection of stylish home decor and furnishings evoke a simple and happy time.
The same goes for their wire basked lamp ringed with frayed linen. The simple design is laid back, unexpected and informal.
This wonderful rustic pendant is from Classic Home, a division of Classic Concepts. The company's collection ranges from hand-crafts to one-of-kind pieces that are globally inspired, timeless in character and focused on eco-friendly and sustainable production and sourcing.
We also like this old-fashioned, rough drum pendant from Go Home Ltd. It would be a fun touch for a child's room or a casual family room or library area.
At the opposite end of the spectrum is the Dante Gold Leafed Pedant from Codarus. We were immediately drawn to the warm, gilded layers that emit spectacular light.
Chandeliers of all types died for our attention. This is the uber casual Driftwood  Chandelier from Creative Coop. While it would of course be perfect for a beachside retreat, it would also be appropriate for casual rooms of many styles.
Another bestseller from Currey & Company is the Stillwater Chandelier. Instead of beads or bling, strands of natural oyster shells dangle from the Blacksmith finished wrought iron framework. No matter where you hands this, it will remind you of the ocean.
Adding a pop of color with a light fixture can be an unexpected way to highlight a space. Cyan Design showed plenty of colorful — as well as more blingy but neutral — lighting options. The Bella Vetro Chandelier made of Murano glass comes in a range of bright colors that are sure to make a lighting statement.
Another colorful chandelier was this one from A&B Home. Can't decide on a color?  You don't have to because you can have them all in this multicolored beauty called the Tallie.
For a more modern dose of colored lighting, the Numen Light from Seed Design is just the ticket.  The Numen lights up differently every time you turn it on and you can change the conical shape to suit your whims. Made from silicone rubber, the lamps stay lit for a full a 20 minutes after its light source has been turned off.
One of the more intriguing showrooms was Luna Bella of Miami.   This large chandelier — The Calais — was a bit of steampunk mixed with crystal and art deco features.  Large and dramatic, it would be spectacular in any room. Designer Teresa Costa mixes "industrial chic with a mechanical elegance and contemporary-vintage flair"  and the results are fantastic.
Amid the massage collection of the Moda Dora Group, we spotted these vinyl lamps from Italy, that are available in a variety of prints. These are definitely a little fun and very funky.
Also at Moda Dora, we found this super pendant in the shape of a good, old-fashioned incandescent light bulb.
The dreamiest bedroom lighting we saw was this setting in the Nick Alain showroom. His "industrial Steam Punk with a classic twist of delicate sophistication" was evident through all his products.  In fact, we had a hard time leaving the booth.
Zeroing in on this beast of a light fixture from distance, we couldn't stop staring.  The dramatic texture, combined with the luminous interior made for a commanding pendant. It is the Cayman Rattan Hanging Pendant by Palecek.  It has a  metal frame with hand-cut rattan sticks in a  natural finish. This would be great in a minimalist living room, a stylish bedroom, or even a family room.
These elegant fixtures are from Pangea Home. The Clara Chandelier adds a bit of mystery and dark glamour, thanks to the multitude of draped chains.  The fixtures — available as floor table, and hanging lamps — are showy without being too shiny or ostentatious.
While there are plenty of Edison bulb pendants to choose from out there, this assemblage from Peacock Park Decor was really eye-catching. The novel light elements inside, combined with the amber glass, give off a remarkable glow. The company is a wholesale distributor of chic European home decor and decorative accessories with an inspired antique edge.
This modern twist on a crystal chandelier is a spiffy way to add glitzy lighting without the high formality that traditional versions provide.
These Starburst Pendants from Revelation by Uttermost provide a little bit of gilding with a big dose of glamour. Rather than the usual smooth spikes or arms, the pendant features starburst blades that are done in antique gold leaf, which according to the company helps  "mix the mid-century feel with an old world feel."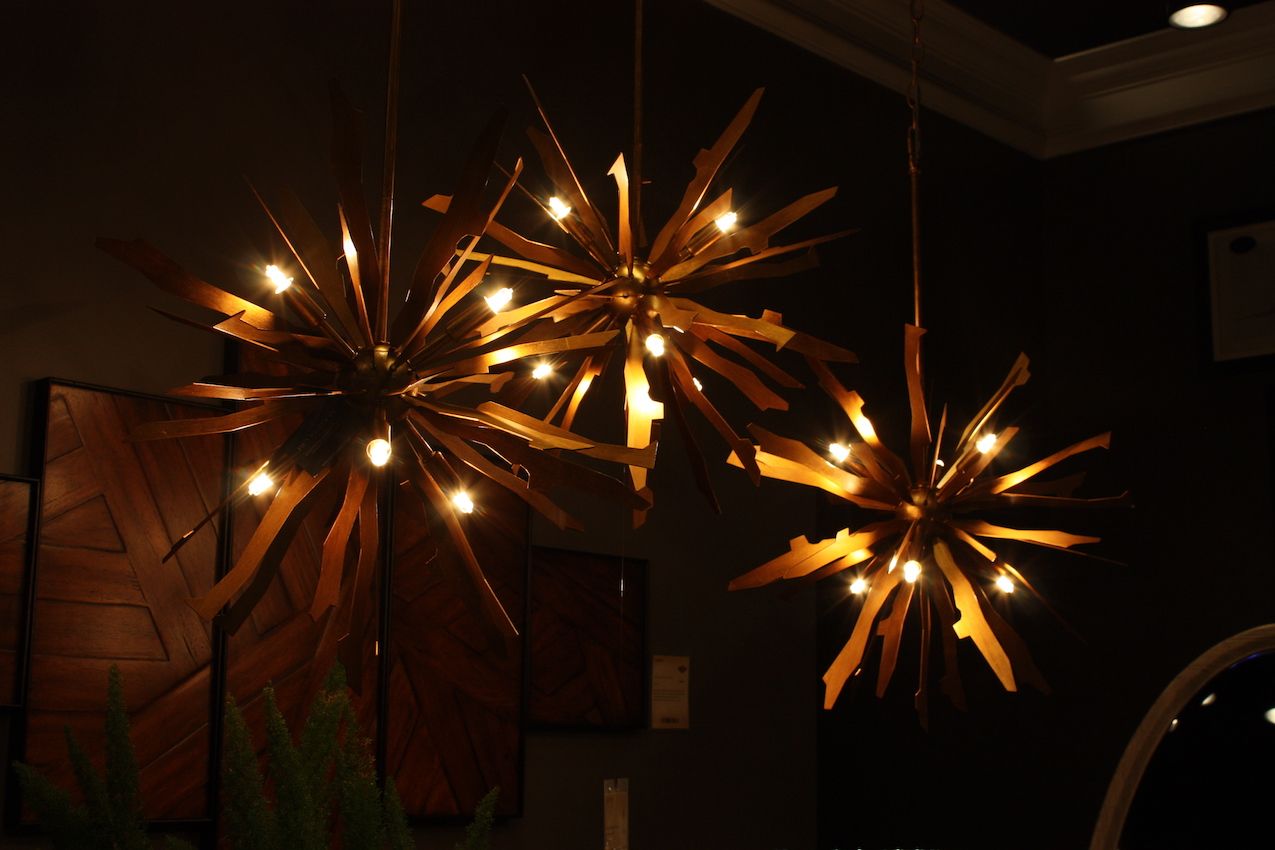 Viz Glass showed this hand-blown chandelier that has lots of shine without any metal.  The tangle of glass tubes makes for an elegant, modern fixture.  The company's glass pieces are all handblown in the family owned factory in a region of China known for its glassblowing history and skills.
This branch chandelier from Wish Designs is the polar opposite in style from the the previous chandeliers we showed you, but it's no less intriguing or stylish.  The company is thriving thanks to its customers who want a unique, rustic piece of lighting as well as event companies who use these fixtures by the dozen for chic, casual weddings and other social events. Wish Designs was founded by entrepreneur and designer Deanna Wish in 1978 with one bentwood hickory rocker sold by mail order. Lighting has not become the the company's main focus.
Last but not least, we're suckers for outdoor lighting and couldn't resist spending a good amount of time with the colorful lighted indoor/outdoor trees from Arclike. The company has an amazing array of LED trees and lamps the can be used to create stunning lightscapes for homes, gardens and events.
This is quite a wide-ranging array of lighting, but barely scratches the surface of the cool lighting fixtures that Homedit saw on display at the Las Vegas Market.