65 Home Library Design Ideas With Stunning Visual Effect
Having a home library seems so classy and distinguished. In fact, that image of a room with antique furniture and lots of books, a desk, and sliding doors is not the only type of interior design a home library can have. So try to distance yourself from the cliches and come up with your own innovative ideas. We thought we could be helpful, so we've gathered 65 home library ideas you might like.
Home Library Designs To Suit Every Size of Room
1. Have high ceilings? Use a ladder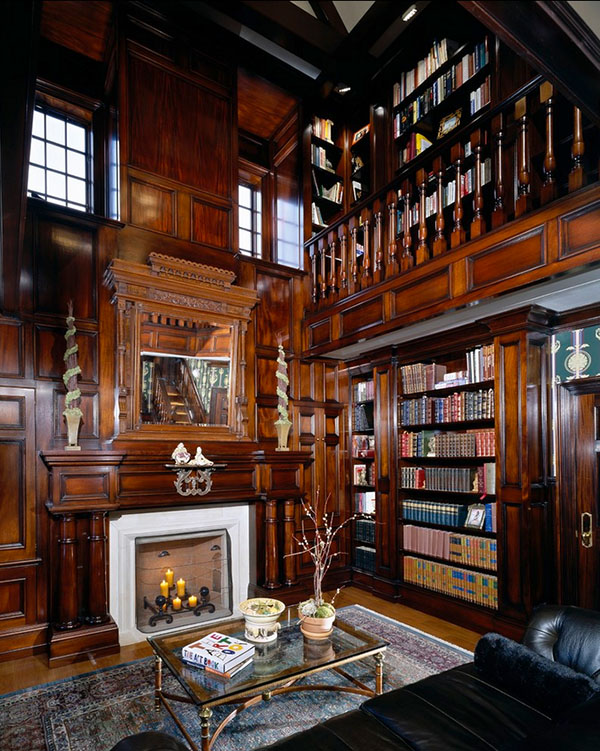 >2. Use the staircase walls as bookcases
by Eric Roth
3. A Symmetrical Library Design
by Dan Mayers
4. A Colorful Library Ladder
5. A Professional Home Office for Working From Home
by Peter A
6. Place Bookshelves Above Your Door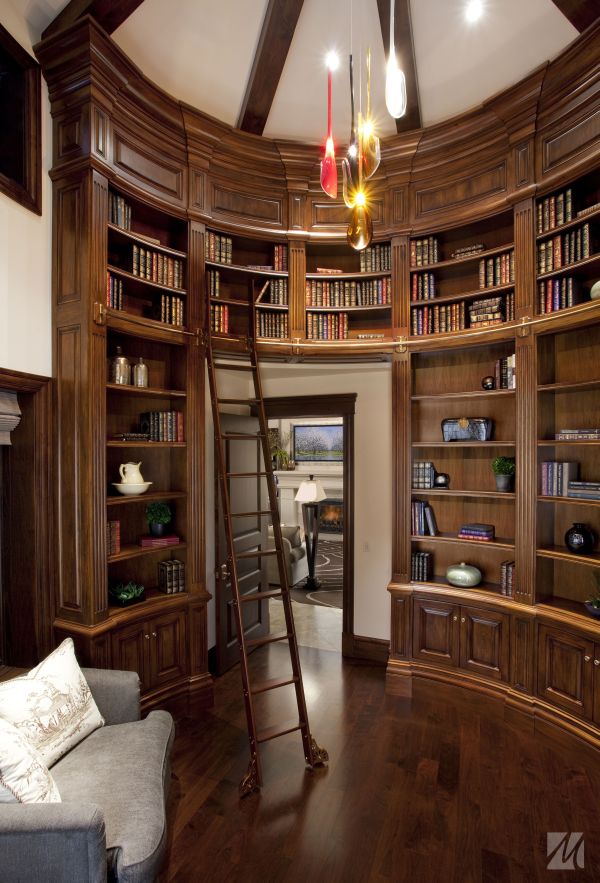 by Magle
7. Cover an Entire Wall with Books
by David Duncan Livingston
8. A Practical Ladder for a Large Library
by Tim Street-Porter
9. Turn An Interior Staircase Wall Into A Bookcase
by Slic Interiors
10. A Home Library in a Media Room
11. Include A Desk In Your Bookcase Wall
12. Display Your Books Above a Door To Make the Most of Your Space
by Louise Lakier
13. A Tall Bookshelf System In An Open Floor Space
14. Create A Cozy Reading Nook In A Window Wall
by Kazart Photography
15. Fix The Ladder To The Bookcase Wall
by Rob Karosis Photography
The high ceilings give the home library a professional and classical look. They remind us of the public libraries with bookshelves that go up to the ceiling and you would need a ladder to reach them. That's exactly what you should do. A ladder can look interesting in a home library and it also allows you to use all the space available for storage.
16. Bookshelves Under The Stairs
by Griffin Enright Architects
17. Cubbies Built Into The Staircase Wall
by Reid Rolls
18. Transform The Window Under Your Staircase Into A Cozy Reading Nook
by Hand Werk
If you're lacking the space for a home library then you can improvise. Don't bother combining functions and including bookcases in your living room's design when you have a staircase. The space under the stairs or even the staircase walls are perfect for this purpose.
19. Home Office Libraries
20. A Gray Home Office Library
21. An Open Plan Home Office With a Library
22. A Home Office with a Sitting Area
by Leonas Garbacauskas
23. A Casual Yet Professional Home Office
24. An Elegant Wood Office with a Library
25. A Traditional Home Office With A Library
When you think about it, home offices and home libraries have lots of common. So why not combine the two into a single space? You could have a desk, a reading corner, a tall bookcase and plenty of storage space. Turn this room into your sanctuary and work space.
26. Reading Rooms
by Lee Jean-Gilles
27. A Comfy Sofa for Reading and a Nap Area
by Lincoln Barbour
28. A Beautiful Spot to Read and Admire the Views
by Robert Benson
29. An Attic Reading Room
30. A Reading Sanctuary in Your Home Office
by Practically Studios
31. Turn Any Free Space Into a Reading Corner
32. Add Two Reading Armchairs to Any Space
33. An Ottoman Instead Of A Coffee Table
by Aaron Leitz Photography
34. Give the Ceiling a Magical Makeover
by Jauregui Architect
35. Create a Reading Corner in Your Family Room
by archia Homes.
36. Practical Open Shelves To Make Your Room Seem Bigger
37. Add Cheerful Wallpaper to Brighten Up Any Space
by Annie Schlechter
38. Use Dark-Stained Wood for a More Traditional Look
by Mariko Reed
39. Add Bold Artwork or Furniture to Any Space
by Jacob Termansen Photography
I used to love reading books so I can understand why someone would want to have a reading room in their home. It doesn't have to be a big space. A tiny room with bookshelves on the side walls and a cozy sofa or chair in between would be just perfect. Choose a book, sit down and enter the mysterious world of imagination.
40. An Upstairs Home Library
by Josh and Neal
41. Create a Unique Display With Open Shelves
In a loft, a hallway is formed as you go up the stairs and reach the top floor. That space is perfect for a home library or reading area. Just think about it: some bookshelves on the wall and an armchair or a bench would turn that space into an extra room.
42. Modern Home Libraries
by Griffin Enright Architects
43. Floor-To-Ceiling Glass Walls For More Light in Any Room
by Jim Bartsch Photography
44. Brown Décor for a Simple yet Classy Look
by Markash Design
45. Create a Home Library in Your Entryway
by Moshi Gitelis
46. Create An Intimate Reading And Sitting Area
by Benvenuti and Stein
That typical traditional design we all have in mind with wood panels on the walls and brown all over the room doesn't really apply to modern interior designs. If you want a home library in your modern home, then you'll have to get creative. It can be an open space off the living room or it can be a cozy corner with access to the terrace.
47. Bookshelves Above The Door
48. Make The Most of Even the Smallest Spaces When Adding a Home Library
49. Install Bookshelves In The Kitchen Or Hallway
50. Design A Wall Unit To Suit Your Space>
51. Create a Seamless Home Makeover
by Rob Karosis
52. Make the Most of Smaller Rooms With a Home Library
by Julie Ranee
The space above the doors is perfect for installing bookshelves. It normally remains empty so, if you want to save space, this would be a great way to do it. Of course, in case you have lots of books, you'll also need a wall. The shelves will be impossible to reach so you'll need a ladder, another ineresting décor element to put in your home.
53. Vertical Bookcases
by edritger
54. Add Vertical Bookcases to the Corners of a Room
by Universal Joint
55. Add a Vertical Bookcase in the Center of Your Reading Room
by Mary Prince
56. Store Books in Your Wall Unit or Closet
by Curtis Martin
57. Pair Multiple Units To Make A Centerpiece For Your Room
Although usually a bookcase or bookshelf is long and sometimes even runs the length of a room, this doesn't mean it's the only way to do things. How about a vertical bookcase instead? It can be something as simple as a niche in your wall unit or a series of wall-mounted shelves. You can find lots of ways to include such a piece in your home.
58. Bedroom Libraries
by Michael J Lee Photography
59. Any Wall Can Be a Bookshelf
by Whit Preston
60. Install Bookshelves Above and Around The Windows
61. A Room Divider to Store Books
by Rob Karosis Photography
62. Keep Books Close to Your Bedside for Easy Access
If you're the type that likes to read before going to bed, then why not have a library in your bedroom? It's much more practical than having to go find a book every time and then returning with it in the bedroom. It's also a nice idea because there's not a lot of furniture you need in this room so there should be enough space for a bookcase.
63. Place a Quote Over Your Bookshelves for Inspiration
64. Make The Most of Every Inch of Space
65. White Shelving to Store Books and Collectibles
Books are one of the biggest gifts for children and adults around the world, but they often end up in piles on the floor or scattered around your home. Make the most of any spare space in your home this year by creating a home library. Take inspiration from any of these designs listed above, which can be adapted to fit a room of any shape or size. You'll find that by adding a reading nook in the corner of a room, you'll have somewhere cozy and relaxing for you and your family to hang out after a busy day at work. A home library is somewhere you'll treasure for years to come, so don't delay in adding one to your home this year.