Amazing Glass Houses That Reinvent Architecture As We Know It
A lot of houses these days put an emphasis on the views which can be enjoyed from the site, the topography and the landscapes which surround them and that usually translates into designs with large openings, full-height windows and sliding glass doors which bring the outdoors in. Sometimes this is taken to the extreme and the results can be pretty interesting to say the least. We're talking about glass houses which are exactly what the term suggests. They're structures framed entirely by glass walls, completely exposed to their surroundings. They offer unparalleled views and an extraordinary connection with nature but they pretty much eliminate the idea of privacy. Would you live in such a space?
Glass houses are not exactly a new concept. In fact, can you believe that this house was built back in 1949? It was designed by architect Philip Johnson and it's inspired by another project, Mies van der Rohe's Farnsworth House. It sits on a 47-acre site in New Canaan,Connecticut, being the first structure built by the architect on the property over a period of 15 years, followed by 13 others.
Another very cool glass house is the Kekkilä Green Shed which is an interesting combination between a garden shed and a greenhouse. It occupies an area of only 4 square meters and can be used in a variety of different ways and for various purposes. For example, it can actually serve as a greenhouse for growing certain plants but it can also be used as a wonderful retreat for beautiful and remote spaces where nature is worth enjoying. The project was a collaboration between Linda Bergroth and  Ville Hara.
The Tea House is another interesting structure. It was designed by David Jameson Architect and it serves as a backyard retreat for a home in Bethesda, US. It's a multifunctional space which can function as a meditation space, a tea house and a social gathering area for family activities. It's completely open to the exterior, featuring glass walls on all sides. The design and structure are inspired by a Japanese lantern, hence the glazed exterior and the floating effect. 
Located on a remote site below a ridge, under a grove of large oak trees, three tea houses serve as idyllic retreats, allowing their inhabitants to take in all the beauty nature has to offer and to enjoy the serene and tranquil ambiance. These stylish glass houses were designed by Swatt Miers Architects. Each one is similar to a steel and glass pavilion anchored with concrete elements. 
These amazing renderings depict a truly spectacular glass house unlike any other. The project's name is "Tree in the House" and the idea behind it is to create an inverted treehouse which is built around a large tree. The structure is cylindrical and made of glass, thus offering 360 degree views of the surrounding setting. The project is meant to offer an alternative to city life and to bring people closer to nature. It's designed by  A Masow Architects.
When it comes to glass houses, privacy can be an issue but the owners of this hidden pavilion didn't have to sacrifice it in favor of the views because the strategic location offered them both. The structure was designed by Penelas Architects and is located in a forest clearing outside Madrid. It's a two-storey structure on a sloped site from Las Rozas. It was designed to serve as a peaceful retreat, a space for meditation and relaxation.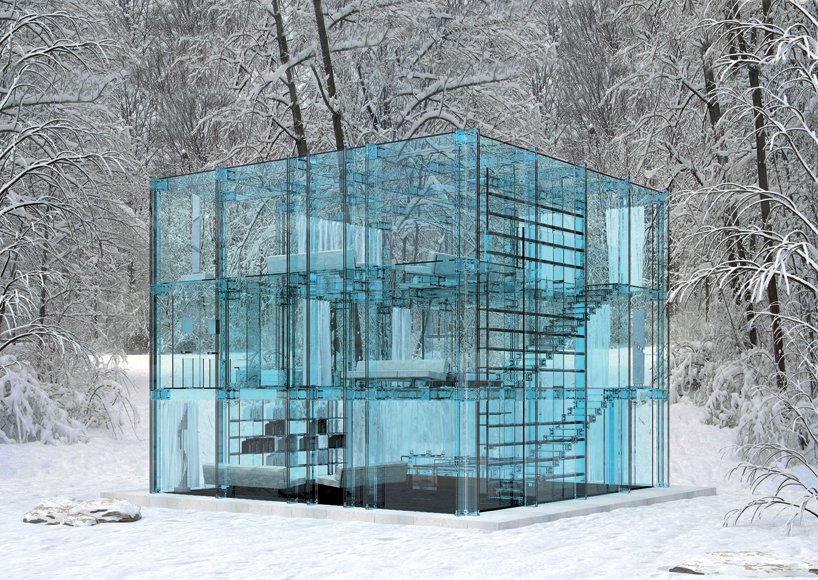 When referring to glass houses we usually mean structures with glazed facades, not actual houses made entirely out of glass. So would it be possible to actually build a house using only glass? As it turns out, someone actually did it already. This transparent structure was designed by studio santambrogiomilano and every component except for the ground floor is made out of glass pieces. Privacy would not be an issue in this case since the smart glass panels can turn matte at the push of a button.
Glazed walls and a slender, thin roof give this pool pavilion a lightweight and very clear and open look. The minimalist structure was designed by studio Dejaeghere.It's a minimalist and modern pavilion created as an addition for a house in Belgium which dates back to the 1990s. It incorporates a bar, home cinema and a summer living room, all framed by clear glass walls with the possibility to be connected to the poolside terrace.
Another gorgeous glass pavilion was designed by Steve Hermann architects in Santa Barbara, California. It's completely transparent glass walls make it seem as if the roof is floating parallel to the floor platform. The design is very refined, minimalist and visually stunning. The interior spaces are completely immersed in nature and openly welcome the outdoors in.
Flexibility and modularity are important for every type of home but some take these concepts to a whole new level. The best example is the Sliding house designed by dRMM Architects. The house is located in Suffolk, England and features a very special design which divides it into three volumes: the house, the carport and an annex. You can't really tell that something is unusual at first but then you realize that the house can actually slide out of its frame, becoming a glass house.