The Case To Paint Your Whole House Mint Green
Pastel shades have come and gone and come again. It can be hard to decorate with those pale pinks and soft blues without making your space look like Marie Antoinette designed it. But slowly, we've been figuring out how to mix our pastels with other colors. Complementing colors in various shades will make your space feel rounded out and finished instead of a pastel wonderland. If you're wondering where you should start when it comes to pastel colors, we suggest mint green. Everybody knows that green is basically a neutral so grab your paint brush and see how a coat of minty green can transform every room in your house.
Exterior
Yes, there is even a case for mint green houses. You might think that mint green only belongs on a beach house but these will prove you wrong. Of ours the pale shade looks great by the sea but it looks just as stellar on a historic house in a little cornfield town. Being a trendy shade, it will give your home some major curb appeal and add a look that says "I'm family friendly," before you even step through the front door. Paired with dark shutters, you'll have the most sought after house on the block.
Living Room
Living rooms are usually the relaxing area of the house so while seating is important, you could argue that your paint color is even more crucial. When such a large visual area is a color, the color you choose will have a great effect on your mood. Mint green is obviously the perfect choice for several reasons. There have been studies that prove that the color green has a calming effect on the mind. Also, while a dark green would make your space seem more cave-like, mint green gives off the friendly vibes that will make everyone want to linger a little longer.
Dining Room
Dining rooms might be one of the easiest places to decorate. As long as you have a table and chairs, the other decisions should be rather simple based off of the elements of the room and your family's lifestyle. Choosing to paint your walls mint green is another easy choice. Green makes food look even more appetizing so just imagine serving Thanksgiving dinner in your minty dining room. It will make your table the Instagram photo of the year.
Kitchen
You might say that kitchens are the gathering place of the home. When you cook two to three meals a day in this space, all the prep and execution mean many hours at the counter. That doesn't count homework sessions at the table or girlfriend chats over the island or sitting on the floor eating ice cream after a hard day. With so much time in this room, you want a cheerful wall color to brighten your work and your play, even if there isn't much wall space to be had. Mint green is the perfect soft shade to give your spirits a lift while you work. You can even paint your cabinets mint green if you prefer white walls. However you can get mint in your kitchen, just do it.
Bathroom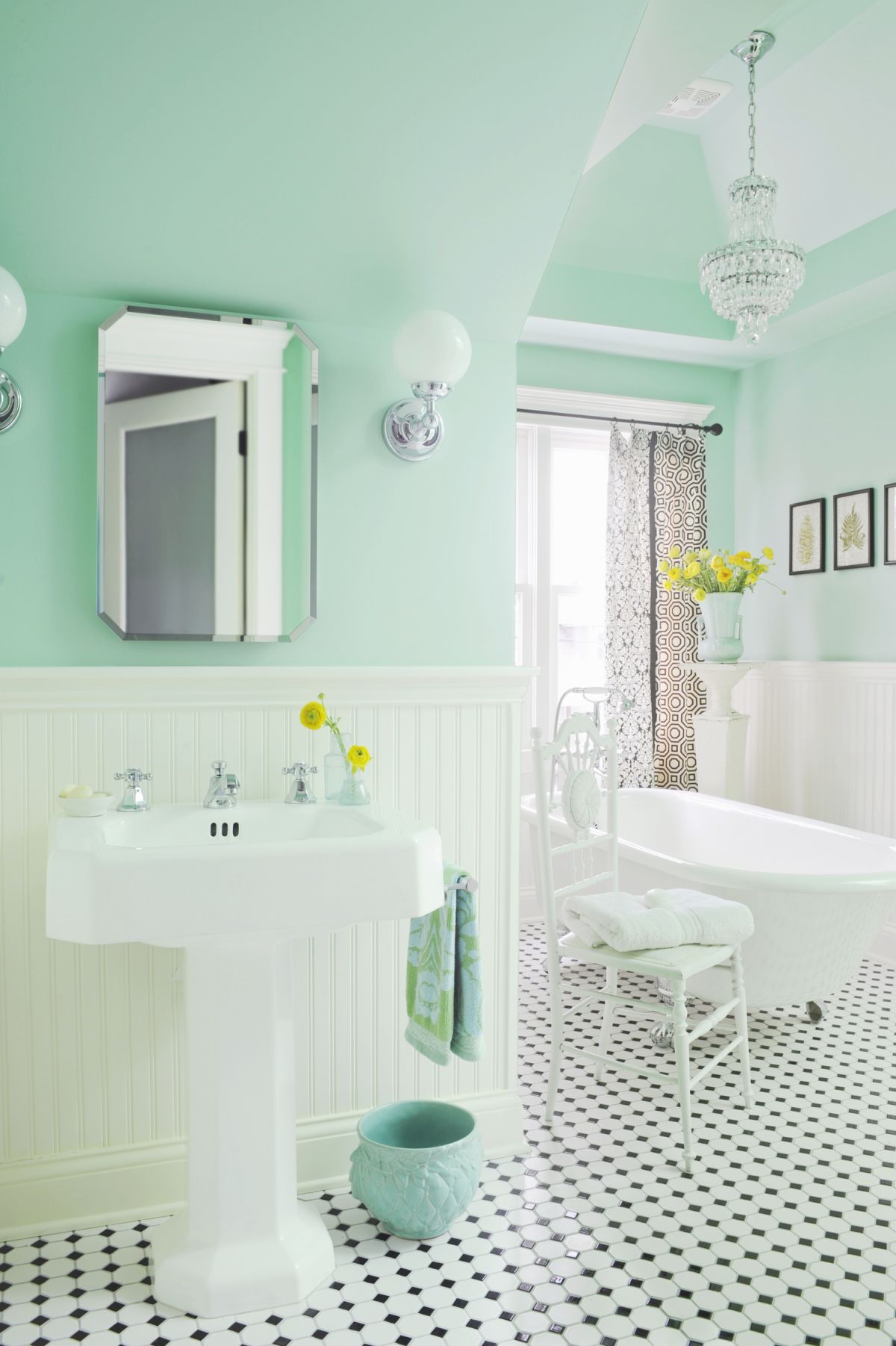 Whether you're brushing your teeth or shaving or having a nice long soak on the bathtub, bathrooms are another important space in the home. They are probably the one of the first spaces you see in the morning and most likely one of the last at night. If you have a bathtub that you use, you especially want to make your bathroom a haven instead of a cluttered dingy mess. With a fresh coat of mint green paint, you can have your space feeling new and energizing in a day. That's pretty good for any house project.
Bedroom
Bedrooms are so fun and a little nostalgic to decorate. We probably all had our first decorating experience when we were kids, choosing colors and themes for our bedrooms in our parents' home. There's just something about climbing into bed in a clean and styled room that makes you happy. If you're thinking that you're room isn't clean and styled, you know where to start. After the big purge, paint those walls mint green to give your bedroom a whole new soft grownup look. Once that's done, you'll find that you don't need to do a complete makeover because you probably have throw pillows stacked in the closet.
Laundry Room
So many laundry rooms are resigned to usefulness instead of striving for beauty. Especially when your laundry room and your mud room are the same space. How do you keep up with the dirt and grass and grime and make the space look pleasant to be in? The answer, mint green. Once you paint your walls with such a lovely light shade, it won't matter how much laundry there is to do or if you have to mop the floor again. You'll suddenly enjoy being in the space as much as you enjoy any other minty green room in your home.