Cute DIY Mason Jar Mummies
If you don't feel ready for Halloween yet, never fear! These cute DIY mason jar mummies will be even more attractive when you realize they take all of 5 minutes to make. Even the craziest Halloween-season itinerary can spare a few minutes to be festive, right? (Answer: Right.)
While I'm a little embarrassed about the following fact, it doesn't change its truthfulness: You will probably spend less time making these than reading this tutorial. So. Onward to Halloween cuteness.
Materials Needed:
Gauze wrap or athletic wrap or anything thin and stretchy and somewhat translucent
Double-sided tape
Hot glue gun
Googly eyes
Mason jars, various sizes & shapes
Rip off a piece of double-sided tape that's the same length as your gauze wrap's width.
Stick the tape on the end of your gauze.
Stick the gauze on your mason jar. Anywhere, really.
Keeping the gauze relatively loose without being saggy, wrap it around the mason jar.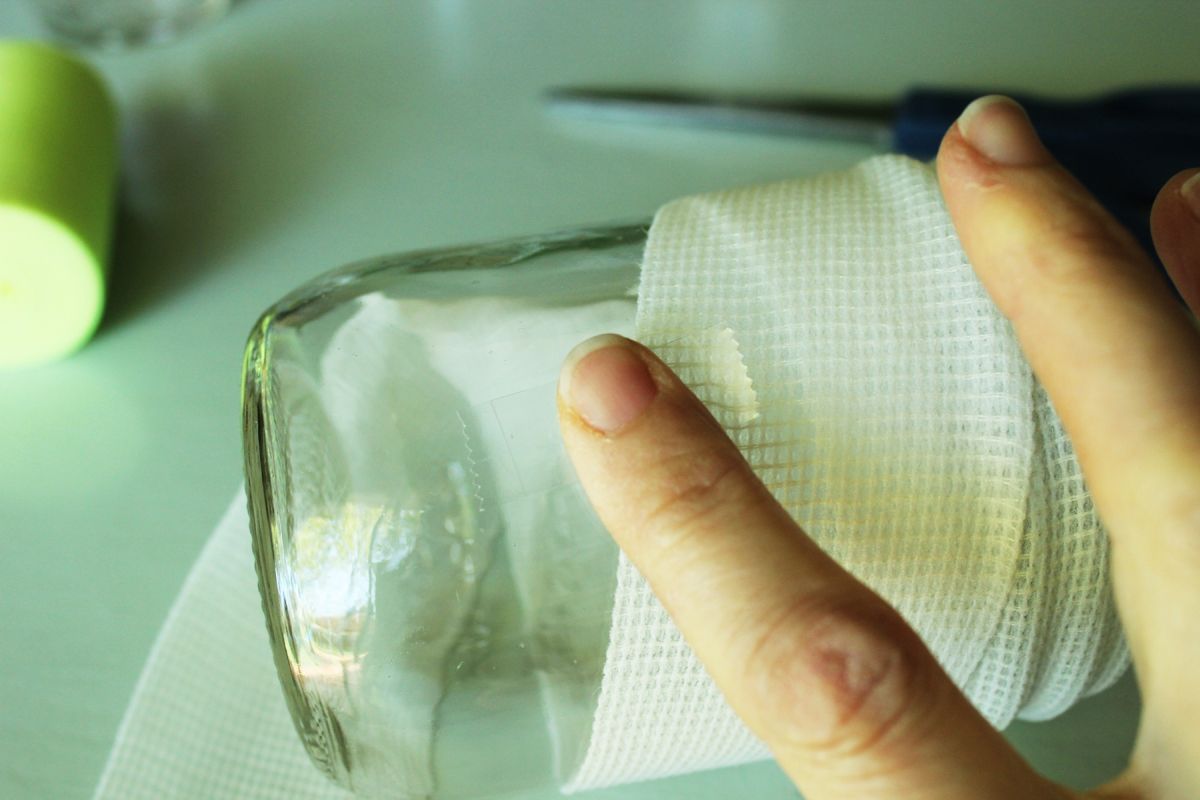 About halfway down, if your mason jar isn't too short, go ahead and add another piece of double-sided tape to keep everything in place.
Continue wrapping until you've covered the entire mason jar sides. Cut your gauze.
Add a final piece of double-sided tape to the end of your gauze.
Stick it onto your mason jar. You're, like, 85% done with this project.
Grab two googly eyes. They can be the same size or different, whatever is your preference.
Add a drop of hot glue to the backs of your googly eyes.
Place the eyes on your gauze, wherever you want them.
Viola. Done. And very cute.
The athletic wrap tape is slightly thicker than gauze, so you might want to add a drop or two of hot glue on the final end of your wrap. And larger differences in googly eyes makes a statement.
Make as many of these cute mummies as you want or have room for – they make a great non-spooky Halloween decoration for littles.
While adorable on their own, you can amp up the Halloween festive factor by adding in a battery-operated votive candle.
The candles didn't show through the athletic wrap (yellow) as well as the gauze.
If you like the illuminated mummy look, go for the gauze. Bonus: You can easily take apart your mummies, save the jars, and use them again next year for something similar. Happy Halloween DIYing!