Colorful and Captivating Contemporary Bathroom Ideas
Everyone's familiar with the standard white bathroom design. Typical bathroom fixtures include a white porcelain toilet, sink, and tub. But many other options exist to add color and style to this ultra-functional space. From paint on the walls to tile colors, from faucets to tiles, and many more, there are so many colorful alternatives to add personality and pizzazz to a bathroom. Read on to discover 20 fantastic ideas for bathroom colors.
Mimic a traditional "chair rail" design with horizontal wall paint in a color you love. Blues and aqua tones are popular bathroom choices, as they connote relaxation and a water focus. The staggered floating countertops in this space lend a casual yet modern air to this horizontally focused space.
Glass mosaic tiles are a perfect way to incorporate color into a bathroom color scheme. Whether your color palette consists of neutral hues (e.g., white, grey, and black) or something more colorful, a chunky stripe of mosaic tile adds visual interest and analogous color harmony into the bathroom. This stripe, being framed out by white tile, is particularly effective in this way.
Let's just cut to the chase, shall we? For the bathroom whose inherent components are relatively un-colored, throw some colorful, moisture-friendly wallpaper onto the bathroom's primary wall. The mass of pattern, print, and/or color makes the bathroom instantly fun and interesting. (Any time a bathroom can be decorated more like other rooms in the house is a winning situation.)
A bathroom color scheme needn't be full of garish reds and purples, of course. White paired with beautiful wood finishes, set off serenely by a warm grey paint, with a pop or two of brass fixtures creates a lovely, calm, yet still perfectly colorful, bathroom setting.
While the color palette is straightforward – marbled white and grey with a bit of gold – the design of this bathroom is absolutely captivating. Floor, wall, and vanity all become "one" in a visual sense when the pattern waterfalls itself onto every surface throughout the space. This is a decidedly personalized look…and as memorable as can be.
Forget trying to add color into the bathroom elsewhere, let's just cut to the chase and incorporate color from the inside! This gorgeous modern glass faucet oozes with illuminated color from the inside of the faucet and handle shafts. An awesome pop of color for the most neutral of contemporary bathroom spaces.
Love a bright color but are too afraid to use it anywhere else in your home? The bathroom is an ideal (small) space to experiment with big colors. The color will be hugely impactful, but the constraints of the space's square footage keep the boldness in check. So, pick your favorite vibrant hue and make it the jumping-off point for the rest of your modern bathroom space.
An ingenious, somewhat quirky, twist on industrial design in the bathroom incorporates bright color as well as style in these hose faucet-esque handles. The clean lines of the fixture overall keep its modern appeal, while the funky colorful twist handles add a playful edge. Even with a small dose such as this, a bathroom can become utterly captivatingly colorful.
For those people not sold on rather permanent colorful additions in the bathroom space, area rugs are your friend for adding relatively temporary color bursts. This avocado rug is stunning when paired with deep grey walls, dark wood framing, and white outlines. Opt for rugs of 100% cotton or outdoor-rated rugs for optimum safety, durability, and upkeep characteristics in this moisture-prone room.
It might sound trite, but a simple single flower bud in a just-as-simple glass vase on the bathroom countertop goes a long way in infusing the space with fresh color. This is particularly helpful when the sink itself is as appealing as this marble-bottomed on, coordinating perfectly with the marble countertop. I could stare at this setup all day, really. Beautiful.
For a country cottage appeal, don't hesitate to combine multiple farm-friendly patterns, prints, and themes. A floral wallpaper is charming and friendly, a cow-covered armchair is unique and endearing, and a sink that looks like a cupcake embodies everything a cute bathroom should be. The colors here are kept soft and light, which is key in a small space with lots going on otherwise.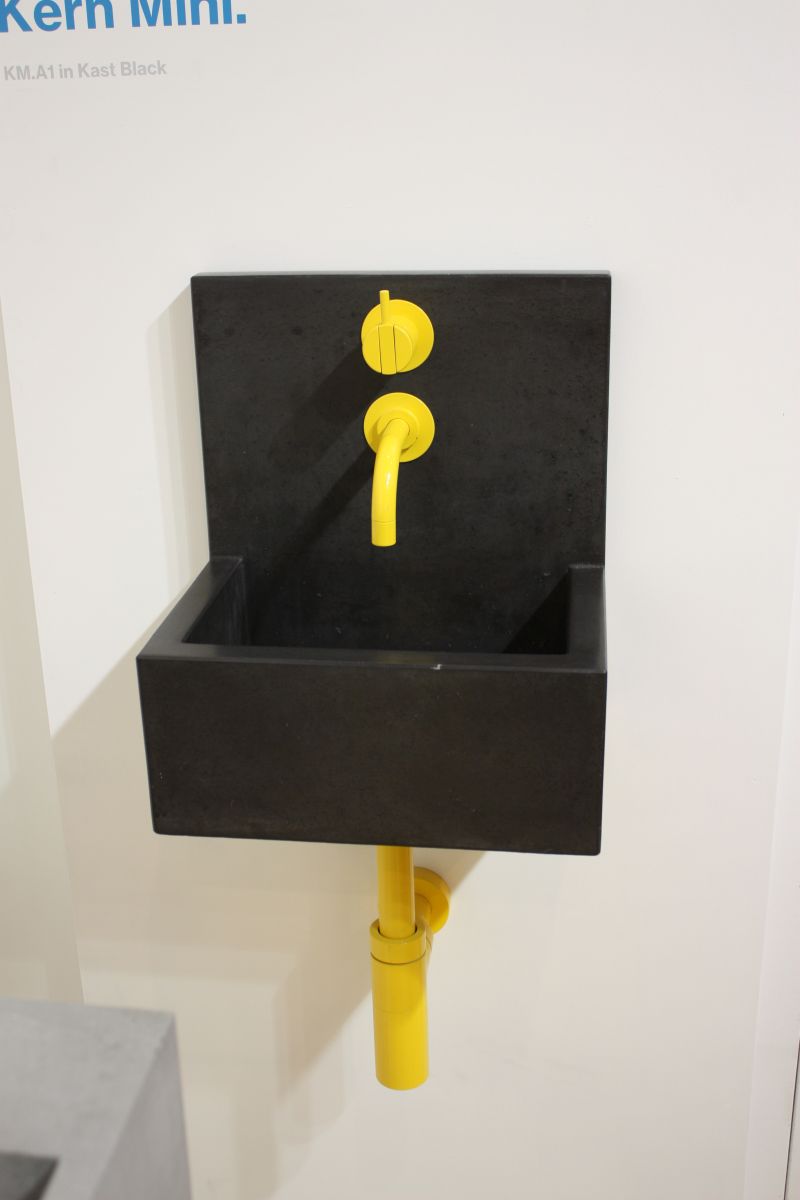 It's good to know that there are totally mod bathroom designs out there, and this is one of them. A wall-mounted black box sink with simple, contemporary lemon yellow fixtures. The rest of the bathroom could be one solitary shade of anything, and the bathroom with this sink would still be colorfully captivating.
A dusty rose shade looks feminine and soft, creating a fairly feminine space for the bathroom. Reflective vanity surfaces further the bathroom color scheme. But it's the contrast here of bright LED halo wall sconces, with their cool lighting effects, that create a contemporary vibe in this otherwise uber-sweet bathroom.
The sink has become a fabulous way to incorporate color into one's bathroom, albeit a rather permanent method. Be sure you love the color and content of a painted or inlaid sink before installing…but once it's installed, sit back and revel in the individuality of your colorful bathroom accents.
In such a small space as the bathroom, color inclusions can be proportionately small as well while still having a big impact on the scheme. A warm taupey bronze wall paired with white tile provides a lovely neutral background in this powder room, while the colors (indigo art and orange flowers) are able to pop as the complementary color companions they are.
If a bathroom is lucky enough to have a beautiful window view, perhaps the wisest color scheme decision one can make is light creams or similar tints. The color then comes straight from Mother Nature herself – a bathroom color scheme that can never be amiss, frankly.
When considering bathroom colors, using an analogous color scheme is fun and visually invigorating. Choose larger scale components or solid chunky spaces (such as the walls, vanity, and countertop) and vary the colors accordingly. The rest of the bathroom can be kept relatively simple, as far as accessories go, because of the self-contained color scheme.
Keep the sink white and add shiny chrome accents with a funky mirror, and you've set the stage for a fabulous and memorable bathroom. Pink boxes – as wall-mounted shelves and the vanity itself – complete the color scheme in a glamorous setup.
Waterfall countertops, where the countertop surface seems to cascade over the corner and down the side of whatever piece it's part of, are all the rage. They're often done with marble or concrete, but this purple waterfall vanity for the bathroom is amazing. The asymmetrical design and distinct color pack a 1-2 punch in this space.
An up-and-coming trend is illuminating back-lighting. The blue light here is a fantastic choice to springboard the bathroom color scheme; in fact, it's practically the only "color" in the space. But it emphasizes the fantastic shape of the mirror, which mimics the curve of the countertop sink. This creates a club-like, night-life vibe to the bathroom and, frankly, is an instant party. Definitely captivating and colorful!