23 Popular Bathroom Color Schemes
Your bathroom color scheme determines the tone of your room. Dark colors, for example, can create a relaxing and moody atmosphere, while bright white can make the room feel cleaner.
If you're ready for a change, painting your walls and switching out accessories will breathe new life into your bathroom. We'll cover the best bathroom schemes of 2023, plus how different colors affect your space.
Science Of Bathroom Color Schemes: Color Psychology
Color psychology studies how specific colors affect human mood and behavior. If there's a certain feeling you'd like your bathroom to invoke (maybe relaxation or energy, for example), you can incorporate the representative color.
Yellow – happiness and optimism
Blue – calming effect and represents wisdom, peace, and loyalty
Green – balance, nature, and tranquility
Orange – creativity and energy
Red – high energy, also symbolizes prosperity, danger, romance, or courage
Purple – luxury, and royalty
Best Bathroom Color Schemes of 2023
Use these 23 bathroom color scheme examples as inspo for your next remodel or paint job.
1. Plain White Walls with Colored Cabinets
One bathroom color scheme that's here to stay is white walls with colored cabinets. In this example, Christen Ales Interior Design used a blue-gray cabinet with brushed gold hardware. The white walls, trim, and counter give this space a fresh and clean look, while the patterned tile adds interest.
2. Black and White Bathroom Color Schemes
Designed by Lee Edwards, this shower layout features black and white porcelain tile in small hexagon shapes. Quartz countertops and flat-panel cabinets round out the overall layout. Hexagon and subway tiles are classic, as is the black-and-white color scheme. If you're worried about your bathroom going out of style, try something like this.
3. Putty and Black
Putty, as seen on this wall, is one of the hottest neutral paint colors of the year. It's earthy and coordinates with everything. In this Japanese Zen-style bathroom, the light wood and black accents mesh with the putty wall for a relaxing feel. The bathroom also incorporates Feng Shui.
4. Deep Green and Beige
The rise of deep green started a few years ago and is still going strong. If you want to use a color that's trendy but will look good for years to come, consider a shade like this. The beige walls warm up the look, and the marble finishes give the bathroom a high-end feel.
5. Cream and Beige
A cream and white bathroom color scheme offers a country farmhouse vibe. If your bathroom is traditional, you might enjoy a neutral-on-neutral color scheme. A neutral bathroom provides a great base for colorful accessories.
6. Cherry Red and Bright White
Glossy red wall tiles and red bath mats can add spunk to an otherwise white bathroom. The color scheme invokes a clean and germ-free aesthetic without being boring.
7. Amaranth and White
It's a hot color right now, and for good reason – amaranth is a cross between red and pink that coordinates well with oranges, whites, and lighter pinks. The amaranth and white color scheme give off feminine energy, creating a fun place to get ready in the morning.
8. Pale Blue and White
Pale blue and white are popular color combinations for traditional homes. Light blue promotes feelings of relaxation, while white brings a clean balance. Use this combo in small bathrooms to make the space feel larger.
9. Midnight Blue and White
Midnight blue is an ideal color for those who love moody atmospheres and stark contrasts. The homeowners chose a classic white subway and floor tile for this room. By painting the walls and molding a deep dark blue, they can make the space feel current without having to renovate.
10. Gray on Gray
It's true, gray isn't as popular as it was ten years ago. Still, it hasn't gone out of style, especially for contemporary or masculine spaces. If you want a similar look, use dark, light, and mid-tone shades of gray in your bathroom design.
11. Traditional Black and White
A more traditional black-and-white color scheme like this never goes out of style. The finishes – from the clawfoot tub to the pedestal sink – are timeless. If you live in a historic home or don't want to renovate twice, consider a similar setup.
12. Rustic Blue and White
A rustic blue painted over bead board gives this bathroom a homey aesthetic. The wood frame adds texture, while the white trim and cabinets give the space a traditional and clean look. Installing beadboard before you paint is an inexpensive way to give your bathroom extra texture.
13. White on White
From Simonkennedy, this all-white bathroom is minimal but not boring. The geometric tile adds interest, and the single frame on the wall makes the room feel finished.
14. White and Wood Bathroom Color Scheme
A warm white paired with wood accents is a classic and welcoming bathroom color scheme. To add extra texture, this bathroom features a mix of materials, including small floor tile, mosaic tile in the shower, a wooden stool, wood-lined shelves, and greenery.
15. Off-White and Green
Creamy whites are the foundation of this traditional bathroom. A mid-tone green adds color above the bead board. The antique accessories and simple window treatments add an air of sophistication.
16. Turquoise, Pink, And Gold
Neutral bathroom color schemes are the dominating trend for the year, but that doesn't mean you can't have fun. Try pops of your favorite colors mixed with unexpected shades – like this pink, green, and gold bathroom, for example.
17. Bright Pops of Green
Green and wood are a nature-inspired color combo. Smithandvansant gave this bathroom a neutral base and used a tree-like green tile over the wood cabinets. The small pops of red add even more interest.
18. Monochromatic Black
Black is back in a big way – from exterior house colors to bedroom walls. If you want to jump on the black trend, consider a monochromatic bathroom like this. If you're not ready to go full-out, paint an accent wall black instead.
19. Concrete and White
Along with neutral colors, natural materials are in style right now. If you want an industrial but natural look, concrete and brick are a winning duo.
20. Vibrant Green
Designed by Cobalto Studio, this new take on a spa-like bathroom color scheme mimics nature. The glossy green tile draws the eye while giving the space a calming feel. The rest of the bathroom is neutral and minimal.
21. White Marble With Black Accents
Marble works in any bathroom – it's versatile and timeless. In this bathroom by studio SJB, white marble covers the flooring, walk-in shower, countertop, and lower half of the walls. For greater visual interest, designers chose black as the secondary color.
22. Soft Ivory
If you don't like bright white, consider ivory. Ivory works well with light wood-toned floors and pops of greenery. It's still a clean color but doesn't feel as cold as bright white. Studio Gorman designed this bathroom.
23. Rugged Gray with Warm Wood Accents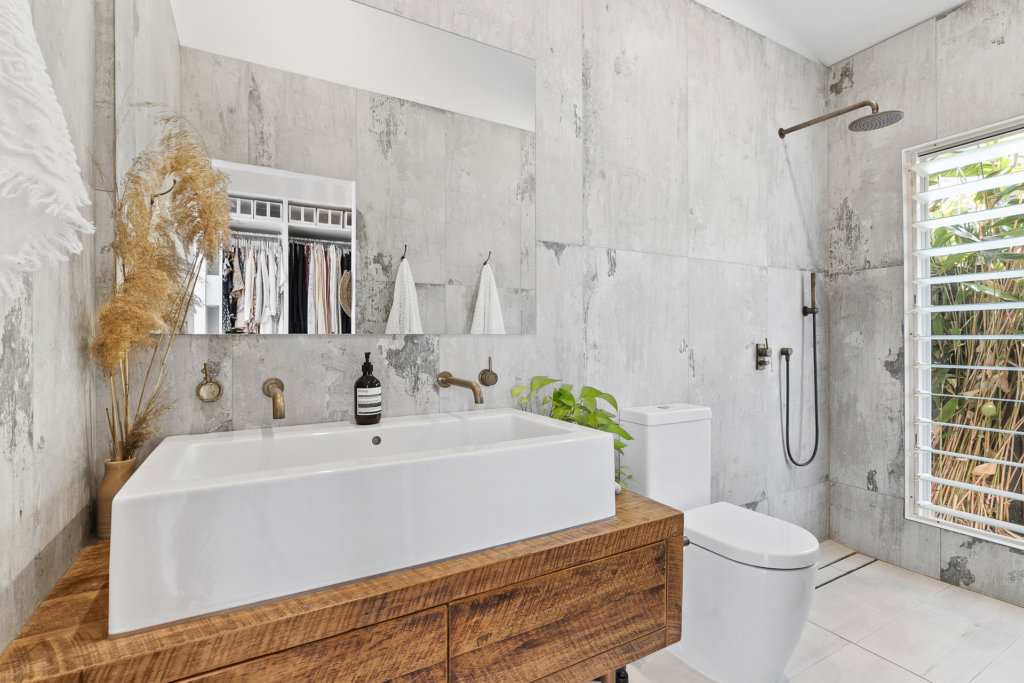 The ruggedness of these concrete tile walls works with the rustic wood counters and oversized sink. While it has a bit of a boho vibe, this bathroom is ideal for nature lovers.