Brass Light Fixtures Steal All The Attention With Their Golden Charm
The metal allow commonly known as brass is often used in the crafting of decorative items, being appreciated for its golden appearance and natural beauty. There are many different uses for brass and many beautiful and interesting ways of taking advantage of its golden look when decorating a space. Brass light fixtures are only one of the options. In turn, they come in a variety of forms, their designs being very diverse and each using the alloy's natural characteristics in its own unique way.
Brass pendant lamps
The inspiration for the Lanterna collection came from traditional Chinese lanterns. From there, the design has transformed, becoming a stylish and versatile pendant lamp available in three different sizes and two colors. The golden interior reflects the light and offers a warm and pleasant glow, softening the pendant's industrial characteristics.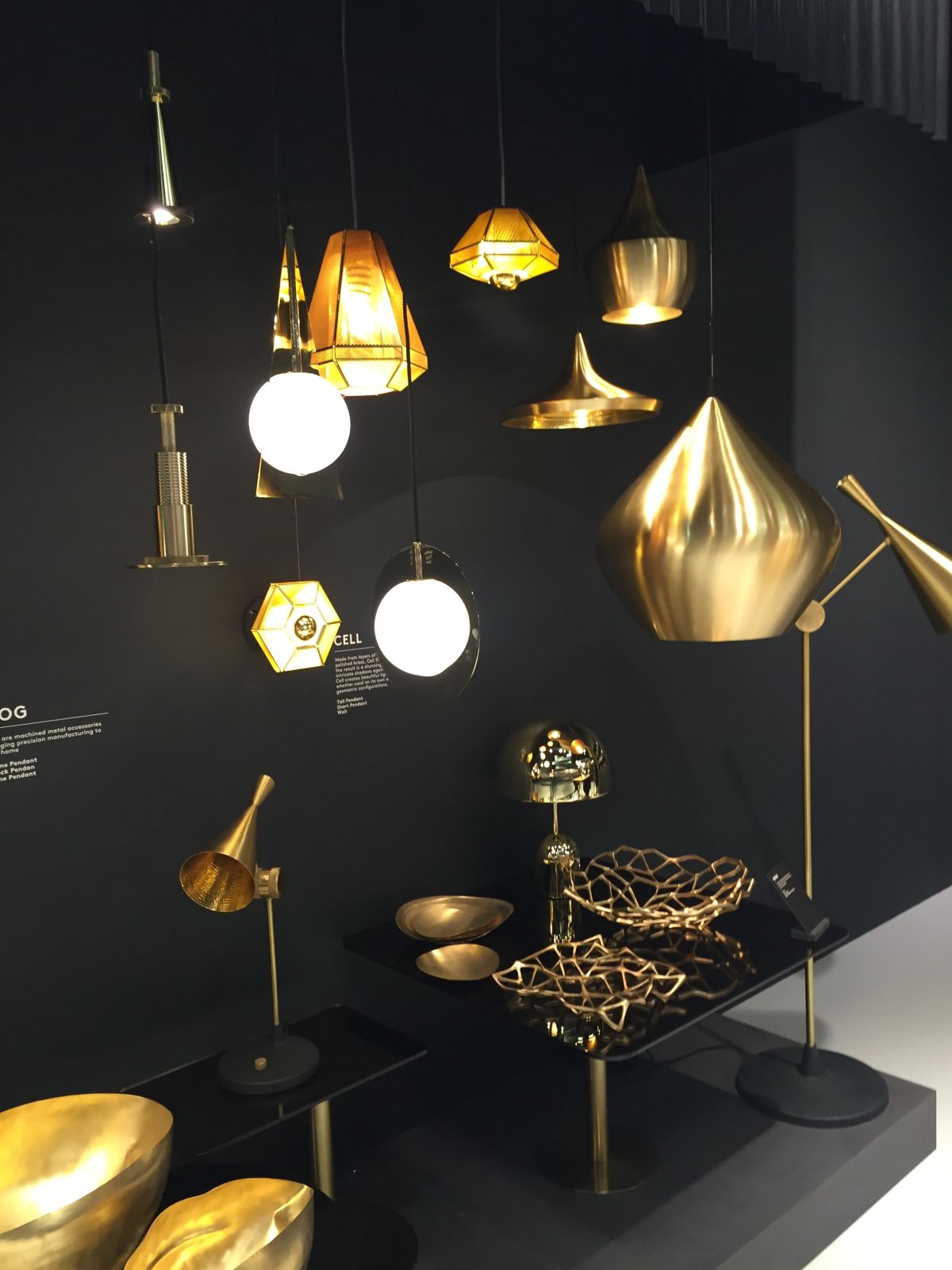 The inspiration for the Tom Dixon Beat pendant comes from the beautiful simplicity of brass cooking pots and traditional Indian water vessels. The pendant is hand-beaten and is part of a collection which includes four different designs, each featuring a different shape and also available in black, gray and white.
In the case of the Brass Dome pendant, brass was used in combination with copper to create a design that's very simple, fluid and interesting at the same time. The pendant is shaped like a dome and has a polished look. The interior is copper-plated and appears red in color which creates an interesting look when mixed with the golden shell.
Zanadoo is a contemporary pendant light which has a starburst-inspired design. It's made of steel with a golden brass finish and uses 12 light bulbs. This is the type of light fixture which you'd expect to see in a modern living room although its design is versatile enough to be included in a variety of other settings.
It's easy to imagine how stylish the Arteriors Pembrook pendant would look like in a game room, suspended over the billiard table. Its linear design combines three clear glass globes and a thin and sleek brass frame with an antique finish. This is also the type of light fixture which can add glamor to the dining room or kitchen.
Globo is a pendant lamp which could be envisioned as a futuristic accessory imagined in the 60s. It's shaped like a sphere encased in antique brass and covered with solid lucite domes which emit a subtle and warm glow. It's an unusual piece which could look interesting in a variety of spaces.
Behind the simple design featured by the Restoration Warehouse Roundout Pendant stands a very inspiring concept. The pendant's design celebrates the tension that keeps the universe in place down to the atom. It has a metallic finish and depicts overlapping tumbling cubes surrounding a cluster of small bulbs.
The geometric design of the Geo Pendant offers it a modern appearance while its metal structure and golden finish also makes it a suitable option for a variety of other styles. It comes with a simply cord which can plugged in to any socket. You could envision this simple piece looking great in a home office, on a hallway, entrance or in a bedroom. In addition, if you're a DIY enthusiast, you can find plenty of interesting ways to customize its design.
Brass chandeliers
There are cases when two styles blend perfectly. For example, the Atom chandelier blends a vintage design with molecular shapes to create a modern lighting fixture. The chandelier has a total of 18 small bulbs that offer a soft glow and they are arranged in intersecting patterns of threes. You can find this fixture with a vintage brass, blackened brass, natural brass, polished copper, and polished nickel finish.
Nature is an infinite source of inspiration, offering us great ideas in every field, When it comes to light fixtures, a lot of them mimic elements found in nature such as trees, branches or flowers. The Branch chandelier is one such example. Its organic design is arranged in a random pattern and can be used in a variety of settings. It's easy to picture it in a casual living room or in an elegant dining space.
The mid century-inspired Tilt chandelier doesn't seem to stand out that much. Its design is simple but, at the same time, includes a series of subtle detail which give this piece a lot of character. The arms holding the shades have different lengths and form an asymmetrical pattern and the whole design of the chandelier has something that's space-related.
The Fulcrum chandelier has a simple and at the same time sophisticated design. It's composed of five pendants suspended of different lengths, suspended from a satin white ceiling plate. The chandelier adds a touch of drama to the décor while maintaining its delicate simplicity.
The Asterix is a simple-looking and sculptural light fixture which can be customized and made to order to perfectly suit the desired setting. This chandelier is available in satin brass, satin nickel and matte black and looks best when used in combination with frosted light bulbs such as the ones included in the original design.
The large cubic chandelier named Polyedres is the type of light fixture which can look gorgeous in a variety of settings. It was designed by Hubert le Gall and is meant as an eye-catching, sculptural accent piece able to either serve as a focal point if desired or to blend in in a stylish way. Its geometric design offers it a modern allure.
If you're looking for a chandelier which looks modern and classical at the same time while also having a tiny bit of vintage charm, then you should check out the Candelabra Home Celestianna. This chandelier uses a total of 15 light bulbs arranged in a symmetrical design on a brass frame.
The Hanley 8 Light chandelier is the type of accessory which can make a statement without even trying. Its design is transitional and eclectic, mixing a brass central sphere and suspension pipe and several triangular fluted crystal rods which, combined, offer a most interesting light show. The crystal rods take on the warmth of the brass and the result is an eclectic and elegant design.
The design of the Robert Abbey Jonathan Adler Milano Chandelier is unusual in the sense that it's both modern and classical. The design borrows the basic lines from traditional chandeliers which used to be popular in the 90s. It combines them with the simplicity typical to modern and contemporary designs.Available for $1817.
Available in polished nickel or antiqued brass, the Mini Sputnik Chandelier is a classic. Its name and design are sufficient to suggest the source of inspiration for this piece. You can be certain that this piece will stand out no matter where you decide to hang it. It's the perfect accessory to highlight a minimalist room with.
With a total of 16 sockets, you can be certain that the Sonoma Chandelier can brighten your day no matter how dark it may seem. The chandelier's design is simple and sleek, perfect for adding depth to a room without overwhelming it. It was designed for indoor use only and is a handmade, made to order piece.
The Brass City Chandelier is a celebration of mid-century American design. It combines brass hardware and clean hanging light bulbs which could individually serve as chic and minimalist pendant lights. They're clustered all at the same level, forming a design defined by simplicity and elegance.
Brass wall sconces ceiling fixtures
Sculptural light fixtures are appreciated by several different styles and can look exquisite in a lot of different settings. Their versatility is closely linked to their design which can take many forms. The Constellation sconce has the charm of the70s and makes a dramatic statement is spaces such as bathrooms, utility rooms or covered patios. It was designed for both indoor and outdoor use.
Stuart is another beautiful brass sconce designed for both indoor and outdoor use. It has a hammered finish which gives it a rough look suitable for vintage and industrial decors. At the same time, this is a sconce which can add elegance to any space without overwhelming it. It has a total of three lights and is made of etched iron with a vintage brass finish.
The Rio Sconce is a light fixture that seems perfect for bathrooms, its design being versatile enough to suit a variety of interior decors, be they modern, vintage or industrial. The antique brass hardware combined with the frosted glass shades establishes a really nice balance in terms of materials, finishes, textures and colors.
Because the Lynwood sconce features an accordion arm, it's easy to see why this fixture would be perfect for areas such as the home office, the bedroom or the reading corner. It comes with either a white or matte black shade and a brass extendable arm which allows the user to direct the light in the exact spot it's needed.
Flexibility is important for the design of wall sconces, especially if you want to be able to use them in the bedroom or home office. They offer this in all sorts of interesting ways. the Verve Sconce, for example, was designed with a series of flexible brass arms resembling vertebrae which can be styled in different ways to send the light exactly where it's needed. The design is a mixture between modern and traditional elements.
The Zig-Zag is a very interesting light fixture. It can function equally well as a wall sconce or as a ceiling fixture. It has a sculptural design featuring a series of arms bent at different angles. The light bulbs are also placed at various angles, directing the light in several different directions. You can find this piece in brass or a combination of polished steel and brass.
Light fixtures that are flush with the ceiling are usually used in spaced which either have low ceilings or require something very simple and non-intrusive. The Star flush mount ceiling fixture, for example, could look lovely on a hallway, in a bathroom, closet or laundry room. It has a hand rubbed antique brass finish and uses a single light bulb.
The Meurice flush mount, on the other hand, uses a total of 25 light bulbs. They are arranged on a square metal plate in a grid pattern and has a design that's simple, chic and striking at the same time. You could use such a fixture for the entryway if you make to make a dramatic statement when receiving your guests or in a space which needs abundant artificial light.
In case you just can't find that one brass light fixture which has the perfect design, size and shape for the room you want to put it in, there's also the alternative: to build one yourself. You can give it a geometric design, a minimalist one or you can make it look exquisite in a different way. You can find a bunch of great ideas on Abeautifulmess. Here you can find out how to make a chic brass chandelier with a geometric design, an elegant wall sconce for your reading corner or a pendant lamp which looks delicate and exquisite. Since each of these designs are treated as DIY projects, you can also customize them and adjust them in a lot of ways to make them suit your needs and style and to make them just right for the space you plan to display them in.