Modern Bookshelves That Make Storage Fun And Easy
Of all the things you need to take care of when renovating or decorating a home, bookshelves appear to be the type that doesn't require much attention. After all, how hard can it be to pick a design for a couple of shelves? If you're really picky then things can get quite complicated. To make things a bit easier, we've gathered a bunch of different design options for you to have a look at. Some occupy more space than others while some are meant to make eye-catching.
A lovely solution if you like the idea of a full wall bookcase is a design that looks something like this. The bookshelves covers almost the entire wall and they're meant to be both simple and eye-catching thanks to the curved lines and different dimensions of the compartments.
These individual bookshelves are pretty great because they offer both open and closed storage. You can have some of your favorite books put on display while a bunch of other things are hidden out of sight. You can mix and match these modules however you want depending on your storage and display needs.
Adding a touch of rustic charm to the decor could be an interesting idea. Bookshelves such as these ones can double as space dividers. Also, they make the room feel warm and cozy and give it a casual and relaxed appearance.
How about something a bit more sober for the office or the living room? An interesting option can be a wall bookcase with open shelves and a mixture of modern, traditional and industrial details. Since there are no closed compartments, you'll have to use storage boxes and other similar things if you want to organize small items.
This is the smaller version of the bookshelves featured above. These modules make a pretty great console table or storage and display unit for spaces such as the living room, hallway or even the home office or bedroom.
Most bookshelves or units that are designed for the living room have a built-in space for the TV. In this case, the TV fills one of the modules on the left and is framed by geometric openliving  shelves. There's also some closed off space for things you want to keep out of sight or private.
A lot of modern bookcases feature a combination of open and closed modules. The times when the living room furniture covered an entire wall are long gone. Now the designs are simpler and more focused on space-efficiency.
As compact as this unit may seem it actually offers quite a bit of storage inside the closed off modules as well as on the open bookshelves. Because it doesn't go all the way to the ceiling, it looks cute and compact. Further more, it lets you display some eye-catching artwork on the wall, just above the shelves.
There used to be a time when glass bookshelves and display cases were very popular in living rooms. Even though that's no longer the case, some bookcases still keep the traditional alive. They're a good option if you have an interesting collection you want to put on display or to turn your living room into a gallery.
Some designs are a bit eclectic. This one, for example, is made of three modules. Two have open shelves while the third one is enclosed with glass. It's a design that could be used in combination with a glass top coffee table or other matching furniture pieces and accessories.
This sort of organic design approach makes these bookshelves look fun and quirky. This makes them the ideal choice for a modern and casual living room, office or pretty much any other space that could use a storage module.
A lot of modern living rooms play with geometric shapes and forms. Sometimes the final results ends up featuring bold lines and industrial-inspired looks. Other times the approach is closer to rustic and traditional decors. This is a case where the unit borrows details from various styles in order to look harmonious.
You can see it here in context. The design matches the rest of the living room's decor and furniture pieces. The sofa, for instance, has an interesting frame with built-in shelves and storage.
And speaking of built-in storage, have you ever considered adding some bookshelves to your bathroom? This tub shows you how to do that in style without wasting any extra space. The shelves are integrated into the frame of the tub and can be used in more than one way.
It's interesting how all these bookshelves are interconnected. In fact, there's this single sinuous line that forms the shelves and storage compartments, giving the whole unit a rather organic look. It's simple and versatile enough to fit in a variety of decors and contexts.
The living room isn't the only area where bookshelves fit nicely and harmoniously. In fact, bookshelves are versatile enough to be used in pretty much any room of the house. Check out how nicely they fit in this bedroom for example. In this case the unit also doubles as a headboard and a room divider.
Something simple would suite an area such as a reading corner. This pair of X-shaped bookshelves is ideal for such a case. They complement each other really well and they're just what a small lounge or reading nook needs. Add a small side table and the decor is complete.
This is a design that's both simple and intriguing. It's a modern interpretation of a classical bookcase, featuring asymmetrical lines and odd angles. Al the details put together result in a design that impresses without being too striking. It's easy to make this unit a focal point but just as easy to let it blend in without standing out.
If you want a big living room unit which can include a lot of storage and features, how about something like this? It's big enough to offer lots of storage but, at the same time, it doesn't overwhelm the room with its size and design, leaving the upper portion of the wall behind it exposed.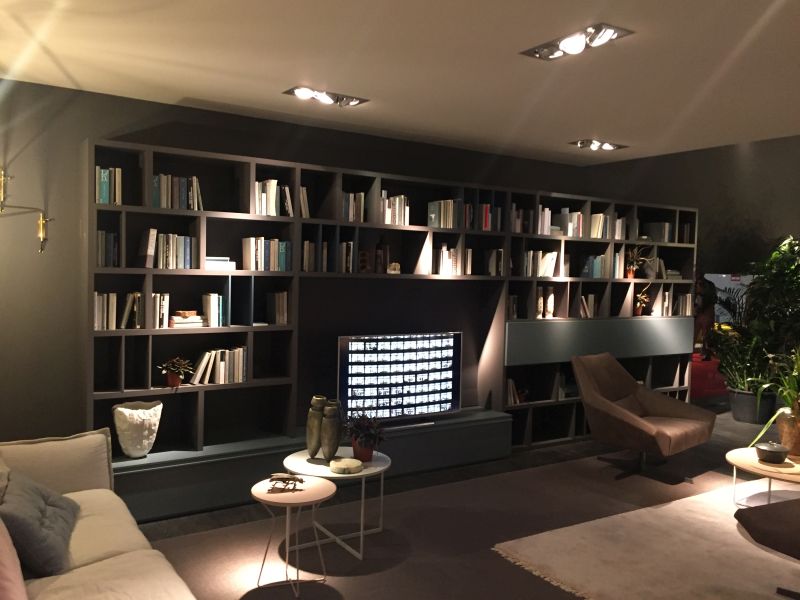 On the other hand, a unit like this one is more suitable for large rooms. A design like this one is also the answer if you have a large collection of books or lots of collectibles which you want to put on display.
To save floor space, you could opt for wall-mounted bookshelves. A geometric design made of modular pieces is always a good option, allowing you to customize the space in a lot of space-efficient and eye-catching ways.
Give the room an elegant industrial look with a set of bookshelves that look something like this. The graphical design creates a nice play of light and shadow while also allowing the entire unit to look lightweight despite its massive size.
Some modern units are really playful. Certain designs make use of asymmetrical lines and geometric details to stand out in a fun way while others seem to defy gravity. In some cases, the right combination of materials, forms and colors can make something really simple stand out in the most interesting and satisfying way.
The wavy lines of these modules creates really interesting visual effects. What's also really great is the fact that this is a modular unit. It's made up of several individual modules which means the unit can be made as small or as large as needed, growing with your book collection.
Check out how big this unit became. As your book collection grows larger, so does the bookcase holding it. Further more, it's possible to let the unit double as a room divider, separating the seating area from the dining room or from the kitchen.
Compact bookcases like this one are a good option for small spaces or for certain types of designs which focus on diversity. This design has been optimized to be able to hold a large number of books in a rather small shell. In addition to being very functional, the unit is also eye-catching.
Eye-catching designs can take many different forms. This, for example, is a geometric design with a honeycomb-like pattern. It's meant to serve as a display unit for collections and other things. Each module has built-in lights that let you highlight the most interesting features and objects.
Sometimes an unexpected touch of color is all a design needs to stand out. Actually, in this case you can see how color plays an important role in defining the overall structure of the bookshelves and in creating strategic focal points.
Bookshelves often double as space dividers. This detail applies to lots of different styles and designs. Whether you prefer a rustic look, something classical or something minimalist, there's always a large array of options to take into consideration.
Most modular bookshelves have symmetrical forms. They're usually square or hexagonal. These ones, however, are shaped like arrows or houses, depending on how you look at them. As it turns, this is a pretty versatile shape, given the right proportions. This entire unit is made of identical modules.
What we enjoy the most about these bookshelves is the overall simplicity of the unit and how open and practical it seems to be. Shelves of various dimensions are placed at various heights and they all interact with each other in interesting ways, giving the unit a dynamic look.
This is a really interesting design which combined two individual functions. This piece is both a bench and a book rack. The books are stored on rods and the whole similar is a bit reminiscent of a certain type of magazine holders.
This is yet another stylish representation of a room divider with lots of individual bookshelves in its structure. The black and white combo is elegant and timeless, always trendy and always a good choice for any type of decor and any style. The geometry of the shelves in this case an indicator that the overall design is minimalist and modern.
A bunch of wavy bookshelves are put together here to create a large wall unit. It's a really great idea for spaces such as the home office. At the same time, such a feature can also look nice in a living room or even in a bedroom.
A bookcase or wall unit can be large without necessarily overwhelming the room. The secret in this particular case is an assortment of large modules with clean and simple lines which ensure an overall airy and open look for the unit and the room in general.
A design like this one softens the overall decor with its stylish curves and smooth lines and angles. the overall design has a nice organic look. It can look stylish when used in combination with a round top coffee table or a sofa with rounded corners.
When selecting a design or a style for a bookcase or any other piece of furniture it's important to take into consideration all the details and the little things that have an impact on the space and look in general. This includes things like form, shape, size, material, texture, color and placement.