Unexpected Modern Chandeliers Styles That Steal the Show
Choosing the right lighting piece makes an enormous difference in the ambiance of a room. Modern chandeliers are the best bet for the biggest impact in any space.
Not only does a dramatic chandelier draw attention upward, but it also emphasizes the style of the interior, be it glamorous, industrial, minimalist or just plain modern. Fixtures can be large and imposing or spindly and airy — whatever strikes your fancy.
What is a Chandelier
The dictionary definition of a chandelier is pretty simple: It's "a branched, decorative lighting fixture that holds a number of bulbs or candles and is suspended from a ceiling." However these days, it holds light bulbs, not candles.
History of Chandeliers
The term "chandelier" comes from the French word for candle: "chandelle." Over the centuries, chandeliers evolved from simple, rustic constructions to something much more. It morphed into a fixture that symbolizes social standing, luxury and wealth.
These light fixtures turned into gilded features found in the homes of the wealthy. In fact, they did not show up in working-classes homes until the 16th and 17th centuries. Of course, these were not gilded versions. Instead, they used wood, iron, or tin. Over time, high-end chandeliers started using Venetian Murano glass and eventually lead crystal.
While early chandeliers used candles, later versions used gas when that technology developed. Eventually, the arrival of electricity made chandeliers easier to install and use. Today, they come in a huge range of sizes and styles. Only some of them look like grandma's old crystal version.
Modern Chandelier Lights
Today's modern chandelier lights vary so widely that sometimes they are hard to define. Sure, some of them follow the traditional branched shape.
On the other hand, many styles are quite different. Some direct light downward, instead of the usual upward-facing bulbs. All this means is that you have loads of options when it comes to modern chandelier styles.
Modern Dining Room Chandelier
Hanging over the table is the top spot for a modern dining room chandelier. In fact, this is the most commonplace to see chandeliers. Choose a style that complements the room and table that you have. Also, you want to make sure the size and scale are right for the space. Finally, do the math before you hang it to make sure it's right!
Mid Century Modern Chandelier
With this iconic style still so popular, it's no wonder that many people want a mid-century modern chandelier. These fixtures have geometric features, organic curves and clean lines. There's something about their retro, minimalist vibe that's appealing.
Mid-century chandeliers feature clean lines, organic curves, and geometric shapes.
Modern Black Chandelier
These days, you can find lots of lighting fixtures with a black finish. Modern black chandeliers are more common than you might think. Some have an edgier look than others but you can find different styles in glossy and matte finishes. You can even find black glass versions that skew to a more traditional, formal style.
Modern Crystal Chandelier
Even with all the new lighting innovations available, crystal chandeliers are still popular. In fact, a modern crystal chandelier looks great in many interior décor styles. Today's modern chandeliers often feature crystal arrangements that are more minimalist and perhaps have fewer drops. And, if the fixture does have drops, they're probably sleek and not combined with lots of gold.
Modern Farmhouse Chandelier
These types of chandeliers are very popular right now because they are typically more casual. A modern farmhouse chandelier usually features metal, natural materials, weathered elements and vintage accents. Homeowners like to use one of these modern chandeliers not just in the dining room, but in any room of the house.
Modern Gold Chandelier
Today's modern gold chandelier is a far cry from the stereotype that's dripping with crystals. Instead, these fixtures may have a more streamlined appearance.
They also take full advantage of LED technology to include small lights in really innovative designs. A modern gold chandelier lets you have all the bling you want without fussiness.
Brass Modern Chandelier
The trend for mixing metals makes a brass modern chandelier a versatile design feature. The color trends toward gold, but there are also many finish variations. So, you can have anything from a shiny and bright fixture to a more matte, rustic style. Undoubtedly, you can find a brass modern chandelier that fits your room's décor.
Large Modern Chandelier
While chandeliers come in all shapes and sizes, the trend is for wider and bigger. Whether the fixture has added tiers or really expansive width, a large modern chandelier is an immediate design focal point. Between LED technology and a trend toward minimalist designs, a large modern chandelier can have some very interesting shapes and constructions.
Modern Glass Chandelier
Move aside cut glass. Today's modern glass chandelier abandons the faceted pieces that we used to see in favor of sleek glass. Modern shapes like tubes and textured panels mix with lots of small light elements. This creates a whole new look and still puts out lots of light.
White Modern Chandelier
A white modern chandelier does not have to be painted metal. Lots of materials are available and you can have a chandelier made of wood, beads, paper and even feathers. White is among the most popular choices because it's a neutral color. A white modern chandelier also works in today's neutral color palettes.
Modern Staircase Chandelier
Drama is the number one requirement for a modern staircase chandelier. Whatever fixture you choose, you want it to take advantage of the tall space over the stairs. Modern chandeliers that are long are the best options for this space. You can have one that is a single, unified fixture or one that has multiple individual elements mounted together.
Modern Chandeliers For Foyer
Thanks to the different sizes available, you can have a modern chandelier for a foyer, no matter how tall the ceiling is.
Of course, the taller the space, the grander the chandelier it accommodates. You can even mount some types of small chandeliers on a standard height ceiling. The best thing is that the same style often comes in different sizes. Thus, you can find one you love that fits your foyer.
Modern Chandeliers For a Living Room
Within the last decade or so, the chandelier broke free of the dining room and started finding its way into the living room. Maybe some of this is connected to the popularity of open-plan living, but it's a great trend. Modern chandeliers for the living room tend to be rather artsy and make a big design statement. Picking one for the living room is not the time to choose something plain.
Musical Flair
A profusion of horn shapes makes up the Botti Chandelier by Delightfull. Each of the horn bells houses a lightbulb so that the fixture casts light in all directions. Inspired by American trumpet player Chris Botti, it is hand-crafted from brass that is finished in a luminous gold plating. This tribute to jazz music is a lyrical touch for any high-ceilinged space, from a soaring living room to a grand entryway.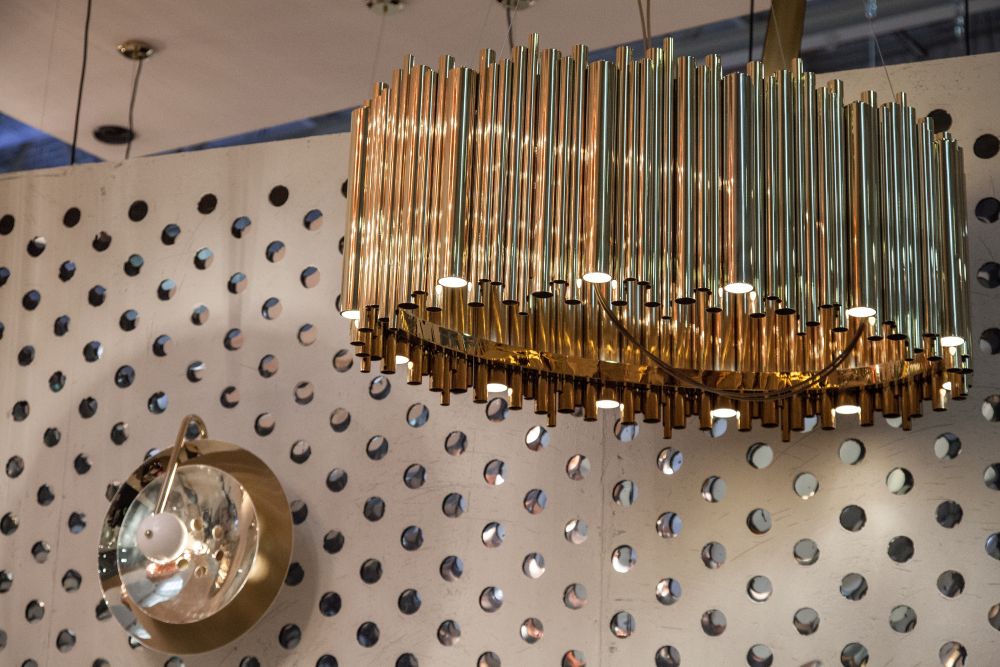 Similarly, the company's Brubeck Oval suspension light is an homage to jazz pianist Dave Brubeck. The sculptural chandelier is a mid-century modern fixture. The finesse of the legendary pianist comes through in the sophisticated design crafted by artisans. This particular one is gold-plated, but it is also available in other finishes. The oval stunner is an ideal chandelier to hang over a dining room table.
Tiers of shining metallic pieces, resembling the fringe on a grand skirt make up the striking body of this chandelier. The Etta is yet another tribute to a jazz great by Delightfull.
A touch of nostalgia and a feminine feel distinguish this fixture named for the iconic jazz singer. The brass leaves are hand-shaped by top artisans in Portugal and finished in brushed gold. A spectacular addition to a two-story entryway or even a bedroom with a cathedral ceiling, the Etta is modern in nature but also reminiscent of a grand era gone by.
Royal Delicacy
Utterly feminine and exotic, the Budùr chandelier evokes sultry Saharan nights and the comforts of lounging on a bed of endless pillows. The delicate fixture is part of the Le 1001 Notte Collection by Valentina Giovando Design.
The shirred fabric circle forms a soft base for the beads that form a layered necklace around the frame of the chandelier. A ring of brass palm trees adds the exotic element, transforming the entire piece. Tailor-made to hang over a plush and luxurious bed or chaise lounge, the Budùr creates an atmosphere of luxury.
Drops of Light
A modern chandelier does not have to be a single suspended unit. Many artistic fixtures use multiple small units, which makes them customizable for a particular space. This is the case with Pluies de Lumière from Atelier Verart, by glassblower Myriam Roland Gosselin in her Marrakech studio.
The exclusive hand-blown modular borosilicate glass orbs are hung at various heights in all sorts of configurations. Each one is punctuated by additional drops of glass as if they were coated with sparkling ice crystals.
Modern Points of Light
Like drops of rain splatting down from the sky, the Rain suspension light by Thierry Gaugain is a minimalist chandelier with maximal impact. The customizable arrangement has from 37 to 137 individual OLED lights.
OLED stands for Organic Light Emitting Diode. It's different from LED in that the electroluminescent layer that emits light is actually a film of organic compound that emits light in response to an electric current. In fact, there is no "bulb" inside each element. Instead, the entire flat surface glows. It's a technologically and stylistically modern chandelier that's also a conversation piece.
Organic Light Forms
Many people think that a modern chandelier immediately means linear and minimalist shapes, but this fixture from Ochre proves otherwise. The Seed Cloud Installation is a collection of individual elements that are organically shaped metal buds that house a plump glob of glass illuminated by an LED within the bud.
This is another totally customizable fixture that can add style to any space because it is available in configurations as small as three buds or as massive as 188 buds. The polished bronze buds are also available in a satin nickel finish.
Another cascading modern chandelier is the Allure chandelier from Paolo Castelli. This fixture also features lights raining down, but in a more linear form.
It is available as a round or oval and has 22 or 23 Murano glass drops arranged to mimic falling rain. The base of each element is either 24 karat gold leaf inlay or silver. As in this image, the Allure makes a dramatic impact over a glossy modern table.
Mid-Century Modern
A mid-century vibe adds a touch of urban glamour to the Madison chandelier by Andrea Bonini. The metal arms branch off in an angular way, casting light both upward and downward. The central column of the fixture has a luxe look thanks to the glossy colored and fluted surface., which really elevates the piece. The super-stylish chandelier is ideal for any room because you install a single fixture or double it up over a long dining table.
Oversized and Opulent
The style of this chandelier is decidedly old-school opulence but recent trends have been putting this kind of fixture in all styles of homes, including modern ones. Hand-blown Italian glass makes up the entirety of this magnificent chandelier, from the massive base to the individual glass drops.
These types of modern chandeliers from iDOGI grace palaces, villas and private residences around the world. If the space and the budget are available, there's nothing that makes a statement like an oversized chandelier.
For extra-tall rooms, a multi-tiered glass chandelier is ideal because it fills the open space with light and magnificent glass artistry. This design is all hand-blown glass, but it has a lighter feeling because it lacks a large, heavy base. Instead, it has layers of curving arms that hold the individual bulbs.
Modern Candelabra
The first chandeliers were rustic constructions of wood beams with candles, and in those days, quality candles were expensive. As fixture size grew and the number of candles multiplied, chandeliers became associated with luxury and have remained so ever since.
The Kali by Paolo Castelli is a modern chandelier that plays off of the old structure, with arms that hold individual golden "candles." Crafted entirely on the island of Murano, geometric arms hold the glass elements that are extra special: fragments of 24 karat gold leaf are suspended in the glass.
Ethereally Tubular
So different and unexpected, My Lamp from Paolo Castelli looks like a gathered round of test tubes encircled by a brass band.
The Venetian borosilicate glass tubes are more like a bouquet of lines and light that is somehow complex and simple at the same time. Hang this modern chandelier over a dining table or in a living room and it is instantly a dramatic focal point.
Modern Melodrama
Another example of an old-school style gone modern is this Au Revoir chandelier from Karman Italia. Designer Matteo Ugolini has put an artistic and modern twist on the basic profile by irregularly tilting the bells outward and extending some on the bottom tier to hang lower.
The drops accent the entire silhouette, making it feel like it melted. The designer's aim was to represent "that extraordinary moment fading away… which will last forever in our recollections."
Modern Ice
Water is a frequent theme in modern chandeliers. Some fixtures resemble falling rain while others look like they are icicles. Icicle chandeliers from Brand van Egmond are made from brass and blown glass, evoking an icy cave of stalactites overhead. The finish of the base can change the warmth of the fixtures, ranging from cool, sharp silver to warmer toned fixtures that emit a softer light.
Nature-Inspired
Another modern chandelier from Brand van Egmond is the Eve, which combines a naturally winding branch-like structure with berry-like forms that hold the lights.
It is sade from steel with a copper finish, but can also have a finish that's black, matte white, bronze, nickel, brass or burnished brass. The fixture is quietly elegant and speaks softly in any room of the home.
Wonders of Geometry
Brand van Egmond's Fractal chandelier is a work of mathematical proportions. He took on the concept of fractals and rendered it as a light fixture. Van Egmond created a multi-reflective chandelier that uses a multitude of triangles to reflect the few lights mounted on the exterior.
An Architectural Vibe
A great example of a modern chandelier with an architectural vibe is the Wireflow Chandelier by Arik Levy. The artist "reinterprets and updates the traditional suspended lighting fixture" by simplifying the lines and creating something that has an ethereal feel, despite being a bit industrial. This is a remarkable versatile fixture and could quite literally work in any room.
FAQ
How do you determine the height of a chandelier?
The most critical part of picking a modern chandelier is getting the size and scale right. Before you start shopping, measure the size of your room. Be sure to get the height of the ceiling as well as the width and length of the space.
In general, you want to calculate 3 inches of fixture height for every foot of ceiling height. To figure it out, multiply the height of your ceiling times three. If the ceiling is 10 feet high, you want a fixture that's 30 inches tall.
How High Should a Chandelier Be Above a Table?
Assuming that we are talking about a dining room table, the lowest point of a light fixture should hang 30 to 36 inches above the table top. But, this assumes that you have a standard ceiling that's eight feet high. If your ceiling is taller, you'll need to measure it. In general, add three inches for every foot of ceiling height over 8 feet. That said, there are other factors to consider when deciding how high to hang a dining room light.
How big is the overall room?
How much light does the fixture emit? Will it still shed enough light on the table?
Does the dining room light fixture still look good at a higher level? Consider this question from different places around the room, including when you're seated at the table.
How To Clean a Crystal Chandelier
While it might be easiest to clean a crystal chandelier by taking it down, most of us do it while it's still hanging. Before you start any cleaning, put a blanket under it in case anything falls off. Also, it's a good idea to take a picture before you start. If need to take off any pieces you'll know where to put them back.
Turn off the chandelier.
Mix four parts distilled water with one part isopropyl alcohol.
Wear white cotton gloves while you clean to avoid leaving fingerprints.
Spray the cleaning mixtue onto a clean, lint-free cloth – not directly onto the chandelier.
Wipe each crystal with the cloth and then immediately dry it with another cloth.
How To Hang A Chandelier
Depending on the size and height of the ceiling, you might be able to do the job solo. Otherwise, you'll need to have help.
First, turn off the power to the room. Always take the safety step when working with electricity.
.Make sure that the ceiling box – also called the electrical box – has enough support for the chandelier, especially if it's heavy. A standard box attached to a joist can usually hold about 50 to 75 pounds.
Remove any existing fixture.
Assemble the new chandelier.
After you calculate how low the chandelier should hang, measure the length of the chain and adjust it if necessary.
Attach the chandelier to the ceiling box per the manufacturer's instructions.
Connect the wires and then push them into the electrical box. Next, cover the box with the decorative plate.
Insert the bulbs, turn the power back on and enjoy your new chandelier.
How To Convert A Recessed Light To a Chandelier
The biggest issue in converting a recessed light to a chandelier is the support. If the electrical box is not well supported, you will need to add a ceiling fan brace to the ceiling box. Second, a recessed light can has a bigger hole in the ceiling than you will need for most modern chandeliers. Of course, you can cover the hole with a ceiling medallion.
Other than those two points, the installation is the same. Barring any unforeseen problems, you should be able to do this job in an hour or so
How Do You Hang a Chandelier on a Sloped Ceiling?
You want a chandelier, but your ceiling is sloped…can you still do it? Yes! However, safety comes first so you'll have to be sure that the ceiling box has enough support. Beyond that, if the chandelier hangs from a chain, you shouldn't have to do any major modifications. With other types of mounts and if your ceiling is steeply sloped, you will need a sloped ceiling adapter.
Generally, light fixtures can support a slant of about 15 to 30 degrees. Anything steeper will require an adapter. A variety of different types exist and the requirements will vary with the kind of mount you have. There is also a good deal of preparation involved with installing an adapter, so plan accordingly for the time required.
How far off the floor should a chandelier be hung?
As a rule, you want to hang a chandelier at least 7 feet above the floor in most rooms with standard height ceilings. For taller spaces, they should be about 8 feet above the floor
How high do you hang a chandelier in a 2-story foyer?
In a two-story, open space, make sure the chandelier doesn't go lower than the height of the first floor.
Modern Chandelier Conclusion
It's easy to see that modern chandelier styles vary quite widely. Without a doubt, there's one that will fit any space with style and distinction.