How to Rev up the Style of Your Spaces with a Modern Accent Chair
A modern accent chair has many purposes. First and foremost, it provides additional seating because accentuates a room's main focal point, such as a sofa, and serves as a secondary seating area.
Another purpose is to add vibrant colors and textures to a room. It supplements a room's overall design, including the decor and furniture.
Accent chairs are specially designed to add texture and life to any room. It may seem like a regular piece of furniture but it has a few special characteristics. Its function is to complete the overall decor by providing additional seating as well as an eye-catching detail able to sometimes function as a focal point.
Modern accent chairs are usually defined by their simplicity and graphical designs, and they stand out by being subtle.
Stick through the end of this article to know each specific type of accent chair you can use to know the right option for you.
Types of Modern Accent Chairs
Accent chairs provide unique features and functionalities. Here are seven types you can position strategically in your space to offer seating to your guests.
Armchairs. Armchairs provide a classic and straightforward style that complements the look of other seating in your living area. It can effortlessly add a timeless elegance to your home. A majority of armchairs work best in the living room or dining room.
Armless chairs. Armless chairs, otherwise known as slipper chairs, are typically not as large as armchairs. As a result, these chairs are easier to integrate alongside a sofa or love seat. An armless chair can provide a punch of color to your living area while providing extra seating for your guests.
Sculptural chairs. Sculptural chairs can be a mesmerizing piece of furniture for your living room or bedroom. These accent chairs are terrific for lounging. Sculptural chairs are eye-catching and they grab attention. Add a sculptural chair if you want a modern vibe for your home. Not only does it provide seating, but it is a decorative piece as well. Bear in mind that if you incorporate a sculptural chair into your interiors, you will want this to be the main focal point.
Traditional. In contrast to sculptural chairs and armless chairs, traditional chairs are classic, elegant, and fit into any room. Traditional chairs come in various colors, fabrics, and designs, depending on your aesthetic.
Casual. Armless chairs with a neutral color provide a cool and casual look. Casual chairs are terrific if you want to make your living room truly feel like a sanctuary. This furniture piece helps you create a comfortable and welcoming ambience.
Modern. Armless chairs with bright colors and fun prints provide a contemporary aesthetic. Modern designs are simple yet eye-catching and must follow your home interior's current theme. Placing a modern chair in your living area or bedroom can transform the room's atmosphere.
Luxury. Sculptural chairs have undulating lines and offer a luxurious feel because of their size and head-turning appeal. These luxury chairs are leaning toward their artistic appearance rather than a functional casual seat. As a result, luxury chairs work well in contemporary and sophisticated homes.
Accent Chairs for Different Rooms
An accent chair can be anything that offers aesthetics and functionality. There are accent lounge chairs for your living room and there are also simple rocking chairs that would work in your bedroom.
Bedroom accent chairs
One of the best-kept secrets of interior design is your living room space accent chair or something like it can rev up the look of your bedroom.
Not only do accent chairs provide you with another area to play with colors, patterns, and textures, but they are also a perfect spot to lounge and read, as well as lay your clothes, set down your bag, or other objects.
So, if you want to incorporate more style and function into your bedroom, an accent chair is your best option.
Accent chairs for living room
After checking your floor plan, you may believe that you have found the perfect spot for this piece of furniture. But there are many factors to consider when selecting the best accent chair for your living area. You must not overlook how you plan to use the chair you will be purchasing.
If you envision yourself curling up on your accent chair, choosing a design without arms is best. A chair with a deep base is suitable for lounging.
Accent chairs can also serve as conversation nooks if you host dinner parties where guests gather in the living room. This may involve changing the type of chair to make it work aesthetically in a space. Be sure about what you need from an accent chair before shopping around.
Accent Chair Design Ideas That Will Make A Splash
With thousands of accent chairs to choose from, it is important to get yourself familiar with the different designs and features before you purchase. Shopping with intention and understanding what you need in your space is a smart way when buying an accent chair.
Read on to check 21 accent chair designs that are definitely worth knowing.
Berlin Leather Seat Modern Chair
One of the pieces that can be used as an accent chair in a modern interior is the Berlin. This is a chair that uses two durable materials (leather and steel), which form a modern and innovative composition, able to provide aesthetic in a variety of settings. Obtaining this beautiful color on the leather is a 14-month long process.
Shell Lounge
The Shell Lounge is a classical piece of furniture originally designed by 1956. Its design is very clean and minimalist, featuring two plywood pieces attached to a sleek metal base. This particular version of the chair was customized with calf leather wrapping around the plywood.
Rex 120
The design of the Rex 120 chair is elegant, simple and modern. This is a piece that stands out without being particularly eye-catching. This chair uses bentwood for its armrests. The seat and backrest are perforated in order to reduce the overall weight and improve ventilation, making this a very ergonomic piece of furniture.
Scandinavian Flow Chairs
It's easy to see why the Flow chair would make a lovely accent piece. Its dimensions, shape, and curvaceous lines already speak comfort. The chair was designed by Tomoko Azumi and is available in three colors: black, white and natural wood. Although it looks exquisite as an accent piece, you can also use it in sets of two or more.
Nido Brass
Some accent chairs have designs that are more abstract and less straightforward than others. This one is a beautiful example. Designed to be cozy and comfortable like a cocoon, this accent chair also stands out, thanks to its unique form and carefully selected materials and finishes.
Hideout Armchairs For Patio
Accent chairs are sometimes put in corners, reading areas or in spaces where one can spend some time in quiet relaxation. Hideout is a chair designed by Front and has a steam-bent solid beech structure with a large and comfortable seat. The backrest wraps around the user, its central part being upholstered just like the seat.
Fiber
The main goal when designing the Fiber armchair was to find the perfect balance between maximum comfort and minimum space. This chair uses bio-composite materials, which integrate 25% wood fibers. As a result, the chair has a smooth finish and resembles plastic only to reveal the wood's beautiful grain when viewed up close.
Betty solid Wood
Betty is a very simplistic chair built with an oak frame and a seat and backrest made of lacquered plywood. You can use this design as a dining chair and since it comes in a variety of colors (black, white, yellow, red and khaki) a variety of interesting combinations become possible. At the same time, it can also function as a stylish accent chair.
Omega Cork Seating
When you think about it, any chair can function as an accent piece if used in the right context. However, some designs make that simpler and more obvious than others. The Omega collection is a good example in this case. The stools and chairs included here are sculptural, modern, and eye-catching.
Black Finish Bavaresk chairs
The Bavaresk is a stylish low chair designed by Christophe de la Fontaine. Made of beech wood and with a lacquered finish, the chair also stands out because of its design and shape. The narrow backrest makes the seat appear large by comparison. The chair is available in white, black, Bordeaux, yellow or with a stained finish.
Traditional Bai Armchairs
An accent chair doesn't necessarily need to have an eye-catching design and to stand out in a striking manner. It can also be a very simple-looking piece, which doesn't exactly impress. It is actually how you position and integrate the chair into the decor that matters the most, and the Bai chair's design can reflect that.
Unique Hanger Chair Design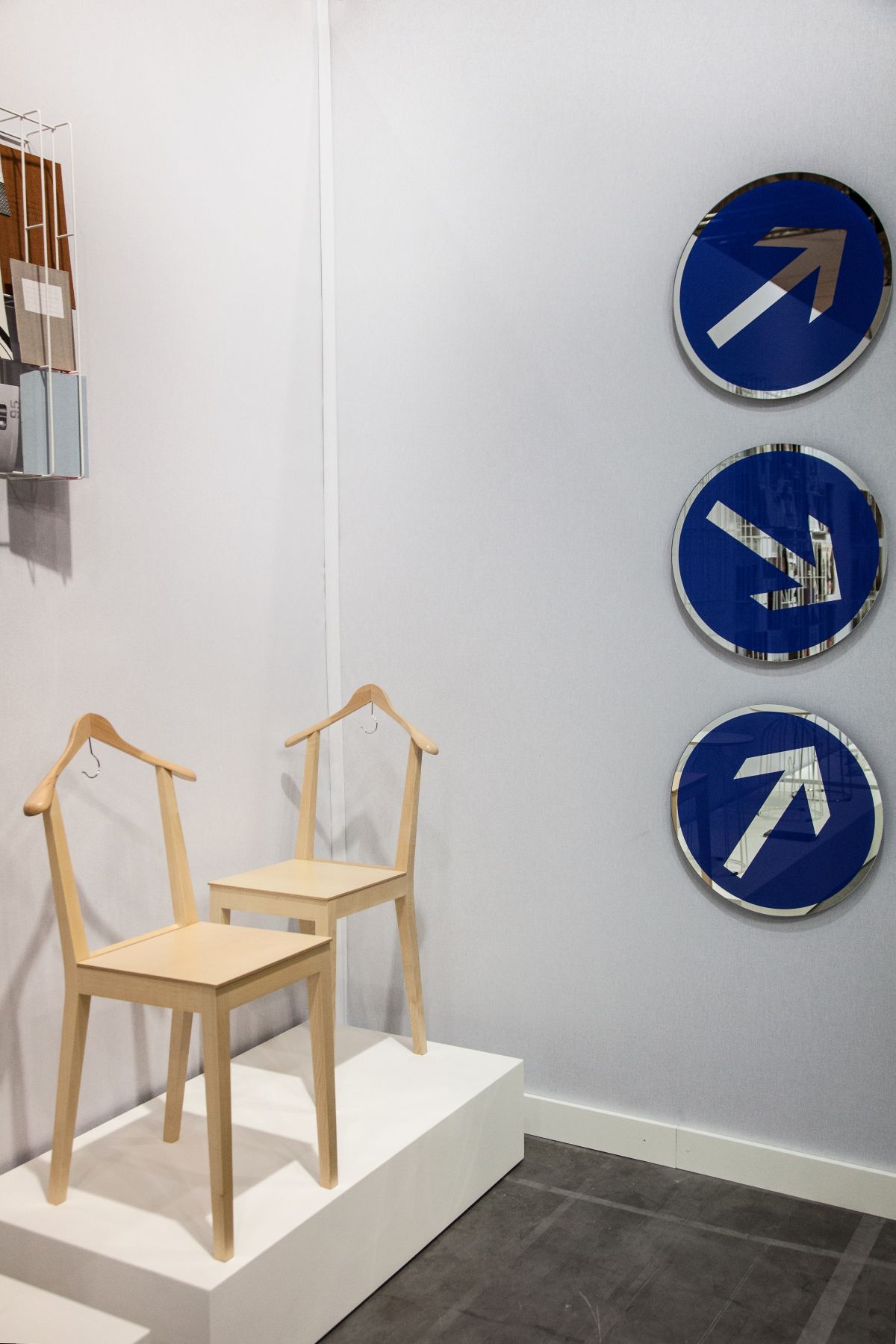 Most of us have the habit of leaving clothes on chairs and turning these pieces of furniture into hangers. Whether this is a good or a bad thing, we can't really say.
However, we found this very interesting chair designed by Jorg Gatjens, which has an actual clothes hanger integrated into its design. The Hanger Chair is quite a unique piece.
Contemporary Pedrera
The inspiration for the Pedrera chair came from nature, more exactly from the sea. The waves and the sea's continuous movement are the inspiration for this design. Its backrest and armrests undulate and curve to suggest that. In addition to being very stylish, the chair also has a stackable design, which makes it space-efficient.
Perforated Kristalia Chair
Designer Patrick Norguet created Kristalia as a versatile piece of furniture, which can be used in a variety of different settings and for a variety of purposes.
It can function as a dining chair or as an accent chair for spaces such as the living room, bedroom, dressing room or hallway. You can find it in white, black, beige, coral red and basalt gray.
Altay Fur Armchair
Accent chairs are often easy to identify by their low seats, comfortable upholstery or covers and unconventional designs. The Altay Armchair suit the description.
It has a solid beech frame with a natural varnish or black gloss finish and its seat has Mongolian goatskin in white or black. Use it as an extra seat in the living room or as an accessory for your bedroom or some other space.
tacked New Tour Eiffel Chair
One could guess that the New Tour Eiffel Chair was named this way because of its sculptural design and the pattern of intersecting lines that form its overall structure but also because of its stackable design which allows multiple pieces to be stored together forming a tower of chairs.
This piece was a cast aluminum structure with a lacquered finish available in the following colors: Eiffel, black, aluminum, white and red.
The Most Popular Wingback Dining Chair
People choose their accent chairs according to a variety of criteria, which can include the size, shape, color, material or style. The Wingback dining chair falls into the first category, combining the wingback specific to 17th-century designs with the balloon back of the 18th century.
Bent Wood Willow Chair
Comfortable, robust, and light, the Willow Chair's design is perfectly balanced to offer everything one usually looks for in an accent chair. Designer Sean Yoo is popular for his attention to the little details, making sure the chair's back legs are enough to ensure that the back doesn't touch the wall.
Mid-Century Modern Wood III
Behind the extremely simplistic design of the Wood III chair is the meticulous woodworking of Henrik Soerig who found inspiration for this piece in Danish tradition. The design allows this piece to be both comfortable and good-looking. The frame is available in oak or walnut with oatmeal cotton or gray wool felt covers.
Feminine Siluetthe Stay
With a name like Stay it's impossible to resist the calling of this chic armchair. Its design is simple and playful, combining a very thin and sleek metal frame, a curved seat and an almost circular backrest, both upholstered in various different colors. Combine several of these for an interesting dining room design or use them separately as accent pieces.
Industrial Hauteville Chair
The design, shape or size of the Hauteville chair are not what makes this piece special. This design is a result of mixing concrete and fiberglass, thus, the end product was an intuitive and unconventional piece of furniture.
FAQ
What is the most comfortable accent chair?
Many designers agree that Eames Lounge Chair is the most comfortable accent chair. It was first produced in 1956 and remained one of the most beautiful furniture pieces ever designed. It is crafted utilizing molded plywood technology and is a licensed trademark of Herman Miller.
How to choose the right accent chair?
You must factor in 3 things when choosing the right accent chair:
Room style. Factor in the style of the room when deciding the type of accent chair. Style-wise avoid placing an art deco-styled polyester fabric chair in a formal living room since it will look out of place. If your room's goal is for relaxation, you must steer clear of accent chairs with faux leather material or chesterfield designs.
Size and space of your room. The size and space available in your room are crucial when looking for the perfect accent chair. The goal of an accent chair is to be the focal point and grab attention to an area. Therefore, if the chair is too small or too massive, it will look out of place and make your space seem off-balanced.
Color. When choosing an accent chair, you should have one that will complement your existing decor and color scheme. Factor in the dominant colors in your room and choose a chair in a color that either matches or contrasts the primary or secondary colors used. For example, choose a bright orange or yellow accent chair in a room with dominant whites and blues. A distressed leather chair in chestnut also works well for modern spaces that are mostly gray, white and have subtle notes of tan or sand.
Where to place accent chair in bedroom?
Many designers place an accent chair near the foot or side of the bed. This is recommended if you fancy reading before bedtime. Other less intrusive areas in your bedroom, you can place this piece of furniture in the corner of your room.
Conclusion
A stunning accent chair is an effortless way to enhance the style and create visual appeal in any room. An accent chair can bring a room design with more than just an extra seating area. Although accent chairs are available in numerous styles, colors, and patterns selecting the perfect one should be effortless if you follow simple rules and guidelines and listen to your gut about what feels right in a particular area.