Coffee Table Designs: Smart Decor For Your Living Space Or Office
Coffee table designs will surprise you. Among interior design experts and DIY renovators, the coffee table is a statement piece. The tables have different styles and fit perfectly with living spaces.
Finding the right coffee table can be challenging, but also rewarding. You want one that provides visual interest and extra storage space, among other things. Whether the style is modern or rustic, it will be a feature element of the room.
We've assembled a collection of coffee tables that blur the lines between art and design.
Choosing The Best Coffee Tables
When choosing modern coffee tables, it's important to follow a few guidelines. The following considerations should help you choose a design that works for your space and lifestyle.
---
Assess Your Space
You need to know how much space you have. The recommended space is 18 inches between the edges of the sofa and table. This will keep it close enough but also spacious enough for your legs. If you have other seating that flanks the coffee table and needs to be reachable, the same 18-inch guideline applies.
For traffic flow, you'll need more space. The best space will be at least 30 inches between the coffee table and the wall. Cabinets or other structures sometimes need 24 inches.
---
Surface Area
Coffee table height is important. The height of your table should fit with your sofa. While most coffee tables are about 18 inches tall, your sofa's style should match its height.
---
Contrast
Even with decor style, creating a contrast between your sofa and coffee table should be the goal. If your sofa is lean and leggy, pair it something prominent.
If your space is dominated by wood, don't add more with a wooden coffee table. Instead, try glass, metal, or stone for a balanced look. For living rooms with a glass and metal motif, a wood coffee table would balance the space.
---
Household Needs
Your lifestyle and how you use the living room are big considerations. Is the space casual or is it a room for adults and entertaining?
Do you need extra storage and is the style convenient? Finally, if you have children, you want a child-friendly coffee table, so round and oval designs would be best.
---
Coffee Table Alternatives
A coffee table has other uses. Many people prefer a large ottoman t as it doubles as a footstool or provides extra seating.
When serving food or drinks, it functions as a stylish tray and stable surface. If this is what you want, try an old-fashioned trunk or coffee table with repurposed wood.
---
21 Modern Coffee Table Design Ideas
Here are a few coffee table concepts that will inspire.
Visual Interest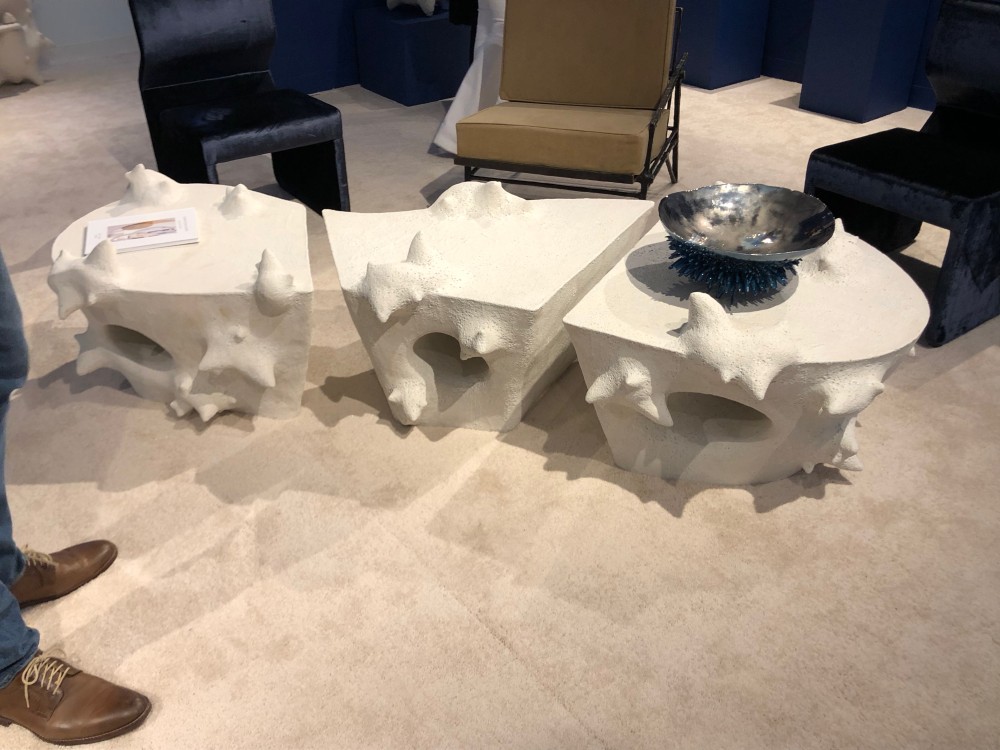 This artful coffee table uses multiple materials. Designed by William Coggin, it's ideal for a room with an art aesthetic. The sculpted protrusions highlight the center parts.
There's plenty of level room for plates and glasses. The table is also a statement piece, so you won't need accessories or another styling.
Mid Century Look
The Volcano Table by Gal Gaon offers a contemporary mid century look. The design is a focal point. Made in Israel, Gaon's work infuses modern design to create functional coffee tables.
You'll need a large space for this design. It's best when paired with sofas and chairs that offer softer appeal. The table doesn't require accessories and offers space for glasses and plates.
Round Coffee Table
Let's take a look at coffee tables that feature a round design.
Table Top Design
When the sofa and chairs are all solid colors, a patterned coffee table can add a lively edge to the room. The black and white coffee table is part of the chromatic collection from Jaime Hayon.
Stone is a durable and family-friendly option. It's also a distinctive choice for a living room or family room.
Galerie Negropontes
Dark and deeply veined, this marble coffee table by Hervé Langlais is from the Architectural Landscape Collection. It is made from Altissimo marble from Italy and inlaid with a geometric motif of polished brass.
Its size is imposing and the brass detail is a more delicate counterpoint that draws you in to study the surface of the table, including the distinctive veining pattern. The table base is also polished brass.
Circular Glass Coffee Table
The Propeller Table by Samuel Marx looks just like its namesake. The vintage piece was created circa 1945 and the propellers around the base are designed to display books.
The small ledge at the bottom of each of the eight wood sections is meant to hold up a book. A rotating base allows you to access your books from all sides of the table.
Nicholas Kilner
Striking in its simplicity, this coffee table from Gio Ponti is timeless. The oak and brass base support the round glass top, placing intersecting design underneath in full view.
Modern Table Designs
Here are a few designs that push coffee table concepts into new boundaries.
David Gill Gallery
Elegantly curving lines are characteristic of designs by the legendary Zaha Hadid and this coffee table is no exception. Made from aluminum coated with a polyurethane lacquer, the table is part of a limited edition set.
Modern Twist
The unique feature with this design is how the top looks like scattered stones. The Geology Table, by Chen Chen and Kai Williams, takes modern coffee table design to new levels.
The top is made of polished stones with a high gloss, while the underside is left natural. The stone pieces are set on a steel support frame. The table is a functional conversation piece.
Modern Wood Table
The sinuous lines of these sculptural coffee tables by Irish designer Joseph Walsh add elegance to a living room. As part of his Dommus Suite furniture series, the tables and other pieces are made with bleached ash.
The design offers room for entertaining guests. If you have the space and want a wood coffee table, consider this style.
Glass Top
An avant-garde coffee table offers a surprising twist and can define a space. Designed by Theophile Blandet, the table is an exploration of materials that comes together in a piece that's unique.
This coffee table will spark discussion and serve as a focal point for any modern living room.
Brass Coffee Table
The amethyst crystals at the center of this coffee table are the focal point. Created by Jean Arriau, the Coffee Table Irusha is made from polished brass that is etched with a radiant design.
Surrounding the crystal are the French words "Je t'ai trouvée – Pour toujours – La vie est belle" which translates into "I found you – Forever – Life is good." This is an example of when a coffee table can be a spiritual addition to a living room.
Mixed Material
Quark Bronze is one of a limited edition series of low coffee tables with different materials. Created by Emmanuel Babled, the tables are made with wood, plexiglas, copper, and marble.
It is a large and dramatic coffee table, ideal for anchoring a large room. Its form is much like a major piece of sculpture, which only enhances its functional qualities. Babled combines traditional Italian craftsmanship with digital tools that help him create very precise pieces.
Designer Coffee Tables
Here are a few fresh designs that represent modern coffee table concepts.
Ammann Gallery
Modern and weighty, this imposing yet intriguing coffee table is by Studio Nucleo. Called the Iron Age coffee table, it is indeed made from burnished iron.
The cutouts add extra dimension, which is already different thanks to the geometric cuts around the perimeter.
Donzella Gallery
Like a geometric mosaic, the Artide is a low table and art piece featuring hand-carved glass panels. Created by Ghiró Studios of Italy, the new design features a brass base and framing around each panel.
Odd brass pieces on the surface are not just inlays. The table's brass legs extend through the table's surface.
Decorative Designer Coffee Table
Mexico City-based interior designer Gloria Cortina created this Mathias Coffee Table from hand-hammered patinated brass. The irregular geometric shapes fit together a bit like a puzzle but have a lot of versatility for an arrangement according to a specific space.
Cortina works with materials like tropical wood, special types of stones, textured metals, and sumptuous textiles that she sources locally and globally.
Reclaimed Wood Coffee Table
OK, so technically this is a bench, also by Langlais, but we also love it as a coffee table design. The Banc Archs has a smaller footprint making it versatile for a tighter space.
The piece is made from Santos rosewood with a thin strip of polished brass at the ends and on the middle arch at the bottom.
Galerie Chastel-Marechal
This marvelous vintage piece is a coffee table by Warsaw-born Jorge Zalszupin. The designer fled Poland for Romania, where he studied architecture before moving on to France and then Rio de Janeiro after WWII. The top curves contrast with sharper angles at the end and on the legs.
The top includes a hanging magazine rack, which is very different but also very functional. The wood is rich and glowing, a perfect example of a super special vintage piece of furniture.
Related: 21 Lift-Top Coffee Tables That Surprise You In The Best Way Possible
Magen H Gallery
For a spectacular sculpture that just happens to also be a coffee table, look no further than this work by René Broissant.
Created in 1970, the base is made from iron and its sweeping shapes support a hefty, organically shaped glass top.
A beveled edge that is highlighted by an opaque strip helps define the perimeter of the glass and frame the abstract base.
Priveekollektie Contemporary Art | Design
The Cloud table by Barberini & Gunnell was created for the Priveekollektie gallery. Consisting o several separate forms, the table has orange onyx supported by a base of solid brushed brass.
Giustini/Stagetti
A modern material joined together in an ancient way, the Medusa coffee table by Italian designer Andrea Anastasio is an assemblage of organic shapes, lashed together. The perspex pieces and chromed metal base are a contrast to the rounded forms of the sections and joining technique.
Designed in 2018, Anastasio's table is characteristic of his work, which reiterates "simple gestures or craft techniques like assemblage, weaving, collage, etc. or just by juxtaposing objects, underlining gestures and aspects of daily life that normally go unnoticed."
Maria Wettergren Gallery
Here is another example of simplicity, with this one from the Maria Wettergren Gallery. The cube frame that supports the base is simple but casts a geometric shadow that adds depth.
Similar to the shapes drawn in school to show depth, the table frame creates the same optical illusion in its shadow: Which side is the rectangle moving?
Frequently Asked Questions (FAQ)
FAQ
Can I Use Indoor Wood Outside?
Indoor furniture is good for outdoors and other places vulnerable to weather conditions if treated beforehand. Strip and sand indoor furniture before using it outside, or keep it covered so it's protected from direct sunlight.
Are Coffee Tables Dangerous?
In 2011, almost 150,000 toddlers and young children sustained injuries from accidents related to coffee tables. If you have children, and you want to a coffee table, it's advisable to get one that doesn't have glass or sharp corners.
Who Invented The Coffee Table?
The coffee table first appeared during the Victorian Era in Great Britain. In 1868, E W Godwin was the first to register a table as a "coffee table."
According To Vastu, What Would Be A Good Coffee Table?
Avoid selecting a dining table with a circular or odd shape. Choose a dining table that is either square or rectangular to ensure stability and a positive energy flow.
How Do You Feng Shui A Coffee Table?
If you practice Feng Shui and have a coffee table, you want the table to be square or rectangular. A round coffee table is bad for chi energy. The whirling, circular motion creates chaos and confrontation.
Coffee Table Designs Conclusion
As you've learned here, coffee tables come in many shapes and styles. From sculptural designs to simple geometry, a functional coffee table will create a better living space. If you want to make the table a focal point or you're looking for flair, rest assured, that a design exists for your space.
A coffee table should fit with the overall aesthetic of the space it occupies. You should choose a clean design and something that complements your color scheme. Whether a large space or small one, a coffee table is a conversation piece more than it is a decor item.
If you're the type who enjoys entertaining guests, a modern coffee table can go a long way. Any interior designer will tell you that the best coffee tables offer convenience and style.