Fun And Playful Furniture Ideas For Kids' Bedrooms
It's always fun to decorate a space for the kids. You get to choose from a lot of fun and cute furniture pieces and lots of fresh and playful colors. At the same time you get to reminisce about your own childhood and to feel like a kid again. Designing furniture for kids is to easy task. Sure, it can be a lot of fun but it's also challenging, having to find the right balance between looks and function and to make everything safe and user-friendly. Today we'll explore the world of kids bedroom furniture inspired by fairy tales, cartoons, fun themes and lots of other cool stuff.
Ever imagined you could fly to the moon and beyond, that you had a rocket and you got to explore the universe? As a kid, this can be a lot of fun, especially with an actual rocket in the room. Well, it's not a real rocket but rather a cozy nook inside a rocket which lets kids store toys inside its propulsion system and inside the stairs. The Rocky Rocket is an adaptation of an armchair.
Little girls dream about flying and exploring the world as well but not in a rocket. For them, a hot air balloon seems like a more suitable option. It's more dreamy and delicate than a rocket. This Fantasy Air Balloon bed would have to be one of the most impressive kids bedroom ideas so far. It's an interesting play on the canopy bed design, adapted to be used as either a round bed or a cozy seating nook.
Another very beautiful furniture piece for little princesses is the Mermaid bed. It's in fact a round bed with a frame that looks like a giant shell. Just as shells protect the pearls inside, this bed will protect the little princess sleeping in it, offering her a comfy and cozy mattress and a warm night light above the head.
Designed to look like a big shark about to eat up everything in front of it, this desk is actually not as scary as you'd think. The shark looks pretty friendly and it teeth are actually sources of light for the desk. The wood top has a live edge and matches the whole theme of the desk.
The shark desk would look perfect in a room with a pirate-themed decor. The bed could look like a pirate ship with a custom headboard cover and themed bedding. The floor could be painted to look like water or an area rug featuring this theme could be used. On the walls, a treasure map could be displayed. This is just one of the many interesting boys' bedroom ideas to choose from.
Racing car beds are really popular. They're pretty great, inspiring the kids to use their imagination and to actually want to go to bed when they're supposed to. Red is definitely the most popular color for these beds and they're often customized with stickers, vinyls and other details, just like real racing cars. You can match the bed with some themed bedding and accent pillows.
If racing are too mainstream or if airplanes are actually something your kid loves, you'd be pleased to know there are beds designed to suit this theme as well. To make things even better, you can have the wall behind the bed painted with clouds or you could use custom wallpaper or decals. The bed can be used in combination with a matching desk or closet.
To make your little girl feel like a princess you don't necessarily need a huge balloon bed or anything so dramatic. As it turns out, you can do that by simply choosing the right style. Look for vintage furniture with beautifully ornate frames, bohemian French designs and delicate and intricate carvings. Mid-century modern pieces are just right for such a theme. Add to all that a canopy bed and some beautiful long curtains and the decor is complete.
It's often easier to work with sets so you don't have to mix and match things. Kids' bedroom sets are not always defined by cartoon-inspired prints and patterns and funny shapes. Some designs are beautiful without those things. Take for example this combination of a wall unit with a pull-down table/ desk and a chic sofa that can also be used as a bed. The colors are warm and delicate and, with the right accessories, the decor could look exquisite.
As far as shelving units go, geometric designs are always a good option. They're ideal for modern bedrooms and can be custom designed to perfectly fit and suit the space. Add some shelves above the bed and let them intersect with each other, creating storage compartments of different shapes and sizes.
A shelving unit can also complement a desk. The two can form a set like in this case. The white and blue combination is beautiful and perfect if you want to create a nautical theme in the room. Coordinate these with the shelving unit above the bed to get a cohesive look.
Bunk beds are very practical because they occupy little floor space. Also, kids find them interesting and fun, enjoying having to climb on a ladder to reach the top bed. Toddler bunk beds have side panels for safety reasons and are also more accessible and user-friendly than others.
A great alternative to bunk beds is this type of design. The bottom bed slides under the top one when not needed, thus saving floor space most of the time. This design is actually a bit more space-efficient than traditional bunk beds because it leaves plenty of room for a shelving unit or a storage closet above the beds.
Another space-saving combo can be seen here. This is a loft bed with desk underneath and the two can be independently used as needed. This is a good solution for small bedroom. By raising the bed above the desk you get to save space and allow more room for play.
Instead of a desk underneath the bed another option is to have a small sofa or a storage cabinet placed there. You can also take advantage of the bed platform and have hooks attached to its underside for things like clothes, bags, sports equipment and other things.
Not all bunk beds share the same structure or style. These two were designed to each have their own storage cabinet. They're not aligned one on top of the other but in an asymmetrical manner so both storage areas can be used at the same time. The beds occupy an entire wall.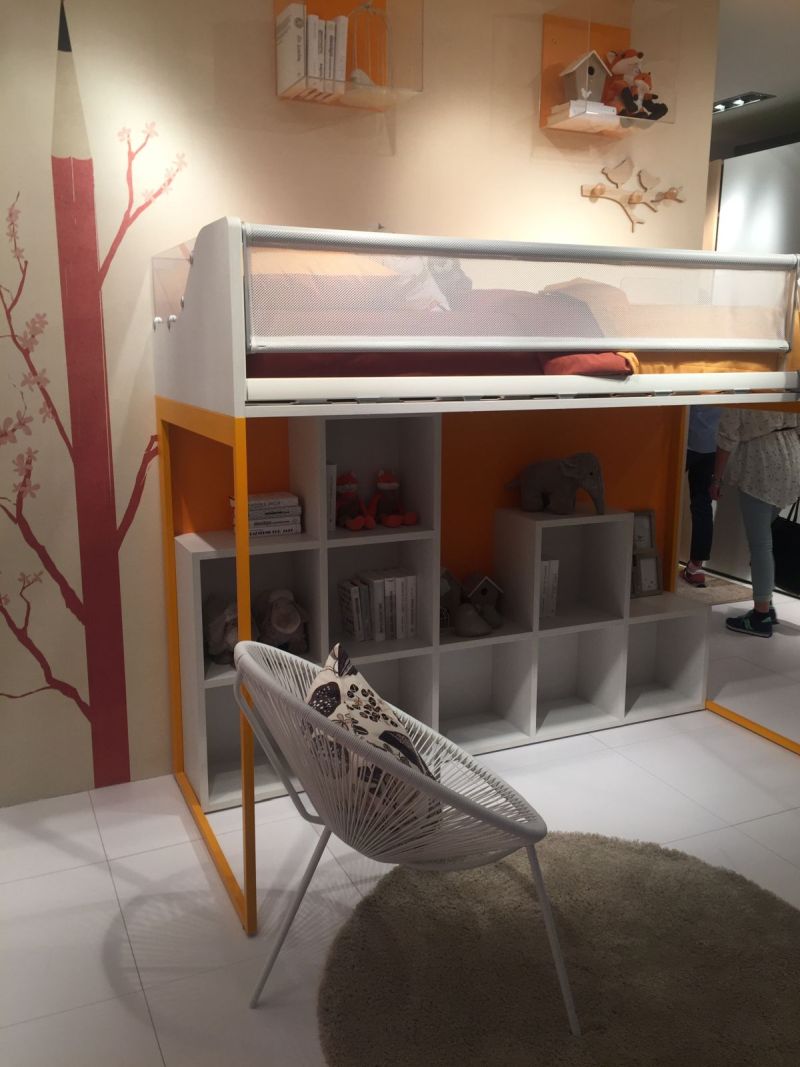 The main concept of the bunk bed can be adapted to save space even when a single bed is necessary. The bed can be raised on a platform but the space underneath can be left open. This allows you to have a storage unit placed there and save space in a different part of the room.
There are various different ways of incorporating storage in a bunk bed's design. One option is to add storage under the bottom bunk or on the side. In this case, a set of open shelves were integrated into the frame on one side while a staircase with storage inside the stairs was added on the other side of the beds.
A pair of bunk beds can be custom designed and built into a larger wall unit. They can occupy a corner of the room like shown here. The top bunk is placed along the wall on the right and the bottom one along the wall to the left. This leaves enough room for a big wall closet and a shelving unit.
Another way of incorporating lots of storage in the kids' room is shown here. Instead of a classical set of bunk beds, one of the beds was placed on top of a storage cabinet and another one to the side. A ladder offers access to the loft bed.
This is another example of the alternative system we mentioned earlier. Instead of a suspended bed this system feature a bed that slides underneath another. Moreover, there are also two storage drawers under the beds. Above them there's enough room for a series of wall shelves.
Bunk beds are the optimal choice for small rooms shared by two or more kids. Instead of occupying all available floor space with the beds, this option allows you to add more storage, a desk, wall shelves and other elements that would not have been possible to have in a classical setting.
A canopy bed is a crucial piece of furniture if you want to make a space look like a princess' lair. The canopy can be customized to suit a certain theme. Ever since the Frozen movie came out this can be a recurring theme in a lot of interior designs. You can use posters and decals to decorate existing furniture as well as the walls while the bed can feature a light blue canopy curtain.
While fairy tales and cartoons may be suitable themes for little girls' rooms, a teenage girl's room needs something different. In fact, there's rarely a theme in such a case. The design is simple and fresh and colors play an important role in the overall ambiance and look. So do prints and patterns.
It's important to offer kids and teenagers the opportunity to customize their room's decor. This can be done by creating a gallery wall where they can display their artwork, photos, posters and other things. Allow them to put these things on display in a stylish way rather than hide them or tape them to the walls and doors in a clumsy manner.
Teen rooms are often defined by dramatic displays of artwork and strong contrasts of color. It's easy enough to have all these elements used in a harmonious way and to avoid a decor that's too graphical or tiresome for the eyes.
Colors are important for any type of interior design and decor but when kids are involved colors tend to take center stage. Strong colors such as red, green or blue become part of the design and they need to remain under control so consider using them in the form of an accent wall, an area rug, a set of window curtains or artwork.
Use furniture to separate the different areas in the kids' room. For example, a shelving unit can separate the sleeping area from the desk, creating a distinction between the space that's comfortable and relaxing and the area where homework is done or where art projects are made.
You can incorporate a theme in the design of the room without making it too obvious. For example, a nautical theme can be featured on elements like the bedding, the artwork, decorations, furniture hardware and other small details that don't stand out at first.
Some themes are meant to stand out. For example, it's impossible to have a Spiderman-themed bedroom without being obvious about it. The red and blue combination alone is very suggestive. Add to that the logo and other symbolic elements and you'll get a very bold design.
Simplicity can be charming in its own way. A clean and fresh design doesn't mean the ambiance would be sterile and lacking any kind of customization. You can still personalize the space but in a different way, more refined and elegant.
Nursery rooms are a different. You have to make all the choices yourself since you can't really involve the baby in this whole design process. Usually the focus is on functionality so make sure there's plenty of storage for diapers, lotions and other things and they're all conveniently placed.
It's practical to have storage drawers or shelves right next to the crib. In fact, this is a design with a built-in storage compartment. The combo makes it easy to grab a napkin or a toy without having to move around a lot. You can even use the top as a changing table.
Shared bedrooms are difficult to decorate, especially when the kids have different styles and want different things. Rather than create a dichotomy between one half of the room and the other, you should try to find the middle point and to come up with a design that both kids love.
When the kids start to grow up, you can stop thinking of them as babies that need colorful rooms and funny toys and treat them more like adults. Redecorate the bedroom to look more grown-up. Pick color combinations that don't include the always popular pink or blue and use something different like yellow or turquoise.
As kids grow up, they start to socialize more, to have friends over and to interact with others. They'll need their room to be more than just a bed and a desk. So consider a Murphy bed instead of a classical one which can be easily concealed to make room for a sofa or a sectional. Also, use elegant colors and textures and think of decorations that look chic.
Instead of a Murphy bed you can choose a different system that better suits the setting.  For instance, replace the bunk beds with two beds that can fold and disappear into a wall unit. It's pretty much the same system as that of the Murphy bed but it's adapted for multiple single beds.
This innovative system is another great option to take into consideration. The bed and the sofa are the same furniture piece. The bed can be lifted and concealed inside the backrest of the sofa when needed.