50 Teenage Boys Room Ideas and Designs We Love
For a teenage boy, his bedroom is like a refuge. It's a private space where he can go whenever he wants to be alone. And where he can pretty much do anything he wants. And some boys room ideas is all he needs to add his own touch to the interior décor.
Since this space will serve as his bedroom, his office, and as a social area, a teenage boy room decor needs to be flexible and functional.
What Size Bed Should a 15-Year-Old Have?
When you're looking for teenage boys room ideas, you might be left wondering what the right bed size is for this particular age.
It is common for teens to prefer a full mattress because it provides plenty of room to spread out yet doesn't feel unduly spacious for a single person. Most teens can sleep peacefully on a twin mattress (even twin XL for taller teens) in a smaller bedroom. Full-sized mattresses aren't needed by teenagers very often.
What Is the Average Size of a Child's Bedroom?
On average, a child's bedroom measures around 132 square feet. A minimum of seven by 10 feet is required for the construction of a bedroom. Any room smaller than this minimal bedroom size is deemed unfit for human habitation by the building code.
In terms of the room's dimensions, it doesn't really matter if it's a master or a standard-sized bedroom. Ceilings in children's bedrooms are typically nine feet high, much like in a master bedroom.
The ceiling must be at least seven feet and six inches high in order for a bedroom to be in compliance with building codes. There are some similarities between doors and windows in master bedrooms and the rest of the house, but they tend to be smaller.
What Kind of Bed Should a 4-Year-Old Have?
The age of your child will heavily influence the size of bed you purchase. As children grow older, their demands alter. For example, younger children spend more time playing, which means that floor space is frequently more vital than a luxuriously spacious bed to recline in.
On the other hand, as older children spend more time lounging, a large bed may become increasingly critical.
For a four-year-old, a loft bed might be the perfect solution. Loft beds are multi-purpose pieces of furniture featuring a storage room beneath the bed's platform. Additionally, they can incorporate a workstation, a play space, and even an additional bed.
Washable Interior Paints for Boys Bedrooms
It's sometimes difficult to find inspiration for a teenage boys room design if you can't even settle on paint color.
Teflon Surface Protector
The good news is that a few paint producers have licensed DuPont's well-known Teflon technology for use as a liquid ingredient in their paints.
Can the same coating that keeps omelets from sticking to pans also keep shoe scuffs from becoming a permanent fixture on the walls of your son's bedroom? The fluorosurfactants used in the paint were developed in 1994 and are connected to the well-known egg-repelling technique.
Teflon-infused paint performs admirably when lightly rubbed with a damp soapy cloth to remove scuffs, deep stains, and dirt. Teflon reduces the surface tension between the contaminating agent and the paint, hence limiting the contaminant's diffusion and penetration of the substrate.
Higher Gloss Paint on Wainscot
It is not necessary to market it as children's room paint or anything else special; any interior paint with a glossier finish will repel stains and scuffs nicely. Thus, eggshell is preferable to matte; satin is preferable to eggshell; semi-gloss is preferable to satin; and so forth. This was nanotechnology before the term was coined.
Glosses are generally considered to be the finest choice for bedrooms. However, if you're dealing with a bedroom that's likely to become a mess (like a teenage boys room), consider copying the elementary school idea and putting wainscot and painting it glossy.
Quality Mattes and Flats
Finding a flat gloss or sheen that is actually washable becomes more difficult. According to professional painters, higher-quality paints are far easier to clean in flat sheens and glosses compared to lower-end products.
As a parent, most people that are looking for teenage boys room ideas to decorate are looking for paints that are easy to clean. As expected, professional-quality paints are more difficult to come by for do-it-yourselfers. It's not as simple as visiting your neighborhood Home Depot.
Things To Consider For Boys Room Ideas
There are no rules when it comes to decorating a teenage boy's bedroom. But there are a few things that should be taken into consideration. For example, the design and décor should focus on functionality while also being approved by your teenager so he won't be embarrassed to show his room to guests when they come by.
This means that you should try to find, or come up with. clever and space-saving storage solutions, that are fun, and still considered cool, by your son. Depending on how clean or messy your child is, this will dictate whether you go with an open storage solution versus something that you can close in order to hide the mess which will inevitably accumulate.
Storage ideas
Furniture with built-in storage, or a lofted bed, can help save space in even the smallest of rooms. And if your teenager is sharing the room, this can be a great way to give both their own space with limited room to work with. You can also go the completely opposite direction and invest in minimalistic furniture that will leave the room feeling naturally spacious. Just make sure you stay away from anything that is too young looking to be enjoyed by your teenager, whose interests are probably changing.
Happy Colors
And this brings up the final thing to consider when designing a room for your teenage boy, the colors you use and his interests. Chances are, he is no longer happy with baby blue walls and a toy train décor theme. Consult with your teenager to find out what his interests are, and try to incorporate these into the bedroom. Because the teenage years are often tumultuous, try to add interests and colors in small touches which can be changed as your teenager grows.
Theme decor
It could be useful to select a theme for the décor. It could be something related to movies or music or it can simply be a combination of all the favorite elements your teenage boy wants to incorporate in the décor. As for the chromatic palette, there are lots and lots of options. Most often, blue is a color that's always present. The same goes for black or green accents but this is a detail that has to do with the personal preferences. If you want some suggestions, maybe it would help to take a look at these examples.
The Best Bedroom Designs Your Teenage Boy Will Love
1. Find Ways To Save Space
2. Have Plenty Of Storage Available
3. Boys Room Ideas To Keep It Simple With Open Shelving
4. Consider A Minimalist Approach
5. Go For A Classy Color Scheme For Boy Room Ideas
6. Use Contrasting Textures
7. Bunk Beds Can Be A Cool Addition
8. Create Cubby Hole Storage Boys Room Ideas
9. Repurpose The Attic So They Can Have Their Own Space
10. Bright Colors Can Be Incorporated Into Boys Room Ideas Too!
11. Make It Modern
12. Decorate With The Help Of Their Favorite Team
13. Put In A Pull-Out Bed For Guests!
14. Transform Their Room Into A Gym
15. Incorporate Calming Colors
16. Mix Bold And Calming Colors
17. Put Cabinets Above The Bed
18. Add Extra Shelving
19. Use What Is Already Available As Storage
20. Construct A Sleeping Nook
21. Built In Desks Rock!
22. Instill A Vintage Vibe
23. Embrace Open Design
24. Design The Room Around Their Favorite Music
25. Nautical Themes Are Cool At Any Age
26. Easy Patriotic Theme
27. Boys Bedroom Ideas with Fun, But Minimal Decor
28. Don't Crowd The Space
29. History Can Be A Nice Neutral Theme
30. Boys Room Ideas with Oversized Artwork
31. Avoid Overdecorating Small Rooms
32. Give The Room An Exclusive Feel
33. Eye Catching Patterns Can Be Used To Increase Drama
34. Consider Using Wallpaper To Accent
35. Change The Vibe Of The Room With Appropriate Decorations
36. Accent Boy's Room With Green
37. Select A Design That Fits Their Media System
38. Try Unique Space Saving Solutions For Boys Room Ideas
39. Add Funk With A Futuristic Look
40. Let Them Look Towards The Future
It could be useful to select a theme for the décor. It could be something related to movies or music or it can simply be a combination of all the favorite elements your teenage boy wants to incorporate in the décor. As for the chromatic palette, there are lots and lots of options. Most often, blue is a color that's always present. The same goes for black or green accents but this is a detail that has to do with the personal preferences. If you want some suggestions, maybe it would help to take a look at these examples.
Picture sources: 1, 2, 3, 4, 5, 6, 7, 8, 9, 10, and rest from pinterest.
41. Hang A Monogram Boys Room Ideas
42. Copy Your Son's Favorite Movie
43. Subtle Touches Go A Long Way
44. Mix Up Patterns For A Mature Look
45. Repaint Old Furniture For A New Look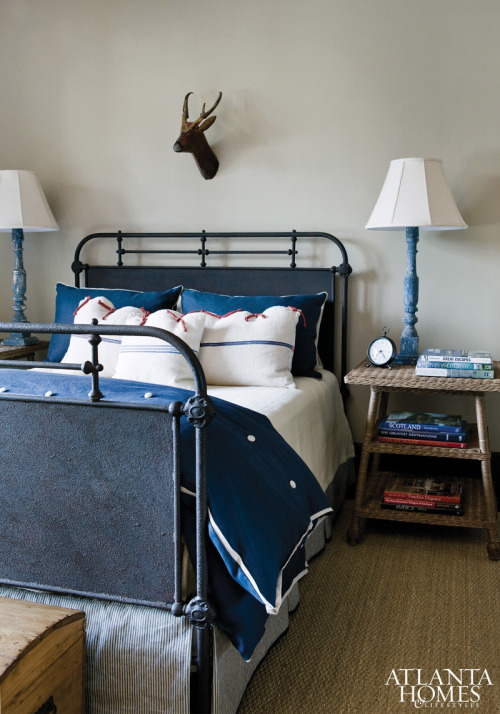 46. Paint A Chalkboard Wall Boys Room Ideas
47. Skip The Fancy Furniture
48. Turn Your Attic Into a Lounge with a Couch
49. Decorate With Humor
50. Street Signs Boys Room Ideas
Boys Room Ideas FAQ
How can I make my boys' room more cozy?
A cozy room consists of a relaxing color theme, soft and fluffy bedding, rugs, soft lamp lighting, and a cozy nook.
How do you organize a boy's room?
You can save space in the room by using vertical organizers, opting for a smaller bed, hanging their clothes, having shoes and accessory bins, and labeling bins and containers.
How do you make a boys room look good?
Transform your boys room with their favorite colors, movies and patterns. You can also make the space look good with organization, bunk beds and sleek furniture.
What should boys have in their bedroom?
Certain items you can put in a boys bedroom will depend on their age. The basics are a mattress, bed frame, bedding and dresser. Other items and furniture you can place include lamps, bookshelves, toy bins and decorations.
How do you decorate a boy's room on a budget?
An easy way to decorate your boy's room on a budget is to thrift items, buy used, and repurpose old furniture. You can add many of the embellishments to a space you can craft by hand for cheaper than buying it brand new.
How can I make my son's room fun?
There are various options for making your son's room more fun, from adding a bunk bed with a slide to adding a hammock. Some ideas include adding a clubhouse, swing, or ceiling decor like stars. Having a theme for the room is easy to make the room more fun.
Conclusion
No matter what your son's interests may be, you're bound to find elements he will want to incorporate into his room on this list! So the next time you both have a minute, sit down and discover what unique furniture, hobbies, and colors he would want to put into his ideal room. Together you'll be able to create the teenage boy room of his dreams that he won't be able to resist showing off to friends and family!