Modern Wall Bookshelves With Intricate And Unexpected Design Features
Wall shelves or shelving units are great when you want to fill up a space in your living room or when you need just a little bit of extra storage space somewhere in your home.
They're versatile and they can really stand out and look eye-catching if you want them to.
Wall bookshelves come in a variety of forms and styles and in addition to those you can always just get some custom-designed that specifically fits your space, storage requirements and style.
Types of shelves
Shelves can be classified according to materials, installation type, purpose and various other criteria. This gives you lots of types of shelves to choose from. Here's some of the most popular ones
Floating shelves
They're great both for storage and display purposes. Floating shelves come in lots of shapes and sizes and they fit in most types of spaces. The hardware used to secure floating shelves to the wall is hidden. This gives the shelves a clean and stylish look.
Built-in shelves
These are shelves are built into a space such as alcoves for example. They're very simple and space-efficient. Their dimensions are dictated by the size of the recess in the wall and have to be designed or chosen accordingly.
Corner shelves
Corner shelves are designed to fit into the corners of a room. They're an excellent way to maximize storage and to take advantage of these unused spaces. They can be fixed or adjustable and they come in lots of styles.
Hanging shelves
These shelves are designed to hang from high surfaces like the ceiling or the bottom of a cabinet. They're useful in kitchens where they can hang above the island as well as in other rooms. Pay attention to the maximum allowed load when storing and displaying things on hanging shelves.
Freestanding shelves
Freestanding shelves don't need to be attached to any surface. They can be sued as is and moved around as needed. They come in different styles, shapes and sizes and can serve various purposes.
Adjustable shelves
These systems have vertical rails and brackets and are a flexible storage option. The shelves are made of metal or wood. Adjustable slotted shelves are best suited for garages and pantries.
Under stair shelves
Shelving stairs are a way to maximize storage and are often found in small homes. They're installed in the spaces underneath staircases but can be a part of the stairs themselves.
How To Style Bookshelves
Ever wondered how some people make their bookshelves look so stylish when yours just look basic and boring? Check out these tips if you want to learn how to style your bookshelves.
Start with the big items
Put the larger items on the shelves first to get an initial layout. This will also help you balance the design in the later stages.
Add diversity to your book piles
Don't align all the books the same way. Store some vertically, some horizontally, some at an angle and so on. Add diversity to your book piles to make the shelves look interesting.
Layer the items
Make your book piles look stylish by adding some decorative items on top of them. For example, you could place a candle or a small box on top of some books to create layers.
Add decorative items
Don't fill the shelves with books. Leave room for a few decorative objects. You can use things like vases, collectibles, small planters, picture frames and so on.
Add potted plants
A bit of greenery always cheers up a décor. Include a few potted indoor plants on your shelves and add some color to this area. You can put them in cute and stylish pots for more visual appeal.
Group up similar items
Items look better when displayed on shelves in groups. Arranging items in odd numbers also helps to create a more balanced look.
How To Arrange Books On A Bookshelf
Even when only storing books on the shelves there's still some things you can do to make them look better. For example, consider the following:
Get rid of some of the books
Believe it or not, you don't have to keep all the books that you read. Book collections grow over time. You'll reach a point when you'll need space for new books. It's a good time to edit your book collection and get rid of some of them.
Take everything off the shelves
It's easier to redesign a bookshelf when you take everything off first and you start with a clean slate. This also gives you an opportunity to only keep the books that you actually love or need.
Play with color
Unless you want to organize your books based on another criteria, consider grouping them by color. This way you can make the bookshelves look beautiful even if all they hold is books.
Use a practical organizing system
If you're more of a function-oriented person consider organizing your books by genre or alphabetically. You can also come up with a custom organizing system. Use a system that makes it easy to find a book when you need it.
Layer the books
This is a nice way of making your bookshelves look less flat when seen from a distance. Arrange the books in piles or stacks and place an item on top of them. You can also organize the books on multiple rows.
Leave some empty space
Bookshelves look better when only filled partially. Use the two-thirds rule when arranging the books and leave some empty space.
Alternative orientation
Arrange most of the books vertically and some of them horizontally. You can use the horizontal book stacks as display platforms for some decorations.
Create patterns
Books have different heights and this gives you the opportunity to create patterns with them. On one shelf you can have the taller books on the left and shorter ones on the right. On the shelf below it you can do the opposite.
Bring the books forward
Move the books to the front of the shelves to make them more visible. This way you can also make them look uniform even if they have different proportions.
Highlight your favorite books
Dedicate a shelf or a section of the bookcase to your favorite books. This lets you express your unique style and gives you something nice to focus on when looking at the bookcase.
How do you hang floating shelves?
Hanging and even building floating shelves is easy. Picture ledge shelves are a good example. You can make these from scratch using wood and a few basic tools.
Start by measuring the wall space. Decide how long you want the shelf to be and cut the wood to the appropriate size.
Glue the 3 pieces of wood together to give the shelf a ledge and a U shape. Reinforce the shelf with nails and then paint it.
To hang the shelf, drill screws through the back directly into the wall. Use a level to make sure the shelf is not slanted.
Wall Bookshelves Design Ideas
The ladder-like Verso Shelf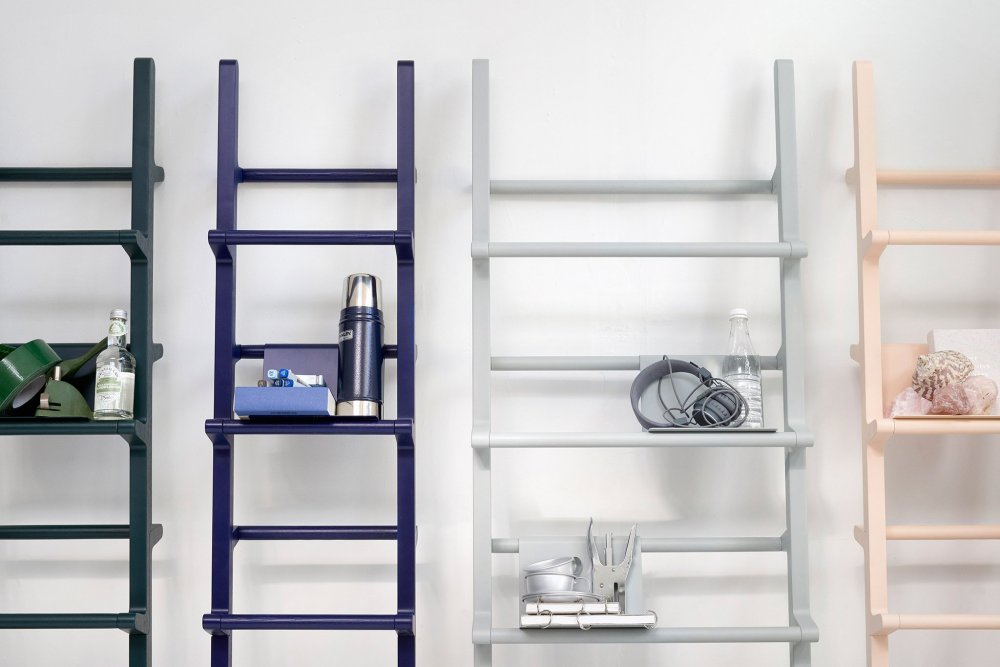 The Verso Shelf designed by Mikko Halonen has a ladder-inspired look and is super practical. It's great for anyone seeking casual storage options or short on space. It leans against the walls so there's no need to drill any holes – great news for those who are renting.
The elegant Zig Zag shelf
The Zig Zag sheld by deFORM comes in several sizes. This is the low version with only 3 tiers of shelves. It can double as a console table or a bar. It can also fit in most rooms and be used to store and display all sorts of items.
Kate and Laurel Vista hanging shelves with brass details
The design of the Kate and Laurel Vista wall shelves is also very simple but in a different way. You can get the she shelves in black, gray, walnut brown and white and all these colors go really well with the brass-colored hanging bracket system. It's a very stylish combination, both subtle and eye-catching at the same time.
The Versatile Rodi wall shelves
Speaking of modern and minimalist designs, the Rodi shelves are yet another beautiful and versatile option. They come in pairs of two and with three different finish options, namely rustic brown, black and white. Each is a two-color combination that you can match to your home's décor in various different ways.
Floating ledge shelves
Floating shelves, especially the very simple ones, are super versatile. These ledge shelves right here come in sets of two and you can have several sets that you can then play with and combine in all sorts of cool and stylish ways. They're very versatile and can be added to any room. They look very chic in the bathroom and can also enhance spaces like hallways, entryways and of course living rooms.
Mcnail cubby shelves
If you prefer a more cozy look and you want the wall decorations and accent pieces to reflect that, something like the Mcnail cubby shelf can fit nicely into the décor. It has a great warm wood kind of feel and a farmhouse-inspired design but it's also simple and modern in a way. It adds a subtle rustic vibe to the space around it and it's also very practical for storing and displaying a variety of items.
The Berry Ave tree bookshelf
Tree shelves are a really cool way of displaying and organizing books. There are many different types and styles to choose from. If you want something small and simple that could fit in your reading corner or that you can casually place in a corner, check out the Berry Ave tree bookshelf. It features nine tiered shelves that can hold several books each.
Boluo shelves made of MDF and steel
You can also find a lot of bookshelves that are very versatile and can fit in lots of different spaces. The Boluo shelves which are made of MDF and steel fit into this category. These three floating shelves are complemented by a sleek stainless steel frame with a gold finish. It's simple but also chic and if you prefer an all-white design that option is available as well.
The shelves are excellent for displaying things like picture frames, small potted plants, candles, books and various decorations.
Large retro-industrial shelving unit
The retro-industrial look is very popular at the moment which makes furniture pieces like the Ironck bookshelf a really great option for a lot of different homes and offices. The slender metal frame gives it a simple and lightweight look and the wooden shelves soften the design with their natural warmth.
This piece has five roomy shelves for storing and organizing lots of different things on. It can be a companion for your living room sofa but also a practical addition to a home office or even a bedroom.
Tiered MyGift hanging bookshelves
Smaller bookshelves can also be super useful in a home office, not to mention they would fit just as nicely in any other room of the house as well. The MyGift hanging shelf features a 3-tier design with black metal brackets and thin wooden shelves with a white finish.
The color combination is classic and timeless, adding even more versatility to this lovely design. It's easy to envision a use for these shelves in one's own home so you can't really go wrong with them.
The Rocky bookshelf credenza
This is Rocky, a credenza designed by Charles Kalpakian. Its design is pretty unusual in the sense that it creates a cool optical illusion that isn't quite what you'd expect it to be. The unit features a geometric form with angular lines and was created as a 3D representation and variation of a classic pattern used by cabinet makers. The shape and look change depending on the viewing angle.
Super slim Climb shelves by Bashko Trybek
This shelving system designed by Bashko Trybek is called Climb. Its design is really simple but at the same time the system impresses with its versatility and graphical appeal. A nice little detail is the fact that the wood shelves that actually make up the unit are beveled on all edges, They're made of solid wood and they're connected by tension wires that become a part of the design.
Related: 60 Ways To Make DIY Shelves A Part Of Your Home's Décor
The Loop bamboo wall shelves
Another simple and versatile system of open shelves is the Loop. It has a series of bamboo shelves with brass features and black steel rods that keep them up straight and attached to the wall. They can be used as standalone pieces or they can be used in groups of two, three or more, depending on your storage needs and on the space that you want to fill.
Fully customizable X2 smart shelf
We enjoy versatility and flexibility in interior design. The ability to change elements in the decor whenever you feel like it and to be able to accommodate various different situations is pretty wonderful. That's pretty much what the X2 smart shelf offers. Made of solid wood, the shelf is fully customizable. You can position it in any way you want and you can always have fun creating new storage compartments.
The XI wooden bookshelf
The name says it all. This is the XI bookshelf. It's called this way because it actually has this particular form. The unit is available in oak or walnut and comes in a flat box. You can assemble it like a puzzle. This part is pretty fun and when you're done with it you can enjoy its quirky features and their impact on the overall decor.
The Alliteration shelving unit by Marie Christine Dorner
This is the Alliteration shelving unit, a piece designed by Marie Christine Dorner. It has a very unusual and nontraditional design, even though it may not seem that unusual at first sight. The design is based on a simple concept. It's a series of vertical and horizontal panels arranged in a grid. They appear to decrease in size as they reach towards the ceiling and this creates an unexpected look.
The modern-industrial Hardy bookcase
The Hardy wall bookcase was designed in 2011 by Andrea Parisio. It looks very graphical and it combines modern and industrial characteristics. It resembles a grid and it fits nicely in a variety of spaces and decors from offices to living rooms and even bedrooms. Use it as a regular bookcase or as a storage and display unit for things like collectibles or boxes.
Elegant bookshelves from Fendi Casa
Fendi Casa offers some interesting designs as well when it comes to furniture, including wall bookshelves. This particular one is quite simple but it is elegant and stylish. There's something a bit more formal about it compared to other designs which are mostly casual or more eye-catching.
Geometric Frisco wall shelves by Hugues Weill
The design of the Frisco shelving unit is a bit contrasting. The unit is created by Hugues Weill. Its form is unusual and with a strong geometric and graphical allure. On one hand the design is pretty simple structurally speaking. On the other hand, the whole unit has an intricate design which makes it stand out.
Linear Mixage shelving unit by Frederic Saulou
Another very interesting design is that of the Mixage shelving unit by Frederic Saulou. The cool and interesting thing about it is the fact that it combines a frame of open shelves with a few closed off cubbies nicely spread on each level. The cubbies are juxtaposed with the shelves giving the unit a very original look.
The graphical Levya iron wall shelves
If you're a fan of graphical furniture designs and geometric forms and patterns, you must definitely check out the Levya wall bookcase. It has an interesting latticework structure made out of tubular iron rods.
The overall impression is that of a lightweight structure which, despite its very specific and unique look can blend in in a lot of different spaces and settings, whether it's a modern, an industrial or even a rustic space.
FAQ
How deep is a bookcase?
Bookcases are between 10'' and 12'' deep (26-31 cm). Some can be 6.5'' (17 cm) deep and are used for paperback books and novels. Bookcases deeper than the average (14'' or 36 cm) are used for large book formats and for records.
How do you hang a bookshelf on a wall?
When hanging a bookshelf on the wall use quality screws that go deep enough. This ensures the bookshelf won't fall off. Decide where you want the shelf to go and mark the spot where the screws should go.
Use a level to make sure the holes are aligned. Screw the brackets in, if your shelf has brackets. If not, use the appropriate hardware. Hang and secure the shelf. Step back and asses your work.