Modern Wall Bookshelves With Intricate And Unexpected Design Features
Wall shelves or shelving units are great when you want to fill up a space in your living room or when you need just a little bit of extra storage space somewhere in your home. They're versatile and they can really stand out and look eye-catching if you want them to. Wall bookshelves come in a variety of forms and styles and in addition to those you can always just get some custom-designed that specifically fits your space, storage requirements and style.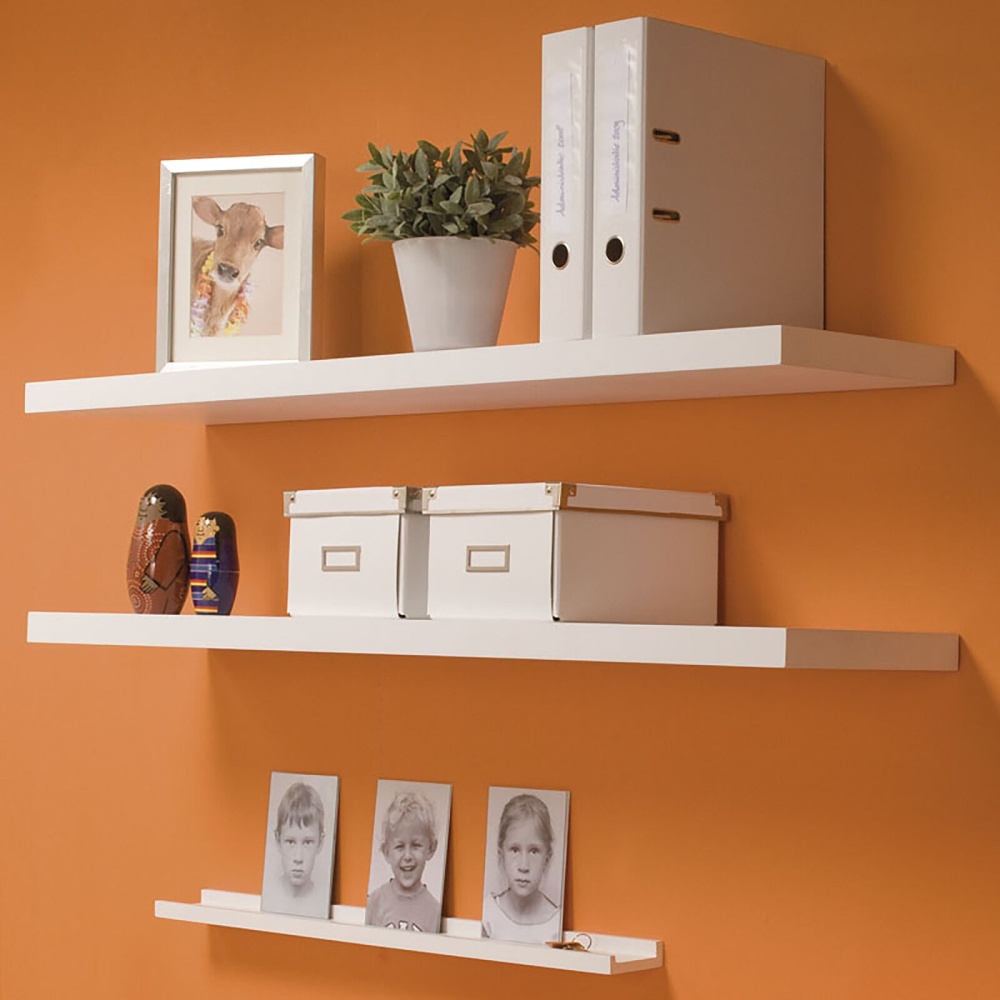 Minimalist designs like that of this Alexjandro floating shelf look super clean and modern. The hidden bracket on the back side leaves no exposed hardware and that provides the floating effect. These shelves look beautiful against walls that feature a contrasting color but can also be exquisite when installed on matching white walls.
The design of the Kate and Laurel Vista wall shelves is also very simple but in a different way. You can get the she shelves in black, gray, walnut brown and white and all these colors go really well with the brass-colored hanging bracket system. It's a very stylish combination, both subtle and eye-catching at the same time.
Speaking of modern and minimalist designs, the Rodi shelves are yet another beautiful and versatile option. They come in pairs of two and with three different finish options, namely rustic brown, black and white. Each is a two-color combination that you can match to your home's décor in various different ways.
When it comes to modern and contemporary bookshelves, geometric designs and shapes are very popular. The Suffield accent shelf is a good example of what a decorative module could look like. It's not big in size and it has a clean and simple aesthetic. It looks interesting on its own and it's enhanced by the items placed on each shelf which gives you a lot of freedom to make it stand out or blend in if you want to.
Floating shelves, especially the very simple ones, are super versatile. These ledge shelves right here come in sets of two and you can have several sets that you can then play with and combine in all sorts of cool and stylish ways. They're very versatile and can be added to any room. They look very chic in the bathroom and can also enhance spaces like hallways, entryways and of course living rooms.
Circular shelves are not very common and those that do embrace this shape stand out and are usually decorative. A nice example is the Quinten floating shelf which has a round metal frame around it and three small shelves inside of it. It's made of iron and wood and it's a really great accent piece for areas like the living room, entryway, office or bedroom for example. It can hold various types of items like small plans and succulents, collectibles, books and so on.
If you prefer a more cozy look and you want the wall decorations and accent pieces to reflect that, something like the Mcnail cubby shelf can fit nicely into the décor. It has a great warm wood kind of feel and a farmhouse-inspired design but it's also simple and modern in a way. It adds a subtle rustic vibe to the space around it and it's also very practical for storing and displaying a variety of items.
Tree shelves are a really cool way of displaying and organizing books. There are many different types and styles to choose from. If you want something small and simple that could fit in your reading corner or that you can casually place in a corner, check out the Berry Ave tree bookshelf. It features nine tiered shelves that can hold several books each.
You can also find a lot of bookshelves that are very versatile and can fit in lots of different spaces. The Boluo shelves which are made of MDF and steel fit into this category. These three floating shelves are complemented by a sleek stainless steel frame with a gold finish. It's simple but also chic and if you prefer an all-white design that option is available as well. The shelves are excellent for displaying things like picture frames, small potted plants, candles, books and various decorations.
The retro-industrial look is very popular at the moment which makes furniture pieces like the Ironck bookshelf a really great option for a lot of different homes and offices. The slender metal frame gives it a simple and lightweight look and the wooden shelves soften the design with their natural warmth. This piece has five roomy shelves for storing and organizing lots of different things on. It can be a companion for your living room sofa but also a practical addition to a home office or even a bedroom.
Smaller bookshelves can also be super useful in a home office, not to mention they would fit just as nicely in any other room of the house as well. The MyGift hanging shelf features a 3-tier design with black metal brackets and thin wooden shelves with a white finish. The color combination is classic and timeless, adding even more versatility to this lovely design. It's easy to envision a use for these shelves in one's own home so you can't really go wrong with them.
This is Rocky, a credenza designed by Charles Kalpakian. Its design is pretty unusual in the sense that it creates a cool optical illusion that isn't quite what you'd expect it to be. The unit features a geometric form with angular lines and was created as a 3D representation and variation of a classic pattern used by cabinet makers. The shape and look change depending on the viewing angle.
This shelving system designed by Bashko Trybek is called Climb. Its design is really simple but at the same time the system impresses with its versatility and graphical appeal. A nice little detail is the fact that the wood shelves that actually make up the unit are beveled on all edges, They're made of solid wood and they're connected by tension wires that become a part of the design.
Related: 60 Ways To Make DIY Shelves A Part Of Your Home's Décor
Another simple and versatile system of open shelves is the Loop. It has a series of bamboo shelves with brass features and black steel rods that keep them up straight and attached to the wall. They can be used as standalone pieces or they can be used in groups of two, three or more, depending on your storage needs and on the space that you want to fill.
We enjoy versatility and flexibility in interior design. The ability to change elements in the decor whenever you feel like it and to be able to accommodate various different situations is pretty wonderful. That's pretty much what the X2 smart shelf offers. Made of solid wood, the shelf is fully customizable. You can position it in any way you want and you can always have fun creating new storage compartments.
The name says it all. This is the XI bookshelf. It's called this way because it actually has this particular form. The unit is available in oak or walnut and comes in a flat box. You can assemble it like a puzzle. This part is pretty fun and when you're done with it you can enjoy its quirky features and their impact on the overall decor.
This is the Alliteration shelving unit, a piece designed by Marie Christine Dorner. It has a very unusual and nontraditional design, even though it may not seem that unusual at first sight. The design is based on a simple concept. It's a series of vertical and horizontal panels arranged in a grid. They appear to decrease in size as they reach towards the ceiling and this creates an unexpected look.
The Hardy wall bookcase was designed in 2011 by Andrea Parisio. It looks very graphical and it combines modern and industrial characteristics. It resembles a grid and it fits nicely in a variety of spaces and decors from offices to living rooms and even bedrooms. Use it as a regular bookcase or as a storage and display unit for things like collectibles or boxes.
Fendi Casa offers some interesting designs as well when it comes to furniture, including wall bookshelves. This particular one is quite simple but it is elegant and stylish. There's something a bit more formal about it compared to other designs which are mostly casual or more eye-catching.
The design of the Frisco shelving unit is a bit contrasting. The unit is created by Hugues Weill. Its form is unusual and with a strong geometric and graphical allure. On one hand the design is pretty simple structurally speaking. On the other hand, the whole unit has an intricate design which makes it stand out.
Another very interesting design is that of the Mixage shelving unit by Frederic Saulou. The cool and interesting thing about it is the fact that it combines a frame of open shelves with a few closed off cubbies nicely spread on each level. The cubbies are juxtaposed with the shelves giving the unit a very original look.
If you're a fan of graphical furniture designs and geometric forms and patterns, you must definitely check out the Levya wall bookcase. It has an interesting latticework structure made out of tubular iron rods. The overall impression is that of a lightweight structure which, despite its very specific and unique look can blend in in a lot of different spaces and settings, whether it's a modern, an industrial or even a rustic space.