10 Modern Wine Rack Designs With Ingenious Storage Systems
It's never easy to find the right piece of furniture or the right accessory for a particular space, at least not if you want everything to be perfect. Certain types of items create fewer problems than others, either because you know exactly what you're looking for or there aren't that many options to begin with. Wine racks, for example, are quite interesting in this sense. given that they're not the most common type of home accessory/furniture but there are definitely plenty of models and designs to choose from.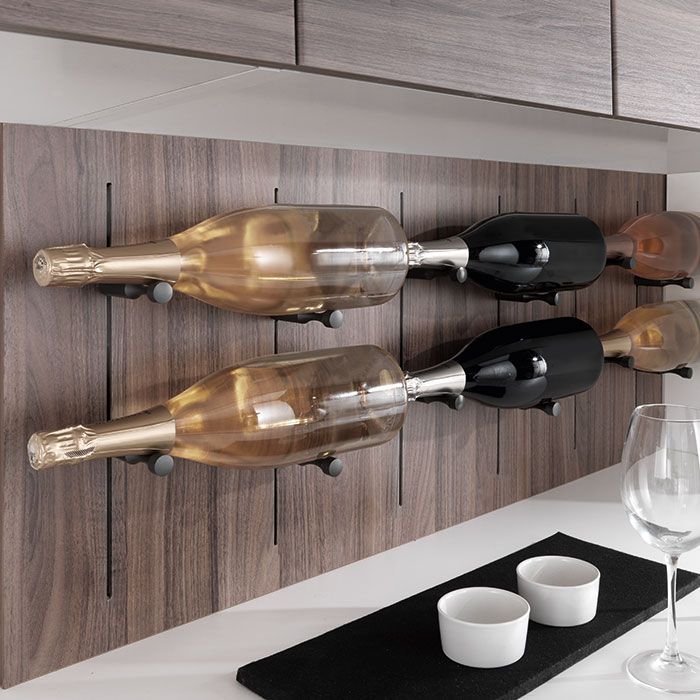 The Pin Wine system has an innovative design, one which puts an emphasis on the ideas of flexibility and creativity when it comes to the storage and display of wine bottles. The system features brackets which can be removed and repositioned in order to adjust and customize the arrangement of bottles that it holds.
If you're looking for the perfect built-in wine rack/ wine cabinet for your modern kitchen you should check out the EuroCave line. It includes a variety of models with different proportions so you can find the one that's just right for your kitchen and your needs. The designs are modern and elegant, with high-quality finishes and materials.
Speaking of kitchens and built-in wine cabinets, a good source of inspiration in this sense can be found in the contemporary kitchen interior envisioned by studio LLI Design for a house located in Buckinghamshire, England. In this case, the stainless steel wine refrigerator seamlessly blends in with the appliance wall.
Craftwand also offers a series of pretty amazing wine rack design ideas, including a set of wooden modules which fit together like pieces of a puzzle, forming a compact and minimalist-looking unit. Check out some of the other cool ways in which these modules can be combined for an even more inspiring experience.
The wooden peg system featured in this stylish and elegant kitchen gives the space a playful appearance. Also, it's a highly versatile and very practical system which looks interesting and eye-catching even when it's completely empty. Check out more images of this place on behance.
Small wine racks are easier to incorporate in kitchens, even the ones with little room to spare. Check out this clever built-in system created by ZeroEnergy Design for a house located in Orleans, Massachusetts. The wine rack is built into the side of the kitchen island in a design that's both practical and aesthetically pleasing.
This is the kitchen designed by studio zone zuid architecten for a house which they built in Roosendaal, The Netherlands. As you can see, the overall design of the space is minimal and incorporates only a few select materials including wood, steel and concrete. One of the most interesting features is the vertical wine storage nook which has accent lighting.
The wine storage and display system created by studio David Ito Arquitetura for this apartment in São Paulo may not have a complicated design but is actually perfectly-suited for the space. A big priority, in this case, was to create a generous area for entertaining so a big wine rack with a bold and playful appearance makes sense.
Architect Matt Nardella of Moss turned an abandoned corner shop in Chicago into a beautiful home and studio and part of the open-space living room's design was this custom wine rack system which also incorporates a additional storage in the form of open shelves and closed door compartments. It's similar to a wood peg system but with a sharper design.
Using the space under the stairs for storage purposes is a pretty common trend these days, especially in small homes. However, most often than not this little area features closed compartments or drawers so the individual built-in wine nooks featured here are both intriguing and inspiring. This is a custom design chosen for a house remodel in Melbourne. You can find out more about it on cocokelley.