23 Modern Wine Rack Designs With Ingenious Storage Systems
It's never easy to find the right piece of furniture or the right accessory for a particular space, at least not if you want everything to be perfect. Certain types of items create fewer problems than others, either because you know exactly what you're looking for or there aren't that many options to begin with. Wine racks, for example, are quite interesting in this sense. given that they're not the most common type of home accessory/furniture but there are definitely plenty of models and designs to choose from.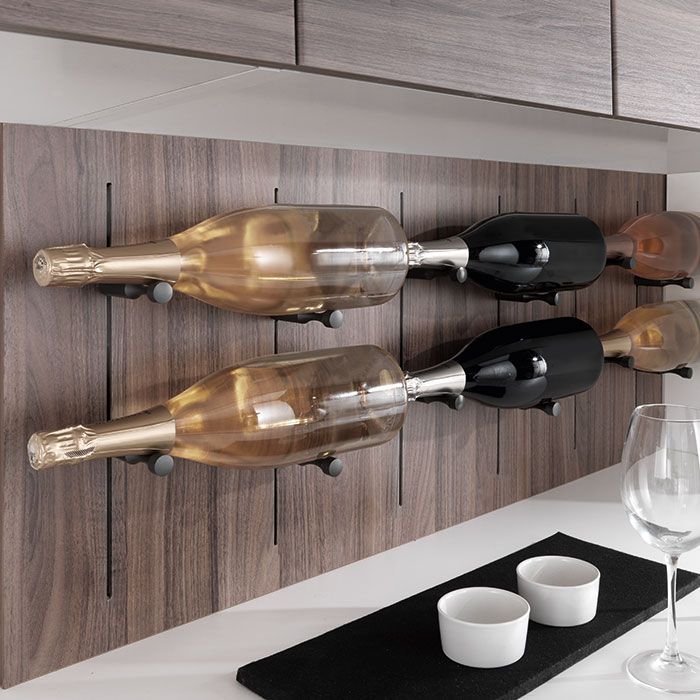 The Pin Wine system has an innovative design, one which puts an emphasis on the ideas of flexibility and creativity when it comes to the storage and display of wine bottles. The system features brackets which can be removed and repositioned in order to adjust and customize the arrangement of bottles that it holds.
If you're looking for the perfect built-in wine rack/ wine cabinet for your modern kitchen you should check out the EuroCave line. It includes a variety of models with different proportions so you can find the one that's just right for your kitchen and your needs. The designs are modern and elegant, with high-quality finishes and materials.
Speaking of kitchens and built-in wine cabinets, a good source of inspiration in this sense can be found in the contemporary kitchen interior envisioned by studio LLI Design for a house located in Buckinghamshire, England. In this case, the stainless steel wine refrigerator seamlessly blends in with the appliance wall.
Craftwand also offers a series of pretty amazing wine rack design ideas, including a set of wooden modules which fit together like pieces of a puzzle, forming a compact and minimalist-looking unit. Check out some of the other cool ways in which these modules can be combined for an even more inspiring experience.
The wooden peg system featured in this stylish and elegant kitchen gives the space a playful appearance. Also, it's a highly versatile and very practical system which looks interesting and eye-catching even when it's completely empty. Check out more images of this place on behance.
Small wine racks are easier to incorporate in kitchens, even the ones with little room to spare. Check out this clever built-in system created by ZeroEnergy Design for a house located in Orleans, Massachusetts. The wine rack is built into the side of the kitchen island in a design that's both practical and aesthetically pleasing.
This is the kitchen designed by studio zone zuid architecten for a house which they built in Roosendaal, The Netherlands. As you can see, the overall design of the space is minimal and incorporates only a few select materials including wood, steel and concrete. One of the most interesting features is the vertical wine storage nook which has accent lighting.
The wine storage and display system created by studio David Ito Arquitetura for this apartment in São Paulo may not have a complicated design but is actually perfectly-suited for the space. A big priority, in this case, was to create a generous area for entertaining so a big wine rack with a bold and playful appearance makes sense.
Architect Matt Nardella of Moss turned an abandoned corner shop in Chicago into a beautiful home and studio and part of the open-space living room's design was this custom wine rack system which also incorporates a additional storage in the form of open shelves and closed door compartments. It's similar to a wood peg system but with a sharper design.
Related: Bringing Wine Country Closer to Home with a Barrel Table
Using the space under the stairs for storage purposes is a pretty common trend these days, especially in small homes. However, most often than not this little area features closed compartments or drawers so the individual built-in wine nooks featured here are both intriguing and inspiring. This is a custom design chosen for a house remodel in Melbourne. You can find out more about it on cocokelley.
For anyone looking for a freestanding wine rack design, something that doesn't require any custom furniture to be built around it and can be simply added to an existing décor, there's quite a few cool options out there. One is the Bernardo rack which is made of solid wood and has a super simple and versatile design. It's basically a floating shelf with a few additions, most notably the wine glass rack attached to the underside.
This wine bottle rack from Gourmet Basics is the type that you can just place on a table, a counter or a shelf and easily move around. It can hold up to 12 bottles and has a super simple and attractive design. It's made of wrought iron which gives it a fairly industrial-inspired look and it has acacia protectors on the bottom to prevent it from scratching the surface that it sits on. In case you need to store more than 12 bottles, you can stack more modules on top of this one to expand your wine rack.
If you'd rather not have a wine rack that takes up space on your kitchen counter or the dining room buffet, there are also some that can be placed on the floor. One example is this rather roomy wine rack from Rebriliant. It can hold 36 bottles and it has four tiers. The rack is made of stainless steel which gives it a modern aesthetic. You can place it in the kitchen, the dining room, the pantry or if you want to have a separate wine cellar sort of space you can have several of these modules in there.
Instead of thinking of wine racks as being purely functional and storage-related, perhaps you'd prefer a different approach instead which treats them as decorative additions to space. Designs like that of the Label View wine rack are a great example in this case. This is a great option if you have a few bottles of wine that you've collected and that you want to display in a cool and interesting way somewhere in your home.
It can be nice to have some flexibility when it comes to wine racks, especially when the number of bottles that need storage can vary quite a bit. Having a big wine rack that's mostly empty is not exactly great or practical but the Woodmore rack definitely is. It's small and it only holds 4 bottles which is actually enough for most people. However, if you want to expand you can because these racks can be stacked.
The Industrial wine rack is great if you're a fan of simplistic and modern designs. It has a minimal look both when it's empty and when it's full plus it's designed to be mounted up on the wall and that means it's not in the way and it doesn't take up space on the floor or on the counter. It can hold up to 24 bottles, it's made of metal and it's easy to install.
In case you want something smaller but just as practical and nice to look at, check out this wall-mounted wine bottle rack. It's made of metal and wood and it has a modern and minimalist aesthetic. It can hold 7 bottles and it does that in a way that turns them into a decorative feature for the room and turns the rack into a focal point and a statement piece.
The Medlin rack is pretty cool as well. It has a rectangular frame made of steel which makes it super sturdy and durable. It's also very compact considering it can hold 23 bottles in total and it takes up very little space on the floor. That brings us to the versatility of this design. You can place this rack directly on the floor and use the top surface as a little table of sorts. It's very convenient.
If you're serious about your wine bottle collection most wine racks are probably too small. In that case, check out The Grid. This rack can hold 144 bottles and it doesn't up a huge amount of space in your home. In fact, it can probably fit just about anywhere since it's quite slender. The frame is made of metal which allows it to be so thin and slender without losing durability or strength.
Another cool design is that featured by the Rossiter wine rack. It's small and can hold up to 12 bottles on its two wooden shelves. The frame that connects them is made of metal which adds a nice contrast and turns this into a rather interesting accent piece. You can pair this wine rack with other similar ones to create a more expansive storage system if you want to.
Wine racks and bookcases can be quite similar, especially when it comes to designs like this one. The Tackett rack can hold 72 bottles on its sturdy metal shelves and they're all connected to an elegant solid wood frame. This is a freestanding floor unit which can fit in various types of spaces such as dining rooms, kitchen, modern living rooms and so on.
For those looking for a small and more casual wine rack that can also make for a nice decorative addition to existing home décor, we recommend checking out the Calcidon rack. It's compact and designed to be mounted on a wall and it's not just a wine rack. It has slots for 6 bottles but also a built-in wine glass rack at the bottom and space to store more items up at the top or in the little shelf at the center.