10 Most Comfortable Lounge Chairs Ever Designed
What people look for in a chair is looks and, of course, comfort. A chair that's not comfortable isn't really a chair, it's just something to display in your house. So what makes a chair comfortable? Well, we could take a look at some of these extremely comfy chairs and we could learn from the best. Some of the designs are very popular famous and you might already be familiar with them. Others might come as a surprise but they all have in common the comfort that they offer to the user.
WING Lounge Chair.
This is the Wing Lounge chair. It has a design borrowed from the classic wing chair but it's much more stylish. The upholstery is made of elastic memory foam so it takes the shape of your body and it remembers its characteristics. The material was developed by NASA and it's used in space crafts. The Wing Lounge Chair was the first and only chair ever to be certified by the Space Foundation.
LC4 Chaise Lounge.
This is the LC4 Chaise Lounge. It was designed in 1928 and back then it was also known as the "relaxing machine". It is now being manufactured by Cassina and each piece is singed and numbered. It comes with a range of upholstery options that include cowhide with black leather headrest; all black leather; or natural canvas with a black, amber or chocolate headrest and footer. Available for 4,500 euros.
Eames® Lounge and Ottoman
This is a popular and famous chair which you're probably already familiar with. It's the Eames Lounge Chair. It was first produced in 1956 and it remains one of the most beautiful and comfortable chairs ever designed. It's made using molded plywood technology and it's a licensed trademark of Herman Miller.Available on site.
Zoe chair.
This is the Zoe chair and it's a beanbag chair. It's upholstered in fabric or soft leather and all the upholstery is removable. It might not have a very sophisticated design but it's definitely very comfortable. It could look good in a bedroom or casual living room.
Cradle.
This is Cradle and it's a very beautiful and also very comfortable chair that was designed by Richard Clarkson, Grace Emmanual, Kalivia Russel, Eamon Moore, Brodie Cambell, Jeremy Brooker and Joya Boerrigter from Victoria University of Wellington. It looks extremely cozy and it allows you cuddle up inside for a nap. It's a wonderful modern alternative for the rocking chair
Gravity.
Some chairs manage to be comfortable while also impressing with their designs. This is the Stokke and it's actually a multi-functional piece. You can recline it or use it as a rocking chair and that's not even its most impressive feature. it's a chair that seems to defy gravity thanks to its ingenious design.
MR Adjustable Chaise Lounge.
This is the MR adjustable chaise lounge and it was designed in 1927 by Ludwig Mies van der Rohe as part of an exhibit in Stuttgart, Germany. It has a cantilevered design featuring tubular steel elements and an ergonomic seat. The chaise lounge is now manufactured by Knoll and it has a logo and signature stamped on the inside of one leg.
Patricia Urquiola for B&B Italia.
This is the Husk armchair and it was designed by Milan-based Patricia Urguiola for B&B Italia. It's made of recycled plastic and soft cushions and it's incredibly cozy and comfortable. It's also a versatile piece of furniture that could complement a classic sofa in the living room or that could be included in a bedroom's décor.
Nest chair.
These colorful and chic pieces are the result of a project developed in collaboration with Danish furniture manufacturer Karup A/S. Each piece is a futon mattress with a simple design. It combines elements of the Japanese design with western influences and it's functional and very comfortable. Each futon can be easily transformed into a guest bed.Found on behance.
Egg chair.
Of course, we can't forget about the Egg Chair. It was designed by Arne Jacobsen in 1958 and it has a tilt mechanism that allows the user to lounge and relaxes. The high back also makes it extremely comfortable. The curved lines are reminiscent of a wing chair. The Egg Chair is available in three types of fabric and several colors.
Wing chair.
This piece is also called the Wing Chair. It was initially designed by Hans J. Wagner in 1960 but it only entered in production in 2006. The wings or armrests and backrest of the chair provide support for the back, neck and head while the seat allows the user to adopt a variety of positions. The chair has a solid beech frame, brushed stainless steel legs and molded cold foam seat and back with either wool or leather upholstery.
Sleeping bag chair.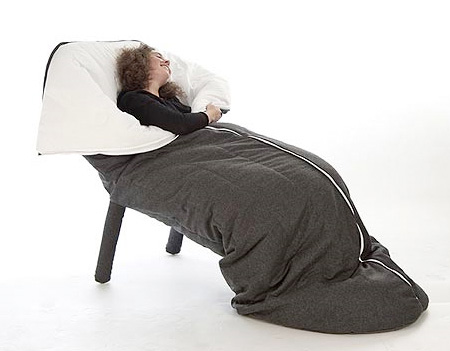 This is a sleeping bag chair. It's actually a lounge chair with an integrated sleeping bag and it was designed by Les M.( Anais Morel and Celine Merhand). It's great for relaxing, watching TV or taking a nap after reading a book. The blanket or sleeping bag forms a cocoon and it's removable and machine-washable.