32 Most Comfortable Lounge Chairs Ever Designed
What people look for in a chair is looks and, of course, comfort. A chair that's not comfortable isn't really a chair, it's just something to display in your house. So what makes a chair comfortable? Well, we could take a look at some of these extremely comfy chairs and we could learn from the best.
The lounge chair is one of the most versatile pieces of furniture, even if it may not seem so. You can pretty much add a lounge chair to any room. It fits perfectly in the living room but it also feels at home in a home office, a bedroom or out on a patio, by the pool and so on. So how do you choose a lounge chair to begin with? Well, there's a variety of things to keep in mind:
Make sure it fits – a lounge chair is typically bigger than a regular chair so before you jump the gun and make a purchase make sure you have the space for it. You should also ensure that you have enough open space around the chair so you can easily move around.
Make sure it doesn't look out of place – given that lounge chairs are bigger than usual chairs and tend to have more prominent designs, they inevitably stand out. With that in mind, make sure your lounge chair doesn't look out of place. Find a design that blends in with the rest of the room and the décor around it so it looks natural.
Pick a chair with a good seat – since lounge chairs are basically meant to be comfortable, it's important for the seat to feel right. There's a few details to keep in mind in that sense. For instance, keep an eye on the angle of the seat. When you sitting down your feet should be perpendicular to the floor and the knees should form more or less a 90 degree angle.
The depth of the seat also matters. A shallow seat is good if you're not very tall while deep seats are more comfortable for tall persons.
Pick a chair with a good backrest – if you plant to use the chair for lounging, a low back wouldn't really be a good idea. Get a lounge chair with a high back for extra support so you feel comfortable while relaxing in it. Chairs with low backs are better suited for conversation areas.
Arms or armless? – not all lounge chairs have armrests. You can decide whether or not you want them based on how you plan to use the lounge chair. If it's mainly for guests and occasional use then the arms will just get in the way but if you're using the chair to lounge and relax in on a regular basis then the armrests will definitely make it more comfortable.
Types of lounge chairs
As mentioned before, lounge chairs are versatile and can be used in lots of different ways and lots of different spaces and contexts. That means there's actually different types of lounge chairs. Here's some of the most common ones:
Traditional loungers
These are the classic lounge chairs, the ones that are in a permanently reclined position and have no armrests. They also typically have a slightly curved or arched shape.
The chaise lounge
This is a type of lounge chair that's quite long in order to allow the user to sit down and lounge without needing an ottoman. It's a bit of a mix between a chair and a small sofa and it often has a single armrest and a partial back.
Recliners
The recliner is more or less an enhanced version of a classic armchair. They're designed to be comfortable and flexible which also makes them more versatile. They have a built-in footrest which folds up and down and often the backrest can be adjusted for added comfort as well.
Outdoor lounge chairs
The outdoor loungers are super popular, especially on poolside decks and beaches. They're typically quite flexible and adjustable and some have built-in sun shades and attachments.
Wingback chairs
You can recognize a wingback chair by the fact that it has a high back and these folds on the sides which resemble wings. These are designed to protect the user from drafts of air but they also give the chair a sophisticated and elegant look as well.
Some of the designs are very popular famous and you might already be familiar with them. Others might come as a surprise but they all have in common the comfort that they offer to the user.
32 Most Comfortable Lounge Chairs You Can Find
MR Lounge.
MR Lounge is another one of the wonderful furniture pieces designed by Miles van der Rohe and part of the MR Collection together with another piece we've looked at earlier. It has a supple and lightweight aesthetic thanks to the sinuous shape of the metal frame. It's also very comfortable thanks to the soft upholstery and the ergonomic design.
Solaris.
This padded lounge chair was designed by Roche Bobois and has a beautiful and modern look but also inspires a timeless aesthetic. It has a smooth-flowing, curved shape closely matched by the upholstery which offers support and comfort in style. You can get this in Riviera leather, full grain cowhide or with an aniline finish.
Welle 4.
If you like minimalistic and cozy-looking furniture, the Welle 4 lounge chair might just very well be what you're looking for. It was designed by Verner Panton for Verpan and started being manufactured in 1969 which truly makes this a timeless piece. It has a polyurethane foam core and fabric upholstery which you can get in a variety of different color. Mix and match for a fun and unique décor.
Fergie.
The Fergie lounge chair by Colombini Casa has a simple and stylish design which makes it very versatile and allows it to fit beautifully in a variety of different settings both casual and more formal. It's a perfect piece for a contemporary living room, blending a lightweight and slender sled base with a super comfortable seat upholstered in fabric, leather, faux leather or microfiber.
Sveva.
The French charm and elegance of the Sveva lounge chair are intoxicating. Its design which was created by Giuseppe Viganò is inspired by a sea wave. It has slender, decorated legs which are tapered and placed at an angle, a very soft and comfortable seat but also a lace canopy which gives it this very distinguished look. It's suitable for both indoor and outdoor use.
Stones.
The Stones lounge chair looks very casual but not without also being stylish. It was designed by Fulvio Bulfoni and it's very versatile in the sense that it can either be used as a standalone and very comfortable piece of furniture but also in pairs and groups. Several can be placed side by side to create larger seating arrangements. This is the type of flexibility that's very appreciated in a contemporary home.
Cleo Wood.
What makes the Cleo Wood lounge chair stand out among this multitude of different designs and styles available right now is the unusual shape and the contrast between the exposed frame and the seat. Also, the backrest on its own is quite interesting and unusual. It wraps around and sides to create a very cozy shell and to offer additional support.
Lilo.
Lilo is an elegant and beautiful-looking lounge chair designed by Patricia Urquiola who found inspiration in the minimalism of Scandinavian designs as well as the chair of the modern 1950s era. It has solid and sculptural looking base and a seat shell covered in molded flame-retardant polyurethane foam on a steel frame. The solid oak wood contrasts beautifully with the bright colors of the seat.
Noe.
Noe is one of the most comfortable-looking furniture pieces you can find, featuring a fully-upholstered frame with a solid shape. It's L-shaped but not with a perfectly clean and well-defined geometry but more of a soft and casual look. It retains its shape when used and it can be paired with additional pillows for added comfort. The fabric cover is removable.
Dove.
This looks more like a modern sculpture than a piece of furniture but don't let that fool you. This is a really comfortable chaise longue which can also be used as a regular seat thanks to the conveniently-placed backrest. The Dove lounger was designed by Marcel Wanders and, as the name suggests, it was inspired by the delicate silhouette of a dove. The backrest can be adjusted in two sitting positions for added comfort and versatility.
Carrion.
The Carrion lounge lounge and the matching ottoman are a perfect duo. They complement each other perfectly in style, featuring the same wooden tapered legs and curved shells topped with comfy tufted upholstery. The curved design is what really make this set stand out and it's beautifully accentuated by the beech legs. This gives them a mid-century modern sort of vibe.
Sigrid.
Here's a rather different type of lounge chair. The Sigrid chair has this casual, laid back sort of look gives by its exposed metal frame and suspended seat which curved down and is reminiscent of folding chairs in many ways. At the same time, the leather upholstery gives it a refined and elegant feel and turns it into an eclectic piece of furniture.
Pemberton.
This is a set, an armchair and an ottoman both very comfortable on their own but even more so when put together. The Pemberton lounge chair has a really nice and modern design, with a molded, wraparound seat which is quite deep and lets you really sink in and relax as you put your feet up on this stylish ottoman. Both of them have slender steel frames that give them a lightweight appearance.
Amya.
Amya is a lounge chair with plenty of character but also a simple design. It's the type of chair that would fit in a variety of different types of spaces and all sorts of different contexts and decors. It has a slender metal frame with four super slim legs which give it an understated look. The seat is deep and has recessed arms which seamlessly incorporated to give it a minimalistic look.
Hamilton.
The overall design and shape of the Hamilton lounge chair and its matching ottoman are quite similar to some of the other iconic designs we've mentioned earlier. It has a swivel base and a mid-century aesthetic. What sets it apart from other similar pieces is the curved aluminum frame which gives it this almost industrial look. It's complemented by the leather upholstery which adds an elegant touch to its distinctive design.
Papasan.
This is the type of lounge chair you can immediately fall in love with. It's something that would fit beautifully in a cozy reading cook, a corner of a room, that you can put in a bedroom, a living room or even outside on a porch or on a balcony. It has potential for being very versatile thanks to its eclectic design and the fact that this cozy cushion comes in lots of different colors.
Latitude Run beanbag chair.
When it comes to comfortable chairs, chaise lounges and so on, we should also consider bean bag chairs. They're basically the very definition of a cozy and comfortable seat and there's a lot more variety to them than you might think. This large classic bean bag chair from Latitude Run really lets you curl up and be cozy with a book or just watching TV or chatting. It's big, soft and perfect for a family room or a home theater.
Denchev.
What makes the Denchev lounge chair special besides its simple but beautiful design is the fact it can be folded and adjusted in five different positions which really gives the user lots of flexibility. It can be placed flat on the ground like a bed in case you want to take a nap or you need an extra place to sleep for a guest but it can also be super comfy when you're watching TV or reading a book.
Wynkoop.
This is quite wide for a lounge chair and that's because Wynkoop is actually a seat for two. It's also really nice and comfy if you want to keep it all for yourself, giving you plenty of room to stretch and relax with a book, a warm blanket and some extra pillows. It has a slightly curved seat and an angled backrest, with two ornate wooden legs in the front and two simple ones in the back. The upholstery features this really nice grid pattern which adds character and style to its design.
Lugo.
Unlike a traditional chair or many lounge chairs, Lugo doesn't have an exposed frame or legs. Instead, it has a solid base and is actually referred to as a floor chair. It's a comfortable and casual seat and it's multifunctional. You can add it to spaces like the living room, bedroom, home theater or a gaming room.
WING Lounge Chair.
This is the Wing Lounge chair. It has a design borrowed from the classic wing chair but it's much more stylish. The upholstery is made of elastic memory foam so it takes the shape of your body and it remembers its characteristics. The material was developed by NASA and it's used in space crafts. The Wing Lounge Chair was the first and only chair ever to be certified by the Space Foundation.
LC4 Chaise Lounge.
This is the LC4 Chaise Lounge. It was designed in 1928 and back then it was also known as the "relaxing machine". It is now being manufactured by Cassina and each piece is singed and numbered. It comes with a range of upholstery options that include cowhide with black leather headrest; all black leather; or natural canvas with a black, amber or chocolate headrest and footer. Available for 4,500 euros.
Eames® Lounge and Ottoman
This is a popular and famous chair which you're probably already familiar with. It's the Eames Lounge Chair. It was first produced in 1956 and it remains one of the most beautiful and comfortable chairs ever designed. It's made using molded plywood technology and it's a licensed trademark of Herman Miller.Available on site.
Zoe chair.
This is the Zoe chair and it's a beanbag chair. It's upholstered in fabric or soft leather and all the upholstery is removable. It might not have a very sophisticated design but it's definitely very comfortable. It could look good in a bedroom or casual living room.
Cradle.
This is Cradle and it's a very beautiful and also very comfortable chair that was designed by Richard Clarkson, Grace Emmanual, Kalivia Russel, Eamon Moore, Brodie Cambell, Jeremy Brooker and Joya Boerrigter from Victoria University of Wellington. It looks extremely cozy and it allows you cuddle up inside for a nap. It's a wonderful modern alternative for the rocking chair
Gravity.
Some chairs manage to be comfortable while also impressing with their designs. This is the Stokke and it's actually a multi-functional piece. You can recline it or use it as a rocking chair and that's not even its most impressive feature. it's a chair that seems to defy gravity thanks to its ingenious design.
MR Adjustable Chaise Lounge.
This is the MR adjustable chaise lounge and it was designed in 1927 by Ludwig Mies van der Rohe as part of an exhibit in Stuttgart, Germany. It has a cantilevered design featuring tubular steel elements and an ergonomic seat. The chaise lounge is now manufactured by Knoll and it has a logo and signature stamped on the inside of one leg.
Patricia Urquiola for B&B Italia.
This is the Husk armchair and it was designed by Milan-based Patricia Urguiola for B&B Italia. It's made of recycled plastic and soft cushions and it's incredibly cozy and comfortable. It's also a versatile piece of furniture that could complement a classic sofa in the living room or that could be included in a bedroom's décor.
Nest chair.
These colorful and chic pieces are the result of a project developed in collaboration with Danish furniture manufacturer Karup A/S. Each piece is a futon mattress with a simple design. It combines elements of the Japanese design with western influences and it's functional and very comfortable. Each futon can be easily transformed into a guest bed.Found on behance.
Egg chair.
Of course, we can't forget about the Egg Chair. It was designed by Arne Jacobsen in 1958 and it has a tilt mechanism that allows the user to lounge and relaxes. The high back also makes it extremely comfortable. The curved lines are reminiscent of a wing chair. The Egg Chair is available in three types of fabric and several colors.
Wing chair.
This piece is also called the Wing Chair. It was initially designed by Hans J. Wagner in 1960 but it only entered in production in 2006. The wings or armrests and backrest of the chair provide support for the back, neck and head while the seat allows the user to adopt a variety of positions. The chair has a solid beech frame, brushed stainless steel legs and molded cold foam seat and back with either wool or leather upholstery.
Sleeping bag chair.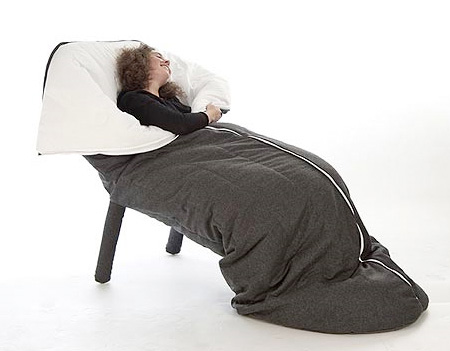 This is a sleeping bag chair. It's actually a lounge chair with an integrated sleeping bag and it was designed by Les M.( Anais Morel and Celine Merhand). It's great for relaxing, watching TV or taking a nap after reading a book. The blanket or sleeping bag forms a cocoon and it's removable and machine-washable.
The Deca Lounge Chair
It was designed as part of a student project by Larry Parker and it has a really cool aesthetic with a plywood shell, a layer of foam and felted wool on top. This gives the Deca Lounge Chair a very comfortable look. It also has comfortable cushions for the seat and the back which enhanced this even more.
The Mosaiik Lounge Chair
Featuring a very creative design, the Mosaiik Lounge Chair was created by Annika Göransson, a Swedish design student based on Copenhagen. Its distinctive design is defined by a shell that's formed of a metal grid and 297 foam cubes covered with fabric in multiple different colors that form a geometric pattern.
The Chips Lounge Chair
If the name doesn't give it away, the shape of this chair definitely does: the inspiration for the Chips lounge chair was the humble potato chip. This is the creation of Czech designer Lucie Koldová and its defining feature is the curved and oversized backrest made from manually bend wood and perforated fabric.
The Doeloe Lounge
The unusual design of the Doeloe Lounge created by Abie Abdillah was made possible thanks to the unique properties of rattan, the main material used here. Its name means "a time that has passed" and the design itself is inspired by the Oplet which was a public transportation vehicle used in Jakarta in the 1930s up until the '70s.
The Boterina easy chair
It was designed by E-ggs as part of the Botera collection and it's a very cozy-looking chair. It lacks any armrests and its seat and back resemble big and comfortable cushions. They're firm and sturdy and the chair itself is quite compact in spite of its bulky aesthetic.
The Lucylle easy chair
Roberto Lazzeroni designed Lucylle inspired by classic furniture. The chair has an elegant and refined aesthetic, with simple and smooth lines, soft curves and carefully paired textures and materials. The frame is made of thermo-treated solid ash wood and the upholstery is available in fabric, leather or eco-leather.
The Kangaroo armchair
The Kangaroo armchair is not your typical piece of furniture. It's rather unusual in terms of design, a mix between a lounge chair and a cool accent piece with a sculptural aesthetic. It's also not a modern creation. The chair was originally created in 1955 and was designed by the Chandigarh Collective. It's made of natural teak wood with a dark stain finish and it has a woven seat and back made from rattan cane.
The Rio R50 easy chair
By itself the Rio R50 looks super sleek and has a modern look with subtle industrial vibes thanks to the steel. You can however pair it with accent cushions for added comfort which allows you to easily customize its appearance. The chair was designed by Emanuel Gargano and Anton Cristell and is really versatile.
The T-101 armchair
The solid canaletto walnut frame with the tapered legs, slowly arching armrests and subtle curves give the T-101 armchair a very sophisticated and stylish look while also keeping it simple. The tufted seat and back cushions contrast with the wood and make the chair super comfortable while also giving it a casual feel.