Stylish Types Of Chairs For Interior Spaces
There are many types of chairs to choose from. Chairs are a home decor necessity. Every living space has at least one chair.
With such a large variety of chair styles to choose from, finding one is overwhelming but it's also rewarding. Searching for home furniture is an adventure, not a chore. The journey is filled with rewards, so keep an open mind and allow yourself to be surprised.
Popular seating designs are rooted in history. Chairs represent a modern twist on heritage decor. Some chairs are modern inventions. Today, the iconic furnishings grace homes, apartments, and work spaces.
Types Of Chairs For Living Spaces
Every room should have at least one chair. Chairs serve different functions. Let's take a look at a few ways chairs add style and functionality to a living environment.
When choosing a chair, you want one that suits your lifestyle. A chair should also complement your home's interior design.
Living Room Chair – are elegant and comfortable. The living room is a formal setting rather than a casual space. If you choose a small chair style, make sure it captures the room's vibe. Accent pieces are smart additions when mixing furniture styles in living rooms.
Family Room Chairs – The focus is on comfortable seating. An easy chair, armchair, and lounge chair are examples of comfortable family room chairs. In this space, you can add an ottoman or two. Family room seating should be open and friendly.
Other chair styles include reading chairs, bean bags, and chairs with rounded arms. Light weight chairs make for easy storage. Remember, the room is for everyday life and entertaining guests.
Kitchen Chairs – need to be a little sturdier and hard-wearing than those you would add to a dining room. Typically, they are either an all-wood or plastic model or are upholstered in easy-care fabrics.
Dining Room Chairs – The chairs in this example offer style and functionality. They are meant for entertaining and so are often cushioned, comfortable chairs.
Bedroom Chairs – A bedroom chair provides a place for you to sit so you can put your shoes on or remove them. The chair also provides a place to sit so you can enjoy reading a good book.
Most Popular Types Of Chairs
Here's a rundown of popular styles as well as some of our favorite picks for chairs in each category.
---
Armchairs
One of the most common types of chairs is the armchair. Armchairs are comfortable and easy to clean. The chairs are casual or formal. They're ideal for lounging in a living room. You can use them as desk chairs and dining room chairs.
Dining Armchairs
The bergère chair is a French armchair with an upholstered back and armrests. The difference is that the wood frame is also upholstered. A bergère chair is for comfortable lounging, so it has a deeper, wider seat.
Luxe Armchairs
---
Chaise Lounge
Undoubtedly one of the most mispronounced chairs, the term chaise longue is French for "long chair." Many mistakenly call it a chaise lounge, because it is indeed used for lounging.
Leather Lounge Chairs
A brown leather chaise is masculine and popular today. It has a modern shape. Any chair with a long seat where a person can put their feet up falls into this category.
Modern Chairs
Day beds and fainting couches are similarly designed pieces of furniture. These types of chairs can be used for seating in a living area as well as a bedroom.
---
Wing Chairs
The wingback chair was conceived to be used in front of a fireplace but now is a classic design for living room chairs. Designers created the "wings" on the sides of the chair, which can be of varying lengths and sizes.
Classic Chairs
There used to be two main styles of a wingback chair — flat and scroll. However, now there are all sorts, from long and pointy to large and butterfly-like. This seat design makes it a comfortable chair to sit in and an excellent reading chair.
---
Fine Dining Chairs
Dining room chairs decor styles have made mixing colors, upholstery, and shapes popular. Mixing and matching furniture is the norm.
Mixed Chair Styles
The only real requirement for dining room chairs is that the seats are high enough for people to eat comfortably. After that, the dining room chair options are nearly limitless.
Retro Chair Styles
You don't want to use chairs that sit low on the ground. Commonly used dining room chairs will have one height and firm cushioning support.
Dining Armchairs
---
Chesterfield Chair
Chesterfield chairs have a long history and are identifiable by their buttoned and tufted upholstery. The Chesterfield looks like a club chair. However, it can have more of an armchair or wing chair style.
While you can find some covered in fabric, a Chesterfield chair is typically covered in leather.
Updated Designs
According to the London Gallery, historians believe that the 4th Earl of Chesterfield (1694-1773) commissioned such a seat with its distinctive deep buttoned, quilted leather upholstery. This look is counted among classic pieces of furniture.
Unique Versions
---
Club Chair
The club chair style was popular in London during the 1850s club scene.
Classic
The chair style features a low back and heavy sides that form armrests. Leather and textile versions of the club chair are also popular. The arms and back are the same height and make a very comfortable chair to sit in.
Eclectic Styles
Today's designers have come up with all sorts of variations on this particular style of furniture. It's often used as a lounge chair too.
Formal Chairs
Feminine Chairs
---
Slipper Chair
Slipper chairs were popular in the 19th century. The chair is armless, allowing more room to remove shoes and stockings. Designer John Henry Belter is credited as the chair's inventor.
Historic Types Of Chairs
Designer Charles Eames is the father of Rococo furniture. The French seat is a popular accent chair.
Modern Chair Interpretations
---
Fighting Chair
Modern designers turned this fishing chair into a popular home decor item. The chair's unusual design makes it an ideal accent chair.
Funky Chair
Hybrid Chair
---
Cogswell Chair
The Cogswell chair has a distinct furniture silhouette. Featuring a sloped back, armrests that open underneath, and cabriole front legs, the chair is classic room decor addition.
Mid-Century Chair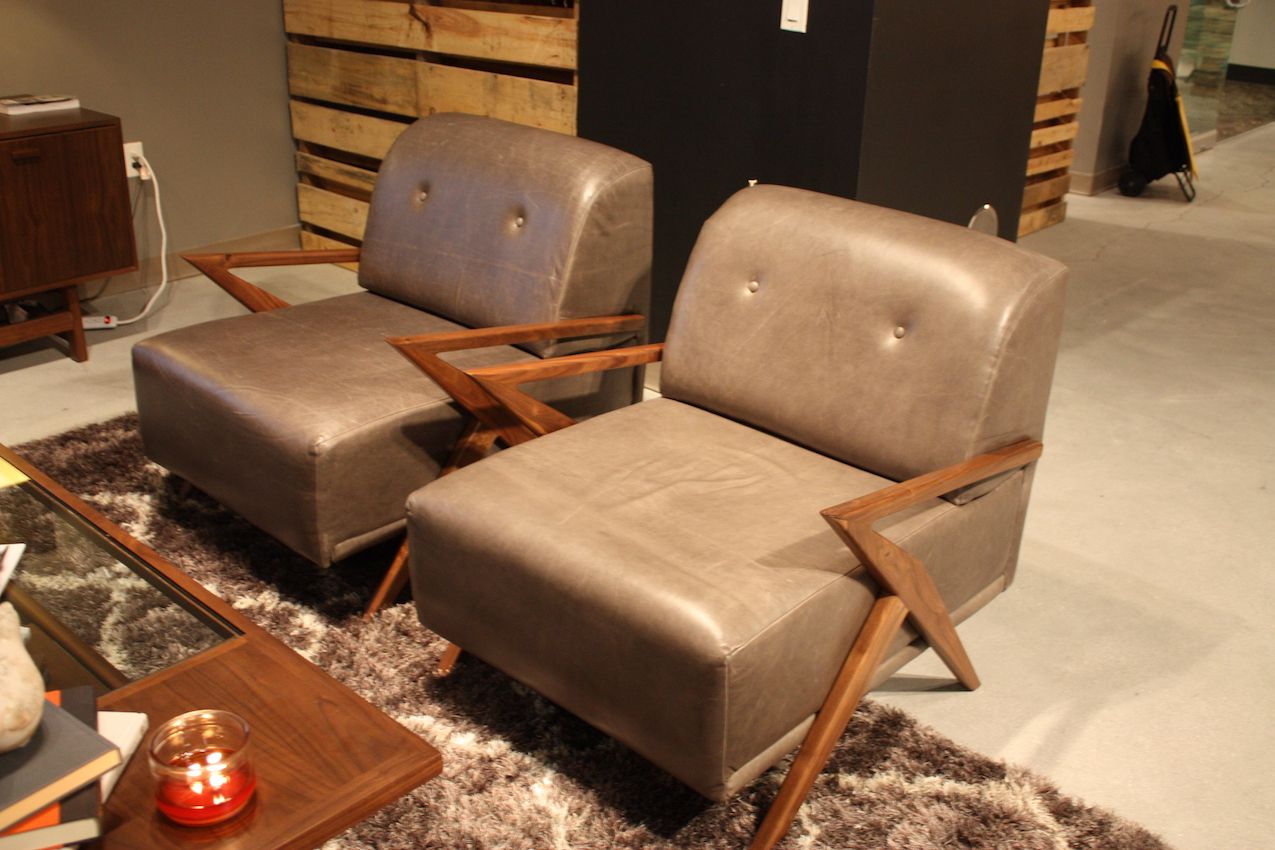 ---
Eames Lounge Chair
A classic chair that combines comfort, natural style, and modern design, the Eames Lounge Chair has been in high demand since its debut in 1956. Molded plywood technology was first used to make the lounge chair.
Classic Leather Chair
---
Easy Chair
The term "easy chair" conjures images of large and padded chairs. The chairs are leather, which makes them durable and comfortable. This type of lounge chair is perfect for two people curling up to read or relax. Motion recliners are included in this category.
Father's Easy Chair
The leather easy chair has a classic, traditional shape, and upholstered style.
Contemporary Chair Designs
---
Farthingale Chair
Designed for women in the late 16th century, the Farthingale chair is a type of chair that is armless with a wide seat, cushioned, and upholstered.
The backrest might have been upholstered but the chair legs are generally straight and rectangular. Hooped skirts were popular at the time and their armless design and wider seat were able to accommodate this fashion.
Low Seat Styles
---
The Fiddleback Chair
This all-wood chair style comes from the Empire period, an early-nineteenth-century design movement generally between 1800 and 1815 during the Consulate and the First French Empire periods.
The chairs have an upholstered seat and distinctive splat — the middle section of the seatback — that has resembles a fiddle.
Utilitarian Style
---
Director's Chair
It came straight out of Hollywood: The director's chair folds up side-to-side, making it easy to move around the set. The frame is made of wood or metal and the seat and back are leather or fabric, which acts like a sling.
According to Showfire Displays, the folding chair design surprisingly has roots in the 1400s when these chairs were used by coffee makers.
Relaxed Style
---
Iconic Egg Chair
Designed by Danish architect Arne Jacobsen in 1958, the Egg Chair is one of the most recognizable and popular pieces from the 1950's. It has become an icon of Scandinavian design.
Inside the upholstered chair, a piece of molded plastic creates its curves. The swivel base of the chair lets the person turn for a conversation or tilt backward for lounging.

A rainbow of colors makes this a fun and sophisticated mid-century modern addition to any space. Jacobsen designed the fabric-upholstered, curvy Egg chair for the Royal Hotel in Copenhagen.
---
Ladderback Chair
The versatile wooden ladder back chair has quite a long history that is still going strong. As popular now as it ever was, sources say it originated in the Middle Ages in Europe, according to LovetoKnow. Quakers used it in their meeting houses, and you could see them hung on the walls.
The chairs are described by the number of rails in the chair: a 'five-back' or a 'three-back,' for example. The width grows with the height of the chair back.
---
Louis XIV Ghost Chair
In the design world, it can take decades for a piece to become iconic: Not so for Philippe Starck's Louis Ghost chair. In little more than a decade, it become a design staple, with more than 1.5 million sold.
First, the innovative design manages to mimic the statelier pieces of the neoclassic Louis XVI period in the sleek, modern form of a plastic chair. In fact, some modern home office designs use this as a desk chair.
Second, As The New York Times reported, "It makes Louis XV modern; it stacks to save storage space, and it sells for $198." Even though the paper got the price wrong, they nailed the reasons for the chair's appeal, especially as a dining chair.
---
Classic Panton Chair
A one-piece plastic classic, the Panton chair was a groundbreaking design from 1960. Produced in collaboration with Vitra, it was the first high-end brand chair to be manufactured completely out of molded plastic.
Beginning in 1999, Vitra started producing these plastic chairs faithfully to their original concept out of durable, dyed-through plastic with a lustrous matte finish.
This chair comes in a rainbow of colors and has a comfortable, cantilevered design. Consequently, that makes it one of the more popular mid-century modern chairs being produced today.
---
Rocking Chair Varieties
Soothing to babies, old folks and everyone in between, rocking chairs are a front-porch fixture that is without a doubt an American ideal.
Traditional Rockers
They might be most popular in this country, but rocking chairs did not originate here. Some sources made unsubstantiated claims that Benjamin Franklin invented the rocking chair.
There are even some styles that are not only a rocking chair but also a swivel chair.
Contemporary Updates
The newest types called glider chairs sit on a base that does not move, but the suspended chair does go back and forth.
Modern Designs
---
Saarinen's Famous Tulip Chair
Few designers produce furniture pieces that will enjoy more than half a century of popularity — but Eero Saarinen did. Today we call it retro, but when he designed it, the chair was futuristic.
Scandinavian Style
The one-legged Tulip chair was Saarinen's attempt to clean up our living spaces: "The undercarriage of chairs and tables in a typical interior makes an ugly, confusing, unrestful world. I wanted to clear up the slum of legs. I wanted to make the chair all one thing again," he is quoted as saying, according to the Museum of Modern Art.
Designers and homeowners alike love this one because it doesn't have all those legs, plus it's also a swivel chair.
---
Classic Windsor Chair
Many people consider this wooden piece a kitchen chair classic, clearly perfect for the less formal space. The silhouette of the Windsor Chair usually features vertical wood poles that form the seatback.
Highly Functional
This chair silhouette sometimes has rounded poles but on the other hand, it can also have squared-off poles. A shaped crested rail generally tops them off.
The legs slope outward and have crossbars for stability. The seats are not upholstered but are often shaped for added comfort.
---
Zig-Zag Chair
Dutch designer and architect Gerrit Rietveld invented the Zig Zag chair in the early 1930s.
Visually Intriguing
This cherrywood version that has dovetail joints nevertheless became a design classic. It is also a comfortable and durable seat. The Zig Zag chair looks like it defies gravity and is remarkably a sturdy seat for sitting.
Frequently Asked Questions (FAQ)
FAQ
What type of chair is most comfortable?
This all depends on what kind of chair you are looking for. If you're searching for the most comfortable office chair, you want something ergonomic that suits your work style. On the other hand, if you're looking for an armchair for the living room or family room, you have other considerations.
Obviously, you want a chair that is stylish, but it also needs to be welcoming. Choose something that you can easily settle into to read, watch TV or just relax, The specific type depends on personal preference.
What is an accent chair used for?
An accent chair is typically different from the other chairs in your room. It's used not only for function but also to add a different visual in a room. Even though the color, shape or pattern may be different, an accent chair still helps pull the room together into a cohesive and interesting interior design.
What is the top of a chair called?
On an armchair, the top part is called a backrest. It may or may not have a headrest too. On dining chairs that are wooden, the back will have a top rail and probably other cross rails. These fit between the two main vertical supports, called stiles.
How do I choose an armchair?
When it comes time to choose an armchair, the most important thing to do is sit in it at the store. It should feel comfortable and you should be able to easily get up from the chair. Your feet should rest comfortably on the floor and your arms on the armrests.
Next, it has to fit your space not only in style but also in color, scale and proportion. It's critical to consider the other seating in a room, such as the sofa and any other chairs. 
What makes a comfortable armchair?
A comfortable armchair should feel soft yet supportive and let you get up easily. When you sit, your thighs should be perpendicular to the floor. Actually, most chair sets are about 18 inches off the ground, but you can find ones that are higher or lower.
It should also be deep enough to support your legs but allow you to rest against the back. An armchair should also be wide enough to suit your personal preference.  
What are the most iconic chairs of all time?
Some of the most iconic chairs of all time are listed above, such as the Eames Lounge Chair, Panton Chair, Tulip Chair, and Egg chair. Chairs like these become iconic not just because of their popularity. It's also because there's something special groundbreaking or revolutionary about the design silhouette.
But there are other iconic designs that you should also take note of. These include Ludwig Mies van der Rohe's Barcelona chair, Warren Platner's Arm Chair, Le Corbusier's Grand Confort chair, the Thonet 209, Marcel Breuer's B32/Cesca and Eileen Gray's Transat.
What Are The Five Types Of Chairs?
Handmade, mass-produced, craftsman, designer, and artist represent the five types of chairs. The distinction between each chair type is rooted in how it's made.
What Influences The Fire Performance Of A Chair?
Upholstered arms have an influence on how a chair will burn during a house fire. Without gaps to release heat, the seat, back, and arms will confine the fire, and provide reradiation from the burning, assisting in the fire's growth.
What Is A Regency Chair?
Regency chairs can be identified by their dark, glossy wood offset by brass inlay, trelliswork galleries, lion's paw feet, masks, star shaped bolt heads, and studs.
What Is A Fauteuil?
An upholstered armchair with open sides. The armrests were padded to make the chair more comfortable. The armchairs were lighter and more refined compared to other designs.
Types Of Chairs Conclusion
When shopping for chairs, take your time. Try to find multiple designs first and then make a decision. Whether your tastes are modern or traditional, plenty of chair options exist. Whatever you choose should not only look good but provide comfortable seating for family guests.