Dramatic Art is Ideal for Creating a Feature Wall
An accent wall can really bring a room to life, adding vibrancy and color, as well as anchoring the entire space. One of the great ways to create feature wall in your home is to use art. It's an especially effective way to add a unique feature, because the art you choose to display should always express your tastes and sensibilities. A feature wall with art can be either the largest wall or an alcove or other space. The best choice is a wall that already draws the eye. Creating a feature wall with art is the ultimate personal expression and will convey your personality to family and friends who visit.
Dramatic feature wall art ideas
Color
Experts say to keep color in mind when creating a feature wall, but don't choose a piece of art just because it matches the decor. Investing in an artwork — whether it is a costly piece or affordable creation by an up-and-coming artist — should be done because the piece speaks to you in some way. Colorful works will immediately draw the eye to your feature wall, especially if they are oversized. A dramatic arrangement of smaller works can also achieve the same thing. Whether you choose a piece that is done in a single vibrant hue, or a rainbow of different colors, colorful art is expressive.
This large work features a unique technique by artist Holton Rower, who creates "pour paintings" that use up to 50 gallons of paint. The grandson of well-known artist Alexander Calder makes his creations using plywood panels, blocks of wood — all sorts of materials. Ranging from small to extremely large, his works center focus on the pooling of paint in different patterns.
Black and White
Black and white artwork is a dramatic choice, no matter what color the rest of your space. The contrasting hues always have an element of drama and are a particularly wonder type of art for a feature wall. This work by Belgian artist Yves Zurstrassen has lots of movement and visual interest because to incorporates different techniques and shapes in the abstract work, much as a collage, but with only paint.
Texture
Monochrome pieces take on added interest when they include a lot of texture, as does this work by Colombian artist Ricardo Cardenas. Lluvia Amarilla is made from aluminum, and boasts a textural look that has lots of depth and movement. It's a perfect piece for adding a powerful punch of color to an otherwise neutral room.
Of course, texture does not need to be so colorful or dramatic to create interest on a feature wall. Zigi Ben Haim, an Iraqi-born artist working in New York, who uses a variety of found materials to create his works, made this piece. Called Hot Spot, it incorporates mesh wire, canvas, paper, alkyd, and aluminum hooks. It includes a variety of vibrant colors as well as different textures that draw you in to contemplate the meanings.
Diptychs and Triptychs
Multiple-piece artworks, including diptychs and triptychs, are natural choices for creating a feature wall. Not only the size of the finished arrangement, but the repetition of larger canvases creates a dominant element for any room. Multiple pieces in a larger size are best featured alone on a large, expansive wall, whether above a sofa or not. These kinds of piece, whether or not they are colorful, will dominate the rest of the space.
A dramatic abstract triptych by New York-based and Chinese-born artist Shen Chen is a marvelous example of a multiple element work for a feature wall. The untitled piece is acrylic on canvas, painted with a wide variety of traditional Chinese brushes. Chen works on the studio floor, moving from the top down vertically. Horizontal lines show where each vertical brushstroke began and ended, with multiple layers creating the final product.
Art works that use an unusual technique are also great for a feature wall because they will not only be beautiful and interesting, but also a conversation piece. Whether they are collages, paintings, sculptures or other assemblages, they will spotlight the wall you choose.
This pair of works by Dennis Lee Mitchell are smoke paintings and will certainly draw attention wherever they are hung. The monochrome "smoke paintings" are created with a blow torch and paper by adjusting the flame and how much carbon he deposits on the paper or canvas. Mitchell also uses a technique where he makes smoke in a can, pressurizes it, and then sprays it onto the paper. A single day in the studio may yield 100 to 300 pieces, most of which are discarded because they get too scorched or catch on fire.
This technique straddles the confines of photography and sculpture, whereby the artist cuts, creates and combines to make dramatic yet unsettling works. Thai artist Kamolpan Chotvichai uses paper and canvas to explore issues of identity and gender, along with Buddhism, in her works. Again, devoid of strong colors, the unusual art technique yields a very striking artwork that lends itself to being used on a feature wall.
Social and Political Statements
Choosing a piece of art that makes a political or social statement for your feature wall is guaranteed to garner attention. Whatever medium the work, it's a creative and strong way to express your opinions. Multidisciplinary artist and writer Eldon Garnet, who is based in Toronto, has created wall sculptures from metal that feature edited versions or tweets by President Donald Trump. Artworks that opus on words, whether they are sculptures, paintings or other types of creations, are best suited for a feature wall in order to get the most attention.
Wall Sculpture
Sculptural art of all kinds is a natural for creating a feature wall in your home. Choose any type of three-dimensional artwork and use it to create the social wall in your space. Any medium will work, from metal to plastic and wood or mixed media. Here, a neon piece by American artist Keith Sonnier is a great example of a novel material used in a sculpture that creates a feature wall. The colors, light and theatricality of the piece will create an instant focal point. Sonnier's work typically uses bright colors and sparse lines in sculptures that "combine hi-tech industrial materials with organic or corporeal themes," according to Artsy.
Wood may be something you expect to see in furnishings and maybe not art, but Korean artist Jae Hyo Lee transforms natural pieces of wood into sculptural marvels. A master of his medium, Lee's work is said to straddle the lines between modern art and design. His technique enhances the natural shape and color of wood, creating a dramatic sculpture where the focus is till n the beautiful characteristics of the material.
Displaying a work of art is a fantastic way to create a feature wall. The options are endless, and as always where are is concerned, you are limited only by your budget and your taste. Take a look at the art you own, and see if you can change its location to create a feature wall. Or, see which wall in your space lends itself to displaying art and then start browsing for something that appeals to you and will create joy in your home.
Metal Pieces
Another dramatic choice for a piece of art on an accent was is one that is made from metal. The dimension these works provide, along with the unexpected look that many have create a real conversation piece and an impactful option for a feature wall. Metal artworks can be of modest size or they can be really big and statement-making. It depends on the size of your space and your aesthetic tastes which way you should go.
Roy Shapiro's heart creations are anything but sappy or cute. These shapes are formed from overlapping coins and embellished with elements that create a social statement. Displayed as a single heart or as a grouping, these metal pieces are like three-dimensional mosaics that have a somewhat pop art feel.
This larger metal work by Eduardo Navarro is a modern piece with much to contemplate. Entitled We who spin around you, the piece is composed of 50 aluminum welding glasses. Larger works like this are ideal in eclectic or modern spaces where the wall is large and the art can dominate.
Mixed Media
Mixed media works have become very popular especially for abstract representations and artists have really expanded the types of materials they use and combine. From recycled scrap of all sorts to paint applied on canvases of unusual types, mixed media is a pretty freewheeling description when it comes to the types of works that you can explore. In any case, these make excellent choices for a feature wall because they tend to be very textural and attention-getting.
The World IX by Victoria Kovalenchikova is a great example of a fabulous work that speaks volumes without being overly colorful. The textures of this piece, created in 2018, come from the combination of oil, epoxy resin, and diamond dust on canvas. The result is swirling work that is very much a topical relief map of the world. Kovalenchikova says her pieces are "an outlook at the transformation of the world surrounding us" and are a figurative integration of abstract elements.
Patricia Hashuel uses a variety of media in this Tribute to Cristina Aguilera that she created in 2018. The three-dimensional work is made from acrylic, gesso and fabrics and comes together as a real fashion piece. Since childhood, Hashuel has been inspired by her love of pop music and has always paid special attention to the costumes that the artists wore. Now, she dresses their clothes on a canvas.
Modern Material Mosaics
The technique of making mosaics dates back to Mesopotamia in the 3rd millennium BC, but artists have evolved the materials they use far beyond pebbles and then the traditional tiny ceramic tiles. Modern creators use everything from computer keys and dice to buttons and handmade paper to produce their imaginative works. We love this type of art for a feature wall because as great as a piece looks from across the room, it takes on entirely new dimensions when viewed close-up.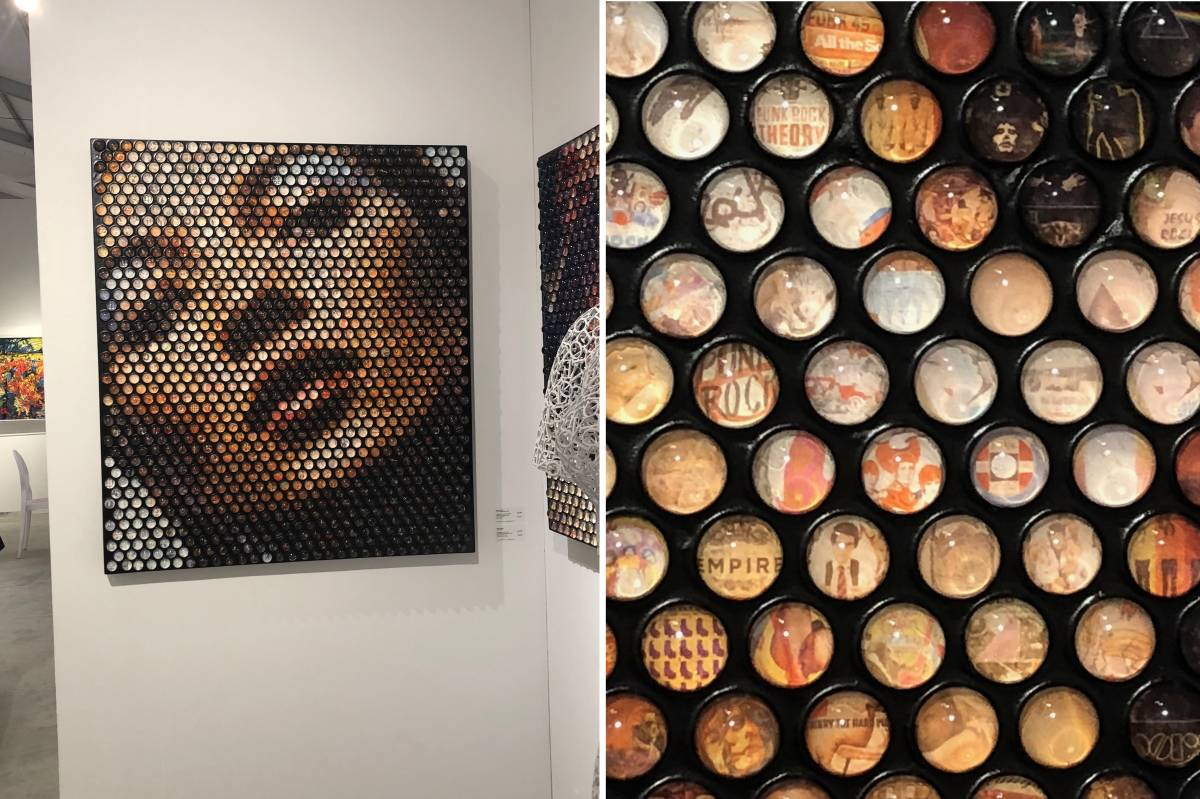 Nemo Jantzen's mosaic-style work uses mixed media with resin/glass spheres on wood to create works that question and deconstruct pop culture and mass media, the artist says. The pieces, like this one, are a mixture photography, pointillism, and pop art that come together in a depiction of a famous face. This type of work provides plenty of material for contemplation, as each piece of the mosaic features a different image.
Thousands of ordinary screws create this wall sculpture called Martini Nights. Created by Andrew Myers, the work also uses oil paint and acrylic polyurethane enamel on a wood panel. It is another spectacular example of the optical illusion that is a modern mosaic. The execution of the visual elements like folds, wrinkles and the casually draped tie are further emphasized by the coloring of the screw heads, adding extra dimension.
Textile Works
Modern textile pieces might be a little less prevalent among the types of art that most buyers consider but this too is a very old medium. From Renaissance tapestries to antique quilts and ancient weavings, textiles have always been rather common in art. Today's textile artists are using fabrics and fibers in novel ways to create pieces that range from very structured to quite organic.
For those who want a feature wall that feels more organic or Boho, a work like this one by artist Angela Scozzani fits the bill. Randomly shaped fiber constructions in earthy tones hang from a structure of rusted railroad steel. Scozzani says her work is influenced by the colors and textures found in rusted metals, fabric, and her surrounding environment. The result is very organic wall hangings — and sculptures – that bring a textural quality to a feature wall.
Iconic Peruvian artist Teresa Burga's tapestry is a jacquard that combines a striking black and white check background with colored sections in various textures. From her series entitled Dibujos viendo mal, the work is Structure 2: Words made up of phonemes of random colors. Burga's body of work is research intensive and generally focuses on the female body and state violence. It is a dramatic and thought-provoking choice in textile art.
Curiosities of All Kinds
Much groundbreaking art defies description or skirts the typical categories and is a curiosity in some particular way. The form it takes can be a twist on something more traditional or it can be a really outlandish take on a form or material. In either case, this type of art really reflects the owner's personal tastes and is a very exciting thing to use on a feature wall.
When is an image of a car not just an image? When it's a piece by British x-ray artist Nick Veasey. Crafted from x-ray images, his works put a fantastical spin on mundane objects, providing a fresh perspective on their structure and what lies beneath. By the way, the skeletons are not real people but digital images placed into the composition.
Sang-Sik Hong's ghostly renderings of lips are actually composed of thousands of plastic drinking straws. The undulating relief of the lips and subtle color variations are all achieved with the meticulous placement of straws at different lengths. The view of the whole piece, versus a closer inspection, is a truly remarkable thing to behold. Special works that make use of unusual materials are ideal as the centerpiece of a feature wall.