Cool Painting Ideas That Turn Walls And Ceilings Into A Statement
We think of walls as blank canvases waiting to be filled with color to come alive. How would you make that happen? And forget for a second the usual approaches. Cool painting ideas can come from the most unexpected and simple places so keep your mind open. If you want your walls to look cool and outstanding, you need more than just a single accent color or a roll of painter's tape.
Colorful waves.
Instead of the usual stripes, try something different like waves. They're more eye-catching and let you use more than two contrasting colors. You can freehand them and make the wall look like an abstract painting. A great way to connect all the other color accents you've used throughout the room.
Abstract designs.
And speaking of abstract paintings, here are some more ways in which you can turn your wall into one. They key is to forget about patterns and symbolic designs and to free yourself of anything that's too specific. You can, of course, induce a mood or create a design reminiscent of something you love using colors and shapes.
This design reminds me of the beach and the waves but it's possible for it to have an entirely different meaning for someone else.
The magic of painter's tape.
Have you ever used painter's tape to create more than just stripes or to mask a straightedge? It's a lot more versatile and you can help you create a variety of unique lines and designs when torn. Put a spin to the usual approach and paint against a torn tape edge.
Typographic designs.
A typographic design lets you personalize the walls in your home or workspace and make the layout more practical. For example, paint a large monogram on a wall in the kids' room or anywhere else.
Define the spaces using numbers. This is helpful for large spaces with different zones or large offices. This way when you tell someone to look an item in zone 3 they know exactly where that is. You can also adapt the idea for your own home.
Create a cool and simple wall display with a personalized message. It can be something inspirational, great for a meeting room for example, or something fun or clever you can use in your living room or entryway to make guests feel welcome.
Stripes.
And here we are discussing stripes, the timeless and simple painting technique that's among the most accessible. But we invite you to take them to another level. For example, instead of using two colors, try using three. Make a thin white stripe in between the larger ones to emphasize the other two colors.
Another interesting idea can be to create vertical stripes of different widths and use the same technique as before to highlight the colors. In a way, it's a design reminiscent of bar codes. They're still stripes but just a little more special.
Chevron patterns.
Painting chevron stripes is relatively easy if you do it the usual way. But think of how you can coordinate them with the rest of the room's décor. Use the right colors in the right place.
You don't necessarily have to turn chevron stripes into a pattern for the entire wall. How about an oversized approach that connects two adjacent walls?
Ombre designs.
Ombre painted walls offer a lot of flexibility in terms of design. For example, you can make it look like there are no boundaries between the ceiling and the walls and eliminate the straight angles.
Paint the bottom portion of the bedroom walls a different color that gradually becomes white and match that color to the bedding or the carpet so there's cohesion throughout.
Combine the techniques. Use chevron stripes on one of the walls and use the darkest shade for the bottom line. Gradually add white to make the other stripes lighter and lighter until the differences are no longer noticeable.
Ombre walls can also create a beautiful and serene atmosphere and you can use this effect in areas like the bathroom or the entrance hallway. You can even create interesting textures for the wall using a sponge.
Faux.
If, for example, you love the texture and the warmth that wood adds to a room but don't want to use this material in your design, there's an alternative: a faux bois painted wall. You'll get to transmit those elements but in a symbolic way.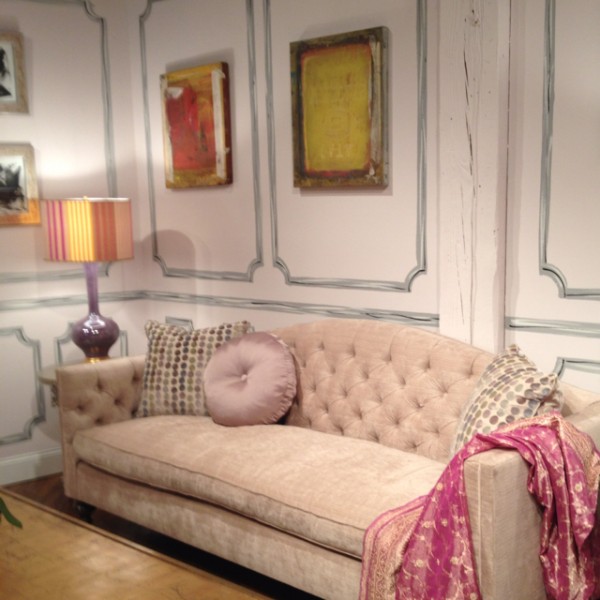 Similarly, you can enjoy the rusticity and traditional charm that molding offers to a space without actually installing any. Faux molding can be painted on the walls. It will also give the room a casual and relaxed feel.
Here's a simpler design that uses decorative painting. If you're not a fan of the straight lines that painter's tape usually creates, try simply using an angled brush.
Large-scale stripes.
Stripes don't necessarily have to be parallel. In fact, they're more fun and interesting if they're not. If you want to make a strong statement, stay away from thin lines and try instead a large-scale approach.
Freehand.
If you're feeling talented and creative, you can come up with a unique design for your wall. Freehand something on the wall with a pencil and see what you get. Once you're happy with the design, use paint to define it.
Color blocking.
by Marco Antùnio.
Don't be afraid of solid colors. Combine multiple shades on a single wall and make them all look fun and unique. It can be helpful to paint thin white frames around each block of color to highlight the tones.
Look around the room and find all the different colors you've used. Gather them all on a wall and paint a rectangle using each of the shades you've cataloged. A great way to tie everything together harmoniously.
If you want to highlight the contrast that two strong colors create, then a simple design is the best way to do it. A single, thick stripe is a lovely idea.
For a continuous design, use paint on both the walls and the door. For example, paint half of the walls and door a color and the other one a different shade. White usually matches everything else so it can be used to emphasize contrasts, even with pastel shades.
Paint the bottom portion of the walls a dark color if the furniture you place against it is white for example. This way all the elements will stand out by simply being associated with the contrasting one.