Cool Painting Ideas That Turn Walls And Ceilings Into A Statement
We think of walls as blank canvases waiting to be filled with color to come alive. How would you make that happen? And forget for a second the usual approaches.
Cool painting ideas can come from the most unexpected and simple places so keep your mind open. If you want your walls to look cool and outstanding, you need more than just a single accent color or a roll of painter's tape.
The different types of paint
If you're to paint a wall or a ceiling, you need to be properly equipped for the job. That includes knowing which type of paint to choose. There are quite a few different options based on a series of different criteria. We'll go over them shortly.
Oil-based paint
These paints are a good choice if you're trying to cover up a stained surface because they have better surface penetration and better adhesion. They're durable and water-resistant and less expensive than other types. Oil-based paints are reliable and last for a very long time. They're also great for trims. The downside of using them however is that they take very long to dry, up to 24 hours which can be a big inconvenience in some cases.
Water-based paint
This type of paint presents a series of advantages compared to oil-based paints. For example, they dry quicker, they have less of an odor and they're easier to clean. That makes them an excellent choice for interior walls. Water-based paint however is not as resilient as the oil-based kind and doesn't last as long. However, they're still great and if you plan on repainting the walls in a few years anyway there's no inconvenience.
Because water-based paint dries quickly you can apply several coats in the same day and thus finish your project a lot quicker. It's also very convenient because you can clean it with only soap and water. It doesn't give off noxious fumes either. Of course, there's also a bit of a downside to this and it's the fact that water-based paints are more costly compared to the oil-based kind.
Latex-based paint
This is a type of paint usually used for exterior walls and surfaces. It offers a big advantage in the fact that it doesn't fade in the sunlight. It's also easy to apply and it dries quickly similarly to regular water-based paint. What also makes it a suitable choice for the exterior is the fact is can expand and contract without trapping moisture inside and that in turn makes it resilient and long-lasting.
It's possible for some latex-based paints to also be water-based but that's not always the case. Both types are user-friendly and easy to clean with soap and water.
Flat paint
Based on sheen type, we can distinguish between a variety of different types of paint. The kind that gives you a flat finish is not particularly suitable for areas such as the kitchen or the bathroom because it's not as easy to clean as other types. If however you want a finish that looks more sophisticated, this one fits the description.
Flat paint doesn't reflect the light so it's a good choice if you're trying to hide imperfections. However, it's not very durable. In fact, it's the least durable kind compared to the other types so use it in areas that don't get used very often if you want it to last. Flat paint is also very inexpensive.
Matte paint
Although they're similar, flat and matte paint are not the same thing. Matte paint is just a bit glossier than flat paint and is also more durable. It's more resilient and better-suited for high traffic areas which makes it more versatile as well.
Eggshell paint
The reason why it's called like this is because this type of paint has a low sheen like that of an eggshell. It's durable, easier to clean compared to flat paint and it can be washed without damage. It's glossier than matte paint but not as glossy as other types which makes a good in-between option and also makes it more refined that flat paint but still practical for covering up imperfections.
Satin paint
The differences between satin and eggshell paint are minor as these two types are very similar to one another. Satin paint has a sheen and gives surfaces a smooth and velvety look. It's a bit glossier than eggshell paint but not by much. You can use it in pretty much any room, including high-traffic areas like hallways. It can be easily washed and cleaned and it's quite durable and can last for several years.
Semi-gloss paint
This type of paint is glossier than the ones mentioned previously, enough so that it doesn't hide imperfections but actually makes them stand out even more. It's also a type of paint that's very durable and can be washed and even scrubbed. That makes it a great choice for spaces like kitchens and bathrooms. A lot of semi-gloss paints can also stand up to moisture although it's not always a requirement.
Gloss paint
This is the glossiest paint type in our list. It's shiny, stain-resistant and easy to clean. You can even scrib it without doing damage which means you can use it in the kitchen, including on the backsplash. Of course, because it's so glossy it reflects light and isn't great on imperfect surfaces because it brings out any detail. This is also a highly durable type of paint and because it can be cleaned so easily it can last for a very long time. In terms of cost however this is the most expensive type of paint so it's often only used for details and trims.
Spray paint
Spray paint is in a completely different category. It's not the type of paint one would use on the walls unless they want to make graffiti or explore their artistic side. It's also not the type of paint you should use indoors because of the fumes. It's great for various makeover projects involving furniture and decorations.
Enamel paint
This is the most rugged and tough type of paint on the list and although it can also be used indoors, it's most generally used for exterior areas because it can withstand the elements. Inside the home it's used on cabinets and sometimes on appliances in order to give them a layer of protection.
Chalkboard paint
This is a very straight-forward type of paint. It's what you can use to create a chalkboard surface. You can apply it to walls as well as other surfaces and it's very versatile and fun to use in various areas of the house and all sorts of projects.
Primer
The primer is applied to a surface before the paint. It can be oil-based or water-based and can be used with various types of paint and multiple surfaces. Some paints already contain primer in which case this step is not necessarily and you can go straight to painting the walls. The role of the primer is to seal the surface and to add a protective layer that prevents discoloration from the old paint so it doesn't bleed through and ruin your color. There are a few different types of primer out there and some are better at concealing than others which is useful if you want a drastic change in color such as from dark to light for example
DIY Cool Painting Tutorials
After you've chosen the right type of paint for your project, you can go ahead and actually paint the wall. That's when creativity comes into play. For example, you can choose to only add a few details to a wall instead of repainting its entire surface. Check out this beautiful hand-painted design featured on randrathome and let it inspire you.
If you want to add more texture to a wall you can choose a specific type of paint that's designed to mimic a particular look. For example, this stylish accent wall uses limewash paint It has a very natural and earthy look but it has to be applied in a specific way. For more details check out this tutorial on curateanddisplay.
When choosing the type of paint you also have a choice between a wide variety of colors. Of course, you don't have to only chose one color. You can mix and match multiple ones and create all sorts of interesting designs, like this geometric accent wall design featured on hawthorneandmain for example.
It's also not just the type of paint that matters but how you apply it as well. The tools you use are important. If you want the standard look of that sort of paint use the recommended tools but if you want something different and unique then you can be quite creative. For example, you could use a sponge to get a cool design on the wall. Check out hometalk for more details about this.
Another cool resource that you can use is a paint pen. It's similar to a regular Sharpie except it's not the same thing. You can use it to create various cool patterns and design on a wall and even paint of sketch various designs on it. You can find a nice tutorial in this sense on snappycasualblog if you're interested.
You can find paint pens in all sorts of colors which gives you a lot of freedom with your accent wall design. For instance, if you want to go with a rather busy pattern but you don't want it to be super eye-catching you can use a paint pen in a subtle color, one that doesn't contrast very much with the wall color. We recommend checking out this stylish design from classyclutter.
Paint pens can also be used to decorate a wall and make it look like it has wallpaper on it when in fact it's the wall itself that's decorated in that manner. As you can imagine, it's not a particularly easy project and you need to be very precise with your measurements if you want the design to look good. You can find more information on vintagerevivals.
Tape is also a great friend when you're creating accent walls, especially if you want to use multiple colors and to create a color block design like the one featured on framedbysarah. A project like this starts with tape which is applied to the wall based on the pattern that you want to create. Then you apply all the colors and let the paint dry, after which you remove the tape and fix any possible issues.
Simply painting the wall using a single color can also work. It would be nice to take this opportunity to also fix any imperfections, cover up any holes and make sure the whole surface is nice and smooth. You might have to do some sanding and to repeat this process over and over until the spot is all fixed. Check out lifewithnealandsuz for more detailed instructions.
With paint you have a lot of freedom and you can be really creative. You can even use paint to create beautiful murals and amazing art. This would however require planning. This colorful mural featured on younghouselove uses multiple colors which have all been carefully selected and that go really well with each other. You start with a rough design and then slowly make the lines nice and smooth until your design looks exactly how you pictured it.
Wall painting design ideas
Colorful waves.
Instead of the usual stripes, try something different like waves. They're more eye-catching and let you use more than two contrasting colors. You can freehand them and make the wall look like an abstract painting. A great way to connect all the other color accents you've used throughout the room.
Abstract designs.
And speaking of abstract paintings, here are some more ways in which you can turn your wall into one. They key is to forget about patterns and symbolic designs and to free yourself of anything that's too specific. You can, of course, induce a mood or create a design reminiscent of something you love using colors and shapes.
This design reminds me of the beach and the waves but it's possible for it to have an entirely different meaning for someone else.
The magic of painter's tape.
Have you ever used painter's tape to create more than just stripes or to mask a straightedge? It's a lot more versatile and you can help you create a variety of unique lines and designs when torn. Put a spin to the usual approach and paint against a torn tape edge.
Typographic designs.
A typographic design lets you personalize the walls in your home or workspace and make the layout more practical. For example, paint a large monogram on a wall in the kids' room or anywhere else.
Define the spaces using numbers. This is helpful for large spaces with different zones or large offices. This way when you tell someone to look an item in zone 3 they know exactly where that is. You can also adapt the idea for your own home.
Create a cool and simple wall display with a personalized message. It can be something inspirational, great for a meeting room for example, or something fun or clever you can use in your living room or entryway to make guests feel welcome.
Stripes.
And here we are discussing stripes, the timeless and simple painting technique that's among the most accessible. But we invite you to take them to another level. For example, instead of using two colors, try using three. Make a thin white stripe in between the larger ones to emphasize the other two colors.
Another interesting idea can be to create vertical stripes of different widths and use the same technique as before to highlight the colors. In a way, it's a design reminiscent of bar codes. They're still stripes but just a little more special.
Chevron patterns.
Painting chevron stripes is relatively easy if you do it the usual way. But think of how you can coordinate them with the rest of the room's décor. Use the right colors in the right place.
You don't necessarily have to turn chevron stripes into a pattern for the entire wall. How about an oversized approach that connects two adjacent walls?
Ombre designs.
Ombre painted walls offer a lot of flexibility in terms of design. For example, you can make it look like there are no boundaries between the ceiling and the walls and eliminate the straight angles.
Paint the bottom portion of the bedroom walls a different color that gradually becomes white and match that color to the bedding or the carpet so there's cohesion throughout.
Combine the techniques. Use chevron stripes on one of the walls and use the darkest shade for the bottom line. Gradually add white to make the other stripes lighter and lighter until the differences are no longer noticeable.
Ombre walls can also create a beautiful and serene atmosphere and you can use this effect in areas like the bathroom or the entrance hallway. You can even create interesting textures for the wall using a sponge.
Faux.
If, for example, you love the texture and the warmth that wood adds to a room but don't want to use this material in your design, there's an alternative: a faux bois painted wall. You'll get to transmit those elements but in a symbolic way.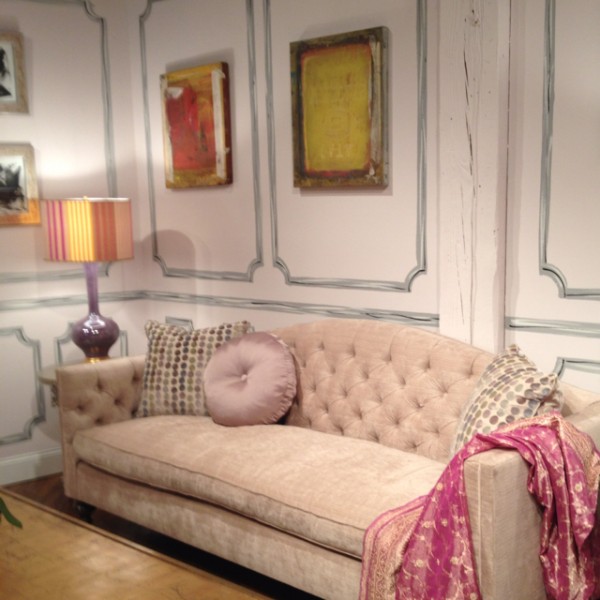 Similarly, you can enjoy the rusticity and traditional charm that molding offers to a space without actually installing any. Faux molding can be painted on the walls. It will also give the room a casual and relaxed feel.
Here's a simpler design that uses decorative painting. If you're not a fan of the straight lines that painter's tape usually creates, try simply using an angled brush.
Large-scale stripes.
Stripes don't necessarily have to be parallel. In fact, they're more fun and interesting if they're not. If you want to make a strong statement, stay away from thin lines and try instead a large-scale approach.
Freehand.
If you're feeling talented and creative, you can come up with a unique design for your wall. Freehand something on the wall with a pencil and see what you get. Once you're happy with the design, use paint to define it.
Color blocking.
by Marco Antùnio.
Don't be afraid of solid colors. Combine multiple shades on a single wall and make them all look fun and unique. It can be helpful to paint thin white frames around each block of color to highlight the tones.
Look around the room and find all the different colors you've used. Gather them all on a wall and paint a rectangle using each of the shades you've cataloged. A great way to tie everything together harmoniously.
If you want to highlight the contrast that two strong colors create, then a simple design is the best way to do it. A single, thick stripe is a lovely idea.
For a continuous design, use paint on both the walls and the door. For example, paint half of the walls and door a color and the other one a different shade. White usually matches everything else so it can be used to emphasize contrasts, even with pastel shades.
Paint the bottom portion of the walls a dark color if the furniture you place against it is white for example. This way all the elements will stand out by simply being associated with the contrasting one.