Upgrade Your Home Decor with Sculpture
When you think about sculpture, Michelangelo and Auguste Rodin probably come to mind. In-home decor, however, sculptures are a great way to express your style and to display forms that fit your personality. The sculpture is not limited to the classical styles. Options include modern, whimsical, realist and minimalist works that artists have created and that you can feature in your home as focal points and accents. Another important point is to not feel constrained by style labels. Blending modern with classical is common as in this dining room setting, which features a classic torso sculpture.
Another important point is to not feel constrained by style labels. Blending modern with classical is common as in this dining room, which features a classic torso sculpture. In this case, the piece serves as an accent, beautifully complementing the dining set and lighting.
A similar sculpture of a torso has an entirely different vibe, thanks to the nature of the stone and minimalist form that does not accent the muscles as a classical sculpture does. Another mixing of styles, the pairing of the torso with a rustic set of accessories demonstrates how you can make the piece work in a less formal space. It's an unexpected and design-forward combination.
If an eastern flair or rustic chic style is what you're looking for, Asian sculptures can work well. This white bust is an appropriate addition to a tableful of eclectic accessories, including cloches, candles and vessels. The rustic wall art also goes with the bust and would be equally nice with a more modern sculpture as well.
There's a reason that classical forms have endured and still play a role in home decor. Their detail and drama make them the perfect piece to serve as a focal point, whether you choose a piece in stone, clay, metal or another material. When it comes to a classic bust, if you're going to choose one for your home, go big in terms of making a statement. It's an attention-getting piece and will be the star of the room or area where you place it. A very small bust will serve more as an accent and is a good way to try out the sculptural form in your interior decorating before making a bigger commitment.
Cherubs — called putti in Italian — have been depicted in art and sculpture for centuries. According to art history texts, the little chubby, naked male babies often have wings and in the bible are scared because they were thought to attend to God. The putti are secular, although they still became associated with God during the Baroque period. Sometimes the figures are also meant to represent cupid.
These celestial babies have waxed and waned in popularity throughout the eras of history and still have a place in today's decor styles. As displayed here, they work well tropical and floral patterns and add a light feminine touch to a space. They are a classic form, but with a less solemn feel than a classical torso form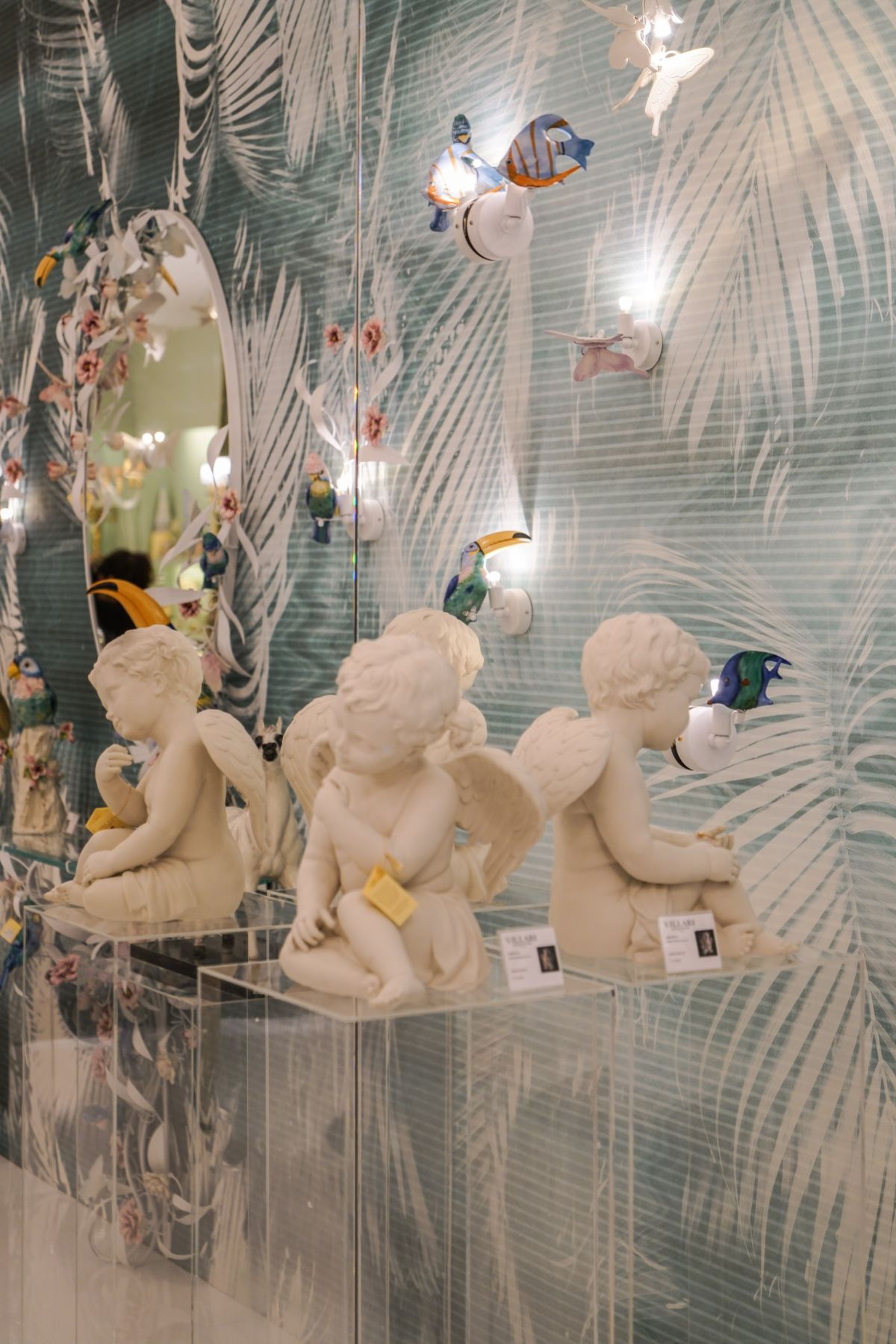 In contrast, a serious classical sculpture like these wrestlers in the Italian style is a sober and weighty sculpture that immediately draws attention. The rippling muscles on the figures and the feeling of strength that comes from the expert carving demand a central location to be appreciated.
More delicate and smooth, this bust may have a classic shape but the style is decidedly more modern. The Asian visage is paired with a traditional neckline. A sculpture like this adds a feminine touch to a space and is a softer addition than a classic bust done in a rougher finish. The luxe urn behind the bust is another example of a sculptural piece that adds interest to a room
In contrast to the stone and porcelain sculptures, pieces done in a metal have an entirely different feel. This all, commanding woman is done in bronze, the most popular metal for cast sculptures. The lines and details have a different feel from the ones that are carved from stone. Because of its size, a sculpture like this will need a proper space in the home to command attention.
Classic forms are not for everyone and pieces that are in the genre of realism appeal to a wide audience. According to Britannica, the definition of realism in art is "the accurate, detailed, unembellished depiction of nature or of contemporary life. Realism rejects imaginative idealization in favor of a close observation of outward appearances." So, rather than focusing on an ideal form, sculptors try to depict what they really see as in the statue of this girl. Her features, clothing and the grapevines in her hair and in her hand are very realistic. While some of this can be found in ancient sculptures, the genre became much more popular in later centuries, particularly in painting. Now, there are many examples of sculpture you can incorporate in your home that are realistic, featuring people, animals and other objects.
Sculpture in your home is also a great way to introduce a little whimsy. Fun or fantastical, small or large, they make you look twice or smile every time you look at them. Pieces that are provocative can be a real conversation piece and a source of entertainment for guests. Sometimes, they simply reflect something from your childhood or life that is meaningful. Whatever the reason you choose it, a sculpture can do more than just enhance a room. It is a piece of art and should speak to you in some way, whether that is for happiness, nostalgia or a more intellectual reason.
These hippos by sculptor and illustrator Bjorn Skaarup are a collision of nature and culture — the concept that drives the artist's creations. Skaarup's statement says that his works meld "the gracious and exclusive with the communicative, distorted and humorous." It's a perfect example of how a piece can be refined and funny at the same time. Either standing guard in the entryway or keeping you company in the living room, these sculptures take center stage without overwhelming a space.
What used to be a symbol of schlocky backyard decor is now a hot image in home interiors. Flamingos have evolved from a plastic atrocity to a popular image now used for everything from understated neutral renderings in wallpaper to more vivid representations in accessories. A sculpture is another way to include this icon of camp in your home decor. The vivid color and recognizable silhouette are a great accent for any room, from a bathroom or dining room, to a bedroom or your living room.
Common barnyard animals gussied up in metallics or graphics immediately lend a bit of fun to an interior. This chubby little pig painted in silver may be a small sculpture but it adds a big punch of interest. There isn't a person who could walk by this sculpture in your home without commenting — or at least noticing.
Definitely not whimsical, this panther sculpture is dramatic and commanding. Put this in your living room and
Minimalist versions of common animals are also popular subjects for sculptures and can even be used in groups for a statement-making arrangement. Mixing finishes creates more depth and interest than if all the owls in this grouping were the same.
Of course, minimalism is not for everyone and many people prefer to create an opulent home interior. A wide range of luxury sculptures with animals as subjects is available, which keeps the pieces from being too serious. Detailed elephant figures that are adorned with extravagant Indian hathi howdah — the carriage on top — and headdresses are a good example. These sculptures are gilded and opulent, adding a high-end touch to any space.
Of course, magnificent carving and exceptional detailing can make even plain porcelain far from boring. This elephant sculpture, without fancy carriages and accessories, is an elegant and sophisticated sculpture for any space and would work with several decor styles.
Fans of rococo styles can incorporate a variety of sculptural styles, including sculptural furniture. The decor of that design period features lots of flower and leaf motifs, and has a light and feminine feel, compared to the heavier looks of the baroque era that preceded it. Regardless, these pieces feature plenty of gold, flowers and figures that add sculptural style to any lavish space.
This setting combines a sculptural console base with smaller animal sculptures as accents on the lucite tables and the console. Small bird sculptures also adorn the wall sconces in this setting. It a colorful, print-happy and over-the-top combination of decor elements that come together in a grand space.
Sculptures of all styles can be mixed with current decor styles, as long as the result suits your personality. The old rules about being matchy-matchy in your interior decorating are passe and fortunately new, fresh ideas about styling a space are popular. Just remember, a sculpture is a piece of art that reflects your tastes and sensibilities. Upgrade your space — choose something fun and enjoy it in your home!
More cool decor abstract ideas
If your tastes tend toward the modern or abstract end of the spectrum, a vast selection of sculptures exists that may appeal to you. These range from very idealistic works to fantastical forms and thought-provoking art pieces. Some are crafted using upcycled or unexpected materials as their mediums. Whimsical or serious, modern sculptures add a great deal of interest and dimension to a room, and very often, are a truly sophisticated focal piece.
A traditional room does not rule out incorporating a modern piece of sculpture. Here, a conservative wall covering is paired with a minimalist artwork on a rustic base that's actually a section of a tree trunk. The vivid yellow is an out-of-the-ordinary addition and it perks up the corner of the room in a surprising way. This just goes to show you that you can truly have free reign when you're adding art to your home.
Smaller abstract sculptures typically need to be raised up for the best viewing and to highlight their best features. Often this is done with a pedestal, but displaying these works on a console or credenza is another great way to bring attention to your favorite pieces. Often the key is to display only the sculpture without other works or décor accessories nearby that might compete. If you love it – and you should if you bought it– show it off!
Edgy sculptural works big and small are great pieces, if that fits your tastes. If you love the style, going big is a dramatic way to add sculpture to your home. In this case, a decorated skull figure is supersized into a floor sculpture that would be fabulous in an open and airy entryway or large open plan living space. Even an expansive covered patio could be appropriate for a large scale sculpture to which you are really drawn.
Tal Shaked's intriguing sculpture of a female figure is a modern take on the classic bust. Both colorful and though provoking, the form gives the viewer a lot to ponder and at the same time is a beautiful accent. Unlike the classic forms, the surface is not smooth or realistic, but rather elevates the imperfect and abstract features – or lack thereof – to a major element in the design.
For a more whimsical take on a classic bust, Jay Luiz's mixed media Shell Lady has interesting features. From her shell and moss headdress to the shell neck and pedestal décor, it's a modern take but with a nod back to the days when décor with seashells was a thing. The melding of retro, modern and avant-garde makes for a real conversation piece.
At the geometric end of the spectrum is a floor sculpture like the Sonic Sphere by Haegue Yang. Made from copper and nickel plated bells and metal rings, it's a simple silhouette with a complex construction. The South Korean artist is known for using household items in an effort to "liberate them from their functional context" and give them another meaning.
Théo Mercier is a French artist whose work are sometimes odd, often irreverent and most always "eager cabinets of curiosities and fractured images. This sculpture is made from realistic silicone prosthetic hands inside in a shell. The sculpture is part of a series called "Love without organs" and Art Basel writes that it is meant to stimulate our imagination in the way that surrealist objects did in the early twentieth century.
For those who prefer great meaning and depth in art, Cosmo Whyte is an artist whose works should be explored. "I situate my work in the liminal space between early culture shock and final acclimatization," White says and this work is emblematic. "The Enigma of Arrival in 4 Sections. Section 3: Carry On" is made up of elements that create a tableau many of us can identify with. It incorporates a 2017 airline chair, fabric, plastic and broken ceramic plates on a shipping pallet.
Canadian collaborative artist trio General Idea's sculpture is a commentary on beauty pageants and mainstream magazines. The 1970s series "satirized glamour, fame and the art world" and focused on a parody of beauty pageants. For the project, they created pageant entrants like this one, which calls to mind the silhouettes of 1940s fashion. Crafted from Venetian blind slats, it's a very stylish as well as provocative work.