The Coolest Artworks from Art NY and Context
The New York version of Miami's CONTEXT art fair teamed up with Art New York to present an astounding array of artworks of all kinds. Emerging artists along with those who are better known had works on display that collectors and those just exploring art could peruse.
Homedit has visited the paired-up fairs in Miami and finds the array of works ad styles very refreshing and engaging. Here, we have picked some of the coolest works we thought that you would like to see.
Since we are suckers for amazing sculpture, this piece by Gil Bruvel is at the top of our list. Called "Flowing," the piece represents sharing life together and being lost in our own private worlds at the same time. The Australian-born, French-raised artist works using modern technologies like 3D modeling and old-world practices like metal casting to create his amazing works.
Aurelie Mantillet's L'Acrobate is a one-of-a-kind piece. The French artist is known for her treatments of matter in space. Her imagery focuses on female themes such as women, children, and animals. The visual effect and texture are full of depth and meaning.
Old matchbooks have been collected by many but few if any have transformed them into evocative artworks like these by Andy Burgess. The UK-born, US-based artist made these cityscapes with vintage matchbook covers and vintage paper on panels with gouache. They are charming streetscapes, and, on closer inspection, provoke memories of days gone by thanks to the old-fashioned brands and locations on the matchbooks.
These artful wall art panels are from "The Art of The Car" exhibit by the Casterline|Goodman gallery. Each features the organic images of car paint on metal. The resulting pieces are oddly pleasing abstract pieces that are car paint on metal.
A haunting black and white piece is accented with fantastical butterflies by Christiaan Lieverse. The Dutch artist is a painter but also works with digital images. This is his "Mist" (Primus Experimentum). Often, his work start with an artwork on linen, then embellished by layers of paint and materials to create depth and a tactile feeling for the work.
One of the highlights for Homedit was seeing some of the pieces by the mysterious and enigmatic Banksy. Best known for his street art and never-revealed identity, the artist also has created profound works that are for sale and many owned by collectors.  This is from his series of pieces that are adulterated paintings — what some may call vandalized pieces.
California painter Brandi Milne is influenced by toys, cartoons and Disneyland, as is discernible from her works that address adult emotions in a "candy-coated" fashion. The surreal world she has created emerges in her works as a bit fantastical and a bit bizarre.
A fantastic three-dimensional piece, this is by Kim Byung Jin. Kim is highly sought after by developers the world over for large creations for lobbies and atria. What looks like a lattice piece is actually composed of thousands of letters, logos, or shapes that come together to make a new shape. From 3D sketch to clay, plaster or plastic prototype, Kim makes the letters or shapes out of steel and then paints them with car paint, cured at a high heat.
Fine art photographer Cara Barer has made a name for herself in creating artful photographs of books. She sculpts, then dyes the volumes, creating representations that she then photographs. Barer says that she raises "questions about the fragile and ephemeral nature of books and their future." Regardless of the aim, she transforms basic objects into fantastic artworks.
In the same vein, Carmel Ilan makes scans of her paper art constructions, composed of folded papers tat are erected on a wooden plate. The visual representation is so detailed and stunning, it's difficult to believe it's made from papers.
Bjorn Skaarup's charming animal sculptures are very compelling, drawing you into the space and under the spell of these beasts.  This is his Rhino Harlequin, fashioned from bronze.
Multi-talented David Ramirez Gomez works in a variety of media. The Colombian artist lives and works in Denmark, creating performances, installations, films, painting and drawings. Known for pushing boundaries and conventional rules, Ramirez Gomez produces works that are raw and uncommon, featuring curious figures and bleak backgrounds.
Dutch sculptor Diederick Kraaijeveld creates astounding collage pieces, many of which are brightly colored, without a single drop of paint. The contemporary images he creates are current day icons, all fashioned from salvaged wood that Kraaijeveld collects from all over the world. All the wood is used in its natural vintage state.
Donald Martiny is known for his works, both large and small, that he builds using not only brushes and other tools, but also his hands. One his recent projects was creating mammoth-sized works for the lobby of One World Trade Trade Center in New York City. The works were so large he had to create them on-site.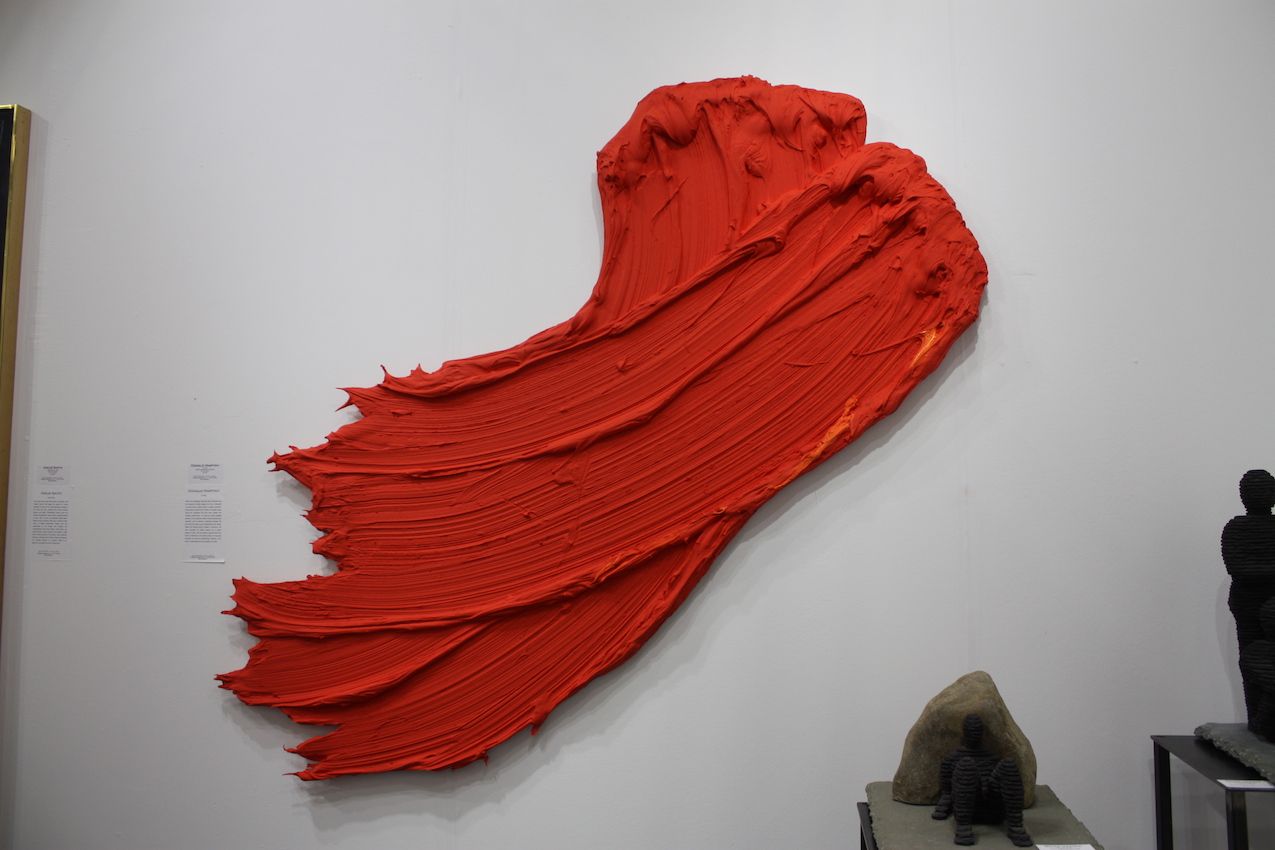 Two artists, Zoey Taylor and David Connelly, make up Dosshaus. The due creates all types of paintings, sculptures, installations, videos and other works to "build the world we wish to live in." Amazing sculptural recreations of everyday items are crafted from recycled cardboard that the artists find in the alleys of Los Angeles.  All their pieces, like this turntable, are made by hand using only cardboard, paper, and acrylic.
Works created from thousands of colored pencils by Frederico Uribe are incredible but his pieces made from bullet shell casings are something entirely different for the meaning they hold for his native Colombia. The history of the country was dark and brutal and Uribe says death was everywhere as he grew up. The artist makes these works with the aim of creating something beautiful from the ugly story that the materials tell.
Meticulous and artful placement of each shell come together in a spectacular rendering of life.Cotton Striper Yellow is by artist Jeremy Thomas in his signature technique that involves blowing up superheated metal like a balloon. The process starts with creating shapes by folding and welding metal. Thomas then paints part of his work, leaving a section rough and natural.
Mixed materials on a large scale are the signature of artist Judy Pfaff. Her creations use found items, paints, recycled materials and other items. Pfaff is considered a pioneer of "installation art" and received a MacArthur Fellowship in 2004.
Justin Bower's phenomenal works examine subjects such as free will and technology, and "fractured post-humans in a nexus of interlocking spatial systems." Using the traditional medium of paint to depict the disruptive effects of technology on humans yields these riveting images that can be disturbing as you consider the lure of technology.
Artist Katherine Gray says that all her works are about the concept of disappearance. The creations are often created using mundane everyday items that we take for granted and don't really see for their beauty. This work is called A Rainbow Like You and is made of blown glass, acrylic, and lighting components. The shadows she creates with the materials is akin to pulling beauty from simple items and showing an alternate view of the world.
French ceramic artist Laurent Craste. His well-known collection called Abuses, featured ceramic pieces in the traditional Sevres form, that were "aristocratic victims of working class coups," writes Canadian Art magazine. This one is Glaze and Mixed Iconocraste au bat VI.
Spanish-born Manolo Valdes is artist, painter and sculptor, and is internationally known for his influence on the art world and for his works that used pop idioms to criticize the regime of Francisco Franco. Valdes' pieces have been shown in the great museums of the world. This is Regina con Sombrero.
Austrian artist Martin C. Herbst combined traditional painting techniques with three-dimensional sculpture to create intriguing pieces that meld the two seamlessly. This piece is from the hidden treasure series where the folded aluminum surrounding the face reflects the image. When you look at the piece from various angles, it's like you are a voyeur, sneaking a glimpse at the private and personal expressions of the face.
Rodin's "The Thinker" is an iconic sculpture and artist Moto Wagonari has appropriated the silhouette for his art that examines, light, space and structure. The shadow of the work is as important as the physical piece and takes on a volume of its own as you consider the two.
Turkish artist Neveser Ozenbas creates multi-dimensional works from simple strings of paint on plexiglass. The magic comes in how she layers, juxtaposes and combines those little strings of paint into complex pieces that evoke emotion and movement.
American artist Paul Rousso's collage works treat "object as paint" as in this work titled Vogue Magazine. Pages from the iconic magazine are applied to hand-sculpted styrene to create an exploration of the "two-dimensional politics of the printed page and the multimedia promise of future-enhanced life experiences," according to his artist's statement. The collage works like this one and others that feature candy wrappers and other media are the perfect pop art in today's digital era.
To the casual observer, these might appear to be simply abstract, impressionistic works. Instead, these pieces by Robert Sagerman are precise works, rooted in kabbalistic meditation through counting. Sagerman meticulously counts his dabs of paint, which serve as the titles of the works.
Artist Roberto Fabelo is known across Cuba and his works are widely displayed, especially his nudes. This more frightening image figures in some of his paintings and works. Many of his drawings incorporate avian features in the sinister looking renderings.
What looks looks like a simple bowl, drawn on a sheet of white paper is actually not what it seems. The paper is blank and the image is the shadow of reflection from the etched glass that sits in front of the paper. Artist Lee Sangmin is Korean-born and French-trained.
Sophie Ryder creates mystical sculptures — some of monumental sizes —  from all sorts of materials. Here is a work made from wire. While this is of modest size, some of her huge pieces are also crafted from wire. The transformation of a thin and linear medium into works of amazing complexity or massive size is brilliant talent.
Space 776 of Brooklyn showed a wall full of works by Korean artist Jung San, a series called Understanding Beyond words. The artist spent 50 years in a Buddhist Temple, meditating and spending time in self-reflection while exploring creative endeavors. Once he decided to work in the visual arts, he has become well known in California's bay-ares arts community.
Japanese ceramicist Konno Tomoko's fantastical, detailed flora are the stars of her artworks. The lifelike flowers are carved, painted and arranged with painstaking precision and then incorporated in a larger work, like this one called Aki (Fall).
Singaporean artist Tang Da Wu's amazing works of ink on paper hark back to the ancient style Asian paintings but have a modern, abstract result. The award winning artist also creates installations, sculptures and works in other media.
We love glass art and Danish glass artist Tobias Mohl's works have a phenomenal ghostly feel that he coaxes from the material as he works it. This is his Five Part Silk Spinner Collection, created in 2016. Displayed in a lighted fashion like this, the patterns in the glass are enhanced and the sum of the whole is even more spectacular than the individual pieces.
Wolfgang Stiller's Matchstickmen are a little intriguing yet a little creepy. The series of works arose from the work leftover head molds and wood that were discards from a movie shoot. He started experimenting and created his men, that he turns into various installations.
Thousands of ceramic shards become intricate, undulating works of art in the hands of internationally acclaimed Zemer Peled. The Israeli-born artist creates works large and small that defy description. Peled's larger constructions can take as long as four months to complete.
Chinese-born Zhenya Xia's work uses bright colors and thick coats of paint to create her works that reflect light, capture shades and eliminate all perspective, according to her statement. Rather than trying to be three-dimensional, the artist focuses on the one-dimensional nature of her work
All different, all cool for various reasons — these artworks are cutting edge in many ways. The variety of styles and media show how different art can be. Truly, it was hard to choose a limited number of works to represent the breadth of creativity showcased at the fairs.