Modern Storage Cabinet Designs That Put A Spin On Classical Beauty
Storage cabinets are well…for storing things in. But why limit their function to that? There's no reason why buffets and sideboards and any storage cabinet couldn't be both functional and good-looking. As the following designs will prove, this is entirely possible and desirable. A modern cabinet will usually have a design that's a balanced combination between the two attributes mentioned just now, although this is not something limited to only one style.
Luna is a tall storage cabinet with a structure made of MDF with either a walnut veneer or orange lacquered finish. It has a base that holds a circular structure divided in two sections. The lower part is closed off with two different-colored doors and the upper half is open and serves as a bookshelf.
Five removable drawers and seven removable shelves allow this sideboard to be incredibly versatile and customizable. Its name is Mister and it's a perfect addition to living rooms, dining areas and entertainment areas in general. The interior of the sideboard can be completely rearranged and used as a bar, desk or storage space.
This looks like a very intricate design made up of all these triangles. However, the actual storage compartments are not triangle-shaped. That's just the design pattern of the doors. Arlequin C is an interesting and eye-catching design that gives the cabinet a very dynamic look emphasized by its irregular form.
We usually use storage cabinets to hide things and to keep them out of sight so a cabinet made of glass wouldn't really be very efficient in this sense. Of course, it has its charm. Glass and acrylic give the Commodore cabinet a special look, not linked to any particular trend or style.
The key feature of this cabinet is its contrasting design. On one hand there's the base which has these thin and slender legs and on the other hand there's the body of the cabinet which is big and robust. The two door handles meet at the center forming a continuous circular form. The cabinet's name is Polifemo. It's made of wood and metal with its surface covered in copper and with decorative engravings.
Lancelot is a storage cabinet full of surprises. It's tall and slender and you can't really tell its shape just by looking at it from the front. The silhouette of the cabinet is an unusual one. The oval base reflects that like a mirror. Inside, the cabinet is quite roomy. Two large doors open to reveal shelves on which to keep books, bottles, towels and pretty much anything else you want.
The Longing Cabinet has a very sleek and clean design. It has a square form with a 4 x4 grid of small square doors that open individually, each with its own special key. The compartment doors have different finishes and together they look like a chocolate bar. This is a very special design which shows great care and attention for the little details.
The simplicity and elegance of the Elizabeth cabinet are contagious. Just look at its thin little legs and that simple, rectangular body covered with a metal sheet that has these delicate ridges which give it a dynamic and feminine allure, being reminiscent of a type of fabric. The cabinet is available with several different metallic finishes.
Wood and metal were combined when creating the Zulmira cabinet, a beautiful and versatile piece of furniture by Tuntum. It has thin metal legs that form a sculptural geometric base and folding wooden doors that reveal a spacious interior with shelves. The design is both casual and elegant, both simple and sophisticated.
The designer of the Stack cabinet created this piece inspired by the idea that chests of drawers look more intriguing when their drawers are left partly open. It's an interesting idea that is beautifully reflected in the way this cabinet was structured. It's basically a tower of drawers which can be pushed and pulled in both directions. As you do this, they become arranged in a random composition.
D. Manuel is a sculptural and ornate cabinet named after King Manuel I of Portugal and inspired by the city's skyline. It features an intricately-carved base and a solid and compact body with an irregular form and highlighted sections reminiscent of the modern skyscrapers.
Made from a combination of walnut wood and brass, the Monocles cabinet is an instant eye-catcher. It has a refined and intriguing look with door fronts that feature a pattern of circular holes of different sizes. It's a purely decorative motif. Inside, the cabinet features shelves, drawers and even a built-in wine rack.
Although inspired by Italian design elements from the 1960s, the Otto cabinet has a very modern look. It's handcrafted in England with great care for the little details and it's made of American black walnut with shelves available in timber or glass. It has four large doors that open to reveal a roomy interior, with fronts decorated with a geometric 3D pattern.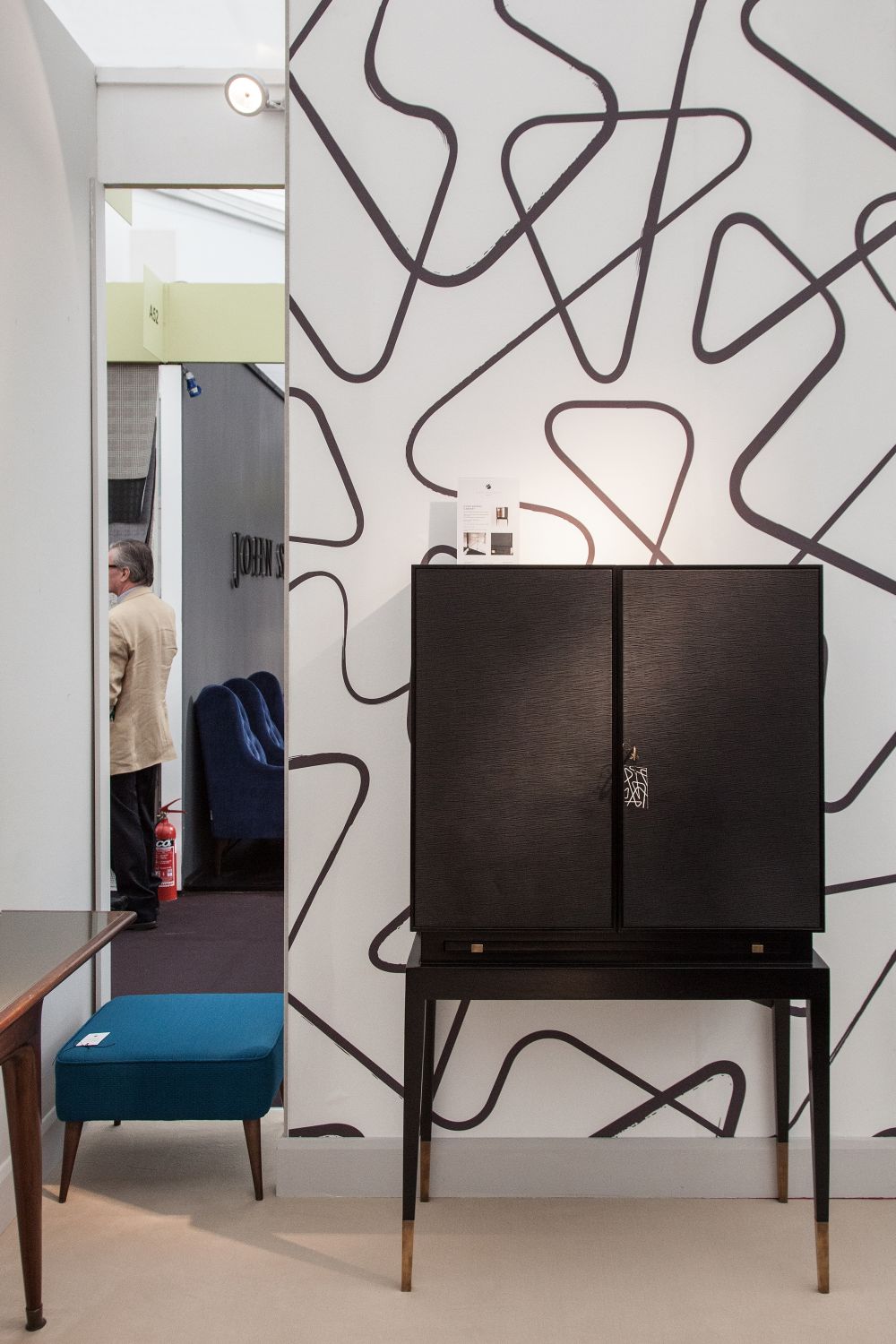 The Hugo cabinet is designed to serve as a bar/ drinks cabinet, although its design is quite versatile and adaptable. It's available in custom sizes and its design is a combination of classical and modern with a retro twist. The door panels are available with an embossed leather finish and the interior shelves are made of glass.
Simplicity is not boring and the Blade credenza illustrates that in a very beautiful way. Those large door fronts are crafted from a single board and this allows that beautiful pattern of the grain to be highlighted. The frame that holds the wooden body is made of steel plated in antique brass.
Featuring a frame made of black stained oak and a structure available in a variety of finishes, the Amadeus cabinet impresses with its chic simplicity and elegant contrasts. It has four doors, each featuring a different interpretation of the same pattern.
The AV-2 Fusion Cocktail Cabinet is a very special piece of furniture and that's because it's fully customizable. You can choose every detail exactly how you want it, from dimensions to finishes. This allows for a lot of creative and original designs to be created, including the one featured here.