30 Rustic Wall Decor Projects For A Charming Home
Lately, we've seen an increase in popularity for rustic wall decor as a general trend, with a focus on decorations and accent pieces made of reclaimed wood. Items such as wall-mounted shelves, framed pictures, hanging signs or anything that has a retro vibe have the wonderful ability to make a space appear more warm and welcoming and to create a familiar and comfortable ambiance. Check out our latest finds to get a better idea of what rustic wall decor is all about.
Everything about this living room setup is wonderful including the rustic sign hanging just above the sofa, below the shelf. The two mirrors add depth to the room and make it look bigger and brighter. For more farmhouse inspiration, check out linda-coastalcharm.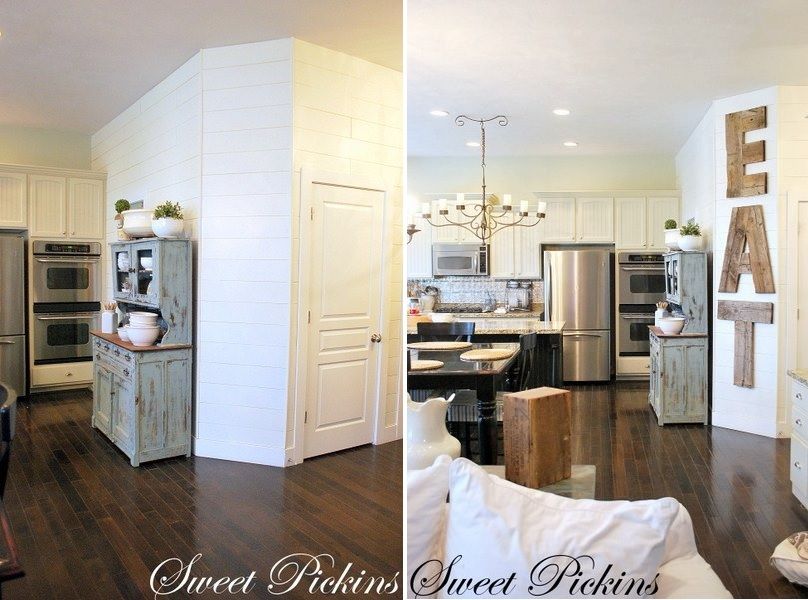 We mentioned at the start that decorations made of reclaimed wood usually give a rustic vibe to the spaces they're in so here's a specific example which proves it. This open kitchen was decorated with large wooden letters which stand out and turn the previously empty wall into a focal point not just for the kitchen itself but the living room as well. For more details about this project, check out sweetpickinsfurniture.
Framed family pictures really scream rustic, especially when displayed like this. These "frames" are actually old windows. They look amazing on the wall of this dining room where they create a very cozy decor. The wooden letters are a nice touch and go well with the rest of the room. The idea comes from cottageinstincts.
Sometimes it's not about each individual decoration that you put up on a wall but about the overall vibe they send together as a group. For example, this is a very charming cluster of decorations and accessories, each with its own unique role and character and all in perfect balance as a group. Check out goldenboysandme for details.
A nice thing about rustic wall decor is that it doesn't need to look perfect or to be complicated. It's not really about the design as much as it is about the materials and finishes used and about the type of atmosphere that they create. A very good example here is this set of wooden arrows featured on little-brick-house.
Finding that perfect piece of wall decor is not always easy, especially when you have a specific idea in mind which is not based on something material but rather on a feeling, a style, an idea. In such cases, DIY projects are often the perfect option. How about these rustic shutters and wreath from littleyellowwheelbarrow. They would look charming in any room.
You can add rustic accents to any space, including the bathroom. We really like these simple shelves and especially this lovely bathroom sign featured on cherishedbliss. The design is a pleasant mix of rustic and industrial and has a lot of character in spite of the simplicity.
You can make a lovely barn door decoration for close to nothing and the cost gets even lower if you're using reclaimed wood. The design is very simple and you can adjust the proportions based on how or where you want to display this piece. You can also add other decorations such as a wreath, planters, etc. Find out more details about this project on gatheredinthekitchen.
This is a really cute idea for a rustic wall decor piece that you can put in the kitchen. It's an herb-drying rack which you can hang on the backsplash or on a wall. It looks cute and it's practical too, making this a great DIY project, whether you plan to offer the rack as a gift or to add it to your own kitchen. You can find instructions along with tips and a list of required materials on magnolia.
This dresser is perfectly capable of adding a rustic twist to the decor by itself but it's definitely nice to have some help. We really like the vase and the candleholders but the real star here is the barn window mirror. It's imperfect, as any rustic design should be, and that helps stand out. Check out ninabendrick if you also want to find out the story of this beautiful dresser.
Empty corners aren't exactly exciting but they do have a lot of potential because they're really great for displaying all sorts of decorations and for creating cozy little nooks like the one featured on lizmarieblog. The corner gallery wall has tons of character. If you decide to make something similar, display items that are meaningful for you and your home.
Although charming, rustic pictures frames are not that easy to come by which shouldn't really be a problem since you can turn this into a wonderful DIY project idea. You can make your own rustic display frames from scratch by following the tutorial offered on jennakateathome.
Old shutters can make lovely decorations and you can display them in all sorts of environments. These ones really capture the farmhouse vibe of this entire dining room and are complemented by a "gather" sign and two oversized vases. Each of these decorations would stand out on its own but here they work harmoniously to make this space extra cozy. Check out the post on Instagram.
Wood pallets are an extraordinary resource for DIY projects, rustic as well as modern. You can use the entire pallet or parts of it to make beautiful decorations such as these plaques. Use these to display pictures on your walls and give them a worn, retro finish for more character. You can find the project tutorial on ohmy-creative.
Wood is not the only material you can use in your rustic wall decor projects. As it turns out, you can do all sorts of cool things with rope. For example, check out this charming wall sign from lovegrowswild. Naturally, you can choose a different design if you want to. Think of something that suits you and your home without being too complicated.
There's something very satisfying about crafting something using reclaimed or recycled materials and the project from followthesprinkles is a wonderful example. This rustic wall decor is made using pallet wood, Mason jars and tin cans. The project is not just inspiring but also very budget-friendly.
We're living in an era where physical calendars have been replaced by an app on our smartphones and while that's definitely practical, a wall calendar does have its charm, especially a really big one like the one featured on thistlewoodfarms. This giant chalkboard calendar basically covers an entire wall. You can put it in your home office, on a hallway or even in the living room.
You can also make a beautiful wall decor piece using an old frame, some chicken wire and a wreath. It's a fairly simple project, one which you can customize in an infinite number of ways. Painting the frame white and then using sandpaper to give it a time-worn look is a cool way of adding a rustic vibe to the design. Check out confessionsofaserialdiyer for more details about this project.
Some projects are a really nice blend of looks and functionality. For instance, this rustic coat rack has a shelf at the top on which you can display framed family pictures, vases, planters and all sorts of other things. If you're interested in crafting something like this for your own entryway, you can find the instructions on lizmarieblog.
The bathroom doesn't usually offer much room for purely decorative elements but you can find ways to blend looks and function. A rustic towel rack made out of reclaimed pallet wood is an interesting option. The rack itself is simple but charming and the towels double as decor pieces. This project can also be an incentive to play with colors and patterns. If you're interested in the details of the project you can check out the full tutorial on 1001pallets.
Mason jars can be repurposed in lots of ingenious ways and one of the easiest options is to turn them into cases. This however is not just any regular jar turned into a vase. It's a beautiful wall hanging piece that adds charm and style to the space around and doesn't take up any space on tables or shelves thus being also being quite space-efficient. Check out the tutorial for it on thehambyhome.
On the subject of larger-scale projects, perhaps you would be interested in crafting your own headboard from scratch. It can be a simple and rewarding project especially if you like the look of wood and its natural and unique beauty. This style of headboard featured on andreasnotebook suits most types of beds and is easy to build.
Finding a good-looking mirror can be quite tricky. A lot of them are expensive even when the design is really simple. That's what makes this DIY framed mirror project so appealing. You can build the frame out of wooden boards which you can either stain or paint. It's even possible to give it a distressed look if you prefer a more vintage-inspired design. Check out thewoodgraincottage for a few tips and ideas.
Something else that's a must-have in any home is an entryway coat rack. It's such a basic thing to have and there are so many different designs and options to choose from. A handmade rack however would always look better and would make the entryway feel welcoming. The design shared on lizmarieblog is simple and convenient. The hooks are perfect for hanging coats, bags and other things and the shelf at the top is perfect for displaying a few items.
Curtain rods are typically something we purchase without even considering alternatives. Of course, there's also the option to craft these yourself which would give you the opportunity to pursue a particular style that you like and to try custom designs that suit your décor. To make basic curtain rods you need a wood dowel, wood brackets, stain, paint, a saw and a drill. You can find the instructions on maisondepax.
Reclaimed wood is a marvelous resource for lots of amazing DIY projects. Most often we're talking about decorative pieces and accessories, like this lovely sign featured on funkyjunkinteriors for instance. It's a coffee-themed sign which you can hang on a wall, in your kitchen for example. You can also add a few S hooks and hang a few things from it like coffee mugs for instance.
Driftwood is also an amazing resource. If you ever find yourself walking on a beach or on the shores of a lake, take the opportunity to collect any driftwood if you can find it. Even the little pieces can be used to make beautiful things, like this mirror for example. All the little driftwood pieces were used to make a starburst frame around the mirror and it looks incredible. Head over to sustainmycrafthabit to find out the details of this project.
Speaking of decorations that you can make out of wood, whatever the kind may be, check out this nice American flag idea from petticoatjunktion. It lacks the bold red and blue which actually works out in its favor, giving it a rustic look. You can make it out of reclaimed wood or leftover pieces from previous projects and you can add your own twist to the design.
These old cheese boxes were turned into a lovely wall display piece which can hold all sorts of things like flowers, little planters, books and so on. Its made using two wooden boxes of different sizes connected with a wood ruler at the back. There's a reclaimed piece of hardware at the top which makes a great hanger and also looks elegant at the same time. This simple project is featured on petticoatjunktion.
These rustic shutters do a nice job of filling up the empty wall in this dining nook. They're quite simple when you look at them individually but when put together like this and with that lovely green wreath at the center they really bring this space to life. If you want to find out more about how they were made and how the idea for this décor came about, head over to littleyellowwheelbarrow.