The Salon Art + Design Brings Art To Everyday Life
The Salon Art + Design 2015 was the fourth edition of the high-end fair and it did not disappoint, with gorgeous retro furnishings and stunning new modern decor pieces. At either end of the spectrum, the show offered art for life.
The Todd Merrill Studio presented a number of pieces that are not only unique in appearance but in also in artistic process. Whether as a visual addition to the home or as a functional piece, they were all very appealing.
Either as a stool or a small table, Erin Sullivan's sculptural furniture features realistic features of organic subjects. She uses the lost wax method, often used by jewelers, to create her striking pieces.
Another artist featured in the show by the Merrill Studio is Marc Fish. The UK artist and furniture maker created these console pieces. From a distance they appeared to be made of a metal, but on closer inspection, they look like carved wood with an amazing grain. In fact, they are made through micro-stock lamination and cold carved.  The appearance of the grain comes from the nearly 100 wood layers that, manipulated into shape, hand-carved, and then sanded until smooth.
Parisian Gallery Diane de Polignac presented some lounge chairs and a bench from Quebec-based artist Gildas Berthelot.  For us, the sinuous lines of the furniture are a perfect counterpoint to the abstract art.
Friedman Benda presented an entire living room of pieces from Humberto and Fernando Campana, who are famed Brazilian designers. This Pirarucu Sofa, 2014 is made from the tanned skins of the Pirarucu, which is one of the world's largest fresh-water fish in the amazon.
These are the 'bolotas' armchairs created in 2015, which consist of sheep's wool pillows covering a stainless steel structure with ipê wood. "Bolotas"  means "acorns."  The 'detonado' modular bookshelf, also released in 2015,
has particular visual interest thanks to its unique angles and textures.
This marble console in the Friedman Benda booth was a stunner.  The artfully stacked layers of stone, each separately carved, make for a real statement piece.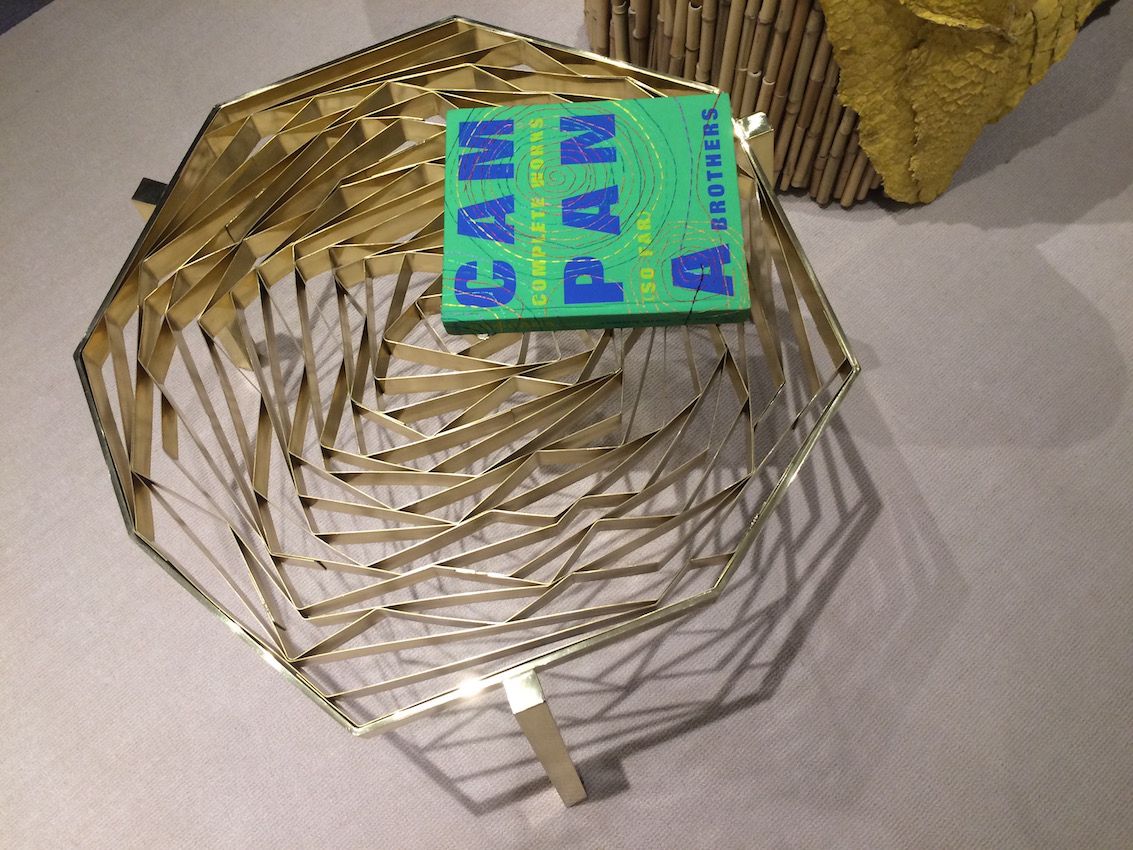 We were particularly taken by these bronze seats by Gregory Nangle from the Wexler Gallery.  Made of individually cast winter hazel leaves, the benches and an accompanying chair have many visual surprises.
The gradation of the colored patina on the inside of Nangle's works features various shades of green, yellow, orange and brown.
We were drawn to this small armoire because we love round wooden pieces.  The skill required to manipulate flat, angular wood into a beautiful rounded furnishing is very special. Philadelphia artist Michael Hurwitz, who created this piece,  is represented in several public collections including the Museum of Fine Arts, Boston, Massachusetts, and the Smithsonian Institution, Washington, DC.
The display by Seomi International had a variety of modern decor pieces, both furnishings and accessories, that are artful and functional.
Sculpted from black granite, the "Afterimage" outdoor stools are minimalist and eminently functional.  The table, which goes by the same name, is made from black lacquer on red oak, with natural stone.
These glazed ceramic pieces can function as art objects or occasional tables.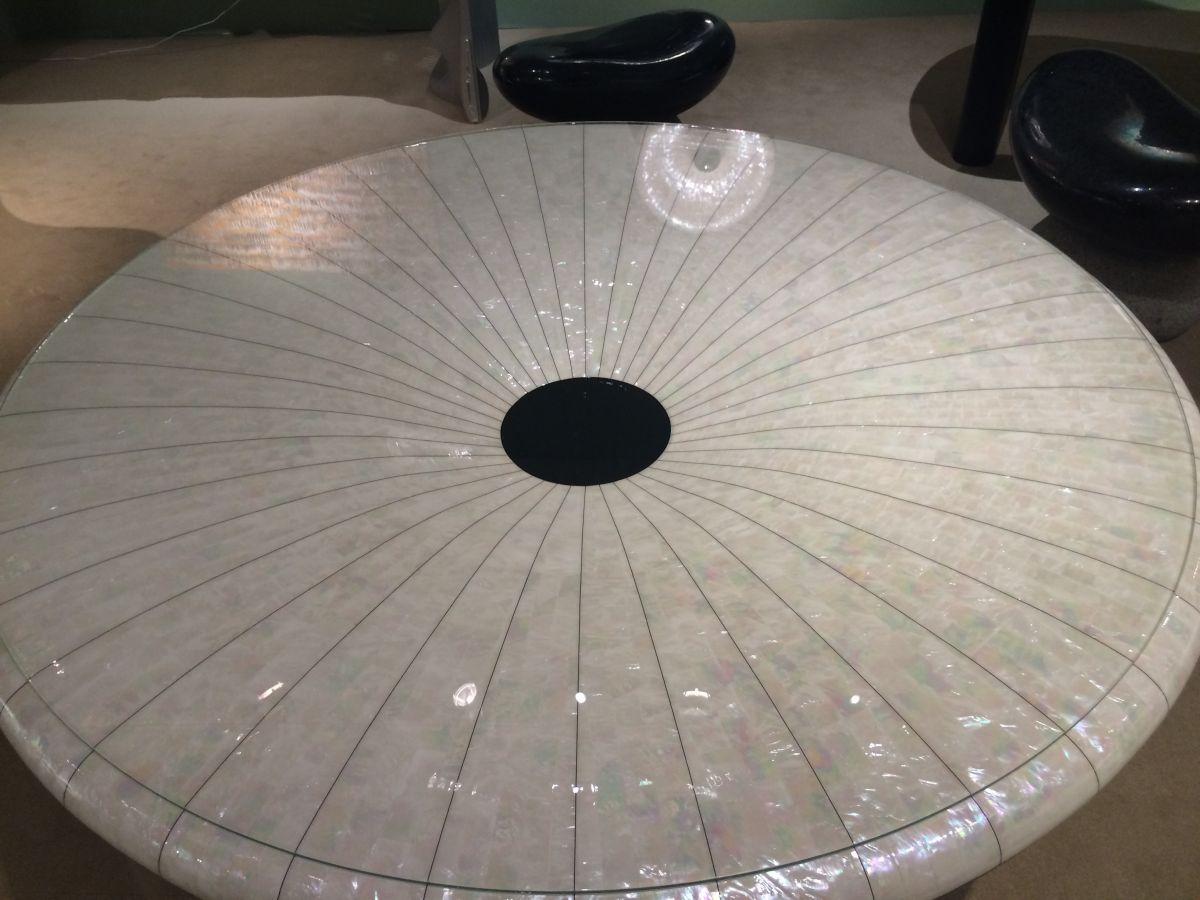 Artist Kang Myung Sun is known for using the traditional craftsmanship used for lacquer work inlaid with mother-of-pearl in innovative ways.  According to her statement, she seeks to show the natural aspects of her works. This table is Mother-of-pearl, Korean lacquer on wood layered with linen, red clay, and charcoal.
The inside is just as finely crafted as the outside.
Artist Kim Song Hoon was "was barely out of school when his Phenomena screen became just that, a phenomenon. Made of undulating horizontal strips of wood, the room divider both separates and brings two spaces together': according to his bio.  Here. he has extended the concept to the unusual "Phenomena" console.
The Salon Art+ Design presented its share of home decor accessories and art pieces.  This work by Joana Vasconcelos is a ceramic horsehide covered with lace. She takes everyday objects and materials and its them into new, complex  works.  She "frequently incorporates crafts like knitting and crochet into her art, as well as common Portuguese household items like ceramic figures," says her statement.
The Nilufar Gallery from Milan presented Lindsay Adelmann's stunning Cherry Bomb lighting fixture.  Homedit.com featured lighting from the Adelmann studio shortly after ICFF 2015.
German's Amman Gallery presented a range of pieces, but these from Studio Nucleo were most interesting!  The Italian studio has developed a method to capture antique wooden pieces, such as these stools, inside resin. The resulting furniture is visually engaging and very useful.
It is fascinating to see how Studio Nucleo can encase the separate parts in resin to maintain the bench shape.
These amazing cubes, which are seating, tables and art all in one are also by Studio Nucleo. Again using epoxy resin the artisans create these "Stone Fossil" pieces with various pigments.
This amusing cocktail table is by Chinese-born designer Shi Jianmin.
The David Gill Gallery showed pieces from UK designers such as Fredericton Stallard. Made from acrylic, this "Gravity" coffee table seems to be a moment in time, like water stopped mid flow.
The Salon was not without its whimsical pieces as well.  These animal sculptures by Barnaby Barford are an unusual take on several levels. The artist is know for using mass-market and antique porcelain figurines, and then altering them by removing and adding elements, and by repainting them.
The DeLorenzo Gallery presented a range of works by the AMOIA studio, highlighting  tables enhanced with crushed stone.
If total gilding is too much for your style, tables like these are "dipped" in crushed stone.
Kentucky native and glass sculptor created this wall art piece, which drew you into the R & Company both from across the room. Whether you have modern decor, contemporary or more traditional, his "Splash" sculpture would be a focal point.
U.S. artist Thaddeus Wolf uses non-traditional glass techniques to create his works.  He often uses a glass molding process where each mold can only be used once.  He later colored glass and then carves into it to reveal the different hues.
Wow is all we can say to Stefan Bishop's "Puddle" coffee table presented by the Cristina Grajales Gallery.
The light that filters through the colored glass tops of these tables makes parts of the metal base below glow with red light.  Beautiful indeed.
Petrified wood makes for a stunning table top.
The Dutko gallery showed some beautiful art as well as stunning furnishings, such as this coffee table by Maria Pergay. The Romanian-born artist based in Paris, is known for her innovative use of stainless steel.
A wide variety of antique pieces were presented by Modernity, which specializes in the collection and sale of rare and high-grade furniture, ceramics, glass, lighting and jewellery by important Scandinavian designers.
This grouping from Modernity shows a range of pieces: The table by Torbjorn Agdal, among the most prolific post-war Norwegian designers, now among its most famous, chairs by Swedish designer Elias Svedberg, and the armoire by German maker Otto Schulz.
Galerie Chastel-Maréchal's display included these stunning mirrors by renowned French artist, jeweler, and designer Line Vautrin. 'The artist's jewels and sculpted objects defined Parisian Neo-Romantic chic.
Carpenter's Workshop Gallery was showing some amazing pieces, including this Robber Baron Buffet. It is a "deconstructive, neobrutalist" piece, said the gallery representative.  The center part which shows the coal is surrounded by the opulent gold doors that open to reveal shelving. The juxtaposition of the two is a political statement on wealth, she added.
The The Lohmann Gallery booth had so many beautiful art accessories and vessels for the home that it was difficult to choose what to show you.  The pieces range from abstract and freeform to sleek, smooth and mesmerizing.
Glass artist Laszlo Lukacsi, laminated, ground, and polished reflective glass to make this stunner. Viewed from different angles, the visual of the fan details changes and moves.
Galerie Kreo, which has been open in Paris since 1999,  focuses on producing new pieces in collaboration with the world's most relevant contemporary designers. At The Salon they showed some modern lighting fixtures and  some new furnishings.
Modern home decor for the sports lover? You bet?  The "Game On Side Table" features the iconic lines of a basketball. signed by Jaime Hayon, it is produced by Galerie kreo.
This year's Salon exhibits offered many different options for just about every taste.  The art and furnishings were very livable, even if not necessarily affordable for most.  Regardless, viewing and studying high-end offerings like these can help refine your decor choices and offers a breeding ground for ideas.