Rustic Living Room Styles Prove To Be Timeless Classics
The rustic living room is here to stay. The interior decor style is enjoying renewed interest from younger homeowners.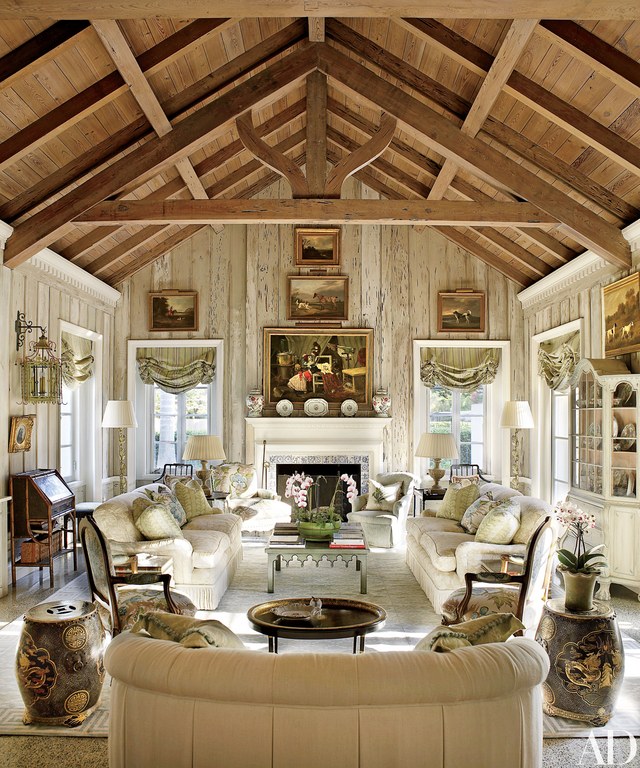 Here we'll show you 50 inspirational designs for your family gathering spot.
Rustic Living Room Designs For 2022
Our team of experts handpicked 50 rustic living room designs illustrating why the interior trend remains in high demand. From furniture to color accents, we'll show how professional interior decorators and designers achieve the rustic style.
Gray Velvet
Elle Decor offers a textural, rustic living room with slate gray. The velvet textures combined with the gray stone fireplace augment the living space. Brown hues and natural lighting are joined to create a pleasant living space.
Natural Light
When choosing living room decor, natural light sources will impact your decisions. AD shows us how a rustic living room design works with and not against natural lighting. The coral tones offer a natural rustic look. You'll notice how rustic design relies on natural wood, and that's a good thing.
Navy Blue Hue

Yes, you can utilize envy blue in your rustic living room creation as well. Just check out this space brought to us by Hello Farmhouse, with its deep tone and cream contrast you still get that farmhouse quality.
French Farmhouse Chandelier
A French farmhouse chandelier offers a signature touch to this rustic interior design. Chandeliers are not as limited as you may think. Featured on Zillow, here we have a weathered wood ceiling serving as a backdrop for the vintage chandelier.
Brick Rustic Design
Rustic living room ideas from Zillow are almost endless. Here we have a traditional space with a red brick fireplace. With rustic decor including a metal water trough repurposed as a coffee table, a focal point is created. Exposed wood beams uphold the rustic aesthetic.
Wood Beams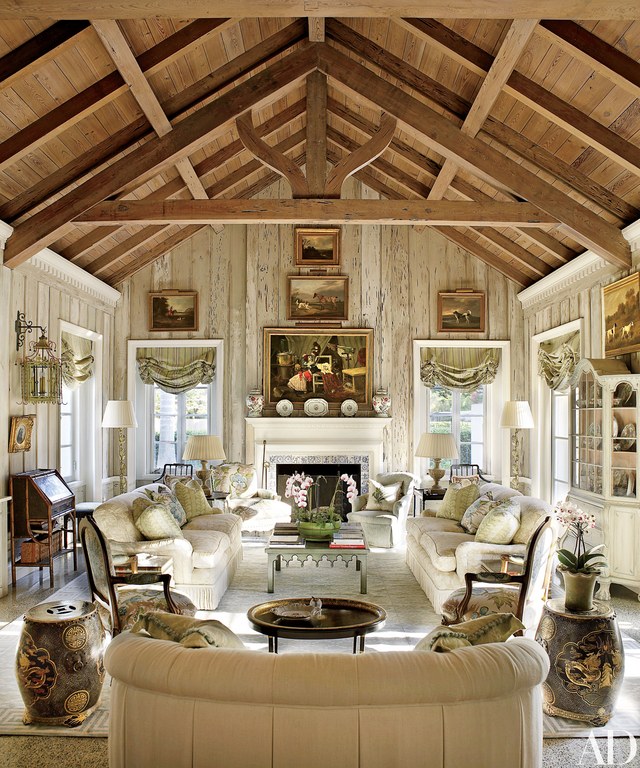 Exposed beams take center stage in this rustic, Victorian beauty. Brought to you by AD, this rustic design inspiration for combining interior design styles and mixing favorite pieces.
Stunning View
Rustic living room ideas often include a stone fireplace, sturdy fireplace, and natural materials. When the living room overlooks a mountain landscape, like this example, you would be crazy not to take advantage of it. Elle Decor understands this, and it's obvious.
Vintage Rustic Twist
Blesserhouse remains a never ending source for living room ideas. examples of beautiful homes. Here is a rustic design featuring vintage decor. A repurposed antique file cabinet makes for multi-purpose coffee table. The wooden top provides a smooth and shiny surface.
Decor Layers
Liz Marie understands the white decor aesthetic. Layered textures, from the white walls and furniture decor, reveal the power of rustic interior design.
Neutral Hues
We found this neutral living room on Pinterest as well and stopped it right up. Creating a rustic space when you stick to tones like cream, brown, and gray.
Pallet Backsplash

Pallet walls are always a great way to focus your rustic space as well. Check out this scene from Taryn Whiteaker and allow it to inspire some DIY projects.
Western Wall Decor
There isn't a better way to capture the rustic aesthetic than with a Texas longhorn. If you want to create a strong living room that makes a statement. wall decor will set the tone. Brought to you by Pinterest, this living room's interior design is straight from the early 20th century.
When creating a gallery wall, start with natural materials. The dark wood coffee table and off-white throw pillows add depth and texture to this interior design.
Distressed Style
Shady Oak Farms understands how important to establish a connection with each interior piece. Distressed furniture upholds the rustic aesthetic. The living room is like a puzzle, and it's up to you to fit the pieces together.
Stone Hues
The stone fireplace has a commanding presence in this living room. This rustic living room was brought to us by Country Living, the thick rug and marble top coffee toble provide the foundation for the living room.
Chevron Floor
Doris Leslie Blau showcased this stunning rustic living room. Every part of the space is filled with intricate details, trendy accents, and a show-stopping hardwood floor.
Wooden Wall Decor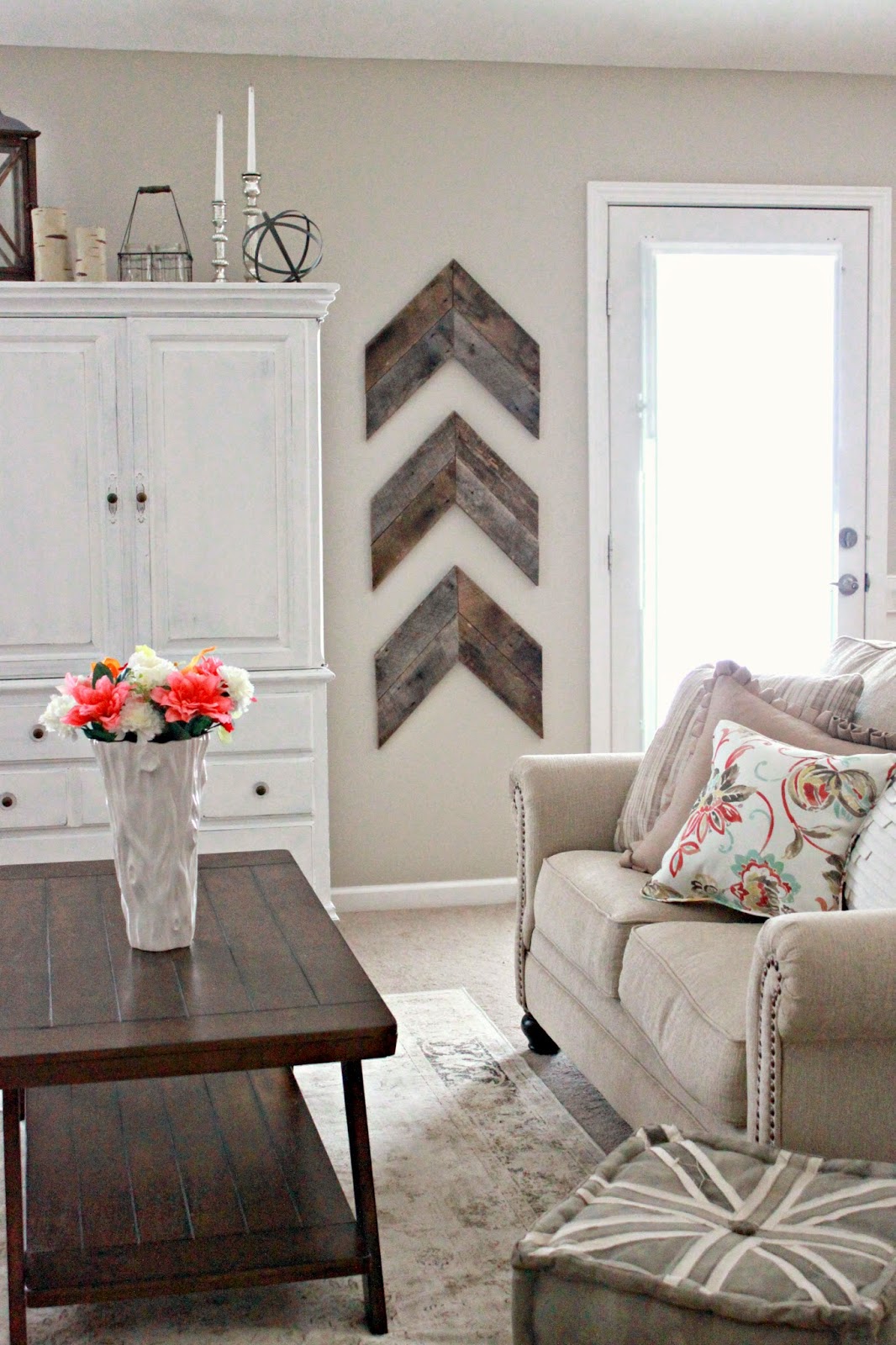 Little Brick featured this rustic nook and we were immediately drawn to those wooden arrows on the wall. Those pieces are great for inspiring DIY projects, don't you think?
Contemporary Rustic Style
Lighting Connection created this contemporary and rustic fusion. The raw, organized pieces comes together with crisp polishing.
DIY Flair
There are DIY vibes happening in this little space. Shutterfly created this beauty as it captures this homey vibe.
Black and White
Taryn Whiteaker uses black and white all throughout her home but still keeps everything on the more "shabby chic" side of things.
Aztec Prints
From Taryn Whiteaker's space, the addition of this black and white Aztec rug. It brings a bout of youthful style right into the rustic living room.
Burnt Orange
Pinterest offers great inspiration, including this cozy space. Orange tones work well with cream and brown, making it a rustic style.
Trendy Decor
Also from Pinterest, here's an example of a trendy and fun space. It has a rustic quality about it while blending well with a worldly, eclectic sensibility.
Light Color Pops
Rustic doesn't always mean dark or bland. You can create texture and vibe with brighter color pops like this example from Pinterest,
Antique Trunks
Easy to find inspiration for those wanting to change the nooks and crannies of their home. And this antique piece will inspire many to transform their home with a more rustic or farmhouse quality.
Cream Tones
We snatched it right up because not only is it elegant, but has a warmness that every family space needs.
Chalkboard Decor
Chalkboards are a great way to personalize a rustic space. And don't be afraid to slide one in the living room like you see here.
Buffalo Check
Pinterest had this buffalo check focus up their sleeve as well. With or without the print, the living room soars, but we love the amount of personalization and trendy style it offers.
Bright Interior
If you're in need of living room ideas to help achieve a rustic look, use your natural light sources. Exposed beams and powder blues round out this farmhouse vision offered by The Spruce.
Masculine Approach
A bit of masculinity never hurt anyone. And that's what this space from Pinterest has to offer. A leather chair and warm wood on the walls add the right amount of edge.
Cottage Vibes
Cottage accents fit with the rustic aesthetic. If you want to add a feminine touch to your rustic room, pastels offer the easiest method.
White Monochrome
The Spruce went with white eyes and use texture to create their rustic vision. Layers of lushness and distressed pieces, it's a gorgeous space with a lot of personalization.
Positive Vibes
Wall art featuring inspirational quotes gives meaning to your rustic space. Style your farmhouse home with framed wall quotes from famous people. Pinterest offers this example and it's enough to drive the point home.
Simple Interior Design
Pinterest offered up this simple beauty as well. You can still have rustic style but with a minimal quality that's clean and crisp.
Hazy Gray Hues
You'll find great spots to grab ideas from. And if you're looking for a rustic living room, grab some ideas from this hazy gray area.
Fresh Florals
Decor Pad offers an example where texture defines the rustic room. And we are loving the unique blend of both.
Rustic Christmas Vibe
Here's a pretty space from Craftberry Bush that features cozy qualities and a bit of Christmastime too. There's a bunch of extra elegance involved in this space with its romantic colors.
Sage Green
If you're looking for what kinds of colors to add to your neutral, rustic living room, then check out this space we found on Pinterest. Sage green goes well since it has a more organic, natural quality.
Off White Walls
Twelve On Main gave us a living room that holds both farmhouse and rustic styles together. Remember, living room ideas for a rustic vibe are flexible. Mix and match two contrasting design styles and see what you get. If you don't want to go with white, then off white tones offer the best solution.
Victorian Essence
There are tones of rustic decor pieces but there's a Victorian polish over the entire scene that we're swooning for.
Cranberry Accents
For more traditional lovers, you'll be drawn to the setup here and its cranberry focus.
Stone Fireplace
A fireplace always makes a great focal point and in the case of a rustic living room, you have the option of using stone and making the entire space feel really warm and cozy, like in this beautiful place designed by SchappacherWhite Architects DPC.
Stone Wall
Instead of limiting the use of stone for the fireplace surround, use it for the wall and to turn this surface into a big focal point. It adds texture and character to the living room and you can enhance it with some accent lighting. Let this interior created by Doherty Design Studio inspire you.
Rough Textures
White walls have a rugged, unfinished texture and the entire design embraces the little imperfections and use them in its favor. The interior of this rustic home is a Spanish countryside house designed by Cobalto Studio.
Dark Earthy Colors
Rustic interiors are not known to be colorful but rather neutral and simple. They're not bright and open, so using dark earthy colors is a good bet if you want to create that authentic vibe in your living room, similar to what studio Peace Design created here.
Weathered Wood
Weathered wood and various other reclaimed elements suit rustic interiors and give that lived in feel that completes the aesthetic. There are different ways to use weathered wood in interior design. One option is to cover up the walls with it, like in this log cabin designed by Tammy Connor.
Tranquil Views
Finding ways to bring the outdoors in is always beneficial, especially when you can enjoy tranquil and relaxing views of a forest or a beautiful garden right from your cozy living room. With rustic homes and cabins, there's inspiration to be found in interior designs created by architect Nicholas Sonder.
Textures And Colors
A rustic living room is warm, cozy, and inviting, and one way to ensure that is by incorporating a variety of finishes and textures in the design, like how this beautiful space was designed by Collective Design Group.
The views are of course gorgeous but it's the little details that bring the room to life, like the throw pillows, blankets, and wall decorations.
Live Edge Table
Even though they're not necessarily specific to this particular style, live edge tables and rustic interiors go hand in hand. Such a table adds a refined and sophisticated touch to the area around it while maintaining a simple and organic feel and that's what a rustic living room is all about, as demonstrated in this beautiful home designed by BHH Partners.
High Ceilings
If possible, consider turning the living room into a double-height space. It helps to create an airy and welcoming feel in a rustic home when it doesn't have full-height windows or glass doors like contemporary houses.
To emphasize the rustic nature of the design, highlight the exposed ceiling beams. This inspiring was designed by Miller Roodell Architects in collaboration with interior designer Victoria Hagan.
Rustic Living Room Chandelier
From Kevin Gray Interiors, the first thing you notice is the faux candle wrought iron chandelier. The interior light source can't help but be a focal piece.
This is a great idea especially if the room has a high ceiling. Go with a rustic light fixture that suits the space, perhaps something made out of wood or rusty metal. We find this beautiful space designed.
Frequently Asked Questions (FAQ)
FAQ
Can You Combine Mid-Century Modern With The Rustic Style?
Combining two opposing design styles isn't necessarily a good thing. The idea behind mid-century modern is about metropolitan life. With rustic designs, it's about country farmhouse living. Combining them would be too much of a style contrast.
What Are My Options If I Don't Want Wood Ceiling Beams?
Aluminum ceiling beans are safe and easy to install. The beams are made for peaks, valleys, screens, and rafters. Another great thing about aluminum rathers is that they're fireproof.
What Are The Best Reclaimed Materials For A Rustic Living Room?
Texture and material are the most important elements to consider when using reclaimed materials. For rustic living rooms, use vintage items from old barns like a wooden double sliding door or antique hitching post. Chicken wire also makes for excellent decor.
What Kind Of Carpet Is Good For A Rustic Living Room?
Instead of carpet, use an area rug. A large modern farmhouse area rug would complement your wood floors. For added safety, you could use an area rug that was made with fireproof materials.
Can I Use A Rustic Chandelier With Real Candles?
A candelabra is a chandelier with real candles. Before the advent of electricity, candelabras were used in living rooms and dining rooms. Be aware that candelabras are a fire hazard. Do not leave a candelabra unattended.
Rustic Living Room Conclusion
Rustic living room ideas are massive. Warm wood, fireplace surround, or dark wood are a few features of the interior style. Living room design is meant to stimulate your indoor spaces. When in doubt, follow your personality like you would with any other space.