Glow Up: Boho Bedroom Concepts For Emancipated Living
It takes a special mind to appreciate a boho bedroom. With an array of colors, prints, natural materials, and textures, bohemian design pushes all boundaries. Among all decor ideas, boho style is one of the most fun to create from the ground up.
If you're looking to add a freakafide reading nook or hang wall art, we've curated a comprehensive list of examples that will inspire you. All you have to do is close your eyes and throw away preconceived design rules that you may have.
This list of bohemian bedrooms from our team of design experts will inspire your next makeover. You'll learn everything you need to know about interior eclectic design and how it applies to the boho aesthetic.
What Is Bohemian Style?
The bohemian style is the antithesis of order and control. It's about eschewing organization and perfect structure for carefree sensibilities featuring layers, brighter colors, different shapes, textures, and patterns.
While there are common qualities associated with the bohemian look, unlike modern or minimalist styles, with boho design, there are no rules. Another thing people like about bohemian design is that most boho bedroom decor items can be found at your local thrift store.
How To Achieve The Bohemian Aesthetic
There are three things to focus on to achieve a boho vibe in your home: colors, furniture, and decorations.
Colors
While there are no restrictions in bohemian decorating, you should use as many colors as possible. You'll notice that certain colors are more popular, like metallic and earthy tones.
Consider greens and deep browns as the foundation hues, then embellish with vibrant purple, flaming orange, and electric blue. The way colors are combined and layered is what distinguishes this style.
Bohemian Furniture
One of the most notable characteristics of the bohemian style in interior design is that inviting feel. Whenever you step into a boho room, it feels welcoming.
Bohemian furniture is found at a thrift store or online. Because these rooms are packed with furniture accumulated through time, second-hand and vintage things fit nicely in. Every furniture piece must be unique and convey a message.
With the right couches and chairs, a bohemian room can be created to suit your needs. Floor pillows and throw rugs will help create an inviting ambiance for floor seating. Furthermore, while a boho space should evoke a sense of warmth, you can forget about sleek furniture pieces.
Boho Decor
Boho is the polar opposite of simple. It adheres to the "more is more" attitude. The secret to mixing and matching decorative items in a boho environment is to experiment. Natural materials will come in handy.
Also, burlap and sisal are organic fabrics that blend with chenille and silk. Pillows, drapes, and throw rugs all work together to create a cozy, culturally inspired hangout.
Bohemian Vs Hippie
With fashion, it's about the clothing. These garments will primarily fall under the casual category. Thus, nobody would instantly adopt a hippie or bohemian look, unless they were attending a themed party.
Boho Chic Look
Let's go over a few nuances of the boho chic style so you'll be prepared to infuse them in your living spaces.
Good: Rustic Finishes
The boho-chic look has a strong hippie influence. The influx of accessories made of natural materials, including the likes of rattan, wood, or hemp, is common in boho-chic interior decor. Consider woven wall art, macrame plant hangers, sisal area rugs, leather footstools, or a stylish ladder.
Bad: Too Much black
With the boho look, there is no room for black. Even with furniture, use light-colored wood that features wild patterns. Dark wood is sophisticated, but the great thing about bleached wood is that it screams anarchy.
Good: Go Global
Given the heritage of boho culture as a celebration of roaming artists, global-inspired home accessories are critical in a bohemian-inspired room. Buddha sculptures, Moroccan lamps, and tribal prints from India contribute to the cosmopolitan look.
If you're fortunate enough to travel to exotic locations, look for beautiful souvenirs that can help you create an ethnic-eclectic feel in your home with authentic pieces.
Bad: Crazy Patterns
If you're stuck, try selecting an overarching color palette and working within it. Violet and gold, for example, or rust and blue, or red and mandarin. Remember to provide a resting space for your eyes as well; otherwise, visual overload can occur.
Therefore, if you have a large vibrant rug, keep the base furnishings very simple with only a splash of accent color that complements the rug's bold color statement.
Similarly, you could drape a tapestry with a large burst of colors for your sofa. Maintain a neutral sofa and blend the tapestry's colors into whatever throw pillows you choose for the room.
Good; Subtle Seating
The boho ideology is all about unwinding, unwinding, and unwinding. Floor cushions, leather poufs, plush ottomans, and bean bag chairs are all excellent low-level sitting alternatives, as they urge guests to sit and stay awhile.
Bad: Lighting Mixture
String lights, lanterns, eccentric chandeliers, and candles are stylish options. You may mix and match light sources, natural fiber pendants work best with the bohemian style.
Bohemian Style Bedroom Ideas
Now that you know more about the bohemian style, let's check out the latest boho bedroom designs.
Macrame Bohemian Bedroom
Natural sunlight, bed prints, macrame tapestry, this is a bohemian smash pad for extroverts at heart. Create visual interest on the walls, or make dabble in eclecticism. Also, those open shelves filled with greens and succulents add an organic vibe to the area as well.
Boho Bedroom Lamp
Isn't this little reading nook the bomb? It screams bohemian style, in many ways. From the multiple tapestries on the ceiling to the intricate beadwork on the throw pillows, there is much to get excited about.
Wall Lights
For an extra dose of design tomfoolery, take a page from the Urban Outfitters playbook and don twinkle lights around the room. Paired with patterned bedding and deep, earth tones, you'll create a room that's full-on boho and relaxing.
Distressed Brightness
Bohemian design isn't about following a color scheme, but rather all about breaking one. Bright tones when creating your bohemian abode, but pay attention to the details. Go for prints and distressed styles as a way of incorporating an eclectic and easy spirit. Whatever you decide, don't be afraid of ridiculousness.
This find from Decordemon gives us a crisper take on the hippie-infused design we're used to.
Rustic Bohemian Bedroom
This gorgeous bedroom combines both bohemian flair with rustic value. All of those wooden furniture pieces are dressed well alongside the earthy tones and room textures. The bohemian prints are also taking center stage offering up both interesting and interior design worth.
Modern Green Bohemian Bedroom
Thou Swell showed off a boho bedroom with a definite modern twist. The green, black, and white color palette speaks to that timeless fashion. But its organic nuances and homage to the outdoors fit the hippie-flavored bill.
Starburst Bohemian Decor
Bohemian decor can elevate a room better than drugs. You want to get high from your, and the right boho decor will send you tripping through the night. We found this at Maggie Overby Studios. The starburst over the bed adds an air of modern art that we're loving too.
Industrial Bohemian Bedroom
Boho style bedrooms are supposed to surprise you. This example is a blend of bohemian and industrial styles. The exposed ceilings and brick are a match made in heaven. But the space plays well with the prints and bedding. The Moroccan wedding blanket is a giant gem bohemian touch.
Vintage Photo Accent Wall
A collection of vintage photos on the wall with chartreuse and teal tones popping out of every corner, this room from Lonny makes quite the scene. Its eclectic, free nature shows off its boho vision while all of those antique accents on the walls give it a unique charm and grander personality. We love all the mixing and matching happening in this small space!
Boho Christmas Spirit
Neutral bedding offers a subtle backdrop for a bohemian bedroom. The neutral, romantic palette provides enough inspiration for you to ghost your next job interview. We also love how easily the Christmas cheer was sprinkled around the room in such an eclectic sense.
Bohemian Glam Bedroom Decor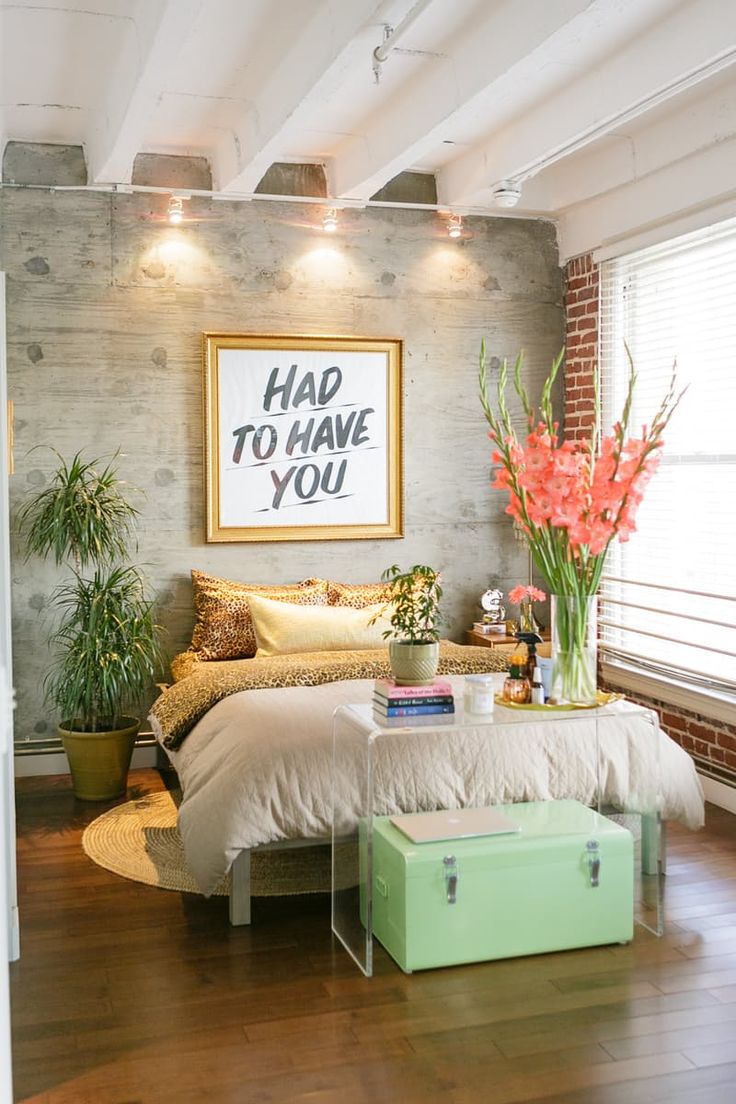 Get your summer smash on with a bohemian bedroom. Who wants to sleep in a room that reminds them of their parent's house. With the mixing of cheetah prints, acrylic, and fresh greens, you get a natural and vivacious look to fall in love with. We love the natural tones used throughout this interesting space as well, adding to its subtly.
Black And White Bohemian Style
Yes, even a classic black and white room with a pop of royal blue can shape into something t more bohemian. This design from Emily Henderson feels both timeless and carefree ins spirit. We love the printed walls and the neutral palette on the bed. It makes for quite the relaxing and welcoming bedroom, don't you think?
Hanging Chair
Paper To Stone created a space that's filled with funky odds and ends that don't quite mesh but compliment each other. Photos on the wall, prints on the bed, a wooden headboard, and a hanging chair with bright colors, it's a boho lover's dream.
But we love how minimalistic the space is as well – too much clutter would take this look over-the-top.
Mellow Yellow
HGTV brings us this light and bright beauty. Can you say "disco room"? Filled with crisp, timeless colors, the details are what make this a fine bohemian example. The combination of mid century modern style and boho-chic illustrate just how sophisticated a bedroom can be.
Bohemian Fireplace
Life Unstyled served us up a beautiful bohemian bedroom filled with a lot of accents and details to swoon for. The focus may be around the fireplace but it's the stunning mix of texture and print that give this space its personality. And the high ceilings that are filled with natural sunlight are the topping on the cake.
Bohemian Chandelier
For a boho themed bedroom, start with a chandelier. This contemporary style is trendy and feminine but can go both ways depending on the mood. The colors, textures, and the subtle nod toward bohemian spirit make this design from Nautically Prep one of our favorites.
Tassels And Natural Light
Modern boho is about natural materials and light. Create an accent wall and then blow out your color scheme. This fun and bright bedroom is a great bit of inspiration for our teenagers. Pay special attention to the wood and neutral foundation that's been topped off by mixed prints and bright colors.
Hot Pink Bohemian Freak
Check out this hot pink beauty we found while scrolling through Apartmenttherapy. The hot pink pops right off the creamy foundation. To add extra interest there's a medley of prints and textures sprinkled throughout as well.
Aztec Rug
Start your boho room design out with a gorgeous Aztec rug on the floor and build up from there. This minimal space puts focus on that unique print and the extra bouts of greenery only help to add a fresh, organic air.
Bohemian Book Nerd
You know all those books you've purchased over the years at used bookstores? They might make interesting decor items. things personal by allowing your favorite bits to be used as accents. The books are not easy to grab but they do add an unpolished, carefree touch to the bedroom.
Modern Farmhouse Style
When you create a feature wall, less is more. Don't clutter your wall space with junk. Instead, pick natural elements are always welcome inside a bohemian space. Whether that's with the inclusion of fresh, potted plants or canvas prints depicting the best part of Mother Nature is on you.
And with this design, you get an edgy, masculine take on this interior design genre.
Narrow Space
HGTV follows with a picture perfect boho nook highlighted by a shade of blue. This is how you should welcome your guests. A bohemian guest bedroom will have a lasting impression on all those who sleep in the room.
Floral Prints
From the wallpaper to the chair, this bedroom is filled with funky floral prints. A bohemian bedroom fit for any musical production. If Easter was a house, this would be the master bedroom. If this was software, you'd want to accept the bohemian cookies.
The mixing and matching look like the work of a happy schizophrenic, and with bohemian design, that's what you want to achieve. Adding an antique helps create a personalized, flea market vibe. Take some pointers from this spirited space from Lonny.
Velvet And Crochet
We've gushed about this spot before on Homedit. It's so bohemian, we had to feature it twice. Easy blues and soft textures, this is one of the more mellow and relaxing spaces on our list. The wooden furniture rounds out the subtle finish. And that crocheted tapestry on the wall adds the right amount of girlish charm.
Bohemian Dreamcatcher
A glowing bohemian bedroom that we swooned for. The pink lights and the dreamcatcher on the wall lay the foundation for a quintessential "gypsy" style.
Polka Dots

One of the most feminine on the list, we're falling for this Dailydreamdecor find. Polka Dots give flavor to the low and easy bed. Rose compliments the creamy colors while the fur rug and exposed bring brings in a more carefree, unpolished look to the rest of the room.
Moroccan Influence
Check out the light fixture. This is a design to admire. the Moroccan influence and lively colors give it that added bohemian blast vibe that everyone strives for. It also makes for great dorm room inspiration.
"More" Morrocan
If you like that kind of Moroccan influence inside the bedroom then you'll love this setup. It's a step further than its predecessor with an even more specific vision in mind.
Textured Ceiling
The smaller details bring this room to light. The accents here in this Interiors by Jacquin setup are bohemian. But that textured ceiling and blue carpet bring the vision full circle.
Upcycled Wood
Are you a fan of some rusticism within your home decor?! With an upcycled wood piece on the wall, neutral shades, and every nook filled with touchable texture, this bedroom gives a welcomed bohemian flat we're inspired by.
Single Bed Pairing
Even a bedroom for two can be dressed in boho tones. Again, we have a series of mixed prints and interesting artistic choices filling the corners. COCOCOZY easily inspires our kiddos' room redesign with this one.
Tiny Plant Decor
Another right and inspired space filled with romantic, gypsy-flavored charm. The small, delicate floral design gives it a more youthful flow as well as all of the natural sunlight the space will be receiving throughout the day.
Metal Bed
Your bohemian vision can easily be paired with vintage pieces – big or small. We've seen hose accents and nuances sprinkled throughout the room above. This bohemian bedroom features an antique, metal bed frame right out of your favorite Western musical.
Billowing Fabrics
Fabric hanging from every inch of the space will help to add that easy, carefree spirit we bohemians love. This fresh bedroom from Apartment Therapy has a revitalizing quality to it and although filled, it doesn't seem cluttered or overwhelming at all.
White & Simplicity
This example from Royal Furnish shows us that the bohemian style can be accomplished in simple ways. Its neutral tones, plush fabrics, and romantic elements like the canopy and fresh greens come together easily.
Traditional Boho Style
You don't have to go all in with the boho vibes. Instead, just use touches to spruce up your more traditional space. This bedroom is crisp and quaint but has been personalized by a pop of funk in its print and exposed wood ceiling.
Gray Undertone
And grey is still one of the most popular and versatile neutrals around. Even in this carefree space, it holds its own despite the excitement surrounding it.
Golden Hardware
Combining contemporary style with bohemian flair doesn't have to be frustrating or hard! Just look at this design from Lonny, for example. Its golden hardware adds just the right amount of sophistication to the pattern-covered room.
Shag Rug

This patterned, shag rug has us falling in love and giving this offbeat, sage-covered room a fun foundation. Bohemian in vision, this is a simpler, more subdued take on the interior design genre.
Candles & Ladder
There's a lot going on in this room, true to the boho spirit. The hanging plants make for excellent window decor. The corner ladder, wall prints, and candles personify the bohemian style bedroom.
Frequently Asked Questions (FAQ)
FAQ
What Are The Main Boho Colors?
Earthy hues paired with neutrals or warm colors combined with cool colors make for a boho color palette. Yellow, browns, white, green, blue, grey, and red are some of the most popular bohemian colors.
What Is The Difference Between Boho And Hippie?
The hippie style is characteristic of the 60s decade. On the other hand, the boho style isn't confined to a specific decade, nor does it have any political ideologies associated with it. However, the boho style has aesthetic origins. Even though some boho fashion has 60s DNA, the lifestyle has been embraced by women for several decades.
What Is The Difference Between Boho And Vintage?
Boho and vintage have elements that are between 20 and 99 years old. Boho refers to a specific style that doesn't have to be vintage. Meanwhile, vintage is something that's between 50 and 99 years old. Vintage isn't as unrestrained as boho.
What Is Boho Modern Farmhouse?
The boho modern farmhouse style is a take on farm living and design. It takes the design concepts and flips them upside down or twists them sideways to make a statement that says boho doesn't adhere to any rules. It's a harmless form of rebellion that carries a deeper message.
What Is The Difference Between Scandinavian And Boho Style
Scandinavian decor is centered on neutral colors and applied in a minimalist fashion. You'll find this style popular among Earthy tones and clean lines. And unlike the boho style, which features wild patterns and outlandish color pairings. To put it in a different framework, Scandinavian is introverted whereas boho extroverted.
Boho Bedroom Conclusion
If you have an older teenage child, you should give them a modern boho bedroom. As an added feature, boho bedrooms are gender neutral. If you're not sure where to start, begin with white walls.
If you want to add boho decor to a living space, but you don't want to transform the entire area, just decorate one wall. You could create a gallery wall where you could showcase your favorite photos. Another option would be to string fairy lights across the top portion of your boho wall. Also, you can never go wrong with a giant Moroccan wedding blanket.
The great thing about the bohemian style is that when you want to create a bohemian vibe, it isn't hard, nor is it expensive. You can make wall decorations for your own bedroom, and nobody would know the difference. With white bedding and throw pillows with vibrant colors, you'd be on the right track to achieving your bohemian sanctuary.