Cathedral Ceiling Highlights – What They Are And How To Make The Most Of Them
Whenever describing a ceiling that's not flat one term stands out among all others, that of cathedral ceiling. To understand what this term refers to, we have to go to its roots. It's all in the name really.
This is the design that was most popular with cathedrals so the sense just evolved to describe a style particular to a certain type of building. Cathedral ceilings are now widely used in architecture and not just when building cathedrals but all sorts of other structures too, including residences.
In a rush? Here's a rundown of the most important headings about Cathedral Ceiling.
What Is the Difference Between a Vaulted Ceiling and a Cathedral Ceiling?
It's unsurprising that the term "cathedral ceiling" originates in medieval times. During this period, these religious structures were among the few ones with a substantial wooden framework.
Even in those days, a cathedral ceiling was characterized as a symmetrical ceiling with two sloping sides that meet in the center of the space at a ridge. A cathedral ceiling slope is often identical to the slope of the building's roof. Thanks to prefabricated roof trusses, it is now considerably quicker, safer, and faster to create cathedral ceilings than it was in the Middle Ages.
In contrast to cathedral ceilings, vaulted ones are typically not sloped in the same direction as the roof. Rather than that, they may have a single steep side, an arched or curved slope, or sides that are unevenly slanted. They are typically framed with prefabricated scissor trusses.
What Is a Cathedral Ceiling Called?
When you're looking for more info on cathedral ceilings, you're bound to find that they're also called vaulted ceilings. Even if the two types are similar, they are not identical, but they do share a lot of similarities.
Are Cathedral Ceilings More Expensive?
Yes. The cost of a cathedral ceiling is divided into multiple expenses that we're going to talk about in this section. In new construction, cathedral ceilings are normally as easy to make as standard frames, though they do require specific roof trusses that are typically manufactured off-site.
Even so, your costs are going to be considerably higher. The cost of basic framing construction can increase by five to 20 percent if you want to build a cathedral ceiling in a 20 x 20-foot room.
New construction
In new construction, cathedral ceilings are normally as easy to make as standard frames, though they do require specific roof trusses that are typically manufactured off-site. Even so, your costs are going to be considerably higher. The cost of basic framing construction can increase by five to 20 percent if you want to build a cathedral ceiling in a 20 x 20-foot room.
Existing construction
If you want to finish a cathedral ceiling home, there may be some cost savings associated with the smaller second floor. As a result, the home's second story will require fewer flooring, trim, and other finishing touches. On the other hand, the cathedral ceiling does take up some useful living space on the second story, which may detract from the value of your home.
For instance, you may have to sacrifice a cathedral ceiling for an additional bedroom in your home, but the bedroom frequently adds more value in case you ever want to sell your house.
Additionally, if you choose to install a cathedral ceiling in an existing home, the project might be quite costly. A structural engineer and an architect are required to identify load-bearing walls and evaluate whether ceiling portions can be removed to expose the roofline. This is theoretically doable, but it may cost between $18,000 and $25,000.
What Is the Best Lighting for Cathedral Ceilings?
Recessed lighting is the finest solution for vaulted ceilings. Skylights provide essential natural light, while pendant lights give a splash of color. Track lighting is another option, as it allows you to move the lights around the room. If you prefer not to have lighting directly on the ceiling, wall lights are also an alternative.
Pendant lights
Pendant lighting is another option for a cathedral ceiling. They can infuse any place with personality. Numerous pendant lights also include interchangeable shades. Changing your shade enables you to update the decor of your space without breaking the wallet.
There are numerous styles of pendant lights currently on the market, so you're sure to find one that complements your own taste. Additionally, the cables are available in a number of lengths.
Recessed lights
Recessed lighting is concealed within the ceiling. They are available in circular and square shapes and can be installed at any location on the ceiling. One of the many benefits of recessed lighting is that it can be directed in whatever direction you like.
This is a more permanent approach, as it requires drilling holes to accommodate the lights. You are going to need one light to cover every four to six square feet of ceiling. This will ensure that light is distributed evenly around the room.
If you wish to install recessed lighting in your cathedral ceilings, we recommend contacting a professional to ensure the installation is completed properly, as you should never mess with wiring unless you know exactly what you're doing.
Track lights
Track lighting is an excellent alternative because the lights can be moved to the desired location. If you choose to rearrange your space, you can also move the lights on the track to focus the light on the region that needs illumination.
Additionally, these are available in a variety of colors, designs, and sizes. Certain songs can even be bent into any shape you like. This option allows you a little more leeway when it comes to lighting your vaulted ceilings. Due to the adjustability of the head, the light will always point precisely where you require them to.
Skylights
Skylights are an excellent method to bring natural light into any room. Aside from the fact that they look , they are also extremely functional. It can help you save money on your electric bill and they also offer heat because of the natural sunshine that streams through. They are energy efficient and reduce the demand for daytime lights. They can serve as an excellent focal point for any space with vaulted ceilings.
Cathedral Ceiling Design Inspirations
The Chateau Look Cathedral Ceiling
The first project is an amazing residence from Tahoe Donner, in California. It's a two-story contemporary house developed by WA Design. Naturally, what we're most interested in is the ceiling. The design has all the characteristics of a typical cathedral ceiling plus a few cool custom details. As you can see, symmetry is among the most important details. The ceiling has two equally steep sloping side which meet in the middle.
Retro Modern Mix
Traditionally, a cathedral ceiling would have two sloping sides which would form a ridge in the middle. In addition to that, the design can include a variety of other features such as additional support beams or visible hardware focused on creating a pleasant contrast in combination with the beams.
This brings us to another example: a two-storey vacation home designed by Hammer Architects in Truro, Massachusetts where the cathedral ceiling is a major focal point throughout the interior.
Modern Clean Lines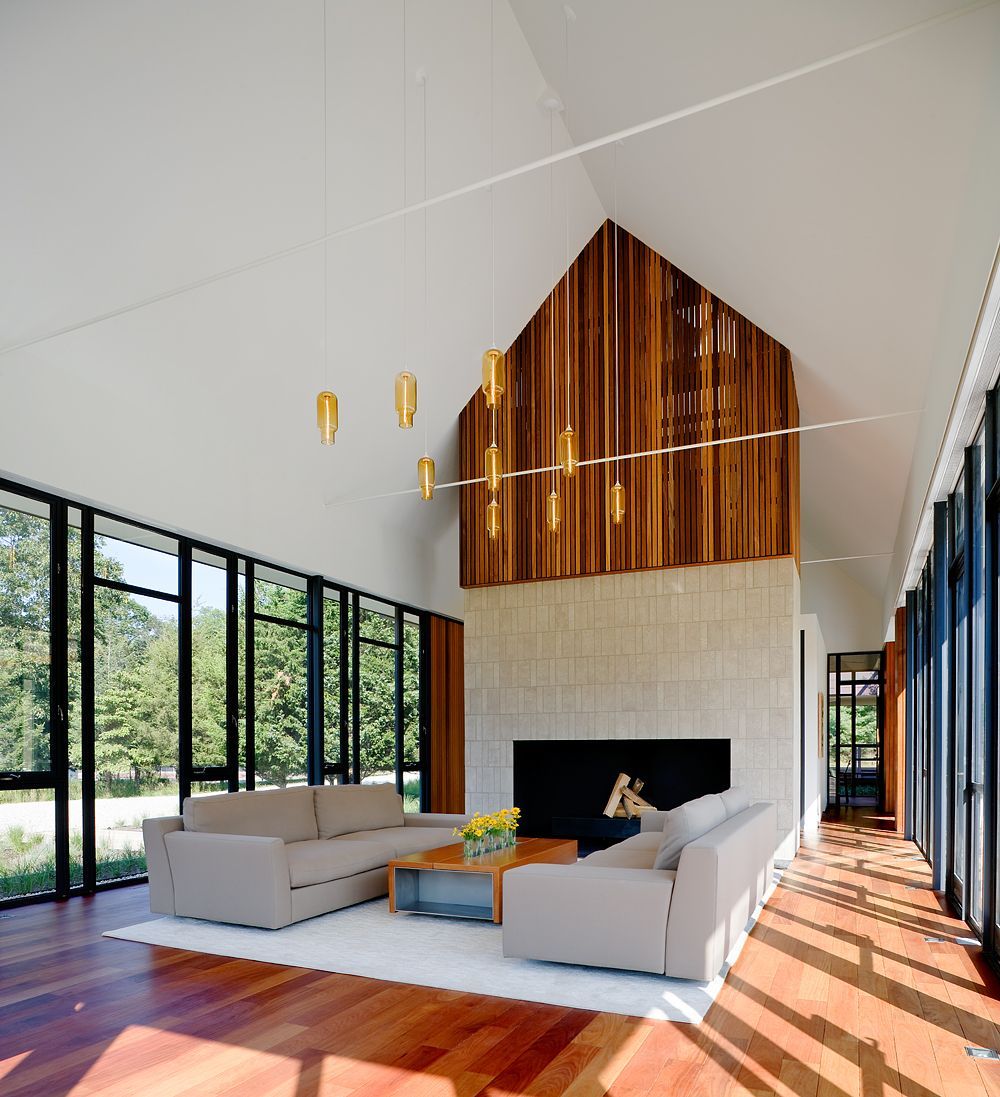 Apart from being very tall compared to the usual king, a cathedral ceiling is also special because it mirrors the pitch of a roof structure and that creates a wonderful sense of comfort and familiarity, diminishing the dramatic impact that a high ceiling would otherwise have on a space.
In the case of this contemporary residence designed by Bates Masi Architects in East Hampton, New York, things are a bit more complex. On one hand, the cathedral ceiling has the sloping sides and the pitch which help it look a bit retro and cozy but on the other hand the whole design is minimalistic and that adds drama to the space, especially considering the visual contrasts.
Exposed Beams and Open Concept
Does this cathedral ceiling remind you of something? Maybe of a car repair shop? Perhaps not but we find its story charming nevertheless. The structure is now a cozy home but that wasn't always the case. It was actually converted by architect Richard Smith who saw its wonderful potential and took advantage of all its beautiful features. The cathedral ceilings were obviously preserved and the timber beams were exposed, the same as the concrete flooring.
Bright and Spacious
By now you should already have a pretty clear idea of how a cathedral ceiling looks like. Obviously, no two are the same but they all share in common a few key characteristics like the symmetry of the sloping sides and the fact that they make rooms feel more spacious and dramatic without interfering with their cozy and welcoming ambiance.
Pouring into the Bedroom
Some would argue that vaulted ceilings are pretty much the same thing as cathedral ceilings. In some ways that's true but there are a few major differences between these two styles. A vaulted ceiling is not necessarily symmetrical as it can actually have a single sloping side. Also, it can have a curved or an arched shape whereas a cathedral ceiling can't.
Warm and Cozy
There are lots of different cases when a cathedral ceiling simply makes sense in the context of a building's design. As mentioned before, each individual design or structure has its own set of particularities. For instance, the height of the ceiling, the materials in which it's covered, the finish and the color can all differ from case to case.
Rustic Mountain Getaway
Sometimes differentiating between a vaulted ceiling and a cathedral ceiling is quite difficult given how similar they are. Often it's all reduced to the exact length of the sloping sides or the angle or exact shape of the pitch and by extension of the whole ceiling. Take this case for example? Can you figure out what type of ceiling this residence has?
Retro Chic
Both vaulted and cathedral ceilings are great for skylights. It actually makes sense to install skylight windows on a sloping ceiling. They let in lots of sunlight and they also provide a dreamy view of the night sky (well, as long as they're clean at least).
A Statement Piece
There are many cool ways in which you can take advantage of a cathedral ceiling. First of all, you can puts an emphasis on its dramatic nature with the help of beams or by hanging certain types of light fixtures, like this awesome dining room chandelier.
Classic and Traditional
In lots of cases less is more and that also applies to cathedral ceilings. The simplest its design is, the bigger the emphasis on the height and the structural elements is which means it's not the details that stand out but the basic elements, the one that define this style.
FAQ
Are Cathedral Ceilings Outdated?
Cathedral ceilings, as an alternative to traditional flat ceilings, are far from obsolete. However, due to the contentious nature of cathedral ceilings, you must ultimately determine whether you adore the elevated ceiling style.
Are 10 Foot Ceilings Too High?
The majority of older homes have eight-foot ceilings, which was traditionally considered the ideal ceiling height. Meanwhile, newer homes typically feature nine-foot ceilings.
However, anything above nine feet is considered to be a high ceiling. For instance, you might come upon a property having rooms with 10-foot ceilings. Alternatively, you may discover a home with a single room with a significantly higher ceiling.
In recent years, two-story living rooms have gained in popularity, particularly in new-construction homes. These rooms may include 20-foot ceilings, creating an airy, open feel.
Are Cathedral Ceilings Energy Efficient?
Any type of ceiling that runs higher than usual is going to be an energy waste because the heat inside the room is going to the top, where it serves no purpose. Energy loss is magnified in vaulted ceilings that have windows and or skylights. Additionally, cathedral ceiling rooms are more drafty due to the natural convection patterns created by warm air ascending and cool air sinking.
A portion of this can be addressed by adding additional insulation to the ceiling or by purchasing ceiling-mounted fans to drive warm air downward into living spaces. However, these spaces will frequently feel chilly during winter months, which could be a real problem for those that live in colder regions.
We're ready to show you some amazing projects that revolve around this particular element.