DIY Macrame Wall Hangings With Retro and Boho Designs
When designing and decorating our homes we're quite commonly left with empty areas, wall sections that need a little bit of attention to truly stand out and make the room feel complete. Most often than not, a DIY macrame wall hanging is the perfect answer. They're simple projects that can take many different shapes and there's always a way to make them unique. We'll have a look in just a second at a few designs and ideas that we find exceptionally inspiring and we hope you'll do too.
The combination of driftwood and cotton cord has a nice casual vibe to it and can be used to create all sorts of lovely wall hanging decorations, like the one featured on danslelakehouse for instance. The design is really simple but that's the beauty of it. All that's needed to make something very similar is a branch or a piece of driftwood (if not a dowel would work too), cotton cord and dye of any kind in any color you prefer.
The beautiful thing about macrame wall hanging projects is that you can create lots of different patterns and designs, some simple and some quite complex. This is a fairly detailed design but it is still a simple project suitable for beginners. The supplies needed for it include nothing but a wooden dowel, 100 yards of 6mm colored macrame cord, 50 yards of 4mm neutral cord and scissors. All the instructions and the details can be found on clubcrafted.
You can also make some pretty interesting shapes using macrame cord in various different colors. Of course, sometimes the cord alone is not enough. You can use floral wire to create the shape that you want and to make sure it holds and you can cover it all up in colored cord. That's the technique that was used to make this minimal but nevertheless interesting and eye-catching wall hanging. Check out aprettyfix to find out all about it.
Related: Fun And Fresh Kitchen Wall Decor Ideas You Need To See
There are quite a few noticeable similarities between this wall hanging and the previously mentioned one. The design in this case has a distinctive rainbow-inspired look. Another difference is that this project makes use of thick cotton rope rather than regular cotton string, although either option could work. You can also customize the rainbow however you want if you decide to craft something similar. Change the colors, add more and enjoy coming up with different combinations. You can find more details on akamatra if needed.
If you want something that looks a bit more delicate, perhaps bohemian even, consider this beautiful macrame wall hanging design from hellonest. It's a lot easier to make than you might think and it doesn't take long once you get the hang of it. You'll need one to two skeins of 3mm macramé cord, a wooden dowel and scissors to make something just as beautiful. As always, you have the option of using dyes to color the cord if you want to.
Just because you're making a macrame wall hanging doesn't mean you can't also include other materials into your project. How about using some air=dry clay to add a few quirky bits to the design? It doesn't need to be anything fancy or complicated. Use a rolling pin and cookie cutters to make cute shapes out of the clay, let them dry and then hang them together using cotton cord. Check out gatheringbeauty for more ideas and inspiration.
A lot of macrame wall hanging have these abstract patterns which can look really cool but don't necessarily resemble anything. However, if you want to you can also create something a bit more specific, like this lovely heart-shaped pattern suggested on iheartmaggie. It's subtle but it still manages to stand out and the design as a whole is versatile. This was made using 4mm cotton rope and if you want to see all the steps and how to make something like this for yourself there's a tutorial that you can check out.
We really love the 3D effect that the tassels give to this macrame wall hanging. This was actually made using a kit but if you want to you can quite easily put together all the necessary supplies and create your own beautiful version of this design. You can hang this from a branch or you can use a rod or a dowel if you prefer a smooth and straight line. You can find out more about the kit and everything else involved in the project from dreamgreendiy.
If you want something chic and beautiful to hang as a backdrop for one of the walls or to decorate a little section of the room with, consider bunting. Of course, not just any kind will do and since we're focusing on macrame wall hangings right now this boho crochet pattern that we found on picotpals would be absolutely perfect. It's a bit retro and a bit quirky and at the same time it's delicate and elegant.
Adding a little bit of color to your macrame wall hanging can look really nice, especially if you manage to create an ombre effect. You could pretty much use any kind of dye you want to since cotton absorbs color really well. Of course, textile dye is preferred. To create the ombre effect you need to soak the cord in colored water and then start to gradually remove it, leaving in more the parts that you want to have a darker and deeper tone. Check out sugaranddinosaurs for additional details.
This is more than just a pretty wall hanging. It's also a really cool design for a hanging herb garden. To make this you need a pole that you can attach to a wall (like a curtain rod for example) and lots of nylon rope. To recreate this exact pattern, start by cutting 32 pieces or rope around 120" long, then tie them onto the pole and group them into 4 sections. Weave a V shape into each section using the Half Hitch Knot technique then repeat to add another row. Tie a square knot at the center of each section and then make the sections that will hold the planters. Check out the instructions on myfrenchtwist.
Here's another simple macrame pattern that looks really beautiful as a decorative piece. You can see here how it looks in combination with a wooden branch as support. That gives it a little bit of character and adds an organic touch to the design. The bottom section is extra long which is nice if you want to highlight a room with a high ceiling for example. That of course is subject to change as you can customize the design and proportions however you see fit. For more details about this lovely pattern check out the tutorial on heylilahey.
Symmetry is a nice touch, especially in the context of designs like this one. This boho-chic macrame wall hanging looks absolutely beautiful especially if you pair it with some driftwood or tree branches rather than rods or dowels. Use this as a backdrop for one of the walls in the bedrooms or add it to the living room as a way to bring more warmth and texture into the decor. Everything you need to know about this pattern and how to get it can be found on green-bird.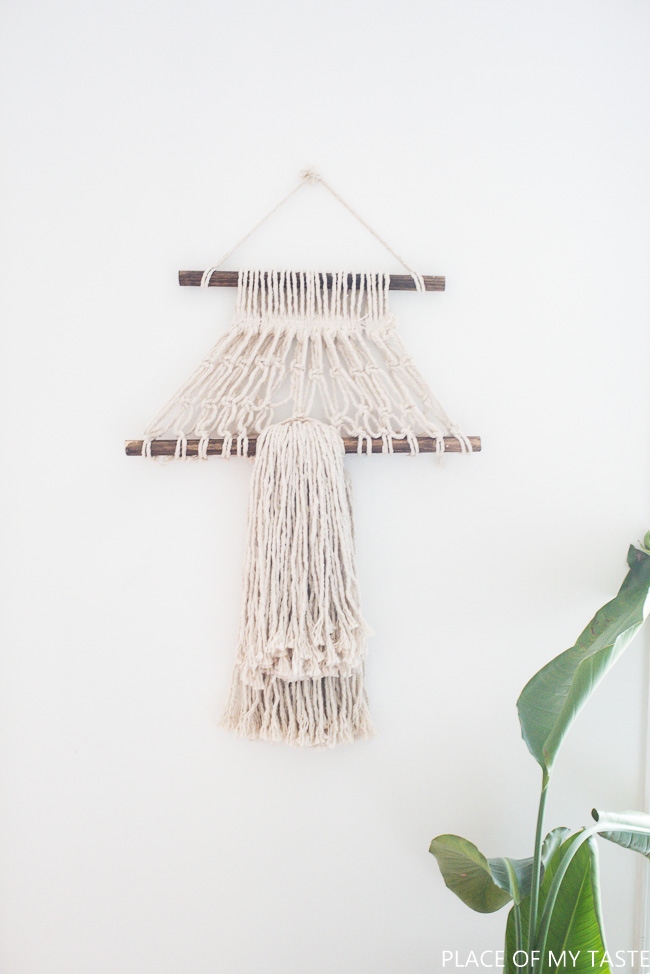 As you can see, a lot of the designs are basically just a different iteration of the same combination of materials: cotton string and wooden dowels. The combinations that can be created using these two simple things are infinite. Take this design from placeofmytaste for example. It starts off like many others but then it takes a twist, quite literally. You can also come up with your own unique version or various patterns and designs that you like.
Weaving can be a lot of fun if you're doing it as a hobby or as part of a small DIY project. If you're lacking the tools for weaving that shouldn't stop you because, as it turns out, there's a super easy way to make yourself a little loom out of a picture frame and some crochet yarn. You'll also need a dowel for this. You can then go ahead and start weaving some cool wall hanging pieces like this one that has golden accents in it. You can check it out on earnesthomeco if you want the full tutorial.
If you want your wall hanging to look more organic you can swap the dowel or the branch with a piece or heavy rope. This way it won't be as rigid but it will still retain its shape quite nicely. You can also combine several of the techniques we mentioned throughout this list to create a beautiful custom design. For example, you can dip the ends of the string in dyed water to create an ombre effect or you can apply the dye directly using a brush. As for the macrame pattern, there's a tutorial on greenweddingshoes which explains how you can get this particular design which we think has a lot of character and elegance.