New Bathroom Designs With Style and Technology in Mind
It's the one room in a house that you can't live without: The bathroom. Over the years it has evolved from including the basic necessities to being a spa-like retreat with the latest relaxing amenities and, increasingly, the latest technologies. Designs that range from modern to more traditional can have the latest looks and innovations. Here are some examples of gorgeous bathroom designs and new products to inspire your bathroom upgrades and renovations for 2018.
First up, this bathroom from American Standard's luxury line, DXV, shows how you can combine a traditional bathroom with leading edge bathroom fixtures. Dark gray paneled walls and a herringbone floor set the stage for modern sconces and a floating, backlit mirror that sit above a floating vanity. A modern, rectangular sink and floating wall unit complete the main section.  The wall-mounted toiled is minimalist and helps add a sleek edge to the room.
Total Bathroom Designs
With the popularity of kitchen islands, it's logical that the concept is moving to the bathroom. If the square footage of your bathroom is big enough, this is an elegant and very functional option. Not only is the style of this island very chic, it provides a vanity space for applying makeup, donning jewelry or styling your hair.  On the other side is the basin. No more leaning over the sink to get close to the mirror! This wonderful design also includes a free-standing tub and a fireplace — the ultimate bathroom luxury.
Fans of more traditional bathroom arrangements will like this one, also from American Standard. A corner shower with a partial glass wall, toilet with a tank, and single basin vanity comprise this tiled bathroom. Any of these elements would be easy to incorporate into an existing bathroom for an instant design refresh.
Similar, but more formal, the fixtures in this bathroom echo the architectural style of the room. The toilet lid repeats the edge of the molding and the basin, suspended in a formal but sleek chrome stand, provides an angular look that matches the wainscoted, paneled walls. Glam sconces and a luxurious, muted gray-purple shade of paint on the walls complete the relaxing bathroom design.
A more Zen, spa-like feel comes from this bathroom's unique combination of wall covering, basin shape and cabinets design. Wall-mounted faucets over the round, dark basins have a natural feel, and the design on the wall evoked feelings of running water. The natural wood surround, globe sconces and six-sided minimalist mirrors add to the calm vibe. A dash of luxury comes from the looped glass ceiling fixture.
The vanity area of the bathroom is separated from the bath section by a glass wall punctuated by a frame that is reminiscent of gazebo shape. The dark matte metal frame is a bit industrial, yet maintains a luxurious yet organic feel to the space. Glass walls also create a division in the space without blocking light or making them feel too small and compartmentalized. Here, the circular design element under the wall also unifies the two parts of the bathroom.
Similar dark basins are used in this bathroom design by Lev2 of Canada. The bespoke millwork and design firm created an entire apartment at IDS Toronto 2018 that included this space. While it uses the same color of basin, the design is more urban chic than Zen, and conveys an entirely different vibe thanks to a different style of vanity, more formal mirrors and a wall covering that mimics a gemstone pattern.
Grohe's bathroom design is decidedly modern and minimalist. The large mirror with backlighting sports rounded corners and a minimalist floating vanity with a single, large basin. It has plenty of counter space for necessities and makes the space feel open because it is not sitting atop a hulking built-in vanity cabinet.
New Technologies
An example of how technology is changing the bathroom experience is Grohe's shower controls. The smart shower controls here are integrate on a shelf. It not only allows you to control each fixture, but it also allows users to adjust the size of the water drops and volume of the spray — as well as the temperature. We love that it's also a little shelf!
In an innovative use of technology, Oceania's Tahoe 66 tub can be turned into the ultimate skin care product with the company's NanoSens jet system. The jets are unlike any other spa-type tub because the system oxygenates the water with micro bubbles that can penetrate pores. Oceania reps say that this improves skin moisturization, making it baby-soft and, and even easing skin conditions such as eczema.
Great for Small Spaces
Zitta showers already incorporate a number of highly desirable features, and this year the company added an integrated heated towel rack. This makes the most of bathroom space by using the side of the shower wall, which typically is not functional. It is also a very useful concept for bathrooms where wall space is at a premium, which often makes added a heated towel rack impossible.
Tighter spaces don't have to mean fewer amenities, as demonstrated by this linear mounted bathtub from Oceania. The Optimale model allows the bathtub and glass shower to be installed in a linear fashion — offering another option for a small bathroom. The "in-line" arrangement is a contemporary look that increases the functionality of the bathroom, providing a separate tub and shower, as opposed to the ubiquitous tub/shower combo found in nearly every home.
Produits Neptune 's angular tub is easy to fit into a smaller space, such as an alcove. The five-foot tub comes in models that can be dropped in, or not. This one, set into an alcove surrounded by natural wood gives it the soaking tub an organic feeling, especially since its deep and roomy.
Trendy finishes and fixtures
Another new design this year focuses on architectural details. Following the trend of black framed doors and windows, this shower has a matte black frame that sits on the outside of the glass, leaving the inside seam-free and a snap to clean. Zitta's shower glass is also coated to resist spotting and ease cleaning. The look is perfect for an urban bathroom design that needs a bit of edginess or for an industrial element in other bathroom design styles.
Similarly, this free-standing Zitta bathtub features a matte black finish that matches the shower frame. Whether for fixtures or hardware, matte black is becoming a big thing in kitchens and bathrooms. Its versatility and quiet sophistication mean that it works with many styles and can be used as an accent or a major design theme. Either way, designers say more clients are requesting matte black elements.
Speaking of matte black, Oceania's Tahoe 66 tub is a free-standing model that has a rectangular top and an oval bottom. This makes it easy to incorporate in tighter space, especially because it has thin ledges that allow for more space inside the tub. Sloping tub walls keep it as comfortable as a more rounded version.
Of course, injecting some of your own style into the bathroom doesn't have to be limited to wall coverings or accessories. Fleurco's tub features a print on the outside. While this one was designed to be a promotional item, highlighting the company's style and quality, it opens the door to design ideas that are uniquely your own when it comes to designing a singular bathroom retreat for your home.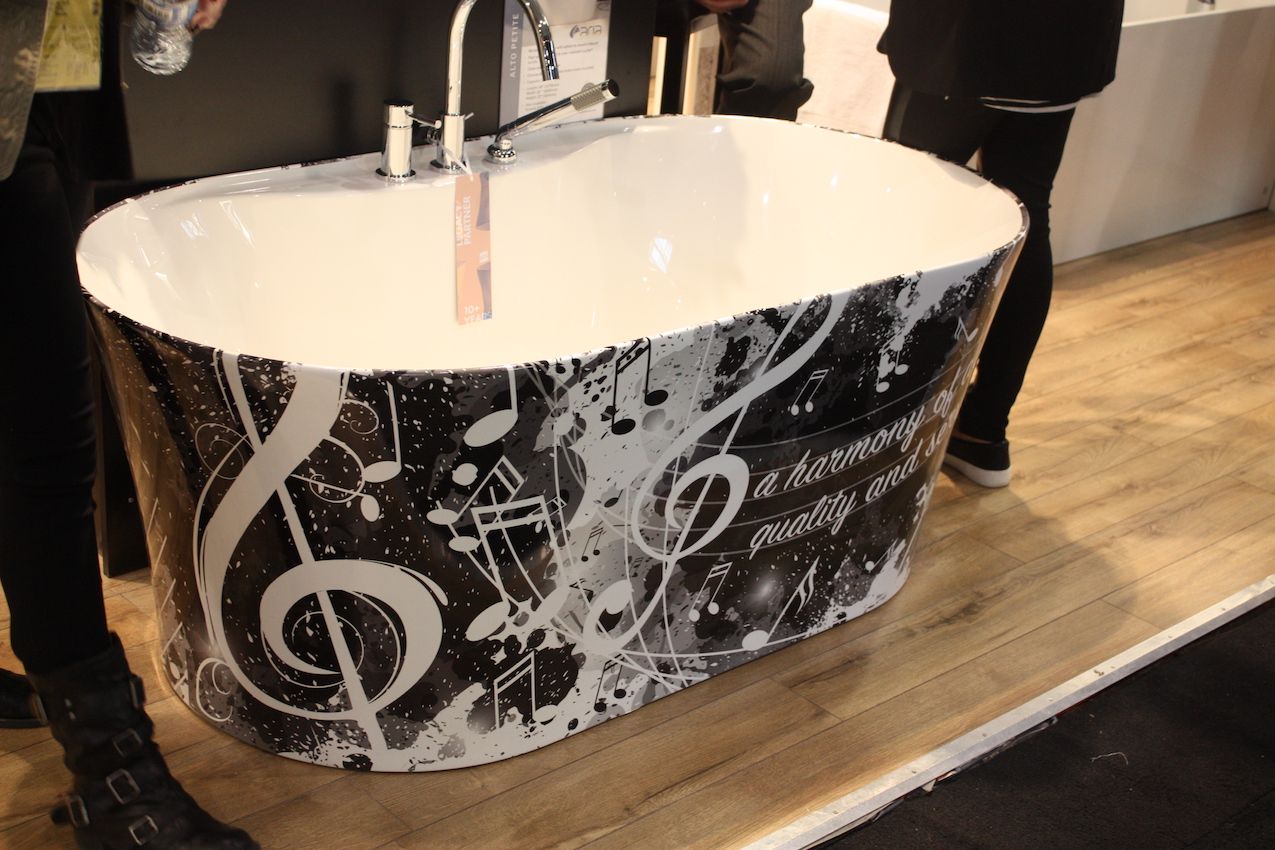 More Surface Options
Options for bathroom surfaces have also expanded, giving homeowners more choice in types style, look and durability. Vicostone, is an engineered stone made from up to 93% pure natural quartz aggregates. The stone is combined with a polymer resin and color powder, making it harder, more durable and lower maintenance than many natural stones. Here, it is shown as a tub surround in a design that adds plenty of space for bathing necessities.
The rapid pace of technology and evolving styles continue to change the look of bathrooms. Trends may come and go, but they are all leaving their mark on the level of style and functionality that we expect from a bathroom, compared to the days when the newest fixtures were all we needed.